Boot your smartphone or tablet in recovery mode is very common action when you want to install a new firmware. Most Android users do not know how to enter Recovery Mode on Android device.
We buy a smartphone or tablet, use it for a few days and then look for a good custom firmware, again enjoy device for a few days, and once again begin to look for a better firmware, and so on. If you want to install new firmware, then you need to boot your smartphone in recovery mode. There are several popular applications that allow you to enter recovery mode on Android. We will tell you about them.
How to enter Recovery mode on Android without additional applications
Sometimes it happens that it is impossible to install new application. Android operating system provides a manual boot into recovery mode. Devices from different manufacturers have different sets of keyboard shortcuts that you need to use to boot into Recovery Mode.
For example, if you want to boot into recovery mode on Samsung Galaxy S 9000, which does not have keys for the camera, press Volume Up button + Power button + Home button (located in the center) and wait until LED backlight.
Motorola Droid X has another way to enter recovery mode:
Turn off smartphone.
Hold down the button «Home» and press "Power" button until Motorola logo.
Release button «Power» and continue to hold «Home», until you see the exclamation mark.
Release button «Home» and once press "Search".
For other mobile devices you can try to enter into recovery mode as follows:
Turn off the device.
Click Volume Up and camera button until the screen lights up.
Meanwhile, there are several popular applications that allow you to enter recovery mode without dances with a tambourine. We will tell you about them.
Applications to enter the recovery mode
There are a number of useful applications, which have several important functions, including recovery mode. Unfortunately, these applications are not universal, and they do not work with some smartphones. Therefore, if your smartphone is not running one application, try the following.
So the first app is called ClockWorkMod Touch Recovery.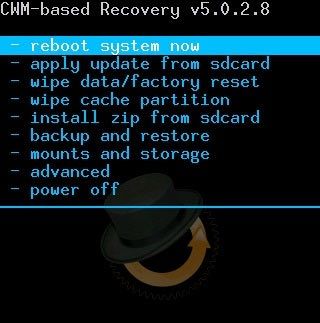 The advantages of ClockWorkMod Touch Recovery include a touchscreen menu and the ability to control application with the help of conventional buttons. The second option is very useful if the sensor is damaged.
The disadvantages of ClockWorkMod Touch Recovery include the difficult installation. CWM is installed via Mobile ODIN, fastboot or RomManager. Also, there is one small drawback. If you want to backup, then CWM saves all system data, you can not choose between partitions Boot, Data and System.
The second useful application is 4EXT Recovery. It looks like this: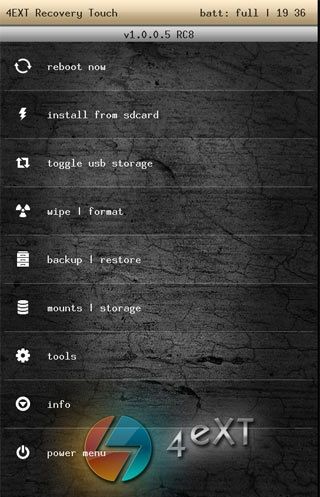 4EXT Recovery is able to work with an external memory card, which can be connected directly from the application. It can select the desired profile for backup, and app will show its size after creation. Also you can remove or add Cache section. The application supports the backup of sections in .TAR archive, except Boot and Recovery. Unfortunately, there is no touch mode, just phone or tablet buttons.
Last application is TWRP Recovery.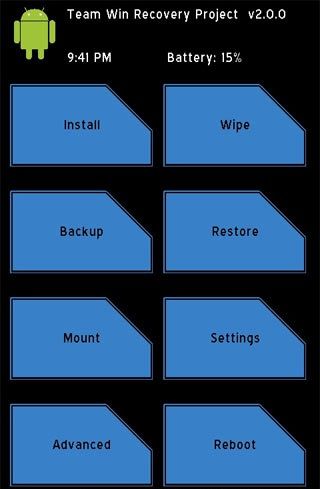 The program has an intuitive simple interface. TWRP Recovery allows you to select sections for backup and specify the archive with backup name. TWRP Recovery is also able to work with an external memory card and supports encryption. Unfortunately, no touch mode. That's actually all if you have questions, ask in the comments, indicating the model of your smartphone!
Read another very interesting article about alternative energy of the Sun, water and air.