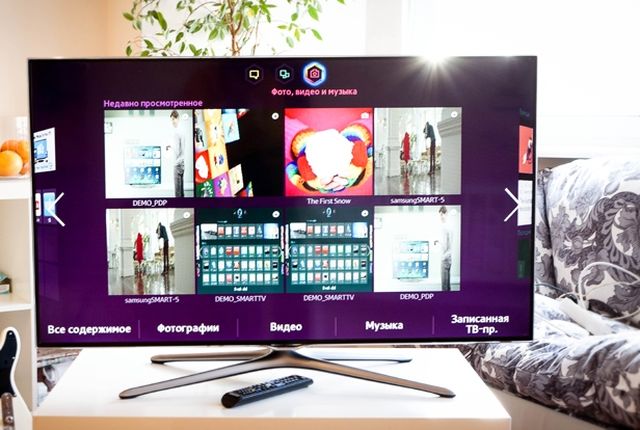 Personally, I have it in the winter season wakes up craving for the world of cinema: you want a day or after a hard umostitsya comfortably on the sofa with a mug of hot chocolate and see some zefirkami filmets, preferably in the Christmas spirit, well, or just good. And if we light the candles – it will generally be 100,500 to the warm and welcoming atmosphere. So, just what we needed, I turned up the temporary use of the TV series 6 Samsung – F6500. 40 inches on my just over 20 squares of comfort – it! Ok, write your opinion about it, home testik without going into abstruse and complex tests of color, taste and other things.
Model F6500 – one of the leading models of the line Samsung TV Series 6 (on sale in the spring of 2013th). Generally sixth series – is a confident middle class of "smart" TV. They are about a head shorter than the top models, but made in the style of more expensive and retained most of the characteristics of the flagships. In short, the golden mean. All they have to a great level, but without unnecessary bells and whistles (such as gesture control, power of thought or volition, etc.). Therefore, this series most popular among buyers because of its optimality. These Smart TV-models only the most essential functions, but a trendy 3D (except model 6200) and pleases the ratio price / performance. TV will cost a $ 900.
Appearance
F6500 came this year to replace the model ES6500. Thinned frame – now 6 mm instead of 10. Design concept as before – One Design. By definition, these TVs with a thin shell and a small narrow frame around the display, whereby the impression cinema screen or the floating image. The depth of the cabinet main body is about 2 cm less than the ground thickening 4.7 cm
Weight
Without stand: 8.7 kg.
With Stand: 9.8 kg.
In package: 12.1 kg.
Measurements
Without Stand (W x H x D): 910,0 x 534,1 x 47,0 mm.
With Stand (W x H x D): 910,0 x 597,3 x 265,0 mm.
In packaging (W x H x D): 616 x 1190 x 147 mm.
In general, a new generation of well worked fine details – TV began to look fresher, more solid, more gravitating to a class higher than the average TV. Of course 7 and 8 series steeper and advanced in this respect, but 6 – do not miss. It can be described as a strict, clear, minimalistic, suitable for any interior rooms. It comes in two colors: black, like us, and white (F6510). In the first it is more versatile, so to speak, "under everything." On the characteristics and models 6500 6510 same.
Stand, as before, x-shaped chrome (Quad Stand) or, as it styled in common, "spider leg" / "chicken foot". Naturally, with the possibility of rotation. Now it is made by silver, not black as before. I do not know how anyone, but I like it, this "foot" is not very … More like a model with stand type Arc Stand, even though they are less stable.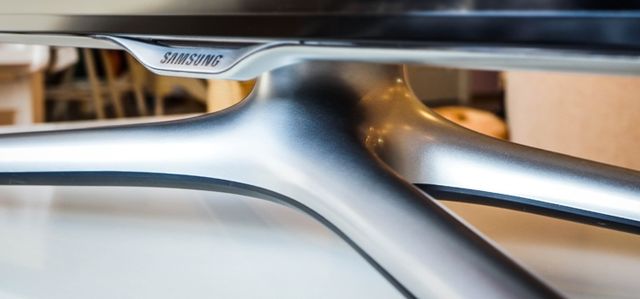 All connectors are traditionally behind, they are arranged so as to be able to hang the TV close to the wall as possible (this is done using a special bracket or Ultra Slim VESA-mount).
Familiar set of connectors for modern TV and includes four HDMI, three USB, Ethernet, and a set of analog ports. There is also Wi-Fi-module in addition to the port Ethernet.
Input and output connectors:
Component In (Y / Pb / Pr).
Composite video (AV) x 1 (Audio Common for component Y).
Digital audio output (optical).
Ethernet (LAN).
4 x HDMI.
Antenna input (air / cable TV).
Antenna input (satellite TV).
3 x USB.
Headphones.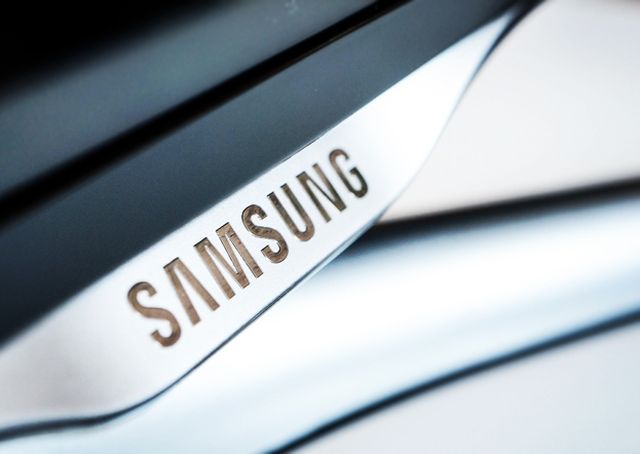 Comes with a remote control with a touch screen Smart Touch. Convenience sake, to surf the Internet and perform other functions, I used a wireless mouse and keyboard. You can control the TV and the smartphone, install the application.
As the TV has a network connection, and besides, and WI-FI c function Direct, have access to various network services such as Smart TV, Smart Hub. There are web browsers. TV supports the inclusion in a home network and share content from your PC. It integrates a media player, which means you can watch movies with flash media via USB.
In fact
F6500 series of TVs are based on 200 Hz LCD panels with side illumination system, using technology Clear Motion Rate (CMR) 400 Hz to eliminate blur images in fast action. Resolution in an updated version of the old – 1920 x 1080.
If we compare with the models above class, which is available 4-core processor, when two nuclei F6500 sometimes noted some inhibition / delay effect when moving through menus.
GUI clear and understandable. For lovers of home cinema who want to achieve on the screen F6500 best quality pictures, enjoy a range of additional picture settings, including 2 – and 10-point white balance controls, color management system (CMS) at the level of the primary colors (RGB), regulators eliminate blur and jitter, system frame interpolation (MCFI) to compensate for the loss of resolution in dynamic scenes. 
The screen itself is glossy, little glare, but the high brightness of the display does not help noticing it. TV backlighting – LED contour. Its unevenness can be seen on the screen is black, but this parameter is different for each individual instance th 6500. In my case, there was virtually no noticeable only if the peer.
If you do not speak technical and confusing, the picture quality of the TV is good, very pleased. Factory picture settings are not bad, but I advise you to change the mode to "Dynamic" to any other. Picture clear, bright and juicy. Horizontal viewing angles are traditionally based panels for S-PVA matrices are large. For vertical need to watch, especially when attaching the tele on the wall. Will have to "work hard" to choose the optimal height and angle for the picture quality.
3D support is implemented using active technology and optional glasses with LCD shutter. 3D-picture is quite good, with plenty of brightness and minimal presence of crosstalk. Television provides a complete resolution of 1080 lines (Full HD) while watching 3D-images, and the result is almost equal to this parameter flagships.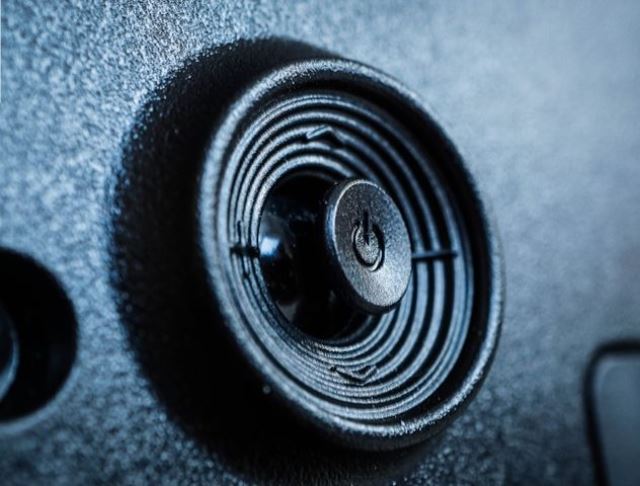 Video
Technology 400 Clear Motion Rate.
Image Processor 3D HyperReal Engine.
Dynamic Contrast Ratio Mega Contrast.
Color enhancement technology Wide Color Enhancer Plus.
Auto Motion Plus 120/240 Hz to 120 Hz.
Mode "Cinema".
Supports Natural Mode.
As in previous models, set 2 speakers with 10 watts each. There is support for 5.1 surround sound to output optical audio output on the speakers. Digital sound processing technology provided by DTS Studio Sound. For decoding and output digital audio formats on your speakers, headphones or other equipment connected to the unit responsible decoders Dolby Digital (AC-3), DTS, Dolby Digital Plus / Pulse.
Sound
Supports surround sound 3D Sound.
Output sound. Power: 2 x 10 watts.
Dolby Digital Plus / Dolby Pulse.
Support DTS Studio Sound.
Support DTS Premium Audio 5.1.
Downward dynamics + Full Range.
Menu
The basis of the new TVs Samsung – Smart Hub, with him, we learned earlier in the previous reviews.
In the 6500-m this service now has 3 sections:
"Photos, videos and music" – a collection of personal data, which are available with different devices – be it a laptop, tablet, smartphone.
"Social Services" – a compilation of content from friends and family members, popular videos to Facebook and YouTube, as well as Skype.
"Applications" – downloaded from Samsung Apps applications, including children's, sports, cooking, dedicated to fashion and style, and many others.


Easy and safe to use. Smart Hub allows you to simultaneously use several functions, for example, watch a movie, transfer and chat with friends via social networks. That is, on the screen in one window broadcast television images and the right of it displays the selected tape social network (Facebook, Twitter, GoogleTalk).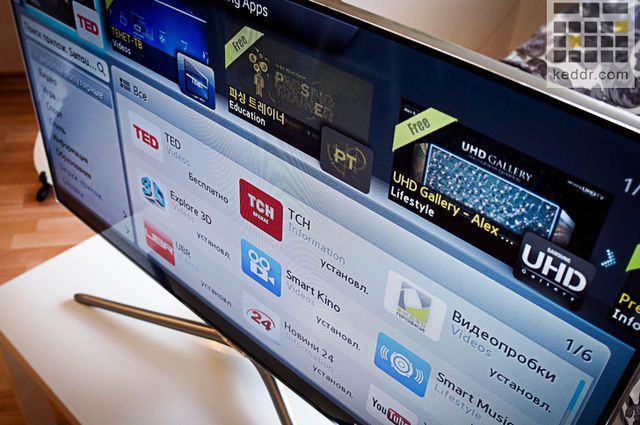 Output
TV 40 "Series 6 Smart TV 3D Full HD LED UE40F6500AB – try to rebuke – good on its value. If you need a TV with high quality picture, good sound and an interactive component at a reasonable cost, which is not cluttered heaped sorts of things, it will surely suit you.
Read another very interesting article about alternative energy of the Sun, water and air.