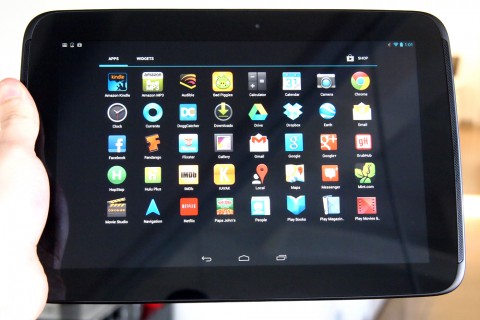 Almost immediately after the announcement of the Google Nexus Tablet 7 of the second-generation journalist publications Wall Street Journal, Amir Efrati, citing the head of division Android at Google, Sundara Pichai, said that the new Nexus 10 will also appear in the near future, and its production, as well as the original Google Nexus 10 will be engaged in by Samsung. In spite of this, now we have heard a completely different information about this gadget: according to Russell Holly site Geek.com, which refers to "multiple sources", the manufacturer will deliver ASUS, which assembles Nexus 7 tablets (both generations).
As for release date, the Russell promises that it will be available in Google Play and large chain stores, "the holidays." Nexus 10 of the first generation, we recall, went on sale in mid-November 2012, so it is likely the new tablet will be around the same time.
But, after all, who is right? And Russell Holly, and Amir Efrati are respected journalists recognized publications and usually do not report unverified information, so it is hard to believe that Google has changed its decision between July 25 and today. Unfortunately, apart from the words of these people, we do not have any facts which could confirm this or that assumption. In favor of ASUS says unless the message of one of the creators of the promo video for the Nexus 7 of the second generation in its portfolio, which explains the work function of Surround Sound. He wrote, literally, that the video was made for the launch of Nexus Nexus 7 and 10. That is, if the Nexus 10 will receive the same "Del.icio.us StumbleUpon Reddit" as the Nexus 7, it is logical to assume that the manufacturer and they will be the same. However, it is too inaccurate assumptions to now take them for truth, hope the mystery pripodnimut future leaks about the tablet. Hopefully there will be as many as in the case of the new Nexus 7.
Read another very interesting article about alternative energy of the Sun, water and air.