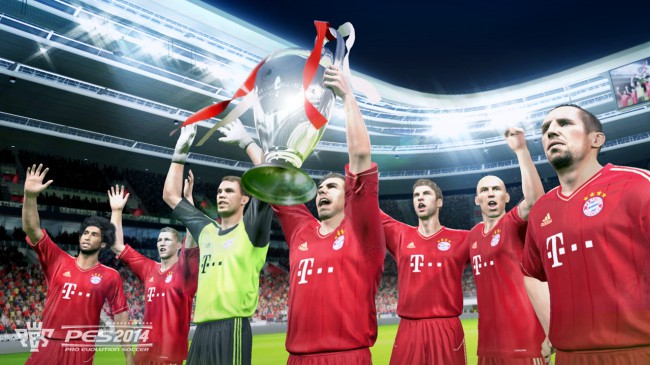 For those who are into football simulators like the role of manager of the club (train, buy and sell), there is FIFA. But if you are serious in the first place a realistic football battles – the hot, hard and unyielding, with no shadow of a doubt choose PES 2014.
First game of football simulator on the company Komani I had in 2006. However, more than a few matches in the Pro Evolution Soccer 6 things did not go as well as playing on the computer keyboard was not very something comfortable, and there was a gamepad. More and management was very different from FIFA 07.
The second introduction to a series of PES was already five years later – in 2011. Based on the first version of the game engine Impact Engine FIFA 12 has been very controversial: the collision caused laughter bumbling players and the ball turned too easy (nothing less than a balloon). As an alternative, it was decided to try PES 2012, especially as the joystick support XInput found.
Overall, PES 2012 was quite good: do stupid AI and, lo and behold, a realistic goal. But all around continued to "fight" in the Online FIFA 12, and a week later because a single game in PES 2012 had to reluctantly return to football simulator EA. Go to FIFA 13 serious claims were not so PES 2013 passed by. But FIFA 14 again is ambiguous from the point of view of physics. As a result, it was decided to re-test the PES 2014, and at the same time to share experiences "defector" from FIFA.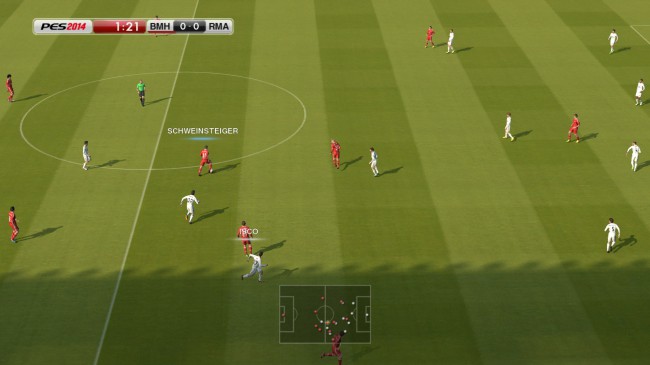 When you first start PES 2014 have downloaded the 1.01 patch that removes minor flaws, and the addition of 1.0, which adds new licensing balls, shapes and stadiums. Such updates Komani promised to release throughout the year. At a minimum, upgrade to the newest recaps PES 2014 would not hurt. And then in Madrid "Real" while playing bought this summer Isco has left the club and Gonzalo Higuain.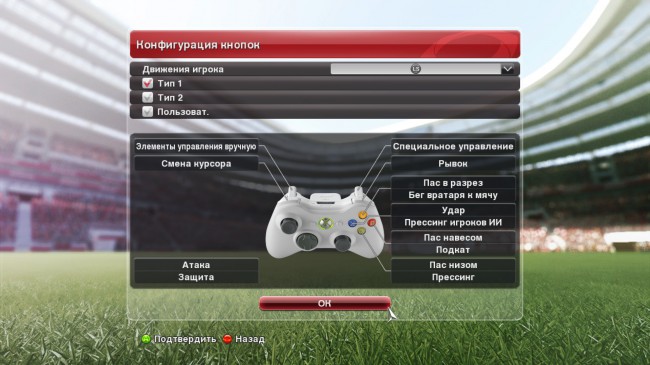 And the names of the teams of the Premier League in PES 2014 invented. For example, under the names of "North London" and "Merseyside Red" hiding "Arsenal" and "Liverpool". In general licensing of European football leagues – the long-standing problem of a series of PES, which partially solve amateur patches. Fortunately, on the balance of the game informal additions have no effect other than adding cosmetic improvements, but because they do not conflict even with multiplayer.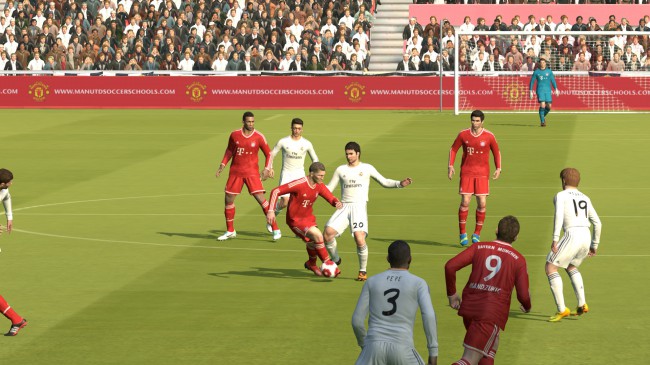 Well, now the main thing – graphics, physics, sensitivity control and artificial intelligence. The graphics PES 2014 a brand new engine meets the Fox Engine, whereas in physics – albeit not the latest, but well-proven Havok. PES 2014 looks much better than its predecessor, and is second on the chart FIFA 14 is only a little. In this case, the players drawn to the last detail, and you can complain except on the lawn. Beautifully modeled grass developers Komani either failed due to weak hardware consoles PS3 and Xbox 360, or simply too lazy.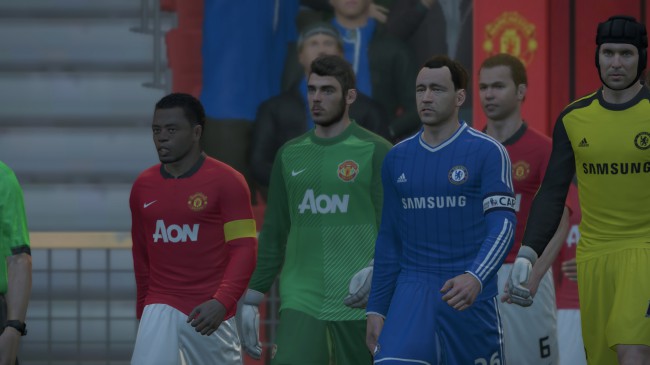 Against the background of FIFA 14 with "well, very heavy ball" like a double compliment physics PES 2014. The ball is felt here in this: not too light or heavy, and properly inflated. Corresponds to the behavior of the players ball physics and control sensitivity. After a light pressing a pass ball quickly flies to twenty meters to the nearest member of your team, and slowly rolled a couple of feet, and in a strictly specified direction you.
Yes, physics and management of PES 2014 to get used to (it took me three games), but it was a football with a minimum of automation seem right. For comparison, in FIFA 14, many non-trivial to implement tactical ideas can not be locked because of a pass. In PES 2014 in the same attack can go as slowly with cautious short passes and "running" shot through the transfer of inside information on the flank.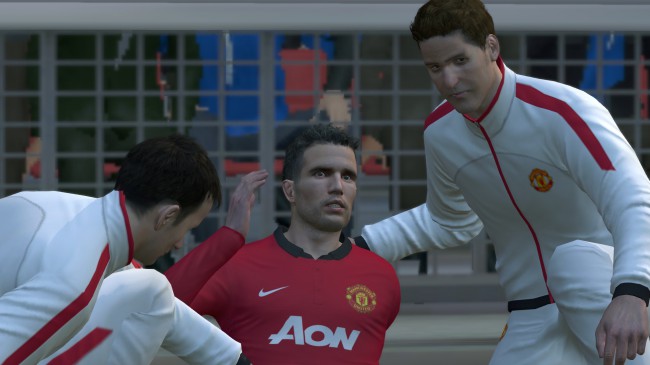 Another definite plus PES 2014 – an exact copy of the real style of game players. And it's not limited to only a "brand" feints of a player. Thus, the virtual Carlos Tevez, short and stocky, with the battle to wade through the "defensive redoubts" opponent, and Frank Lampard, "fired their guns" from a distance.
Mankunianets Robin van Persie managed to create chances out of nothing, with that in one of the episodes was on his feet hurt from the "aristocrat" David Luiz (already appeared in the medical field). Goalkeeper Gianluigi Buffon is "pulling" all the balls, while his counterpart in the "Port" Elton caught the "butterfly", which he often does in reality. Those who follow the real football, such trifles necessarily hooked.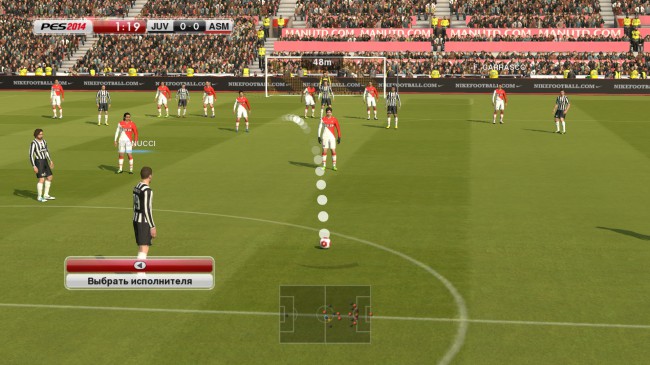 When it was necessary to give the sharpening pass, artificial intelligence PES 2014 did so. And when there was a good chance for a strike on goal, AI did not hesitate to beat. Irrelevant feints, passes back and "shooting at sparrows" almost was not.
The really weak point is PES 2014 is on-line games. The elaborated multiplayer with a social component, as in FIFA 14, Konami creations have not. More or less decent number of players could be found only in the Asian server, well at least with ping problems have arisen.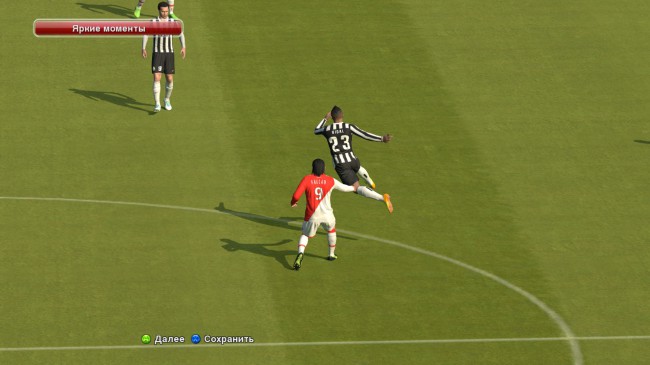 Random lobby in PES 2014 is not provided: there is need to create a new game (game room), or connect to an already created by another player. On that to find an opponent and start the match, sometimes five minutes away. The forums are writing about frequent breaks ties, but there could be as lucky. Hopefully, next year, Konami will pay more attention to the multiplayer.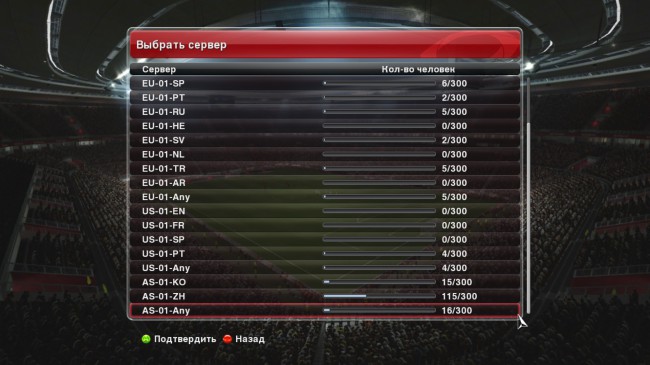 Single-player matches PES 2014 were damn interesting, but at the same time without multiplayer levels FIFA 14 does not want to stay. Therefore, the ideal scenario of use – combining both games. In FIFA 14 only play multiplayer (modes "Seasons" and Ultimate Team), and PES 2014 run, when you want to roll the ball alone. For example, PES is perfect for the road, where there is always a high-speed connection to the Internet.
Read another very interesting article about alternative energy of the Sun, water and air.