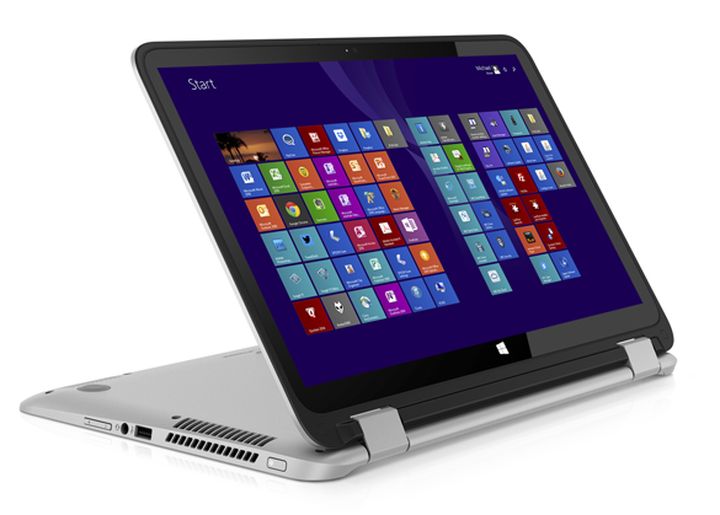 Like a number of other laptops with 15-inch touch screen, the model HP Envy x360 too heavy and too slow to turn into a dream come true conqueror of roads. However, pretty high-resolution display, which, like an acrobat, able to spin 360 degrees, and the relatively low price may well attract the attention of fans of multimedia applications.
The computer weighs 2.4 kg, which is quite typical for the mass models of laptops equipped with a screen diagonal of 15.6 inches. Massive hinges on which rotates the display screen allow you to reject to the desired angle using the computer as a standard laptop. Putting your keyboard down and turn the display around its axis, we get a touch screen on a stand. And if you touch the screen on the back of the keyboard, the computer turns into a fairly thick and bulky tablet.
Possible options – these include another 2 GB of RAM (as a result of increasing total memory up to 8 GB) and a screen with a resolution of 1920×1080 pixels and support for multi-touch (in the basic version is equipped with a computer screen with a resolution of 1366×768 pixels). In addition, the computer is equipped with mobile processor Intel Core i5-4210U and hard drive capacity of 500 GB with a spindle speed of 5400 rpm.
Mediocre performance
Computer performance, as expected given its specifications, was not particularly impressive. Slow hard drive in conjunction with the integrated graphics brought HP product 57 points in Laptop WorldBench 9 and not too high result in gaming tests. Having a high resolution display, an active energy absorbing panels has led to the fact that the battery computer worked only 3 hours and 15 minutes.
Slow hard drive and no adapter Wi-Fi, supports 5 GHz frequency band, of course, are serious faults. But users who are in any case going to include the power supply plug into a wall outlet and connect to the network via cable, display with a black frame and elegant fine trim, as well as the dynamics that are clearly above average quality, create good conditions for streaming video. Built-in webcam produces high-resolution images perfect for video calls, committed via Skype.
Streaming video I received via Gigabit Ethernet, as the computer does not support the network Wi-Fi, operating in the 5 GHz band. Sadly, the same can be said of many other budget laptops, with whom I had encountered recently. Network Support Wi-Fi 802.11b / g / n in the 2.4 GHz band is often useless in situations where multiple networks are trying to compete for the few remaining non-overlapping radio channels. In my experience, the media streams in such a constantly freeze and the computer every now and then disconnected from the network.
Other interfaces Envy X2 look much better. The computer is equipped with a three-port USB (two of which support the standard USB 3.0), connector HDMI, memory card slot, already mentioned Gigabit Ethernet interface and a combined headphone and microphone. Stereo speakers, like many other laptops located in the lower part of the housing at an angle to its front edge. Rubber feet leave some space between the speakers and the surface of the table, so that the sound does not seem muted.
Obviously, it makes sense to purchase a configuration with a higher resolution display, which is available as an option. On the screen with a diagonal of 15.6 inches and a resolution of 1366×768 pixels the image looks terrible.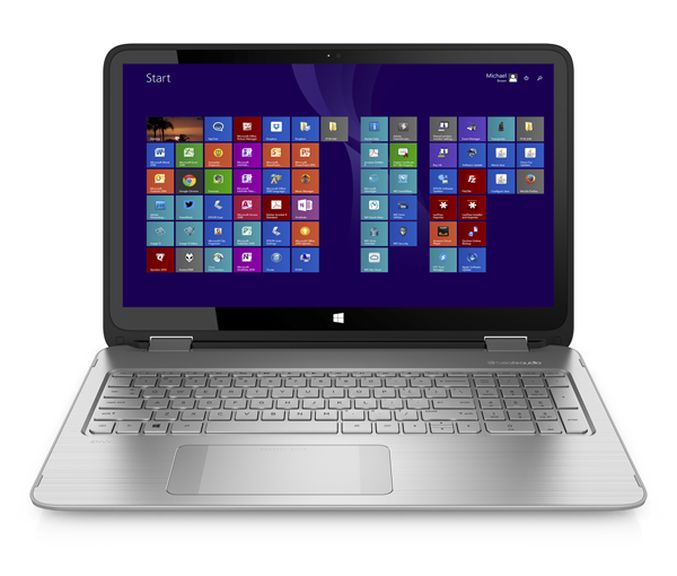 Keyboard colored the same shade of silver, and that the housing. Keys island type located at a reasonable distance from one another, but seem to be too flat, slippery and slightly myagkovata. As with most other computers of this size, the digital pad is located to the right of the layout QWERTY. But the new touchpad HP Control Zone, supports both mechanical and touch interfaces has increased width, which can be very convenient when moving the cursor on a wide screen.
Like other portable general-purpose computer, model Envy x360 well suited for multimedia and may well appeal to those business customers who appreciate the possibilities of turning her screen. The disadvantages of the same should definitely include the lack of support for Wi-Fi networks in the 5 GHz band and the slow hard drive .:
Pluses:
Disadvantages:
mediocre performance and duration of battery life;
lack of support for Wi-Fi networks in the 5 GHz frequency band.
Findings
HP Envy x360 model has some good multimedia capabilities and flexible orientation of the display, but mediocre performance and battery life expectancy, as well as lack of support for Wi-Fi networks in the 5 GHz band will make buyers think twice before you decide to buy.
Read another very interesting article about alternative energy of the Sun, water and air.