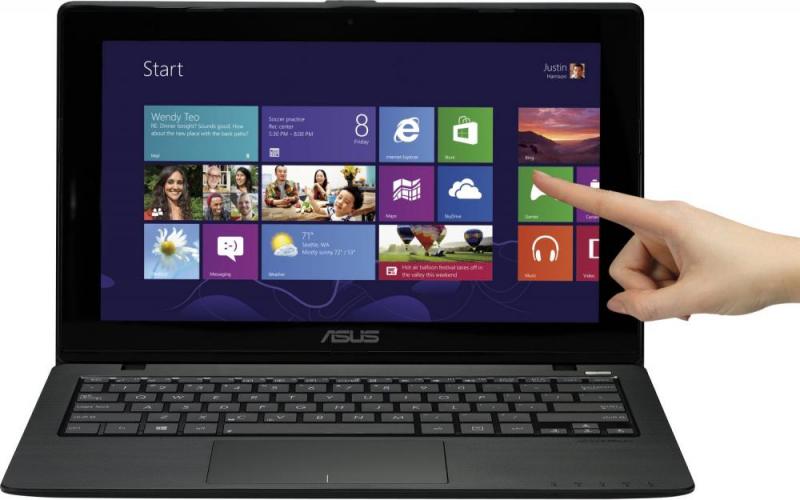 Taking care of a powerful laptop home, always inadvertently raises the question of acquisition of portable devices such as a tablet, a subnotebook or even a Smart Phone. Especially a question for those who work a lot outside of the home and often travels. For just such people and has developed a new 11-inch subnotebook ASUS X200CA with touch screen.
Design
ASUS X200CA design is fairly simple, but not devoid of playfulness. It has a full plastic body with a fine ribbed texture which is very useful when carrying the laptop, and just pleasant to the touch. The bottom of the computer is made of the same plastic as the rest of the body. It is said that in contrast to many computers at the ASUS X200CA This panel looks very neat.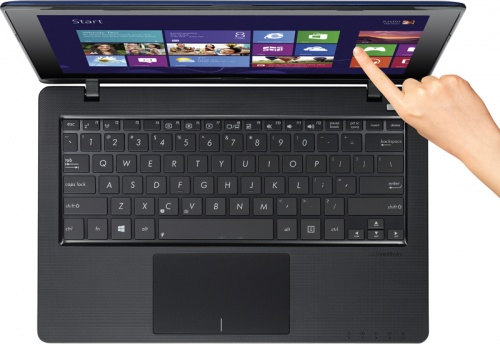 Laptop cover, though, and is made of plastic, flex only under strong pressure. The computer opens quite easily, but the lid is kept fairly reliable, does not rattle and does not falter during the opening / closing the computer. Well, according to tradition, in the center of the panel is a small logo Asus, which immediately catches the eye of the user.
Operating panel ASUS X200CA looks pretty cozy. Everything is in its place, which is a huge plus for a fairly simple computer. Pleasantly surprised by the size touchpad, which, despite its limited space is inspiring dimensions. Width of the laptop is 25.6 mm and weighs 1.24 kg. In short, what you need to carry.
Input Devices
Compare the computer keyboard of small and home multimedia laptop rather silly. However, even some small laptops leave a much more pleasant experience from work than their larger counterparts.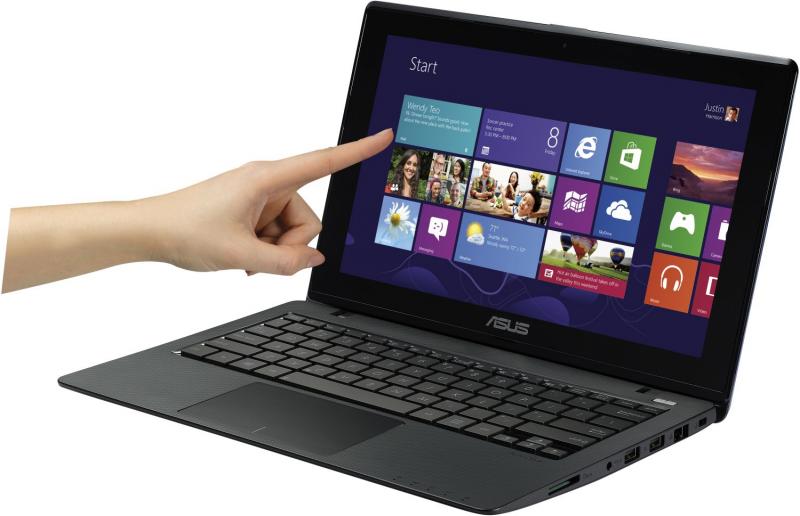 Keyboard from ASUS X200CA has a rather mild stroke with an average depth, which is very good for printing. The key here is not flimsy and have a sharp rebound, which again suggests that to work in the way he approaches. The only slight downside is the small arrow keys, for which it is not difficult to miss.
As we noted earlier, quite a pleasant surprise for us was the large touchpad, which supports many multi-touch gestures needed to run the latest version of Windows OS. Also, the touchpad does not have physical keys, but instead is pressed over the entire surface. He pressed, by the way, quite easily, without making much noise. In addition, ASUS X200CA and equipped with a touchscreen. It did not miss a lot. Touch screen allows you to minimize the cost of time and effort to navigate the Windows 8. He knows modern gestures, and also has a fairly accurate input.
Screen
Diagonal Screen ASUS X200CA is 11.6 inches with a resolution of 1366×768 pixels. Despite the relatively simple matrix, the screen of our computer issues a juicy and vibrant colors that is sure to please fans hold screenings on the road. Perhaps the only drawback of this screen are narrow viewing angles, that is, in principle, is not fatal.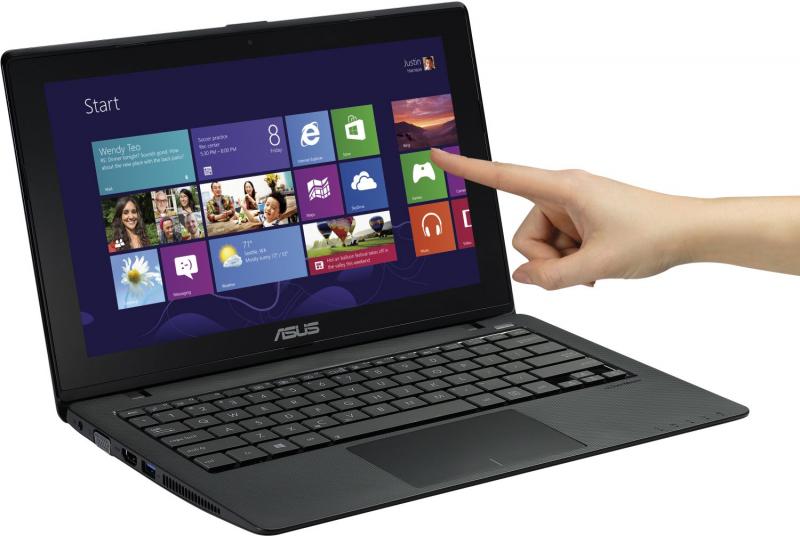 This screen is the best fit for the road conditions: you can always work with text documents and presentations, as well as entertain themselves watching movies or running an old, but a favorite of the strategy.
Performance
For a small and affordable ASUS X200CA subnotebook has a relatively high performance. On board of this computer is a low-voltage dual-core Intel Pentium 2117U clocked at 1.8 GHz. The hard drive is of 500 GB, and 4 GB of RAM to help the processor to cope with the tasks. As used herein the video card integrated graphics Intel HD Graphics, which is unlikely to pull the new games, but it will cope with the launch of applications, and many of the old video games.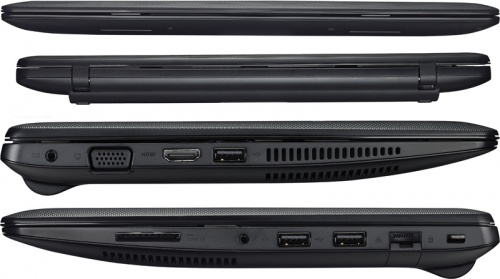 Interfaces
The set of interfaces at the ASUS X200CA not too big, because of its size. It includes two ports USB 2.0, one USB 3.0, HDMI video output and VGA, Internet connection RJ-45, SD-card reader slot, lock Kensington, combined audiodzhek 3.5 mm headphone and microphone jack and AC-adapter.
Output
ASUS X200CA – this is a good and inexpensive solution for travelers. This computer when its price is relatively high performance and high quality keyboard and a stylish design. Of the minuses can be noted here a weak screen, which is not so scary when working on the road.
Read another very interesting article about alternative energy of the Sun, water and air.