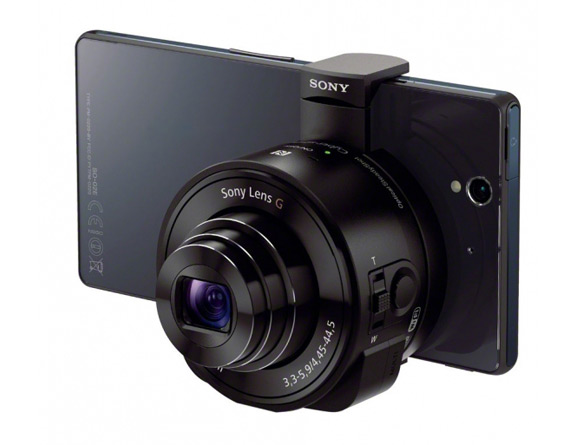 A few days ago it became known that Sony in September, may represent a new kind of gadget companion for the iPhone and Android-smartphone – Consignment lens that turns your device into semi-professional camera. Now these facts were confirmed.
The network has the schematic illustrations of the devices hit the web of the manual. The diagram shows that the design of the overhead lenses as well as the location of buttons and connectors correspond to previously published photographs.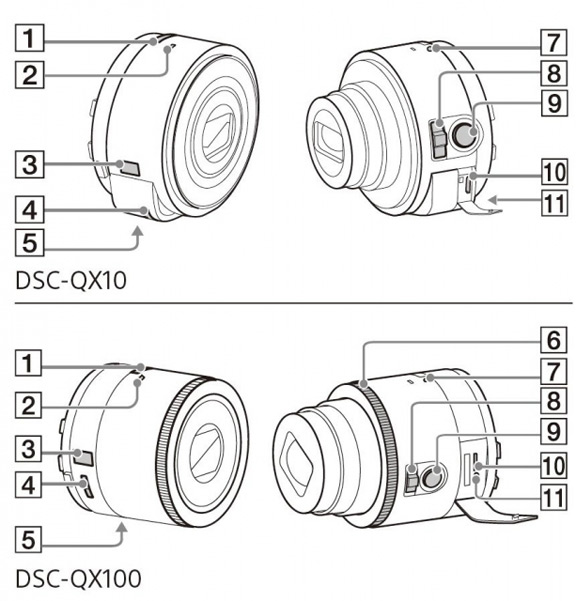 Sony plans to launch two new gadget to complement smartphones on iOS and Android. Modules lenses Sony DSC-QX10 and Sony DSC-QX100 recorded on a mobile device magnetic mount. They include a matrix processor Bionz, zoom lens, a slot for SD-cards and modules Wi-Fi/NFC, of ​​the controls provided for adjusting the zoom and the shutter button. The lens through Wi-Fi or NFC is connected to the smartphone, which is where control is exercised.
Power Button
Microphone
Display: shows the status of the memory card and battery
Mount for belt
Tripod
Zoom ring (DSC-QX100)
Power / charging / video
Green: Enabled
Orange: during the charging process
Red: preview video
Zoom lever
The shutter button
Multi-function input
Reset Button
Dimensions (standard CIPA):
DSC-QX100: 62,5 mm × 62,5 mm × 55,5 mm
DSC-QX10: 62,4 mm × 61,8 mm × 33,3 mm
Weight (standard CIPA) (including battery NP-BN):
DSC-QX100: about 179 g
DSC-QX10: about 105 g
Power Supply: Rechargeable Battery NP-BN, 3,6 In the
Power consumption (during shooting): 1.1 W
According to preliminary information, Sony DSC-QX100 get the same 1-inch matrix that is used in an upscale 20-megapixel compact RX100 II. The second model includes a 10x zoom lens and a half, 3-inch 18-megapixel CMOS-sensor, as the camera Sony WX150.
Overhead Sony lenses will improve the quality of shooting with the iPhone, which in this case will serve to sight and control the process of photographing. The devices will debut in early September at IFA in Germany.
Read another very interesting article about alternative energy of the Sun, water and air.