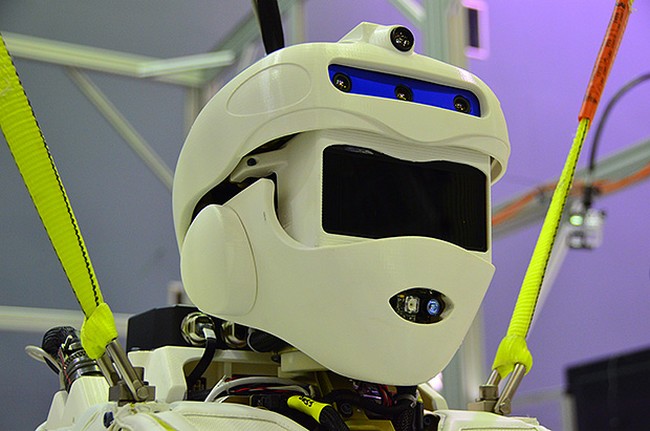 NASA experts have created a robot that will take part in competitions DARPA Robotics Challenge (DRC) with a prize fund of $ 2 million
Humanoid robot Valkyrie growth 183 cm and a weight of 125 kg has 44 degrees of freedom and is equipped with all kinds of sensors. According to the space agency, a mobile robot and agile enough to perform rescue missions in disaster areas.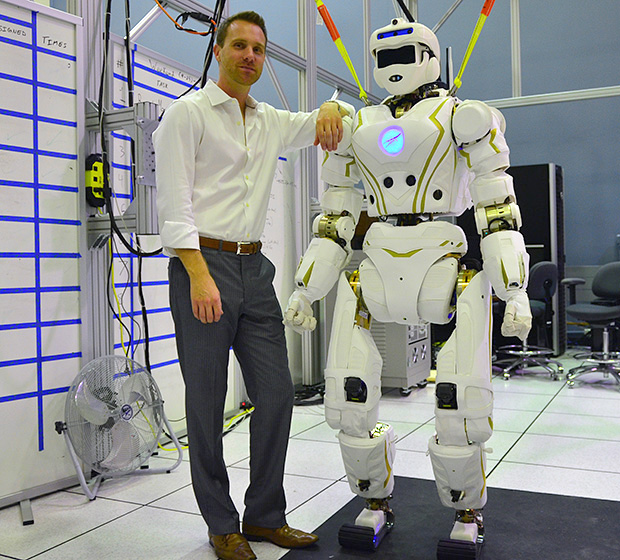 During the interview with the resource IEEE Spectrum project manager in Valkyrie Space Center. Nicholas Johnson Radford said that Valkyrie is designed especially for the contest and DRC differs strong legs that allow the robot to move easily over rough terrain. As mentioned above, the robot is equipped with a plurality of sensors that help him determine the location, speed and applied to objects mechanical force. In addition, almost all parts of the robot's body (head, arms, knees, legs, torso) placed camera sensors that provide visual information. Additional information on the sensors comes from hydraulic joints and laser scanner LIDAR.
Unlike other contestants – ATLAS robot , "Valkyrie" is equipped with a built-in battery capacity of 2 kWh, not cables that severely restrict freedom of action. The battery is located in a compartment on the back of the robot. In terms of autonomy Valkyrie creators promise to work for about an hour in the intensive mode. By the way, the modular design allows the robot to replace in a matter of minutes, not only the battery, but also my hands.
It is worth noting that Valkyrie is based on other humanoid systems NASA, in particular exoskeleton Robonaut. However, it differs completely new technology, and its lightweight body and legs make it stable aimed at performing tasks on earth, not in space.
Mr. Radford also said that the team has paid due attention and a lot of time designing the robot design. Metal components Valkyrie covered with special material, which in addition to protective functions gives Valkyrie aesthetic appearance.
It should be noted that NASA is funding another project codenamed Valkyrie – «kriorobot", which works on the creation of the company Stone Aerospace, equipped with a special laser to penetrate through the thick bowl of ice on the satellite in Europe. However, this mission will not mated with "Valkyrie", developed by a team of Nicholas Radford. According to him, at the moment comic agency more interested in Mars and perhaps, Valkyrie will soon become a full-fledged member of the team colonists.
Finally it is worth mentioning that the creation of Valkyrie team from 55 people took nine months.
Read another very interesting article about alternative energy of the Sun, water and air.