Intelligent diagnostic ring Hoope, designed Damel Mektepbayeva from Kazakhstan, allows without any problems to analyze their blood (need only a drop) for sexually transmitted diseases such as chlamydia, syphilis, gonorrhea, and trichomoniasis. The fact that the ring acts, there is no doubt, because it works Damel biotechnology at the University of Singulariti. Located organization in the NASA Research Center in California.
The project works with Mektepbayeva robotics Ernesto Rodriguez and marketer Irina Rumshina. The main part of two rings – a base, where the electrodes are painkillers and Cartridge with chip and disposable needle. Each ring will be supplied with three cartridges, so that the blood test could be carried out three times (for example, on a course of treatment).
How does it work of intelligent diagnostic ring?
Before using the intelligent diagnostic ring should be worn on the thumb, and the electrodes almost immediately reduce the sensitivity of the finger. After pressing the needle penetrates the finger, the result of which is getting blood on the diagnostic chip.
If the infection has been detected, the corresponding LED lights, located on the ring. Plus, all of the data ring transmits via Bluetooth to a paired smartphone.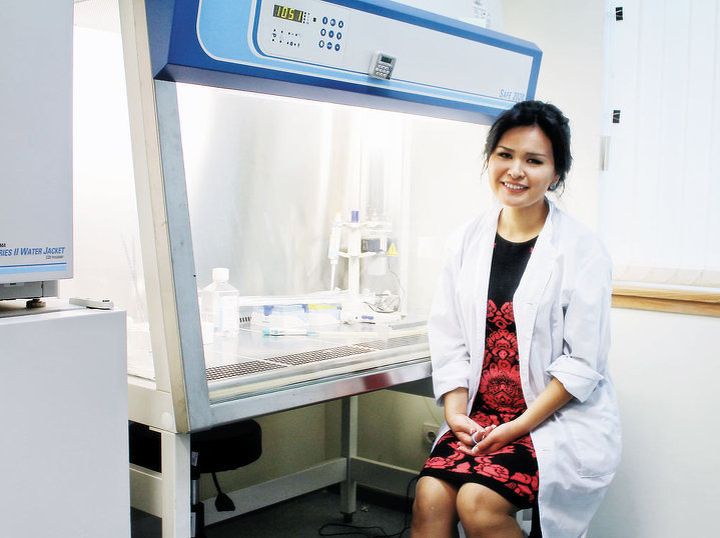 "We have developed a method for painless blood collection using neuromodulation by an electric current. For detection of antibodies, we use the lab on a chip based on a paper that does not require any source of energy ", – he clarified the principle of the ring Damel Mektepbayeva.
Problems and Plans
Now the intelligent diagnostic ring as a system does not yet exist – the fact that the developers create different elements of the ring separately. Also, individually held and test operation – all the working parts of the ring, there is no problem.
It is also interesting that the design of the ring is conducted in three countries. In Mexico, we are working on the hardware, the software is developed in Peru and Kazakhstan conducts research in the field of biotechnology, plus finalized diagnostic laboratory on a chip.
It is clear that research of this kind can not be carried out without money. And the project receives investment and premium. So in November 2014, the team received a prize Google, D.camp, on World Startup Competition (Korea). At the end of December last year, the team won in the Startup Chile, also received the award. Developers have received several awards at various technology events, plus a grant of $ 30 thousand. The Ministry of Education and Science of Kazakhstan.
The total amount required for the project and access to international markets is estimated at $ 2 million.
How much is intelligent diagnostic ring?
According to the developers, the cost of the intelligent diagnostic ring Hoope is about $ 50. This is not just cheap, very cheap, considering that the ring allows you to test for the presence of 4 different sexually transmitted diseases, not once but three times.
Source: hoope
Read another very interesting article about alternative energy of the Sun, water and air.