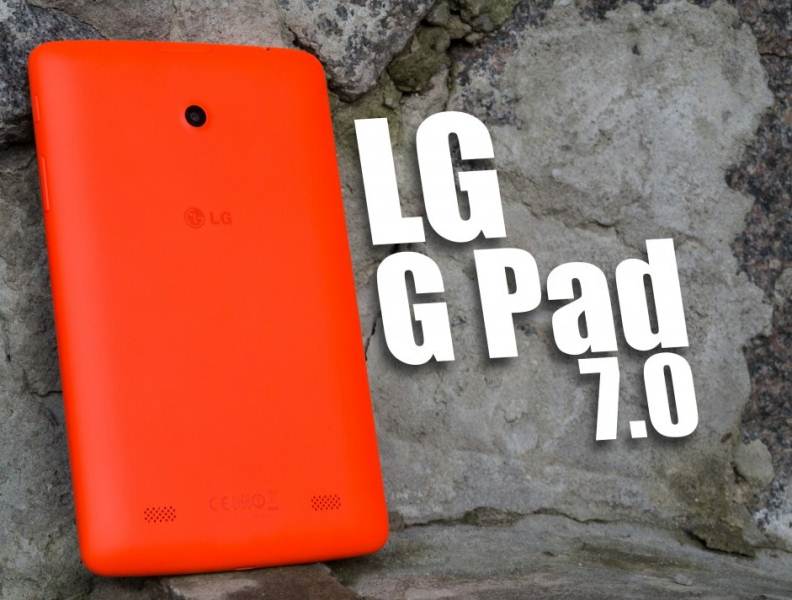 About a new series of tablets from LG G Pad was on the move so much information that only a very lazy or do not read people did not know about their upcoming release on the market. Was 2014, and the company just managed to release one after the other great LG G2, finally explanatory tablet LG G Pad 8.3, and shlifonuli they release his coolness excellent LG G3. It's time to update the line of tablets, so much so that in all sizes, all colors, so that at the right price and performance as necessary. And what happened? Let's start with color LG G Pad 7.0, and it is awesome!
Appearance and ergonomics – LG G Pad 7.0
On a tablet LG G Pad 7.0 once you pay attention. It's bright. It is very bright. The line is all sorts of colors: white, black, blue, yellow. But this, as for me, the most eye eats away. Initially I even thought that I was kidding, it's a toy for children with alphabets and traced all sorts of beautiful toys. But no, just here is such a hipster color. To not think that only Nokia can afford a variety of shades. But the entire front of the plate covers the display, covered with tempered glass, and the color gives only a thin border, shading screen. Looks very good.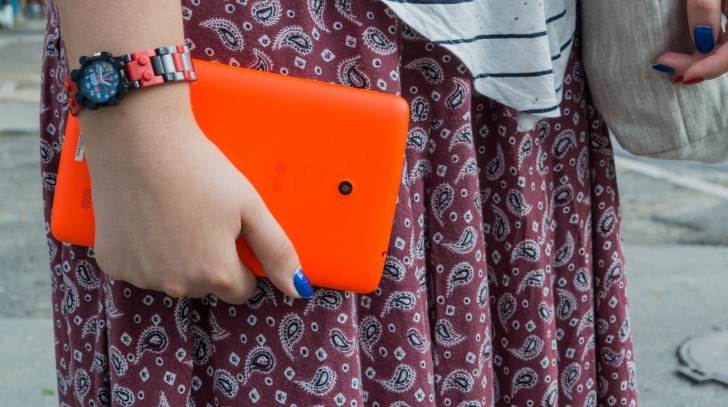 Also, what color is the unit .. outstanding, instantly turning their attention to the quality of the back cover. Not the usual coverage, but very pleasant to the touch. Person may say he is both good and bad. Poor – Mark and tenacious. The device can be easily held in one hand, the parameters for the 7-inch tablet is quite permissible to – 113,8 × 189,3 × 10,2, yes, and because of the weight of 293 grams it will not seem weights. But because of the cover back cover may feel that he is now slip. To be honest, so I have it never once ran out of fingers, so when you think, well, you know. But due to the fact that the plastic is so smooth, all soiled, it collects, it is easy to scrub in a jiffy.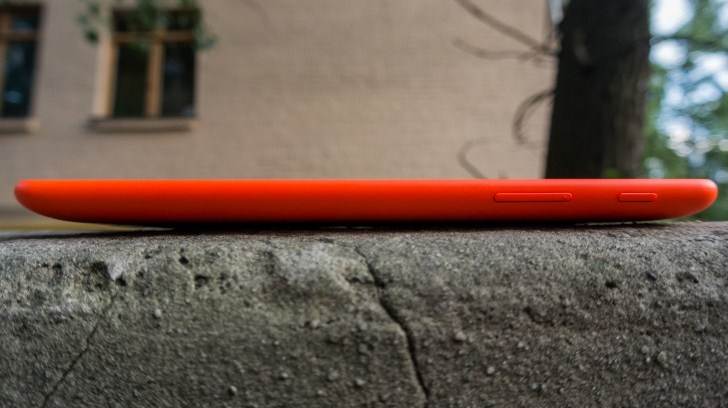 Design LG G Pad 7.0-piece, for that of a special thank you – I'm in disbelief recently to the housing with a removable cover. It's all tailored very tight, no squeaks, no twists or bends. You can control it as two hands and one. The buttons are located a little more than successful. All push-button controls focused on the right side of the top – perfect for the thumb. Responsive, with a short but precise way. Volume key to unlock does not work, but you can unlock the tablet, and all sorts of tapping, double-tapa LG seems to have long enough. The function of art percussion passwords Knock Kode present. According to the developers, this is the most reliable data protection, which is "almost impossible to break." Modern, but not ideal.
The top side is a microphone, 3.5mm standard audiodzhek, infrared remote control technology, and a slot for microSD under a flap. Opens quite tight, so eventually will get loose, and that's good. Supports cards up to 32GB. But more on that later.
Located on the bottom of the port MicroUSB. And enough.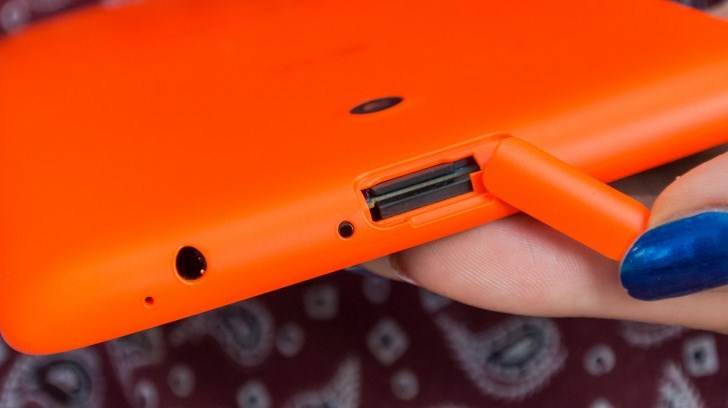 Our outstanding historical eye lid housed the main camera 3 MP, underneath the logo. On your copy inscriptions Not For Sale will not, I promise.
Two mesh speaker to give the stereo effect, are in the bottom with two sides. But there it was – no stereo, and right grid clearly sounds at times louder.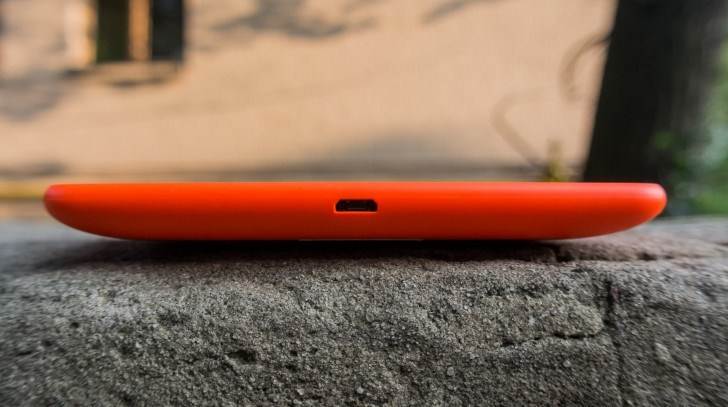 Due to the parameters and the weight is the unit in your hand perfectly, the pockets fit in handbags and backpacks for men and even more so. Assembled cast, looks beautiful, no external features, but comfortable. So here the machine receives full credit.
Display – LG G Pad 7.0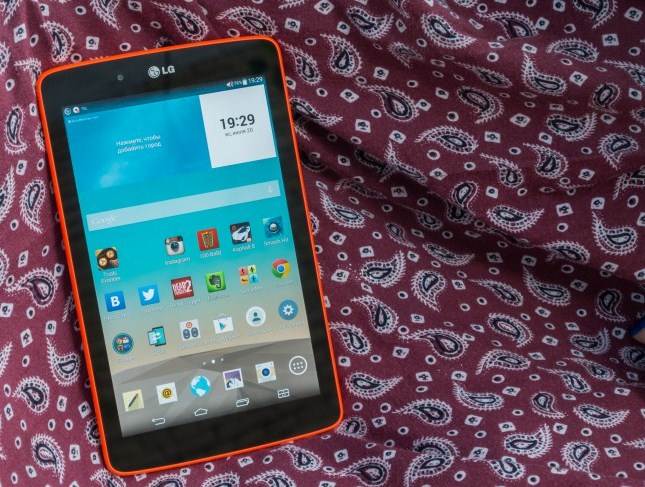 7 inch IPS 1280 x 800 pixels, 216 ppi density and glossy finish. Company allocates display device as one of its main attractions. I can not say that you are right vskriknite happiness, litsezreem resulting image, but comfortable stay for sure. The colors are bright and contrasting, and at an angle not fall into inversion. Brightness, at first glance, the stock is quite good, but at an angle when viewing white pages color obviously will turn gray, and it can be an eyesore. But here is what exactly liked, so it's minimum brightness. It is soft enough to read at night commentary on keddre – it.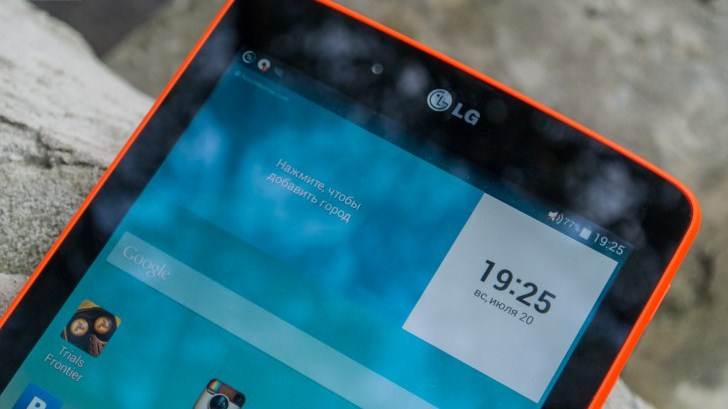 Part of the screen LG G Pad 7.0 will "eat" virtual onscreen buttons. Four of them here, the last two-window mode, details of which will tell in "ON".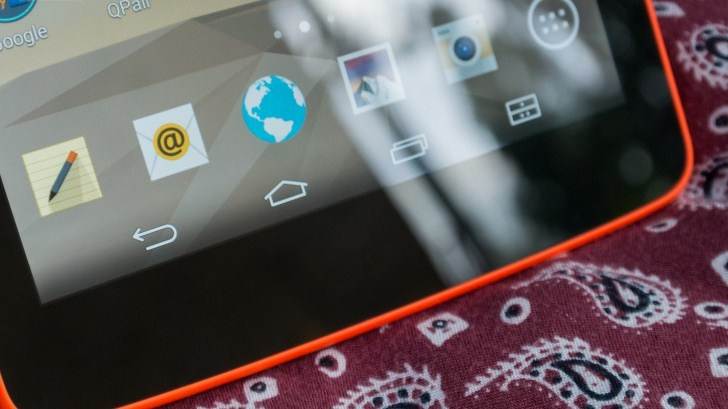 Frame around the display thinness do not differ, but the heavyweights could not call them. Framework as a framework, nothing special. Do not really like when the brand shoved on both sides, but on the "forehead" is the logo, the eye of the front camera of 1.3 MP and did not understand where the indicators of events and approximation. Even after a couple of weeks yuzaniya no life I can not find them in such darkness.
Of course, I watched the video on the 7-inch tablet. Plug your headphones – and everything is fine: although serials, though the movie, though videos on YouTube. And even wrote a review on this tablet when riding the subway than deserved full wagon prying eyes. Once forgotten the keys to the house, sitting in the stairwell, and worked with a tablet, as if with his usual laptop, just did not use photoshop. In general, and display, and iron for all the mundane tasks will suffice.
Camera – LG G Pad 7.0
Then I have nothing to say good. From the front camera of 1.3 MP no one at all is no good expecting, and rightly so. A couple of photos, I still did and say that it is necessary to use it only as a last resort. If your phone is dead, and urgently want to make self – will have to endure. And if your smartphone is dead, but it is necessary to answer the video call, or look for a great lighting, or know that after this call your partner in life on the street you do not know.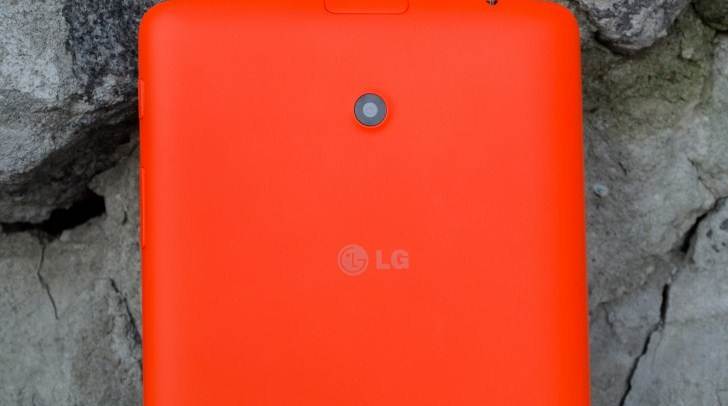 The main camera is 3 megapixels, like the train is already more impressive, but no. From the moment when you realize that it has a fixed focus, you just turn off the camera app, and he was never opened. But the examples of photos and videos you on the court is still there.
Sound – LG G Pad 7.0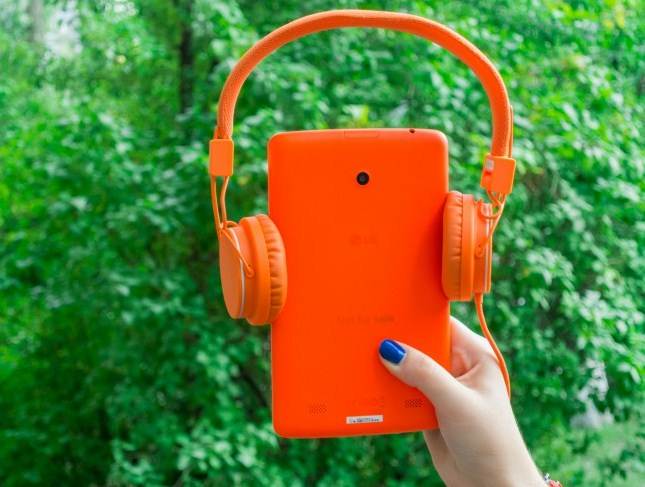 Average volume, average cleanliness. The speakers are located on the cover plate, and if you play music and put it up display, it is likely that your track, you just do not hear it. If you listen to music from the tablet through the speakers, then it will have to put on the tum, the glass down. And yes, I remind you once again – no stereo, two speakers here just for show. As placebo. So you saw the two mesh, and the sound you seemed steeper.
Video – LG G Pad 7.0
Sadness, misfortune happened to me on the train Kiev-Luck when I hastily thrown a couple of movies on the sd-card, install it in the tablet, and none of the movies does not support audio tracks. In this case, the files themselves with no problems getting to the places the cinema, I still was able to see.
AVI and MOV «treated» installing normal player, in my case it MX Player. But even he did not cure MKV, film in this format will look in the genre of silent film.
Do not forget that my copy – the sample, this is not a definitive list. But that's what seems to remain unchanged, so it is a format playable video. HD-rollers lost without problems and the brakes, but only if the format was LG G Pad 7.0 in the teeth. FullHD-video, you will not be able to see. Zhutchayshim brakes, no one in the world there is no such inhuman patience to bear it.
Specifications – LG G Pad 7.0
Four core Cortex-A7 processor Snapdragon 400 c clock frequency of 1.2 GHz and 1 GB of RAM – this is not a record, but quite decent for a tablet filling the middle class. You will not notice any lag or inconvenience. Asphalt 8 on medium graphics settings is comfortable, beautiful SmashHit also no problem. In the synthetic tests the device records beats, 17 thousand parrots – it's not as much as we would like. Pulls the whole thing a new Android 4.4 KitKat and drags in the charts device somewhere between 7 and Nexus Nexus 4. Hmm … But it is not heated almost …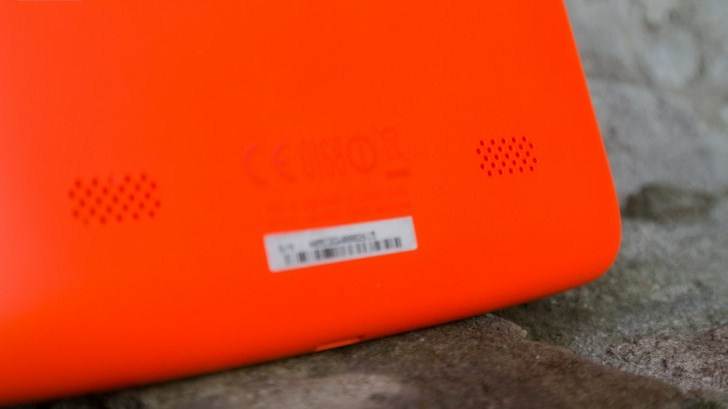 The only thing that bothered me for all time yuzaniya, and I trust that this is a problem of a single one of my copy – it's flying program. They sometimes or not run at all, or went at the wrong time. In general, if it is fixed a, work with your tablet you enjoy. For surfing, gaming at medium settings and viewing HD-video it will be enough to head.
Memory. That's where you have a device failure. Just something to 8 GB that are constantly running out. With the move to the device installed so many things that are free to the user only 3.74 GB. Yes, the tablet supports MicroSD cards up to 32GB, but! In this case, install the application on the move to sd impossible. It is necessary to download it to your device and then handles transfer to the card. Hemorrhoids. But you just have to go nowhere to be.
I was surprised to find that the device does not have cut a slot for a SIM card. While, on the other hand, think that it all, here at LG G Pad 8.3 it was not there, and that – a bad unit? No slot for two reasons. First – there is Wi-Fi 802.11 a / b / g / n. Second – Softovaya, because there QPair.
Software – LG G Pad 7.0
You can talk without end. Because LG delight us with the amount of useful software preinstalled, all the while inventing something new. In otlichit from Sony, do not put into the whole car just scoring the memory. That is, in our particular case, the native software takes a good chunk of memory – namely, a little more than 4 GB – but this is a disaster just because the memory only some 8 GB. Yet the application really useful.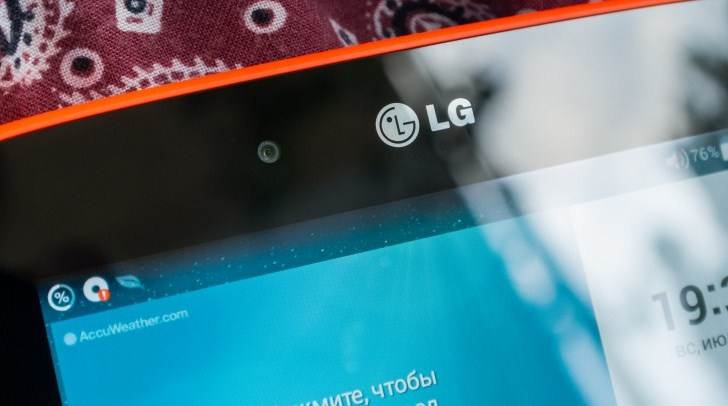 QPair 2.0 – app for syncing your tablet and smartphone, which is important – not only smartphone LG! But be sure to Android? and it is better to over 4.2. Connect happens through Bluetooth, here's a whole manual. I skonektila plate with his Oppo Find 5. This makes it possible to distribute the smartphone to the tablet online, because the slot for a SIM card and not going far. In addition to using the tablet will be available smartphone, even if it is in silent mode. Synchronizes all bookmarks, and even displays notifications that you someone calls or text message sent. Very handy if you do not use a smart watch, and often leave the phone on silent.
KNOCK CODE – is an enhancement feature KnockOn, who has done a furore on the spot decided not to stand. If you do not like the theme with a graphical password or numeric password, or you are afraid for the safety of your finger, then knock the code to help you. Install tap to unlock on your taste – and all you thieves like as not terrible.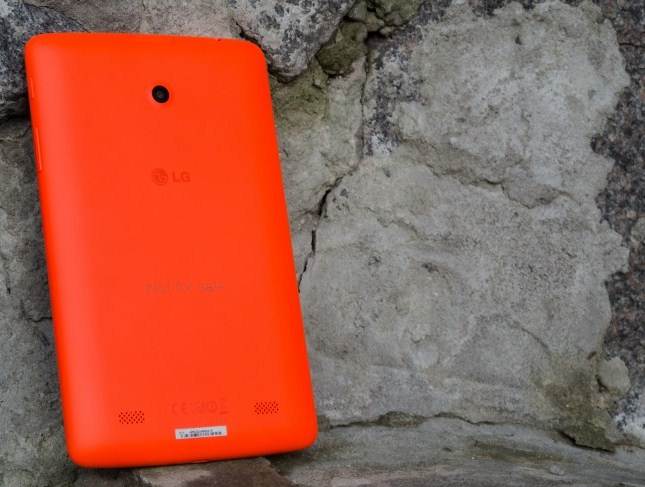 Multitasking – very, very, very cool feature. The larger the plate, so intuitive, more likely, that it is useful to you. Included this mode two options: double tap on the back button or a special fourth onscreen buttons. The number of programs limited, but you can pick up for comfortable work. There videos on YouTube – here business correspondence. Or is the Internet – then view the gallery. Or maps Hangouts. In short, lots of useful information. Works in both the vertical and horizontal layout and height of the window (or width) is regulated.
Smart Keyboard – remembers your words, recalls that often you write, and prompts. And even corrects the errors.
IR remote control QuickRemote – nothing new, LG can use your device as a remote control for everything. Choose rooms, technology and brand.
SmartCleaning – clever cleaning memory. The platform will offer you the options of what it is possible to instantly clean and remove the device to work quicker and smarter.
Autonomy – LG G Pad 7.0
During the night, left turned off wi-fi, it is not discharged or per gram. And if you looked through the Internet before going to sleep, and so with the tablet arm in arm and fell asleep, with the included wi-fi and minimum brightness, it also never runs out. Full-length HD movie duration of 1 hour and 20 minutes, downloaded to the card, drain the tablet only some 9%. "The Wizard of Oz", a duration of 2 hours 10 minutes defused the device by as much as 13%. This is at a brightness of 75% and off wi-fi. That is to say, the difficult calculations subtly hinted that HD-video with no maximum brightness and disabled internet you can watch nearly 16 hours! On-line video it will be enough for a little less time, but this figure will surprise you, too.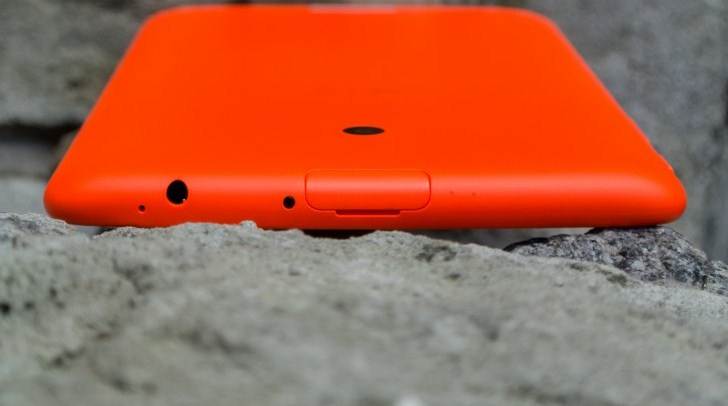 Honestly, frankly, the battery 4000 mAh showed himself well with a very good side. Autonomy in the area of ​​three or four days of use, even if you forget to put it on at night to charge and leaves the half-hour "podpitok." The case when the Android, and it is not necessary to constantly feed. And the power save mode will help you cope with the notable battery.
Conclusion – LG G Pad 7.0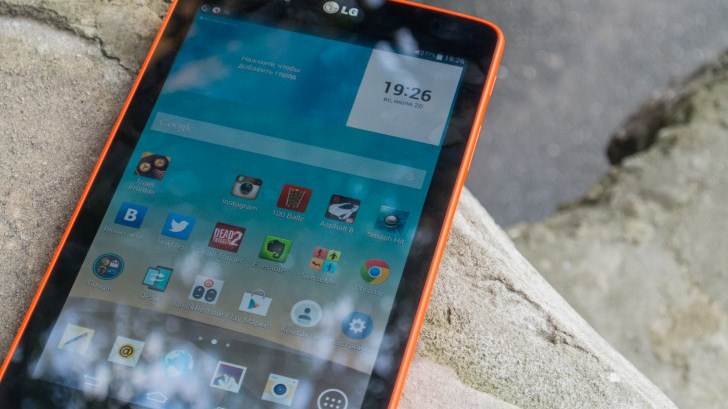 The tablet LG G Pad 7.0 is good. Small, cozy, even fits in your pocket. You can throw this in with a backpack wherever you go, certainly useful, but the place does not take much, and shoulders do not draw it out. In his hand, even one, is like a glove. The display is quite good, autonomy (Ohoho) is impressive, the hardware is very like even for fans of mobile games. Also the number of pre-mineral chips please. Can scare off only the camera that simply could not be worse, could not put them at all – and so, minus the commercials would be the same size. And the memory. 8 GB – it is not enough, and even native applications installed on the move so that the user only 3.74 GB free.
In general, the conclusion is simple – the tablet is good, but we must wait for the other two representatives of the line. At the start of sales of our guinea worth in the market on average about $ 250. It's a lot of money. And, before you got the this bright candy, you need to know that there are alternatives. If not in the form of other tablets from competitors (there are options, and cheaper, but with a lot of shortcomings, and certainly not such productive, beautiful and self-contained, like this one), then at least as a senior fellow. And wait for the 8-inch and 10-inch version there are not too long.
Read another very interesting article about alternative energy of the Sun, water and air.