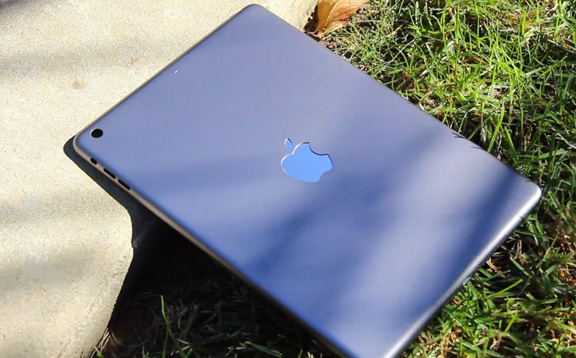 We have heard many times that the iPad 5 will be thinner and lighter than its predecessor, and only the intended device body we've seen on the "spy" pictures countless times. Appeared on the Web and the allegation that the new tablet will be narrower and shorter than its predecessor, and the width of the frame around the screen is also reduced, making it more like the iPad mini.
Western journalists from iCrackUriDevice managed to get out of China cover the next generation of Apple tablet in color Space Gray, which once again proves the validity of the assumptions made previously about the direction of the evolution of the 9.7-inch version of the iPad in terms of dimensions. The new tablet is reduced in width from 169.48 to 185.8 mm in length with a 241.3 to 240 mm, and a thickness of 9.55 to 7.5 mm. Of course, weight is also reduced, but this option is not specified.
In the hands of reviewers came and covers Smart Cover for iPad fifth generation , which in size correspond exactly to the existing body, presumably belonging to iPad 5. The authors note the video that covers gray became darker to better match the color of the tablet version of Space Gray. Studied the cover is commercially available in a reference to the proximity of the announcement and the gadget.
It is likely that the iPad 5 processor equipped with A7X and a fingerprint scanner, the Cupertino-based company will present before the end of October. Will the same time announced the iPad mini 2, no one is safe until can not say, but the exterior device and some of its characteristics are also being actively discussed.
Read another very interesting article about alternative energy of the Sun, water and air.