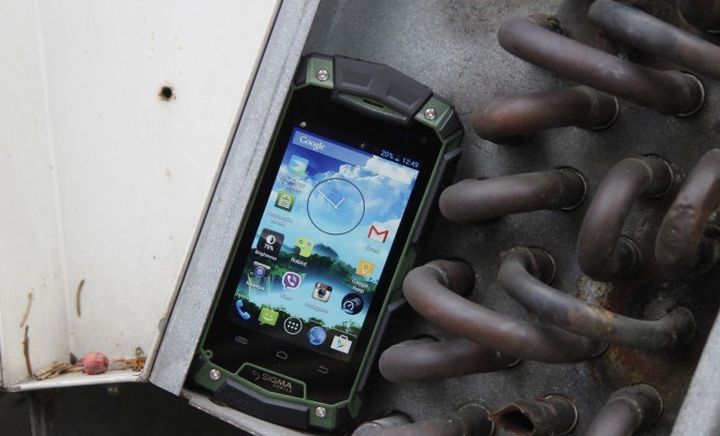 Sigma mobile X-Treme PQ15 – secure smartphone with a budget and a number of stuffed unusual for such devices functions. To be more specific, the PQ15 received infrared port to control home appliances, sprinkle additional physical keys and the ability to recharge other gadgets. Is this enough to justify the relatively high cost and attract a buyer? On this and other questions we will answer in this review.
Options
Sigma mobile X-Treme PQ15 comes in a simple cardboard box. In it you can find yourself a smartphone, battery, metal key for the "discovery" smartphone charger 1A, headset, microUSB-USB adapter to charge other devices, and documentation.
Design and usability
Most secure phones look pretty brutal. Although the standardization for IPxx not intended impact test, the protection against damage due to try to ensure a massive body of hard rubber inserts. This does not make these phones shockproof, but provides greater "vitality" compared to conventional counterparts.
All of the above is true for Sigma mobile X-Treme PQ15. The central part of the front panel occupies a small 3.5-inch screen. Beneath it are touch keys "Menu", "Home", "Back" with dim lighting, microphone hole, the manufacturer's logo. Above the screen is visible front camera lens, sensors and a small earpiece.
All this is surrounded by an array of plastic khaki of the show on the bolts fastening the housing halves and ribbed inserts solid rubber black, towering above the plane of the protective glass overlay on the sidewall of your smartphone.
They focused the whole scattering of physical keys. You can find the right key start the camera, emergency button SOS, allows you to make a consistent set of five pre-set numbers and send them a message, the power key and the opening of the Phone application.
To the left is the start button FM-radio, Posts, PTT to open the Internet radio Zello , adjust the volume.
Under a flap on the top edge connectors are Micro-USB and 3.5 mm. Once again, for Sigma mobile, they are sunk deep in the body, so for charging and listening to music will have to use Included Accessories long plugs. Near the plug is infrared port that looks like a LED flashlight.
On the back of Sigma mobile PQ15 has a wide eyelet strap, lens camera with flash, a second microphone. The back cover is made convex, it is attached with two screws, which opened with a complete key, screwdriver or coin.
After removing the cover, you can see the rubber seals that protect the interior of your smartphone from moisture and dust. Under the battery there are slots for two Mini-SIM and memory cards. Due to the fact that the connector is hidden in a recess in the plastic housing, insert the last uncomfortable.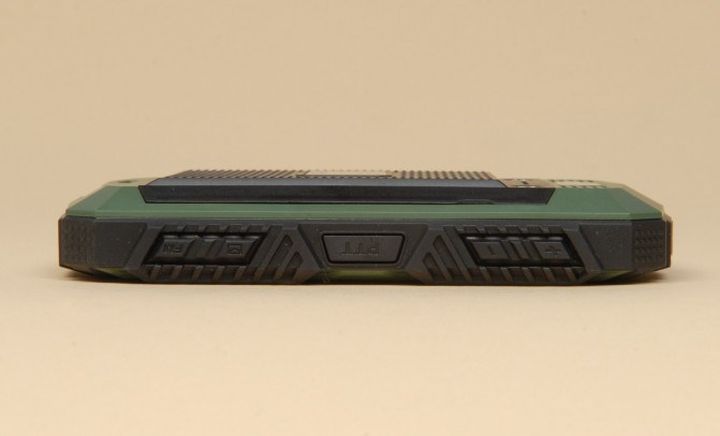 Body parts are well adjusted to each other, do not loose and does not creak. Thanks to the impressive thickness of 19.1 mm and weight of 208 grams, in his hand Sigma mobile X-Treme PQ15 felt "brick" in the literal and figurative senses. However, the smartphone is still quite easy to use, side keys perfectly distinguishable by touch, pressing well defined. The first time when you unlock the radio, I constantly run Zello – PTT key is in recess between two burly rubber finger falls back on its own, only a couple of days to get accustomed to take a smartphone anyway.
In general, the idea of ​​adding additional buttons in a secure phone looks great, but the implementation in a particular case to "4". Location and Function keys are easy to remember, but they can not be reassigned, the manufacturer decided everything for the user. In addition, the button "stupid" – they just open Zello, call history and a list of incoming messages on to work with a touchscreen that given the lack of control mode "gloves" may not be very comfortable.
Display
Sigma mobile PQ15 was modest IPS screen diagonal of 3.5 inches with a resolution of 800 by 480 pixels (267 ppi). The display is covered with a protective glass Corning Gorilla Glass 2, between him and the matrix has a small air gap. Minimum screen brightness too high and is 80 cd / m², the maximum is 417 cd / m², measured contrast was 1 to 205.
Quality control factory calibration once again confirms that this is a budget smartphone screen.
The subjective impressions, the smartphone uses one of the most simple by today's standards screens. Although the matrix and manufactured by technology IPS, viewing angles are average at it, for large deviations picture brightens noticeably loses color. When looking at a right angle the picture looks acceptable, but no more.
Overall, the budget smartphone can take a screen, but other manufacturers are slowly beginning to pay more attention to the characteristics of the most affordable smartphones.
Hardware Platform
Sigma mobile X-Treme PQ15 is running an operating system Android 4.2.2, an interface standard.
The smartphone is based on a budgetary energy efficient platform MediaTek MT6572 (2 core Cortex-A7 at 1.2GHz, GPU Mali-400). For comparison, the same "iron" have many of the most affordable smartphones 2013-14's, before they cost about 1000 hryvnia, now for these characteristics will be asked about 1,500 hryvnia.
The key difference from soplatformennika – increased up to 1 GB of RAM. The capacity of the built-in flash-storage is 4 GB, of which approximately 1.3 GB allocated for installing applications and data storage, there is a slot for memory cards.
Modest performance chipset is the next downside after a simple screen. However, this coin has another side, which we will discuss in the "Hours". At the same time, 1 GB of RAM allows Sigma mobile PQ15 conditionally to think smartly and properly respond to user actions, so the use of a standard set of programs will not cause problems, if desired, you can even play some simple games by type Angry Birds or 2048.
By the speed and sensitivity of Wi-Fi did not raise any claims, GPS also works well – smartphone sees an average of satellites, but fast enough to connect them.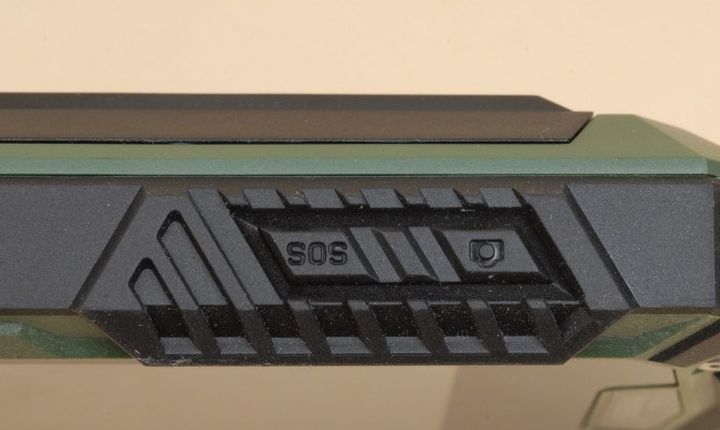 Sigma mobile PQ15 supports simultaneous operation of two SIM-cards based on the same radio. Configure them absolutely standard. Dialer contains Cyrillic characters – it allows you to quickly find a contact. Ringing speaker has decent margin volume, its perfectly audible even when the phone is in your pocket.
The earpiece too loud, in most situations will be enough half to two-thirds of the maximum volume level. When communicating in a quiet environment there are no problems, but in a very noisy environment may not have enough votes tonal interlocutors. Vibrate expected average, hard to get a massive body to vibrate.
Operation time
Protected smartphone received removable battery capacity of 3600 mAh.
Given the small screen diagonal and a modest power consumption of the processor it allows X-Treme PQ15 work 4-5 days when the transfer data, GPS, automatic synchronization of two Google-account, a small number of calls and SMS, periodic reading tapes social networks and other loads.
Become familiar with the testing procedure can be   this   material.
One of the unique features Sigma mobile PQ15 can be regarded as an opportunity to charge other devices via the bundled adapter. Charging the smartphone battery 2500 mAh can expect even on the day of the normal operation of the hero of the review.
Camera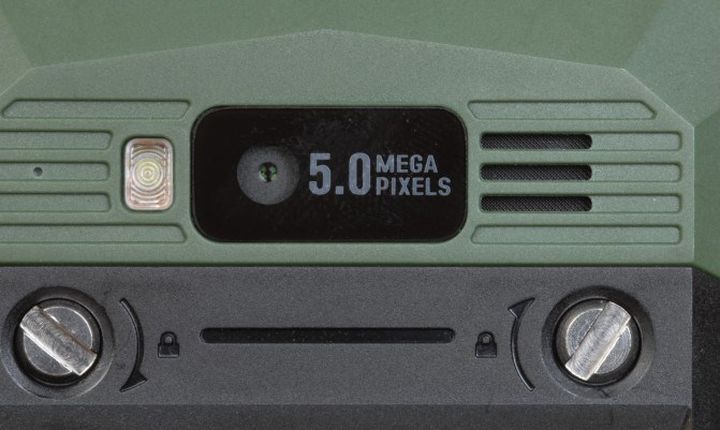 At Sigma mobile X-Treme PQ15 two cameras: the main with a resolution of 5 MP, autofocus and flash and a 1.3 megapixel front on. Camera app has a standard interface. Both modules correspond to the rest of the "stuffing" smartphone – focuses and shoots slowly, the picture quality (for budget smartphone) is acceptable.
Results
On the one hand, summarize dating from Sigma mobile X-Treme PQ15 very simple – just to say that for some of the most modest performance year-old old producer asks about $ 180-220 (depending on what course to be considered), that " head-on "approach seems to be very impressive amount. At the same time, many feel that things by type infrared, high-capacity batteries with rechargeable less autonomous brothers, secure housing and a set of additional physical keys would like to receive as a gift, pay for them is not necessary.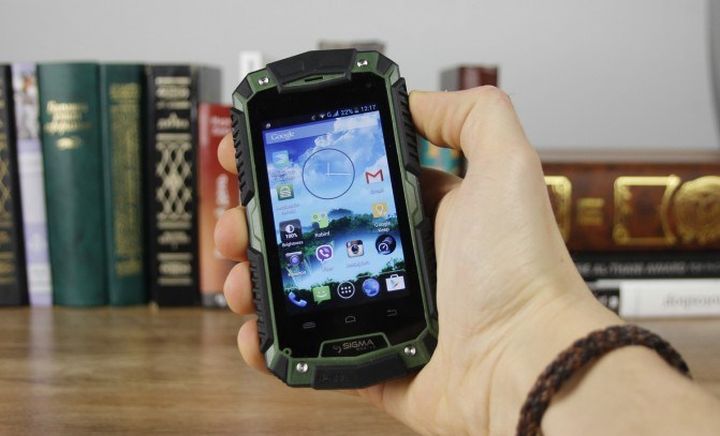 By accessing the other hand, we note that for modesty TX, the company managed to make running a smartphone, which is quite normal use, it has its own charisma. When this user receives noname-device with Aliexpress, and the device with the guarantee and service that can justly be regarded as a plus, especially if requested suddenly arise. Simply put, Sigma mobile PQ15 – smartphone is not for everyone, but the target audience is likely to evaluate its merits and will be able to close their eyes to the shortcomings.
Liked:
+ Protected enclosure design, practical materials
+ Ability to charge other devices, infrared port, a large number of physical buttons
+ Capacity battery, good autonomy
Did not like:
– Very modest characteristics (screen, the platform chamber) from the point of view of cost smartphone
Read another very interesting article about alternative energy of the Sun, water and air.