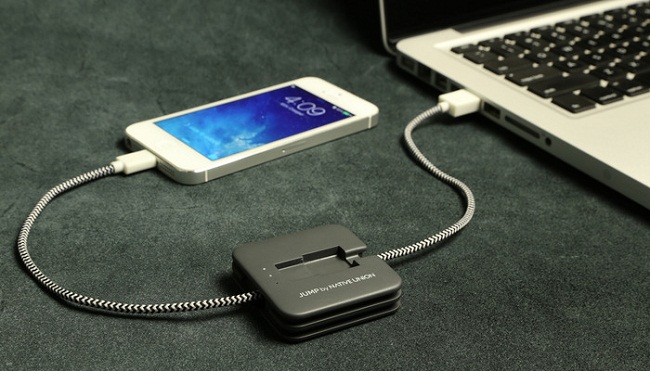 Though historically accepted teasing users of Android-smartphone for the love of the outlet, it is recognized that the iPhone battery is also not eternal. If you actively use the internet or run games on your phone, and it would probably have to be recharged more than once per day. As we have made ​​clear , in the cold season, the active users of Apple's smartphone is even more difficult to be in touch. Not every day easy to charge iPhone from the wall a few times, and although there are many solutions like covers with optional battery chargers or autonomous, none of them compares to the convenience c JUMP.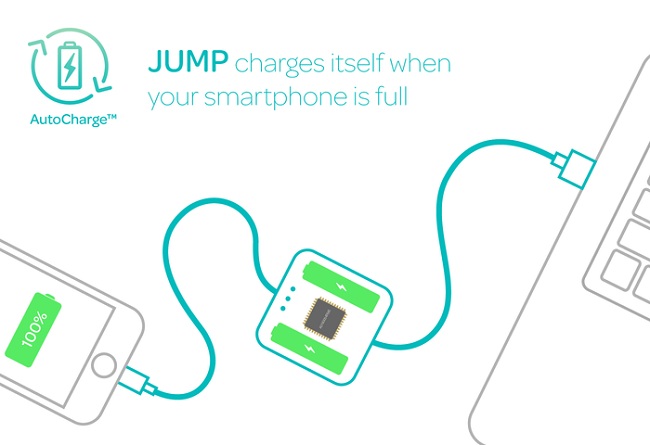 Draft submitted on Kickstarter and at the recent CES-2014, is perhaps the most convenient way at the moment to "stay tuned". When you know that you will be a long journey that your iPhone can not survive, either have to take a fairly large and heavy battery, more likely with iPhone charging cable and cable for charging the battery itself, or accounts of the same battery, but a thick cover wear ugly phone. JUMP – neither more nor less than a cable that will charge the smartphone with the power supply or not.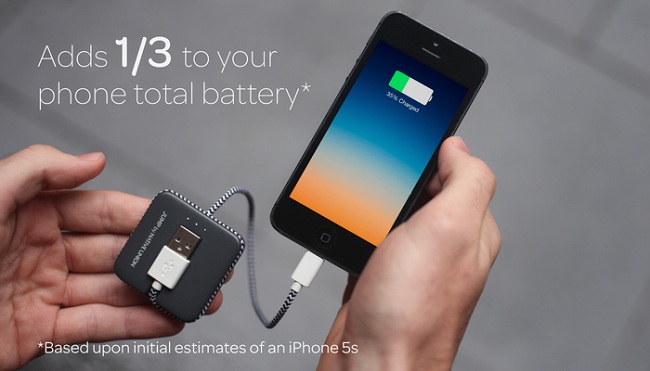 JUMP is the middle of the cable reel on which it is wound, and that it is built on a 800 mAh battery, which distinguishes it from all other cables. After JUMP charge the smartphone from the power supply, it will accumulate its own charge. At a time when the smartphone charge come to a frightening level, and would not close sockets, JUMP save. His reserve is enough for battery charging iPhone 5s 1/3 that can provide almost another hour of continuous talk time.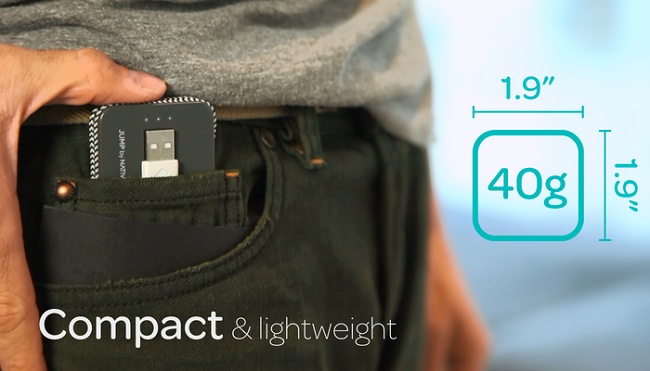 In some pros accessory. It does not need to charge separately, it will be charged with the phone. Its not hard to take with them, it weighs only 40 grams and can fit into any pocket or bag. JUMP works not only for charging, it is also suitable for PC synchronization. But its main advantage – price. JUMP first cable can be purchased for $ 40, and the next few are willing to sell you for 35. This is the price for which a Russian Apple Store you can buy the original cable Lightning 2 m long, and the original cable does not provide such opportunities. Very often, users of Android-smartphone complain selection of accessories, and the manufacturer has not deprived them JUMP. Can be ordered at the same price as cable with Lightning, and c microUSB. If you, like me, think this accessory a great gift for yourself and friends, welcome to the product page.
Read another very interesting article about alternative energy of the Sun, water and air.