MIUI 8 is simple and functional mobile operating system from Xiaomi. Today, we talk about 15 tips how to increase battery life Xiaomi smartphone. They will help your smartphone to work much longer on a single charge.
1. Disable push notifications from unused applications.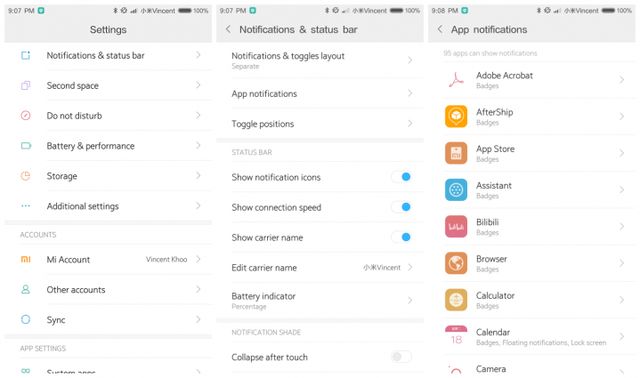 Today almost all applications send their push notifications. As we know, push notifications strongly consume battery power. If you want to make your smartphone work longer, we suggest to disable notifications from unused or rarely used applications.
Go to Settings> Notifications> Applications and turn off unnecessary apps.
2. Disable GPS.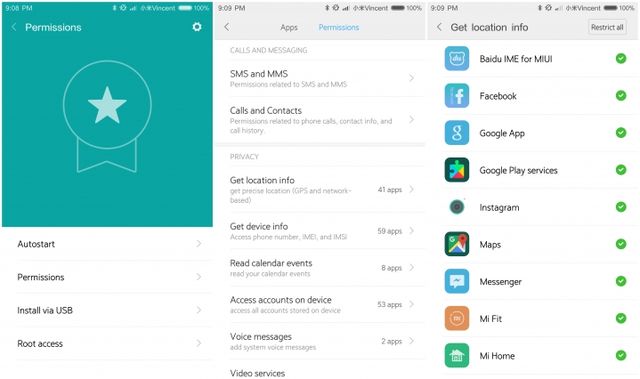 Modern smartphones can be used as GPS-navigators. But you do not always use GPS, so you should disable it to increase battery life Xiaomi smartphone.
When you don't need GPS, just turn it off, and you smartphone will last longer.
3. Energy saving mode in MIUI 8.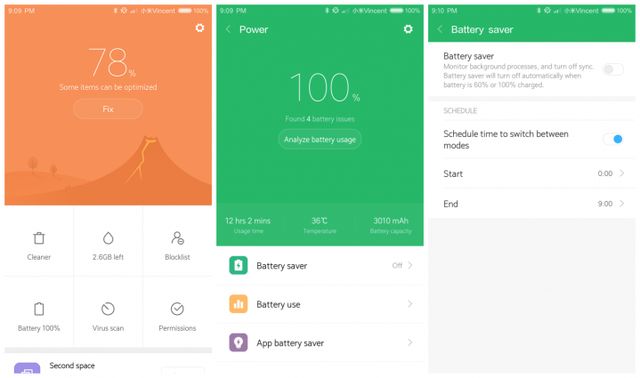 Saving mode allows your smartphone to use battery power more efficiently. This function is located in the built-in application "Security".
Here you can activate the energy-saving mode, as well as configure some applications in manual mode.
Leave important applications, such as messages, instant messengers, email, and others, so that they continue to work and send you notifications of events.
4. Adjust the brightness of your display.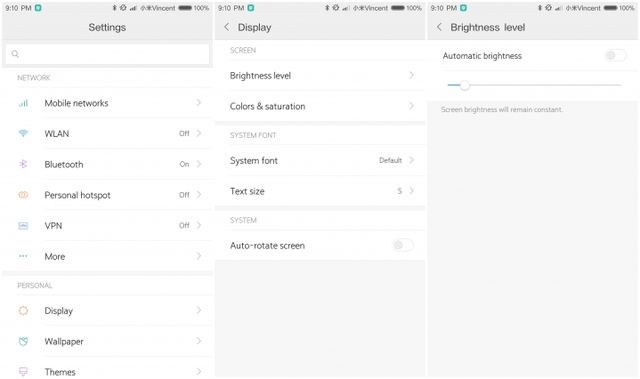 It's not a secret that screens of modern smartphones consume the most energy. The default mode in MIUI 8 is automatic brightness control. A special sensor analyzes the level of illumination and adjusts the brightness of the screen for maximum comfort. It is undoubtedly convenient, but also costly for your battery.
We suggest you turn off automatic brightness adjustment and manually set the minimum comfortable reading level for the display backlight. So you will be able to significantly increase battery life Xiaomi smartphone.
5. Disable Vibrate on Touch.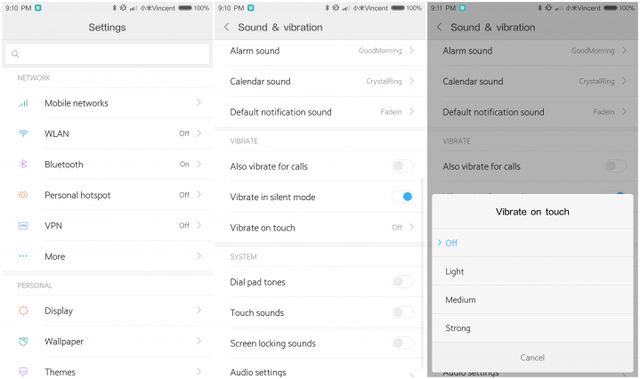 Some users like feeling of tactile return from the touch of the screen in the form of vibration. But if our goal is to use the battery as efficiently as possible – it's better to disable this feature in MIUI 8.
Go to Settings> Sounds & Vibration> Vibrate on Touch and turn off the toggle switch.
6. Wi-Fi settings.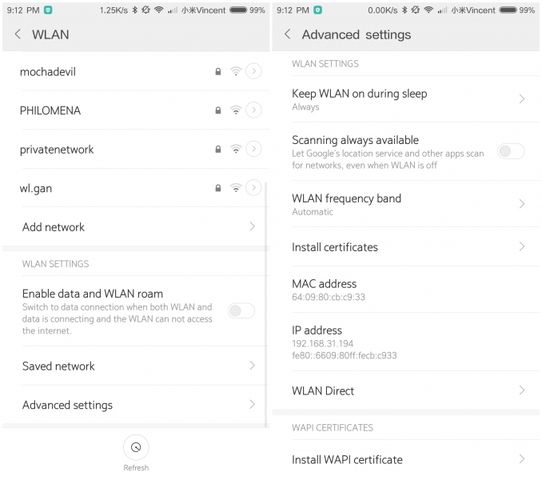 Another strongly consumed energy element of any Xiaomi smartphone is Wi-Fi. We recommend to use Wi-Fi only when it's really necessary. The fact is that when Wi-Fi module is active, it constantly looks for available networks and of course spends on it the resources of the battery.
You can disable Scanning always available in Wi-Fi settings menu.
7. Turn off synchronization.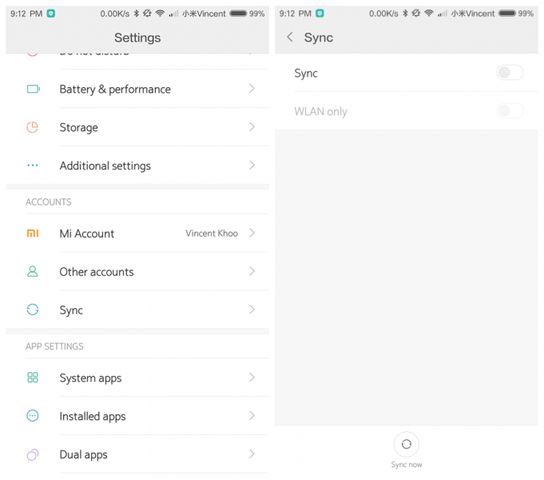 Another great feature of MIUI 8 is the synchronization of your photos, contacts, notes and other things in Mi Cloud. If you have a lot of new data to upload to the cloud service, it's better to disable automatic synchronization with Mi Cloud. So you will be able to increase battery life Xiaomi smartphone.
8. Vibration with Push Notifications.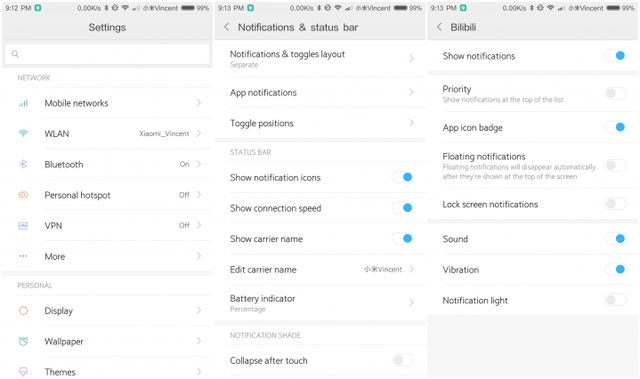 Another moment associated with vibration, which can be turned off and thereby keep the battery charge. When you receive new Push notification, the screen of your Xiaomi smartphone lights up, and the phone itself vibrates.
If you want to disable vibration, go to Settings> Notifications and Status Bar > Apps Notifications. Turn off vibration from all apps or some of them, and the battery will last longer.
9. Disable auto-update applications.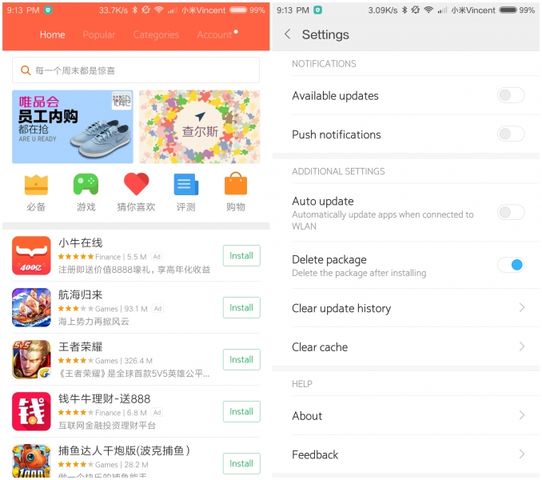 Android smartphones can update applications themselves, without user intervention. It is done with an active Wi-Fi or 3G/LTE connection. This process consume battery, since several applications download a capacious update, and then install it.
You should disable auto-update apps on Google Play and Mi App Store.
10. Display Activity Time (Sleep).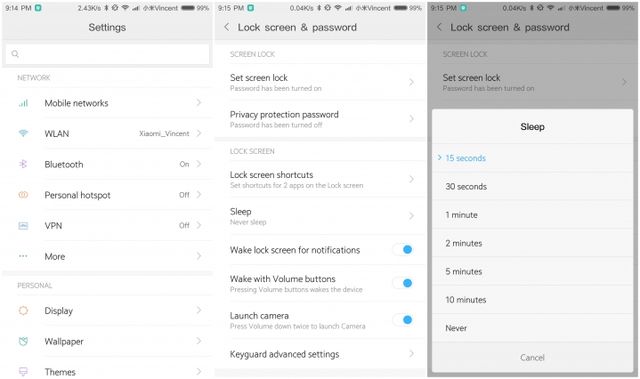 If you notice, display goes off after 1-2 minutes, if you don't use the smartphone. But you can reduce shutdown time to 30 or even 15 seconds. Go to Settings – Lock Screen and Password – Sleep.
It is a simple lifehack that increase battery life Xiaomi smartphone.
11. Use static wallpaper.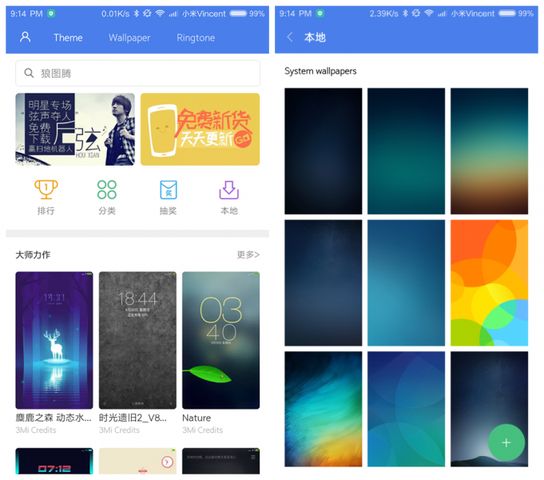 MIUI supports both static wallpaper and dynamic ones. Using standard or third-party wallpapers for your smartphone, you can also save enough of your battery's resources, which will have a positive effect on battery life.
12. Update to the latest version of MIUI OS.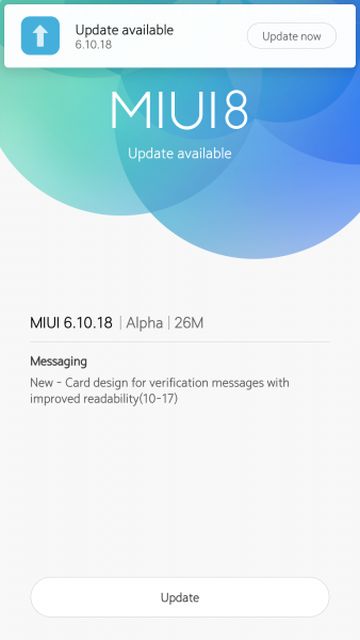 Developers MIUI improve firmware every day. Using the latest version of the software guarantees not only the safety of your personal data, but also the correct, harmonious operation of all smartphone systems and batteries in particular.
13. Activate the airplane mode at a poor signal level.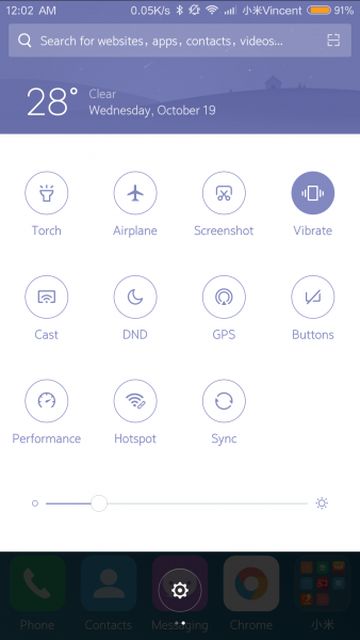 In your city there may be places where the quality of communication leaves much to be desired. If you stay in such weak coverage areas for a long time, activate the airplane mode. The trick is that with a weak signal, the smartphone spends a lot of battery charging on network search, which negatively affects on autonomy.
14. Disable 3G/LTE if you are not using Internet.
In order to increase battery life Xiaomi smartphone, you can disable not only all of the above, but also the Internet. Go to Settings, and disable mobile data (2G/3G/LTE).
15. Disable system animations.
Another tip that will help to save the charge of your smartphone is system animation. MIUI OS always use animation: clicking on a shortcut, minimizing applications, working in task manager.
You can go to Battery and Performance settings, and disable system animations. MIUI will look easier without effects, but the phone will work longer from one charge.
So, use these tips to increase battery life Xiaomi smartphone.
Read another very interesting article about alternative energy of the Sun, water and air.