The modern notebook market is extremely well developed, as manufacturers produce models for a variety of purposes. For example, today at its peak – sensational transformers, as demand for Ultrabooks, laptops with a small diagonal display, etc. However, when it comes to laptops, which could successfully replace desktops, there's nothing like the classics.
In this case, a "classic" we mean the 17-inch display, high-quality housing, ergonomic keyboard, suitable for long-term productive printing and stuffing, and, ideally, still loyal to the buyer's cost. All these qualities, according to the engineers of HP, has a model ProBook 470 G2. Well, let's get acquainted.
Design of HP ProBook 470 G2
So in this case we are not dealing with the image gadget, the demand from the ProBook 470 G2 status appearance would be wrong. Nevertheless, for both home laptop, it looks very cool. The design involved not only plastic, but also aluminum, which decorates the working surface. All other parts of the body are made of plastic, fortunately, it does not look shaky or cheap. Cover the device – black, it is not easily soiled and does not collect fingerprints on itself. In the middle with the logo HP, and no further ornamentation on it there.
Open the gadget and see a narrow frame around the screen, on top of which there is a web cam. The keypad is also black, but gray surface. The keyboard, at first glance, seems an ergonomic, easy to operate. Beneath it is a large touchpad, near which – fingerprint scanner.
Improved devices may have this arm with a screwdriver and loosen a few screws. Next, open access to the RAM and hard drive, which, strictly speaking, to be upgradeable.
The build quality of the laptop is very good if not to say excellent. Its hinges are quite stiff, they are securely fixed opening angle of the laptop. All items are high-quality fit while the troughs are not observed, there are no suspicious noises. With regard to mobility, the HP ProBook 470 G2, of course, be transportable, but given its weight (2.84 kg) and dimensions (414h280h26-32 mm), it is unlikely that someone is often a desire to carry it with you.
Display, sound, and webcam of HP ProBook 470 G2
Before the so-called "stationary laptops," Progress comes a little slower than before their more modern counterparts. For example, most compact laptops have long been equipped with a display with a resolution of Full HD, some have gone further to develop and get a screen WQXGA. HP ProBook 470 G2 – is not the case, because its resolution is still quite modest – HD + (1600×900 pixels), and is given the fact that the diagonal of 17.3 inches. The density of the pixels, respectively, are also far from being the highest, namely 125 ppi.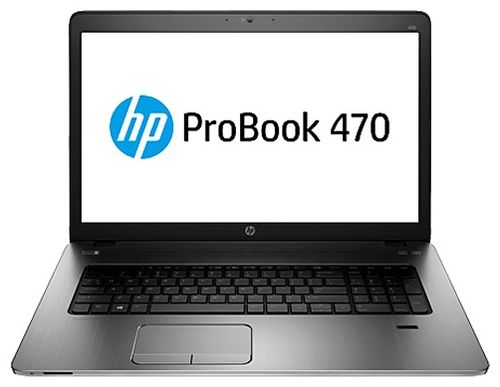 Do not expect a good brightness and contrast, these indicators are at a very mediocre level: 235 cd / m2 and 400: 1 respectively. Use your laptop near a window can be matt surface copes with daylight, but still direct sunlight should be avoided, since they will inevitably provoke glare. The display received matrix, made by technology TN. This means that the angle of the need to adapt for themselves, because one or another angle can cause distortion of the colors and images in general. Horizontally, the situation is better than vertically, so enjoy the movie with friends is likely to succeed.
Above the screen, there is an HD-webcam with a resolution of 720p. Of course, it is not adapted to perform high-quality photos, but for Skype video calls on its capabilities enough.
Two stereo speakers are located under the grate, which can be seen above the keyboard. Acoustics obtains acceptably, but it is not without drawbacks. The biggest – is the lack of bass. However, watch movies with sound normal, and for listening to music, you can use headphones.
Keyboard and Touchpad of HP ProBook 470 G2
The laptop is the complete island-style keyboard. It has a square button, around which is provided a small space. The keypad – black, it contrasts with the white marking. Of course, their gamepad and arrows that are often problematic place notebook form factors, are pleased with their average size. The most used buttons are also not let us down, in particular, single-row [Enter], oblong [Shift] on both sides, [Caps Lock], [Tab], etc.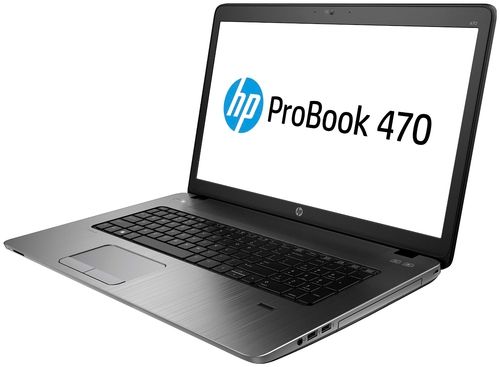 Note that the key is a good return, they allow you to write text quickly and without errors. As says the manufacturer, the keyboard is spill-resistant, which means that accidentally spilled fluid does not bring it out of action. Lows in the keyboard too, or rather, only one – the lack of lighting. As for the power button device, it is located in the upper left corner. It has a rectangular shape and clear boundaries, so it is easy to grope blindly. In the opposite corner – two more buttons: Activation / deactivation of the Wi-Fi, as well as mute.
Under the space located touchpad medium size. It's a bit recessed into the surface, and because good is felt under your fingers. The manipulator is not satisfactory, because the fires clearly, quickly and without any inhibitions. In its lower part has two physical buttons similar to murine. The touch pad supports various multi-touch gestures, among them – dragging, zooming, and many others.
To the right of the touchpad – fingerprint scanner, whose mission – to prevent access to the laptop to third-parties.
Performance of HP ProBook 470 G2
The operating system in the laptop HP ProBook 470 G2 (K9K01EA) running Windows 7 Pro 64-bit. You also have the license for Windows 8.1 Pro. Naturally, you can use only one at a time from existing OS. The basis of the filling is a dual-core Intel Core i5-5200U, based on the architecture of the latest generation of Broadwell. Its nominal frequency is 2.2 GHz, and with the support of Turbo Boost it reaches 2.7 GHz. The chip is made of the 14-nm process, it has 3 MB of cache in the third level, plus it is very energy efficient because consumes less than 15 watts of power.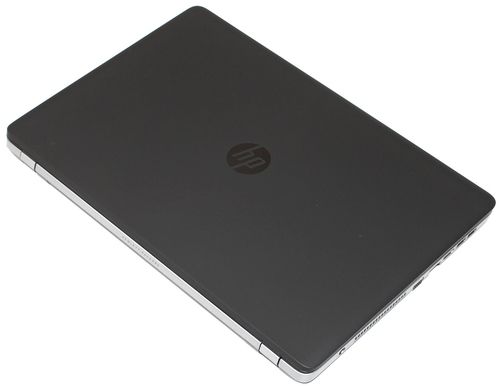 Now let's talk about the possibilities of graphics. In the role of the built-in video card performs Intel HD Graphics 5500. It supports OpenCL 2.0 and DirectX 11.2, and, in general, allows us to solve everyday tasks on the laptop. If her performance a little, it comes in discrete graphics processor – AMD Radeon R5 M255 with 2 GB of memory standard, DDR3. This video card support JavaScript Enduro. GPU allows you to play some toys, provided that they are not the most advanced. Take, for example, Assassin's Creed 4: Black Flag, which is at medium settings with a resolution of 1366×768 pixels screen displays up to 30 frames per second. At the same time, Battlefield 4 medium resolution HD will be playable with 30-33 fps. As you can see, the fact that to run something straight from the tin or demanding, it is not necessary to hope.
The notebook has 8 GB of DDR3-1600 MHz standard 16 GB maximum possible (only 2 memory slots). All memory is in one module, the other remains free. Storage of information carries a hard disk capacity of 1 TB and a spindle speed of 5400 rpm.
Ports and Communications of HP ProBook 470 G2
The home laptop HP ProBook 470 G2 has to be a multi-functional, and for that it must have the required number of ports. On the right side, HP ProBook 470 G2 placed two ports USB 2.0, a combined headphone and microphone jacks, optical drive DVD-RW, and a slot for a Kensington lock.
The left side contains two port USB, but already the standard 3.0, HDMI video output and VGA, the network connector RJ-45 jack for charging and ventilation grille.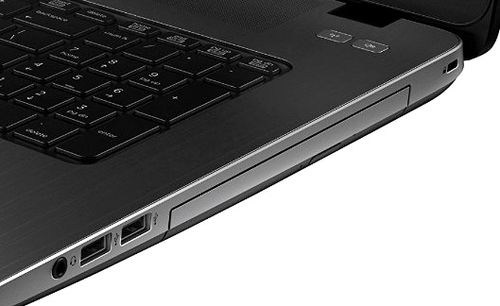 The rear end is empty, and the front has contained a card reader 3-in-1 (SD / SDHC / SDXC). Of course, there are also wireless communication, in particular, Wi-Fi 802.11 b / g / n, Bluetooth version 4.0.
Battery and heating of HP ProBook 470 G2
The notebook has a 6-cell lithium-ion battery capacity of 51 Wh. Let's see what it can do: idle gadget is able to work about 9 hours regime surf the web with Wi-Fi enabled device will drain a little less than 5 hours, and the maximum load – for about half an hour.
As for heating, in this regard, HP ProBook 470 G2 showed himself well. Thus, the surface of the laptop always remains comfortably cool, so the user will not feel any discomfort during the operation.
Conclusion of HP ProBook 470 G2
Extensive stationary notebook segment has expanded another model – HP ProBook 470 G2. This is a very dimensional device with the 17-inch screen, the quality of which is not the best. Blame TN-matrix with a resolution of HD + and small brightness and contrast.
Other characteristics of the laptop – stable average. For example, the keyboard has to prolonged typing, stuffing can meet the challenges of the everyday level, and if you want you can even run undemanding, relatively obsolete toys. The battery provides several hours of continuous operation, and a laptop that will always be in the immediate vicinity of the outlet, it is very good. The cost HP ProBook 470 G2 in the given configuration is, on average, $ 1,000, and a price tag likely, many users find it overpriced.
Source: NotebookCheck
Read another very interesting article about alternative energy of the Sun, water and air.