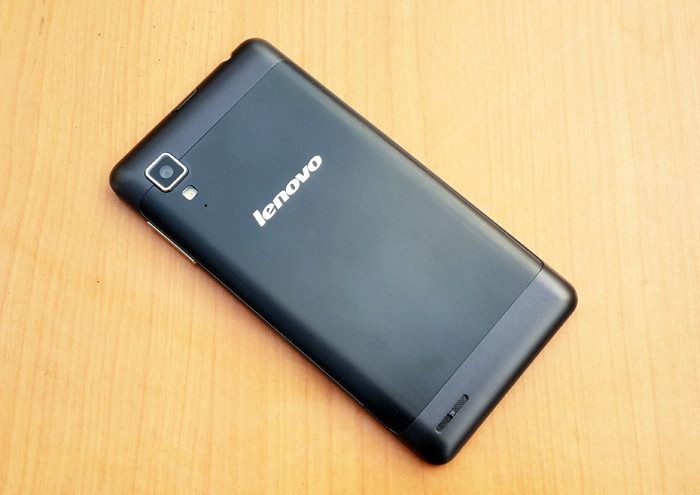 Not so long ago was a rumor that Lenovo is planning to release a smartphone under the brand Think. While this model does not have any information, and not the fact that it ever sees the light. However, in the line of Lenovo already has at least one device that stands out from the rest of its members and may well claim the title of "ancestor ThinkPhone'a the future."
Let me explain: I was dealing with a pair of low-end models Lenovo "A" series, and they have not made much of an impression – smart phones and smart phones, "dvuhsimochny" and "dvuhsimochny." This good today on the shelves full, domestic brands will gladly carry it from China. Then I met with the flagship device Lenovo K900 , which surprised (and negative) peculiar ergonomics and lack of a memory card slot. In general, like seasoned smartphone, but no, not at the top five.
But the model of Lenovo P780, of which will be discussed below, is generally liked. By a series of «P» from Lenovo are "professional" solutions – it says so on the official site. In the case of P780 «professionalism" is manifested in at least two points: First, the device is endowed with a battery as much as 4000 mAh, meaning it is about a third more powerful than the average smartphone battery.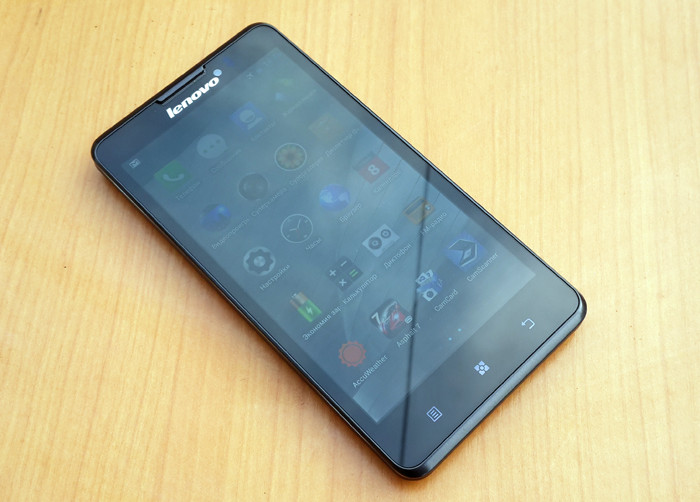 On the spot to say that Lenovo P780 lasted in my personal mode of operation for about two and a half days. A lot or a little? Let's compare: a more powerful Samsung Galaxy S4 with a battery of 2600 mAh battery "dies" in my day. A weaker Sharp SH530U with a battery capacity of 2000 mAh – for about one and a half days. Yes, no charge P780 for weeks on end will come, and all the same result, it provides more than adequate. However, the developers are so believed in the fact that 4000 mAh battery will last for all occasions, we made non-removable battery. In principle, scold them for it is not: "a second battery" Today there are a maximum of 1% of smartphone users. Still have a couple of percent have external "pauerbenki" P780 is compatible with which – like all the other modern gadgets.
Slots for SIM-cards in the model, as usual, two. MicroSD slot is also there. With a 64 GB card machine is not working, but with some effort, to teach him to "eat" the stick can be such
The second point – the Lenovo P780 metal back panel. Not the same as in K900, – that is not prone to collecting scratches and other scars of fate. Meanwhile, the internal chassis are made of steel, which alludes to its increased reliability. I heartily recommend the Lenovo P780 ardent opponents of "plastic soap dishes" – the sensations in your hand like a model of the famous "metalhead" HTC Titan . And not just because of the material of the case: despite the enhanced battery, the unit managed to stay fairly thin – about a centimeter. The body design on the whole pleasant: the so-called P780 and would like another brick, but no, the machine to the best recognizable and likeable. (It is in the measure.)
The third point is not that alludes to the "professionalism", but still enjoyable: Lenovo P780 is equipped with a special cord with microUSB plug on one end and a USB port on the other. It is designed to connect mice, keyboards and flash drives with the appropriate interface. In the retail such accessory is worth a couple of dollars, but buying it should also "dogulyat" to the store. It is more or less employed people (say, as the author of this text), the time for such trips is not always the case.
The forums say that some copies of the Lenovo P780 have a problem with the screen – someone inserted crooked glass, someone has dead pixels. I confirm: I found two points, glowing blue. Nasty little thing, I agree. While not fatal, the more that if you want you can try to heal the "massage" (see "Yandex" or Google). But the first problem, fortunately spared – the glass is glued carefully. Anyway assembled smartphone almost perfect.
Characteristics of the screen on the following: the matrix TFT-IPS, 1280 x 720 pixels, 5 inches diagonal. After Smartphone with Full HD-display screen Lenovo P780 is not make a lasting impression, and yet it's not bad. Bright, pleasing to the eye color reproduction, viewing angles are wide, nothing to complain about. Separately, I note the presence of oleophobic coating – stain the surface hard enough.
In terms of iron Lenovo P780 is quite a typical Chinese – MediaTek MT6589 platform with the four 1.2-gigahertz processor cores is now used in dozens of different smartphones. There is nothing new about it can not be said, as usual, so that the "joy" of the benchmark graphs readers will not. I note only that for games it is good enough, as well as for HD-video. Android interface running smoothly, the sudden "lags" almost none. Especially for fans of smart phones on Qualcomm chipsets, I note that most of the budget of the U.S. manufacturer of platforms made on 45-nanometer process technology, while MediaTek MT6589 – 28 nm. This allows more time to reduce power consumption, so the blame on nonaristocratic origin of this chipset is not: for the "LP" model it fits perfectly.
Lenovo P780 comes with the operating system Android 4.2.1, veiled certain proprietary shell. Sticking out of her ears launcher Go Launcher EX, and several trims – effects such as smaller, other useful and useless tinsel too. Although, of course, who knows: representatives of a major Chinese firm, whose smartphone I was also recognized customizable Go Launcher EX, started waving his arms and shouting that, they say, is their proprietary design, and some of the basic ideas of similarity is due to a Middle Kingdom is literally up in the air.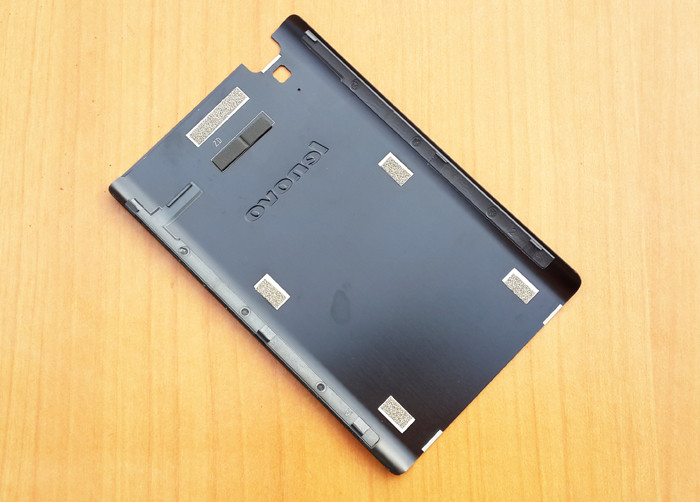 Anyway, I'd rather see here the usual "naked» Android. All of these decorations for the operating system make sense in the event that their development be taken seriously – as in Samsung, Sony and HTC. If you just do "in order not like at all", it is not necessary.
Camera 8 megapixel smartphone – and quite good enough when compared to Lenovo P780 with other devices of the middle class. For photos and videos is a special program, immodestly titled "SuperKamera."
That's the whole Lenovo P780 can be characterized by the above phrase. The device is definitely good, it is capable of both blades put the Chinese model of local brands, which are sold for comparable money, but to compete with the monsters of the market it is not yet able to do. (Is that in the field of battery life, which, however, is something.) Wear a nadpisThinkPhone model P780 too early, but progress is noticeable – for example, when compared to its predecessor, Lenovo P770.
But the most important negative character of this review. For example, the market has a Fly IQ4403 Energie 3 for 6500 – and also with the battery on 4000 mAh. There it metal, chip, camera and screen is easier, but save with it will very significantly. So – think, solve. I only mock the fact that the number of "long-playing" (by the standards of Android, of course) smartphones is gradually increasing. Painfully bored with messages about the need to plug in the charger, getting out on the screens of smartphones today after a few hours when disconnected from the wall outlet.
Read another very interesting article about alternative energy of the Sun, water and air.