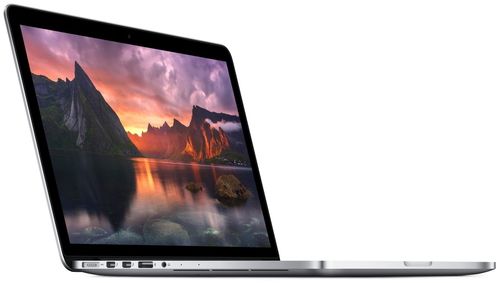 Sing the praises of the quality of "apple" products can be long, but perhaps this is not much use, as many of today's users are aware of the brand Apple, and not hearsay. And while we are their reviews to acquaint you with many laptops and tablets this company, yet one "instance" left for dessert.
Meet the Apple MacBook Pro Retina 15 Mid 2014 – "Fifteen" with a high-resolution screen (2880h1800 pixels) and incredibly powerful stuffing represented processor Intel Core i7-4870HQ and video card NVIDIA GeForce GT 750M. Despite the fact that the device appeared on the market for quite some time, its stylish appearance and performance of hardware and allows this notebook now be one of the best in the multimedia segment. No wonder he was in our top of the best laptops of 2014, and it says a lot!
Design – Apple MacBook Pro Retina 15
Appearance MacBook Pro Retina 15 Mid 2014 is identical to its predecessor, which we have already written – MacBook Pro 15 Retina. Body of the laptop is made of solid aluminum sheet silver, in general, is nothing new – the design rigorous, discreet and obscenely expensive. Lid of the laptop still adorns the bitten apple, which is nice illuminated in the dark. Against a gray body look very nice black keyboard unit, hinge, and display. Below the keyboard is quite large touchpad, on the top of the screen frame – the webcam lens.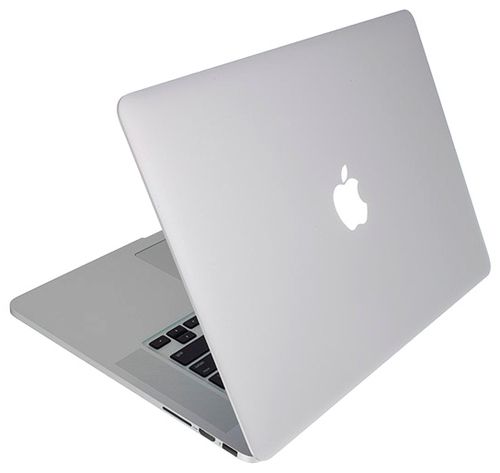 Apple devices are known for their strength, and this gadget is no exception: its body is strong, there is no backlash, no squeaks, no subsidence under pressure. Important advantages are its light weight (2.02 kg) and dimensions (359h247h18 mm).
Bottom whole, housed on the perimeter of the four legs that do not allow the device to slide over the surface. For those who are only acquainted with laptops Apple, seem surprising lack of ventilation grilles at the bottom. However, there is no reason to worry: the manufacturer put them near the hinges where they overlap is not possible, therefore repair MacBook is a rare thing.
As always, this elegant external device that causes only the association with luxury and success.
Display, sound, and webcam
Display Apple MacBook Pro Retina 15 Mid 2014 – another story! 15.4-inch IPS-glossy screen, as before, has a resolution 2880h1800 points, wherein the pixel density is 220 dpi, which, in turn, gives the user extremely sharp image. Separately want to mention the good brightness and contrast, the picture looks very rich and realistic. The color gamut in sRGB space is 95%.
Lovers to work with a laptop on the street can not but rejoice antiglare screen that allows you to enjoy a sufficiently high-quality picture. Due to the quality matrix viewing angles is also not let us down: the image is not distorted, from whatever side it did not look, so, watch a movie with a 15-inch display can even be a great company.
Over the sound of this laptop meet two speakers located on either side of the keyboard. They are hidden under the perforated grilles oblong. The sound quality is good because it is clear and not distorted even at maximum volume.
Above the screen is HD webcam FaceTime c resolution of 720p, which allows you to chat on Skype, to make video calls on iPad, iPhone, iPod touch or Mac via the application FaceTime.
Keyboard and Touchpad
Keyboard MacBook Pro Retina 15 Mid 2014 is typical of all 13- and 15-inch models of laptops Apple. From generation to generation, apparently it does not change, and therefore easily recognizable by many. Let's start with the fact that the island-type keyboard, its keys are square in shape and are at a good distance from each other. With this in intensive print, no risk of offending button beside that saves time and hassle.
Separately want to note the excellent design of the keyboard unit: black buttons on a gray aluminum look very advantageous. Marking buttons are done in white. During operation, the substrate does not flex, which is an additional plus in the treasury of the merits of the keyboard. The main buttons most commonly used in printing, [Shift], [Enter], [CapsLock], [BackSpace] are successful elongated shape. As for the dialing unit, it is in the form of an inverted [T] keys are small, but, again, comfortable.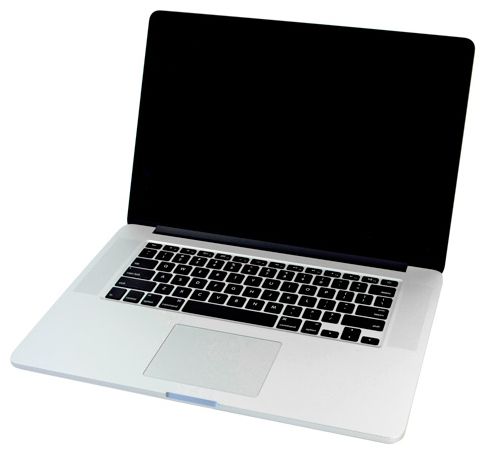 Of course, there is also light, which provides as much as 16 levels of brightness. Is responsible for this light sensor that is triggered when the surrounding is dark, illuminated keys, respectively, during the day will not. The buttons and a clear long, triggering instant.
Above the keyboard, there are no buttons and power button Laptop lurking in the top row of function keys.
Under the keyboard, you can see enough overall Klik pada. To the touch, it is absolutely smooth, as is made of glass, different from the sensory areas of many other manufacturers. Physical keys not expected. It should be noted support for multi-touch gestures including scrolling, dragging, double-tap, swipe one, three, four fingers, and others. Overall, the touchpad is very convenient to use, so it is comfortable.
Performance
That's how we got quietly, in fact, to what is the essential difference between our MacBook Pro Retina 15 Mid 2014 by his predecessor, MacBook Pro 15 Retina Late in 2013, and even earlier generation of this laptop simply prefixed with Retina. As you may have guessed, talking about stuffing a laptop, it's definitely worth a visit!
So, as a pre-installed operating system is a Mac OS X 10.9 Mavericks. This version appeared in 2013, received an updated interface and a variety of advanced applications, in short, has become more functional and more convenient for business and leisure.
As for the filling, it is represented, above all, a quad-core Intel Core i7-4870HQ generation Haswell. This is one of the most efficient solutions for the moment because it starts with the operating frequency of 2.5 GHz mark. Of course, this is not the limit, and thanks to the Turbo Boost Technology frequency can go up to 3.7 GHz when performing time-consuming tasks, and Hyper-Threading technology provides simultaneous streams eight four cores. The processor is configured to 22-nm process technology, has 6MB cache level 3, and the maximum power consumption is 47 watts. However, if you can get a complete set of a faster processor, if you're willing to pay for it extra $ 200. Picking easier too, only in this case it is necessary to abandon the idea to become the owner of a discrete graphics card.
This is complemented by a central processing unit installed in this laptop, integrated graphics Intel Iris Pro Graphics 5200. Its clock frequency can range from 200 MHz to 1200 MHz, what is required to Turbo Boost. This chip is notable for the fact that he is endowed with an additional 128 MB of eDRAM cache and much more productive than the other embedded solutions like the Intel HD Graphics 4000 or HD Graphics 4600. This chart supports DirectX 11.1, OpenCL 1.2, OpenGL 4.0 and is equipped with a decoder for video and 4K fast encoder Quick Sync.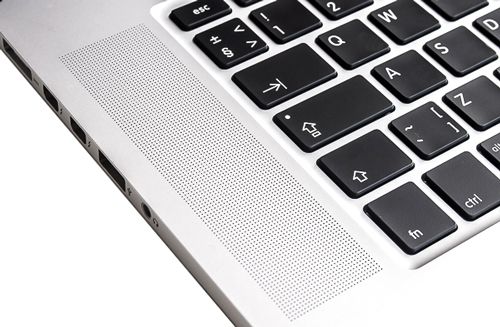 But discrete graphics have not in all trim levels MacBook Pro Retina 15 Mid 2014. But we were lucky, and we are dealing with NVIDIA GeForce GT 750M with 2GB of its own memory standard GDDR5. Its frequency is 967 MHz, it is made on 28 nm process technology, supports DirectX 11 and Shader 5.0. Of course, the gaming capabilities of this card, no one questioned, but for clarity, still does not hurt to show the results of some games. For example, Titans fall with Full HD-resolution goes with 24-27 fps, game Metro: Last Light with the same parameters will show 13-15 frames per second.
Another important difference between the new generation of MacBook Pro laptops is 16 GB of RAM standard DDR3-1600 MHz instead of 8 GB, as it was previously. As for storage, then this function "imposed" on the SSD 512 GB. However, you can choose a complete set with 1 TB SSD, of course if the budget allows.
Ports and Communications
All device interfaces are uniformly distributed over its faces. On the right side, you can see the port USB 3.0, HDMI video output with support for video formats 3840h2160 / 30 and 4096h2160 / 24, as well as a card reader SDXC.
The left side was another port USB 3.0, two multipurpose port Thunderbolt, thanks to which you can connect your laptop to virtually any device and transfer data at high speed. By the way, to make connections with FireWire and Ethernet through these ports need to purchase additional special adapters. Next to them, you can find the connector for charging MagSafe, audio output for headphones and two built-in microphone.
Front and rear no ports or connectors. Wireless communication laptop presented Bluetooth 4.0 and Wi-Fi 802.11ac.
Battery
In the "tag" a non-removable lithium-polymer battery capacity of 8440 mAh (95 Wh). The manufacturer claims that the battery can work up to 8 hours with the included Wi-Fi. In reality, we have about 20 hours in idle mode, high-quality video at maximum brightness plant a battery in about 5 hours. In the high-load the user will have to find an outlet somewhere in 3 hours. But the results are quite good. The gadget is able to operate for long enough without recharging, which means that it is safe to take with you on trips and other travel.
Conclusion – Apple MacBook Pro Retina 15
New – long forgotten past, so it is possible to characterize the Apple MacBook Pro Retina 15 Mid 2014. This notebook is virtually no different from its predecessor, except that only the filling and it is not essential. Device happy 15-inch screen, which shows the high quality of the image: good brightness and contrast, delicious colors, excellent viewing angles, high resolution. Among the advantages and ergonomic keyboard, which can rightly be called one of the most comfortable in the world.

Of course, it is impossible not to note the build quality and design that will satisfy even the most demanding users. Deserves special praise iron gadget, the key role which assigned processor Intel Core i7-4870HQ and graphics NVIDIA GeForce GT 750M. With these components laptop shoulder even a very demanding task, which he easily cope.
Perhaps the only drawback MacBook Pro Retina 15 Mid 2014 – is its cost, which, according to the manufacturer's website data is about $ 2500 for consideration of equipment. However, the "apple" gadgets never were cheap because of the fun, as they say, you have to pay.
Source: Apple
Read another very interesting article about alternative energy of the Sun, water and air.