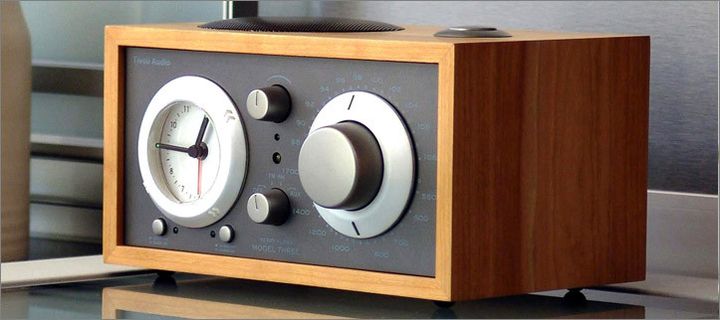 Radio Model Three American Tivoli Audio and refers to a class of devices that are not dazzling technological innovation, but that once you fall in love for the difficult to explain the charm and quality performance.
The receiver is enclosed in a very compact body made of wood. The best place for it – a bedside table in the bedroom, the benefit that the machine is equipped with an analog clock with alarm and large buttons Snooze, allowing the signal to take a nap after another five minutes. Incidentally, the watch has a quartz movement with a self-powered by penlight batteries (AA) and do not produce the usual ticks and poorly illuminated dial allows you to quickly read the time even in complete darkness.
As an AM / FM-Tuner Model Three scheme is used for GaAs FET designed co-founder Henry Kloss. Tuning to radio stations – also analogue by gently rotating the handle with a large gear, t. E. Storage and quick selection of frequencies not.
Responsible for the sound of the speaker with a diameter of 3 inches on the top of the device to boost the bass equipped with bass reflex port on the rear panel. Due to the wide radiation pattern is like a controversial location of the radiator in fact does not cause problems: the sound, including the high-frequency component is distributed uniformly in the room, bouncing off the walls and ceiling, and creating a pleasant atmosphere ear sound. By the way, a traditional feature of technology Tivoli – sound quality – is peculiar and Model Three. To estimate it, we connected to the line input of the receiver portable Hi-Fi-audio player. Voice Devas Premana in the composition Gayatri Mantra sounds recognizable and penetration, setting up for a meditative mood, and drums – gently but quite convincing. So Tivoli product can be successfully used with an external audio source, it is a pity that they do not provide a wireless connection.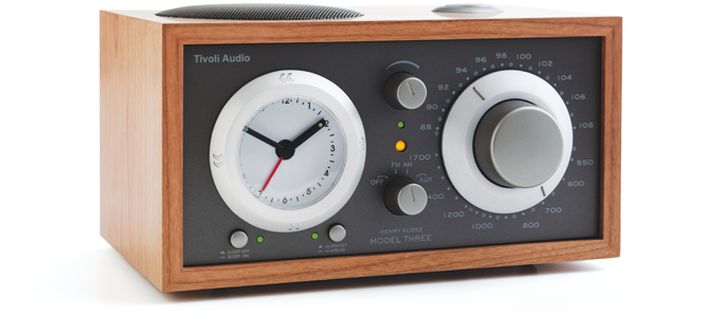 As for radio, the "combat" (about 50 km north-west of the Ostankino television tower), the receiver can not catch the whip antenna from 20 to 30 stations in the FM-band, which is not bad. But those who live far from the centers of broadcasting and / or interested in the highest possible quality of reception, care should be taken outside antenna.
If you regularly listen to the radio, like retro styled design and sound quality, you will certainly pay attention to the needs Tivoli.
Price: $ 300
PROS: Great design and sound quality, especially for such dimensions
Cons: would not hurt to support Bluetooth; no memory stations
VERDICT: A great addition to your bedroom interior
Read another very interesting article about alternative energy of the Sun, water and air.