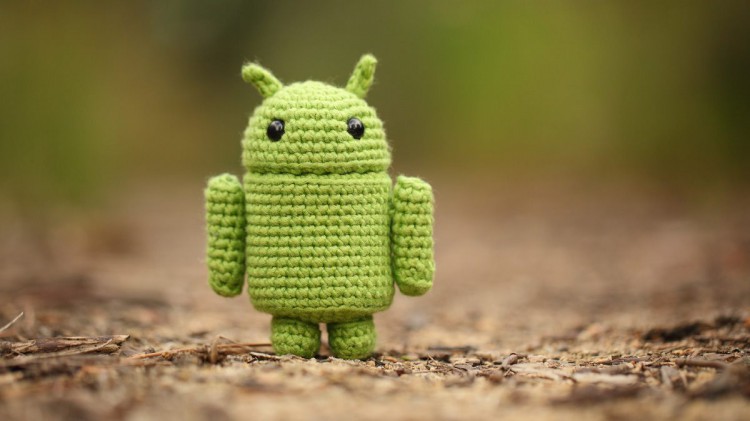 Connoisseurs of mobile technologies are well aware that all the new and exciting submitted on an annual conference called Google I / O, which this time will be held from 25 to 26 June. Obviously, wait until the agreed date has not long, but because the World Wide Web spaces are increasingly full of new rumors. Stands alone among the latest information about the new version of the green robot in under number 5.0. Despite the presence of a huge mass of data on it, Google representatives still have not confirmed the approaching announcement. Most recently, it still happened. Indirectly, elegant and almost imperceptibly.
The most loyal fans of Android would surely learn this trick. It comes to publishing company official screenshots of smartphones Nexus, the top of which displayed a certain time. Several years ago, something like that notifies indifferent about the imminent presentation of Android 2.3 Gingerbread, the share of which, by the way, is still quite high . So what is with the fifth version?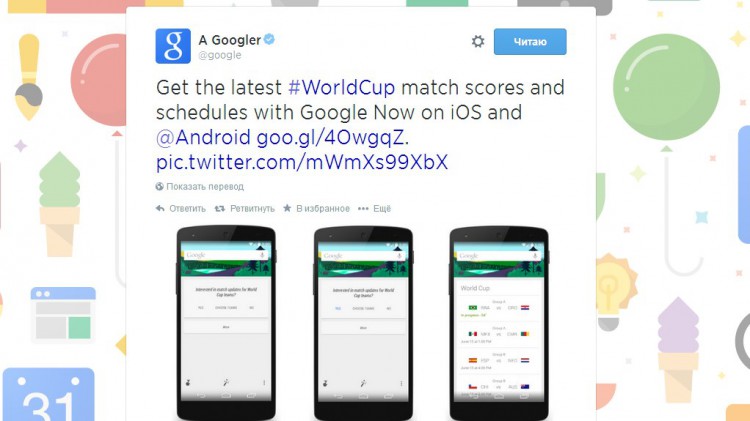 On the eve of the official twitter account of the contents published three screens Nexus 5. Nothing extraordinary in this: Google employees would once again remind the possibilities of voice assistant Google Now, able to communicate the results of football matches. Tweet, naturally, was timed to coincide with the beginning of the World Cup in Brazil, you can watch using these applications.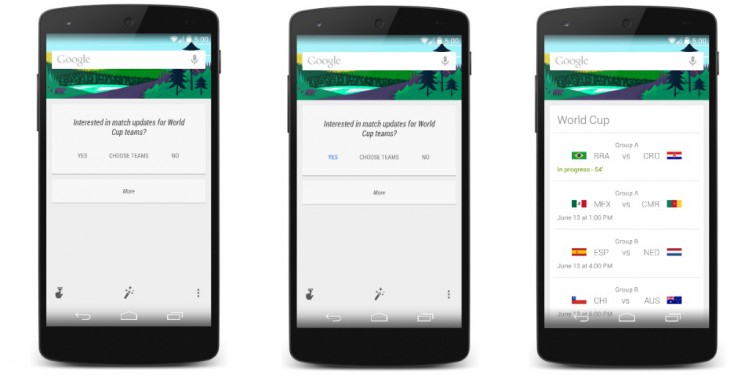 Everything would be fine if our foreign colleagues phonearena not paid attention to the time shown in the upper right corner of the display. 5:00 – all true. By the way, the photos of all the new devices with Android 4.4, available for purchase in foreign Google Play, set 4:40. Obviously, called the incident an accident makes no sense.
Recall that one of the most anticipated innovations fifth version of Android should be updated appearance, the details of which we have already seen . Furthermore, I / O can be represented awaited Android TV.
And what do you expect from the new items you?
Read another very interesting article about alternative energy of the Sun, water and air.