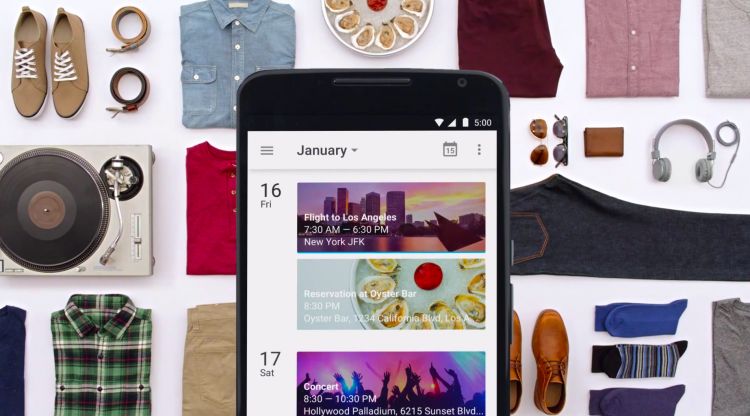 If you, like me, have no idea when someone's birthday, wedding, day, distributor and other significant dates, the calendar for you – it's "good." A beautiful calendar – even better! So we dance: finally update the application on which earlier could not look without tears! Google Calendar 5.0 in the new design is now available for all devices with Android 4.0.3 and later.
To fully feel the achievements of modern "design industry" to get started is to dive into the past. Look how long ago looked for native Android Google Calendar 5.0. Of course, after such a spectacle even the most persistent of us there are thoughts about iOS.
Google Calendar 5.0: from frogs to princes
But now it was the end of the dark ages. Looking at the new version of Google-applications, you want to put a monument Material Design and lay flowers at it, and with a choice of date, of course, will help Google Calendar 5.0.
The left curtain application, the user can choose from any of its Google-accounts Google Calendar 5.0 reflect events and reminders in the calendar ribbon, and add to these events birthdays and holidays, which are considered the weekend. The first week of January to the default busy "Christmas vacation" is a children's delight.
Here are accustomed to the application settings, where for each event, each account, you can choose a specific color, set the day to start the week, and set notifications.
Feed, or, more precisely, "schedule", looks great. Each month is divided beautiful picture in the style of Google Now, describing typical for this time of year event. Color differentiation of tasks, at first glance, does not irritate and will surely prove useful even worth it just to get used to.
If you click on the month in the header of the application, then go down the usual calendar for the current month, and tape too far into the future or the past, you can easily return to the present – just all in the same header click on the icon of today.
In addition to the schedule of events has a grid display mode for 5 days and the hourly display of the current day.
In short, the "Corporation Good" finally pleased. Even if you have another favorite calendar application, try Google-version Google Calendar 5.0 is definitely worth it.
Read another very interesting article about alternative energy of the Sun, water and air.