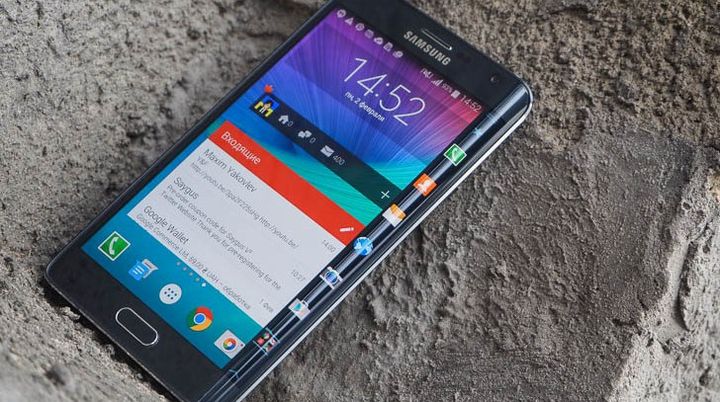 Do I need a curved display smartphone? I think this is not the most important characteristics that I would look for when selecting a device. Especially in the case of the pioneers – Samsung Galaxy Round and LG G Flex. The benefit of this bend was well, very little, let's be honest. In the Galaxy Note EDGE display curved differently – it's not a small bend over the entire area display, clearly curved line that looks very unusual. But whether he was more useful than a curved?
And in this post I want to share a little experience operating Note EDGE is folded with a focus on end, as inyuz Galaxy Note 4, which I use for several months, I have recently published.
For those who have not read / did not watch reviews, enclose a link to them: Samsung Galaxy Note EDGE, Samsung Galaxy Note 4.
The main feature of Note EDGE, which distinguishes it from the original model – a curved display. Bending pronounced and, unlike the aforementioned Galaxy Round, curved portion has a separate functionality. That is, we have not just the fact that there is a bend, and case studies and how to use it. Technically, here we have one display, the right part is bent. Software is the entire interface is divided into two zones: the main screen, which has a diagonal of 5.6 "and a resolution of 2560 x 1440 pixels, and sideband, its resolution is 2560 x 160 pixels. This is enough to place a column of icons, scrolling and other useful information.
What is the use of this panel? If you do not take into account that it looks very unusual and such a display can just brag to your friends, this line can be used in favor of functionality. For example, the night, as expected, are very handy thing. Several times I tried to sleep with her for hours straight Pebble, that at any moment it was possible to see the time, but it is inconvenient. Unlock any smartphone hurt – too bright. And then at a certain time you just show the weather, time and date. Muted tsiferki to completely off (black) screen is not annoying at all. By the way, the weather turned out to be even more useful than the time – I have are often shooting in the morning and woke up before the alarm, it is useful to know the rain or not, as well as temperature.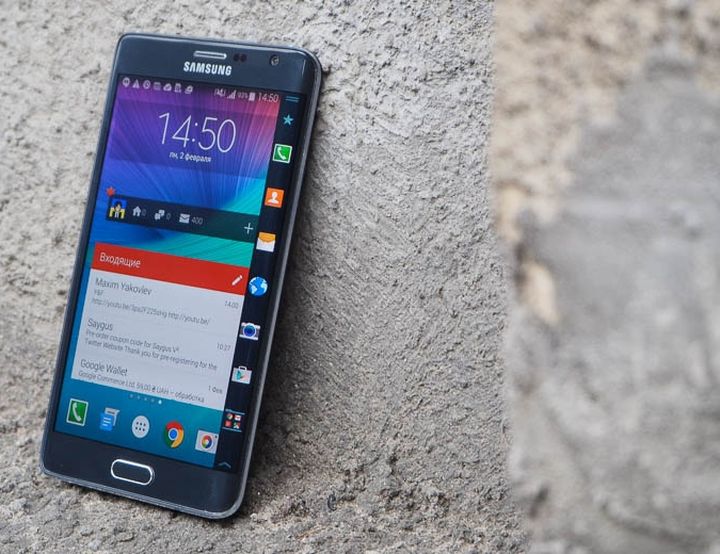 Of course, conveniently located on the side of the icon with the most popular applications and games for their fast start. It's like an extra on the desktop dock that accommodates a large number of icons.
Also proved a convenient pop-up messages: how to notice and function keys. For example, while playing an incoming call does not interrupt gameplay, you can answer or repel the call using the sliders on the side panel. And while watching videos or playing conveniently receive notification of incoming messages – you know who and what is written.
Today, the side panels are not very many. But open API, developers can build upon existing applications and games (additional gaming panel could use as extra. Items) and write a separate sidebar, which will be available in the app store Samsung.
Speaking of usability, it is worth noting that there is no discomfort, but one drawback due to the folded edge, still is – cases. If you like to wear the device in a case, it will have a good search. Of good options I found brand smart case with a lid that does not completely close the display to curved surface was always visible.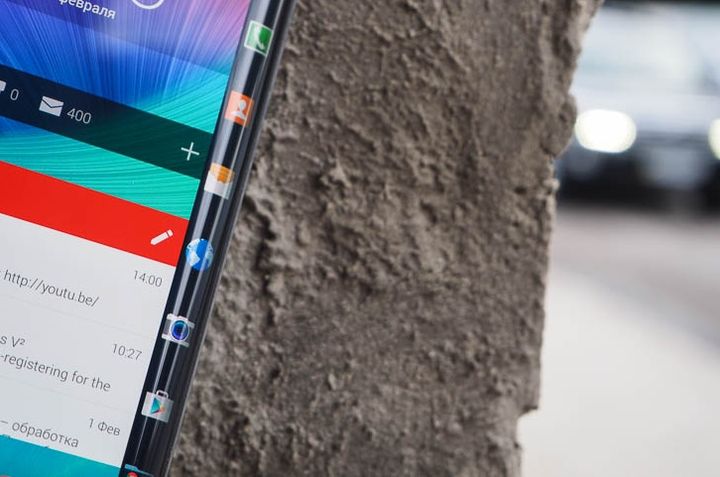 There is another point that requires a habit – a key lock. In most large smartphones, it is located on the right side to it was convenient to reach with your thumb. Immediately, for obvious reasons, it had to move upstairs.
Oddly enough, but in the hand of a smartphone is no worse than usual Note 4, the folded edge of the convenience seized upon not affected. Many people ask the question: "How does the bent part, when using the device constantly touches her hand?". The manufacturer has provided it, and the panel responds to touch only if you're working with it.
Second, that some wonder – what to do lefties, since only one face is bent, and she was right. There is also a software solution, Note EDGE – the first smartphone Korean manufacturer, interface which can be flipped upside down. In this case, instead of at hardware keys appear onscreen. A side face in such a position is to the left.
Unfortunately, during the review, I have not found it possible to turn the side panel in a locked state to an active was only bent portion. During the operation, I found how to do it: in the locked position, simply swipe your finger from left to right or vice versa, but without lifting a finger. Once the clock appears, and you can swipe to switch the other panel. Conveniently, if you set a string of weather to see the temperature. By the way, in the app store Samsung already have an application Gismeteo, which is accessible side panel with a thermometer. Looks fresh.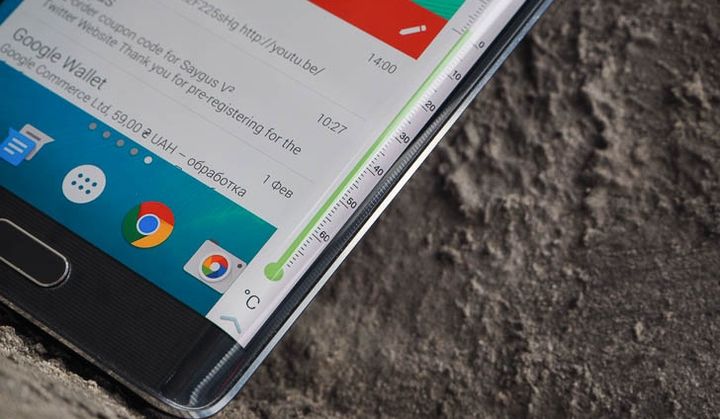 In general, the solution of interesting, and you get used to it. But at most, curved screen – still branding thing. EDGE – pretty massive thing as a cost, and the feelings. Functionally useful, but to grow, of course, is where. I'd like to display more third-party solutions, especially waiting for them in games. Today, many complex games ported and processed for smartphones and tablets. Take the Heroes of Might and Magic 3, which have recently appeared for mobile devices, or tanks in which to add. the screen can accommodate a variety of useful buttons. But even now, the existence of such rarities like!
Himself smartphone is still one of the most powerful on the market, with a very high-quality display and an excellent camera. In this case we get an all in one for those who want a fashion phone, but with unclipped characteristics.
Read another very interesting article about alternative energy of the Sun, water and air.