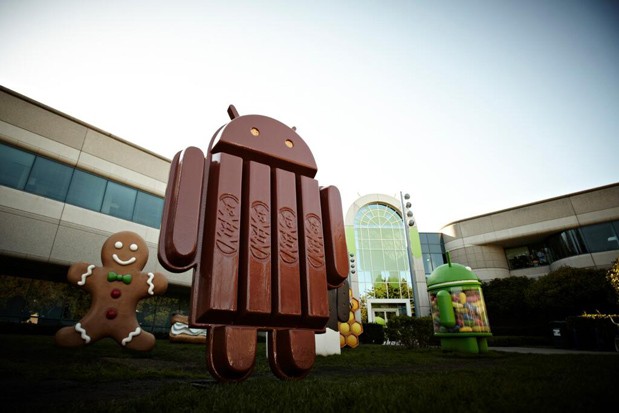 For sure, many people know that Google as a code name for its mobile operating system Android, uses the names of sweets, arranged in alphabetical order. Some fans may even remember the full list of all the sweets : Cupcake (1.5), Donut (1.6), Eclair (2.0), Froyo (2.2), Gingerbread (2.3), Honeycomb (3.0), Ice Cream Sandwich (4.0) and Jelly Bean ( 4.1-4.3 ) – the first two versions of OSes were the names of famous robots , but they are Google had to withdraw because of copyright issues . Before the release of Android 4.2 first rumors about Major Upgrade Android to version Android 5.0. Following the "J" in the English alphabet letter – "K", and no one had little doubt that the next will be the sweetness of the key lime pie , Key Lime Pie. Perhaps Google was originally in just such a plan, but the official announcement is the official announcement – the next version of the operating system will be Android 4.4 KitKat.
Title KitKat was not chosen by chance – Google has entered into an agreement with Nestle about the use of this trademark . Google benefits from this transaction is not very clear, but Nestle has received a massive advertising campaign. In addition to it , the company intends to release a special series of the same name chocolates , packaging which can find coupons for the purchase of the Nexus 7 or vouchers for Google Play – they will be sold in 19 countries.
Remains unclear is how Android 4.4 KitKat will be a big upgrade after Android 4.3 Jelly Bean. On the one hand, the version number of OSes again increased by only 0.1 , but on the other hand, the name was changed . Still , as far as we remember , Android 4.1 Jelly Bean contained many changes compared to Android 4.0 Ice Cream Sandwich. Do we still wait for Android 5.0? Question is probably rhetorical.
Also, we do not know when Android 4.4 with all its new features will be presented formally , and when to wait for the announcement of the first devices on the new OSes but Android saw another significant event – Sundar Pichai announced that all over the world have already been activated billion devices. It's just a huge figure – in May it was equal to "only" 900 million. Back in April, Eric Schmidt predicted that it will reach a billion by the end of the year , but the challenge Android coped before. I wonder whether OSes can continue to build up such a high rate of spread?
Read another very interesting article about alternative energy of the Sun, water and air.