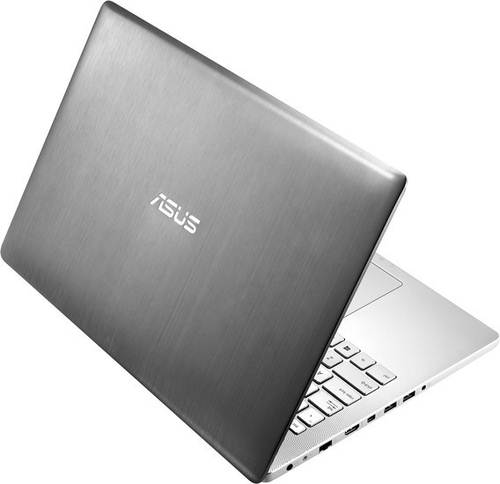 This multimedia notebook is neither more nor less than an updated and more advanced version ASUS N550JV, which pleased us the beginning of its existence about a year ago. Drastic changes were few parameters, in particular, instead of discrete graphics GeForce GT 750M appeared more modern and therefore more productive GTX 850M.
Design ASUS N550JK
Aluminum laptop case entirely – and the top and bottom, the only plastic used in edging the display, which is quite logical. All in color with no frills, as a manufacturer limited shades of gray and black. Flowing body lines, no sharp corners and sharp turns in the center of the lid is backlit logo ASUS. Cover, which revealed a maximum of 150 degrees, the only securely wide loop, but the build quality has some claim – a little creaks screen bezel, and indeed the laptop lid is quite noticeable bends, although the picture quality is not particularly affected.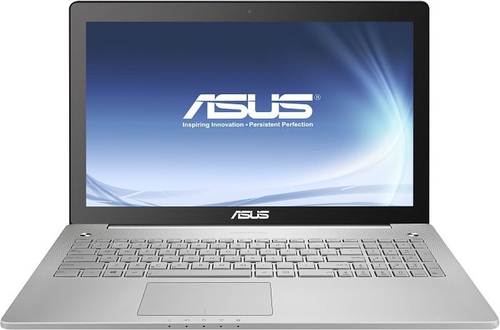 The design is very attractive, without exaggeration. Yes, the laptop does not have a portion of originality, but classical methods in the form of black and gray colors and non-aggressive body lines create an extremely pleasant experience. And even "lame" build quality can push into the background against this background.
Bottom of the case is covered by a solid aluminum panel, which is extremely numerous screws securely locked. To get to the battery, strip memory or hard disk have bad bother. On the bottom are only rubber support legs, ventilation grills and mesh speaker at the transition from the bottom panel to the front end. Dimensions of the device are 383h255h27.7 mm, weight 2.6 kg.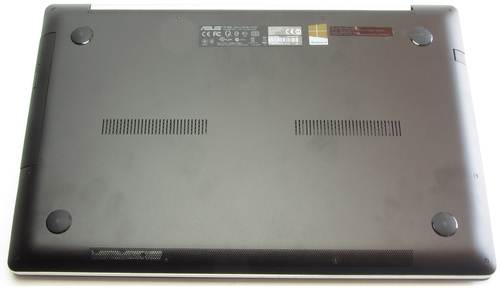 Display, audio, webcam ASUS N550JK
ASUS N550JK got a 15.6-inch IPS-display with a resolution of 1920×1080 pixels. The screen has a 16:9 aspect ratio and a matte finish, thereby behaving much better in bright light than glossy solutions because they do not glare. Level of maximum brightness is 264 cd/m2, the uniformity of 80%. Excellent viewing angles, as well as the quality of the picture, however, compared with the same N550JV, N550JK shows still slightly worse performance of the screen. One thing is clear, that for professional graphics new laptop does not suit. Also in the sale is available device configuration display HD (1366×768 resolution), this option is worth, of course, cheaper.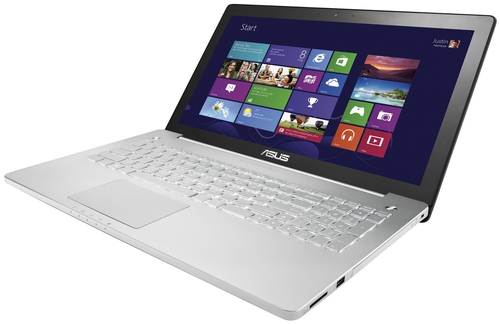 But in terms of acoustics ASUS N550JK, is sure to win the heart of more than one person. Here there are four dynamics ICEPower (a well known company Bang & Olufsen «a hand"), which are located at the front end of the body, closer to the bottom. In fairness it should be noted that this dislocation is not too favorably shades quality sound without headphones, but not in the case of N550JK – although acoustics and is reflected from the surface of the table, in the rest of the quality of the mark. Balanced frequency, high volume, the complete absence of noise … What else do you want? Seems to be nothing but the bundle has an external subwoofer, so it allows more idealized sound.

Front webcam shoots in HD resolution of 1280×720 pixels and works so-so. Quite enough for video, even a mediocre lighting, and nothing more is required.

Keyboard and Touchpad ASUS N550JK
Keyboard in the laptop island type, with optional digital unit. The keys are quite large and are located at a distance from each other, so that errors when you should be rare. The buttons do not say that very short, but also can not be called average – something intermediate, but comfortable. Typing keyboard does not make noise, and besides it is equipped with a three-level lighting.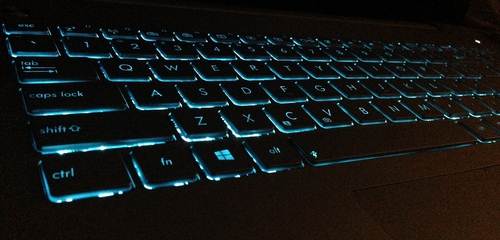 Standard layout, function keys [F1-F12] are used in combination with the [Fn]. Above the keypad are two buttons – on and Instant Key, which launches its corresponding application selected by the user. Both keys are located on the perforated panel, which points radially arranged than the added touch of originality. Incidentally, the metallic foil keypad, so that it does not bend under the pressure.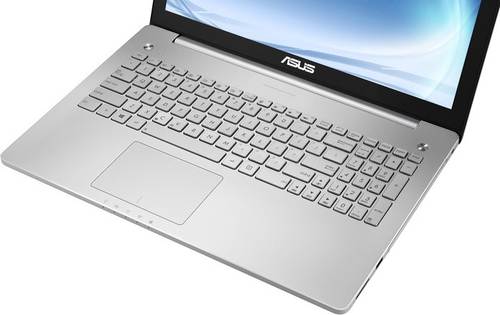 Touch-sensitive area, she klikpad, since it has no physical mouse buttons, is the largest. Furthermore, there is pleasant to the touch surface. In general, all good – there multitouch gestures, the sensor is sensitive, but the simulated button at the bottom klikpada extremely tight, so when you need to apply quite a notable effort. Who has strong fingers will not feel obvious discomfort, others may just use double-click gesture, etc.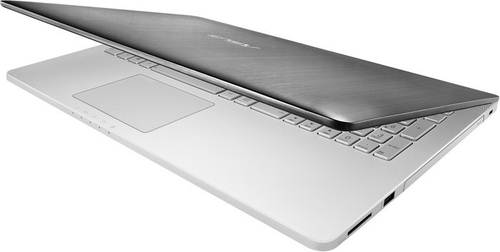 Performance ASUS N550JK
Notebook ASUS N550JK-CN003H successfully running the operating system Windows 8.1. As components used quad-core Intel Core i7-4700HQ high operating frequency of the nuclei 2400-3400 MHz and third level cache 6MB. This powerful CPU is based on the latest generation Intel Haswell Standards 22-nanometer process technology. The processor has an excellent performance in part thanks to a set of supported technologies, including: multi-threading – Hyper-Threading and overclocking – Turbo Boost. Power of the processor Core i7-4700HQ quite high – at 47 watts, so it is likely it will affect the heating body and the duration of battery life. However, on the other hand, Core i7-4700HQ – is a powerful solution that copes with all kinds of problems in multithreaded mode.
Integrated Graphics Intel HD Graphics 4600 has 20 actuators and operates at a frequency of 400 MHz to 1150 MHz. This component is also quite efficient, as the category of integrated adapter, at least, HD 4000 outperforms it at the speed of about 30%.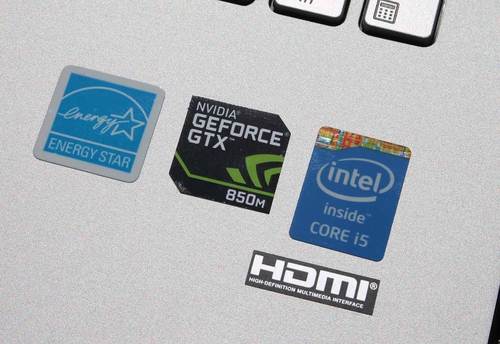 Discrete graphics card NVIDIA GeForce GTX 850M notebook features from its predecessor N550JK N550JV. It's pretty powerful medium size graphics, which is part of the gaming line of graphics cards due consoles «X» in the title. In practice, it actually plays many games in high resolution of 1920×1080 and medium settings. The adapter is equipped with DirectX 11 support and four gigabytes of memory own standard DDR3. N550JK on laptop you can play, for example, GRID: Autosport, where at maximum settings at a resolution of Full HD fps rate will be about 36 or Titanfall in similar conditions, but with a frequency of up to 43 fps.
RAM is 8 GB DDR3-1600 MHz. The laptop is a busy one slot, so that this figure can be increased for a maximum of 8 that in a total of 16 GB.
Hard drive capacity of 1 TB and an operating frequency of 5400 rev / min, a very good solution for ASUS N550JK, but now increasingly in good laptops want to see SSD, or, at least, HDD 7200 rpm. The manufacturer has provided an alternative option to the configuration of the laptop hard drive to 750 GB or 1000 and 7200 revolutions per minute, but no version with SSD.
Ports and Communications ASUS N550JK
The laptop is quite a diverse set of ports with a thoughtful layout. Thus, the left, the 3.5-millimeter audio jack combo, pair of interfaces USB 3.0, Mini DisplayPort, HDMI, RJ-45 jack for an external subwoofer and power socket.

Left main part of the square is the optical drive DVD ± RW, lock Kensington, one USB 3.0 card reader and SD / SDXC / MMC, and the rear end is free of functional load, and on the front are systemic activity indicators and graticule speakers.

Of wireless communications is supported Bluetooth 4.0, dual-band Wi-Fi 802.11 b / g / n, as well as WiDi.
Battery ASUS N550JK
Autonomy laptop – it is a merit-4 cell Li-Ion battery with a capacity of 59 Wh, which is hidden under the solid bottom panel. Frankly, this is not enough for such a powerful stuffing to the device has been operating without power. So, watching movies takes about three and a half hours, work with Web resources when the Wi-Fi – nearly four hours. In addition, the forecasted high energy consumption devices, so it is not surprising that used to charge the power supply capacity of 120 watts. ASUS N550JK heated body well and is very uneven – in the region of the system components with resistive load temperature rises slightly more than 48 ° C.
Conclusion ASUS N550JK
ASUS N550JK – this is the laptop that will appeal to many due to its external data and powerful stuffing. Also, do not discount the good, though not flawless, the screen (for example, could provide more headroom and brightness) and an extended range of ports. Impeccable acoustics and comfortable backlit keyboard complete the overall picture. The cost of this laptop is just over $ 1,000, and it is not a cosmic figure today. However, giving your hard earned, I would probably see better battery and less heating of the case when you are working. However, to solve each, how much and what to pay, and the laptop is very, very good – it is unique.
Read another very interesting article about alternative energy of the Sun, water and air.