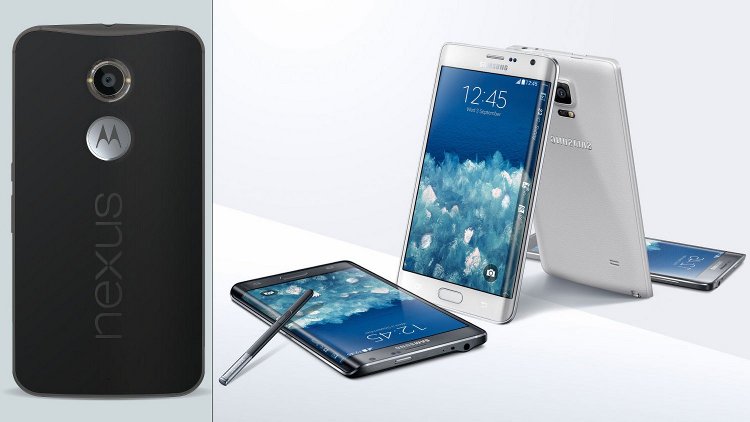 Industry mobile devices has taken another significant step forward, pleased the users a host of new devices. Among the most prominent of them created by Motorola smartphone Google Nexus 6 has a special place. Its huge, almost 6-inch screen puts it in some of the largest fabletov. But the role played habitually giant Samsung Galaxy Note Edge. Will the novelty not only compete with him, but even to surpass it?
In this issue have tried to figure out on the resource Phone Arena, comparing this to both devices on various parameters.
Design – Nexus 6 and Galaxy Note Edge
Build Quality at Motorola, a manufacturer of Nexus 6, traditionally higher than Samsung, but the findings are currently doing is still very early. Both devices are incredibly larger. Galaxy Note Edge slightly more compact: 151.3 mm in height x 82,4 mm wide x 8,3 mm in thickness. But the Nexus 6 – a true giant: 159.26 millimeters in height x 82,98 mm wide x 10,06 mm in thickness. Edge more comfortable to hold and use it too comfortable.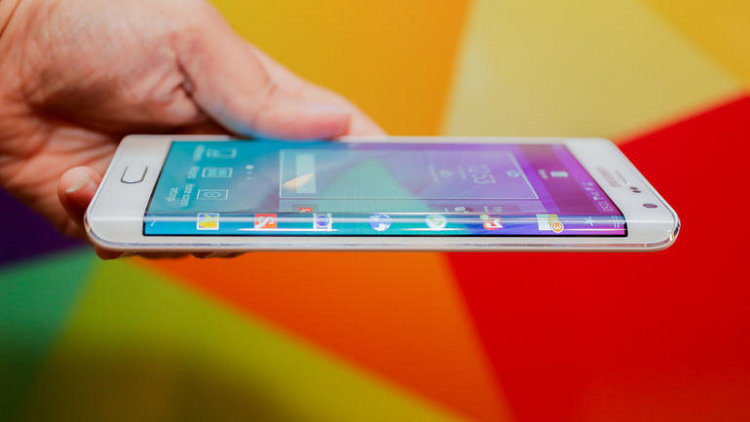 An interesting feature is the Galaxy Note Edge location of the power button on the top edge of the phone. Can not say that it is very convenient. Fortunately, the Nexus 6 power button, along with a volume control located on the right and it is easier to get.
Galaxy Note Edge weighing slightly less – 174 grams and Nexus 6 – 184 grams. This difference is hardly significant. It should be noted also that the Nexus 6 has protection against water spray that is lacking Galaxy Note Edge.
Display – Nexus 6 and Galaxy Note Edge
6 inch QHD-6 display Nexus 493 with a density of pixels per inch is characterized by the same resolution as the 5.6-inch Note Edge, pixel density is higher than – 525 pixels per inch. This is understandable, the lower screen (at the same resolution), the higher the density of the image on it. But both displays deliver crystal clear images. Galaxy Note Edge has a Super AMOLED-display, and the Nexus 6 – screen AMOLED-based technology.
An important difference is the screen Galaxy Note Edge, curved to the right edge of the phone. The purpose of this additional side of the display is to display the notification, as well as quick access to different kinds of information, such as weather reports, sports scores, news. There may also be placed and application shortcuts. At Nexus 6 is nothing like that.
Interface – Nexus 6 and Galaxy Note Edge
Nexus 6 is running the latest operating system Google Android 5.0 Lollipop. In this version of the favorite mobile platform has changed externally and internally, has become more mature. Galaxy Note Edge, being devaysom Samsung, once again "happy" user interface TouchWiz . This means that the operating system looks and functions differently anymore. Another question, is it necessary to most users, these additional features? The answer to this, each user can give himself. Pure Android users easier and more intuitive and works are usually faster than the operating system shell TouchWiz or other alternative software upgrade.
Apparently, Galaxy Note Edge will be running Android 4.4 KitKat. TouchWiz for Note Edge will try to make up for a huge array of additional functions lack Lollipop. Among these functions, multi-mode (Multi Window) and a variety of gestures Air Gestures, not to mention the extra preinstalled applications and opportunities for customization.
Another advantage Galaxy Note Edge before Nexus 6 – its stylus S Pen, which was better than ever before visited stylus Samsung. Providing more precise control of handheld device, it is a clear indication that the stylus is not a thing of the past and modern devaysa they can also be very useful.
Processor and memory
It's no surprise that Nexus 6 and Galaxy Note Edge based on the top chipset Snapdragon 805. processor has a clock speed of 2.7 GHz and is based on the Krait CPU 450, having a GPU Adreno 420. Equally impressive characteristics, however, just required for devices with such a high resolution screen.
Memory both phones are also the same. Both have 3-gigabyte of RAM, which should be sufficient for most users, including for those who enjoy multitasking. The minimum volume of the built-in storage for both devices is 32 gigabytes, while the second and the maximum – 64 gigabytes. In this case, only Galaxy Note Edge has a slot for memory cards microSD.
Camera – Nexus 6 and Galaxy Note Edge
Time after time, Samsung is pleasantly surprising features of their cells, which, alas, can not be said about Motorola. But the company is trying to make the camera of their mobile devices to be commended. In Galaxy Note Edge is a 16-megapixel main camera, while the Google Nexus 6 found 13-megapixel photos, and nobody will be surprised if this time the photos taken with the help of this device, will be impressive.
In addition to the pictures in high resolution, both phones are capable of shooting 4K-video. Unfortunately, in the Galaxy Note Edge video recording time in such a high resolution is limited to five minutes. In Nexus 6 any time limit shooting video in 4K are not available. And, of course, you can always restrict ourselves to 1080p resolution for both devices. In this case, the optical image stabilization has only Galaxy Note Edge.
It is time to talk about the front chambers considered devices. Galaxy Note Edge in this respect somewhat larger rival, having a 3.7-megapixel front camera. At Nexus 6 front camera 2 megapixel. Will it affect the self as will become clear only in the testing process.
Battery
Galaxy Note Edge has a battery capacity of 3000 mAh. It is a worthy vessel for modern batteries. Superiority Nexus 6 (3220 mAh), more apparent than real, since the device is big screen and there is no certainty that the extra 220 mAh will be enough to "drink" the energy of the extra screen space.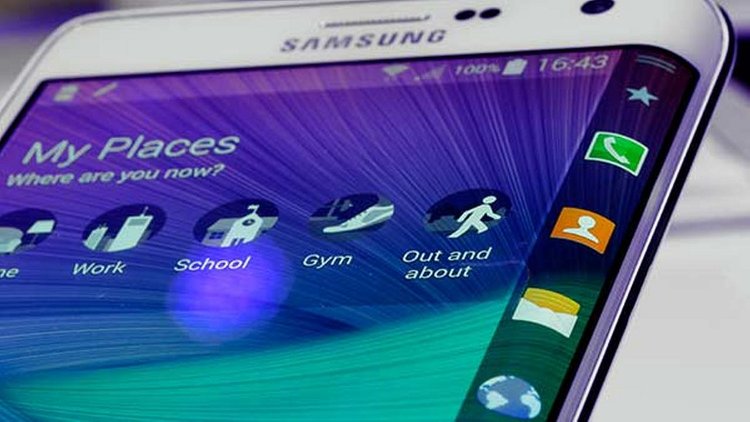 Google promises that its smartphone will last 24 hours of talk time or 13.8 days of standby time. Of course, these figures do not reflect the way you use your phone actually. The good news was the information that the Nexus 6, unlike Galaxy Note Edge, has a built-in capability of wireless charging. Unfortunately, nothing is officially reported uptme Galaxy Note Edge on one battery charge.
Main advantages – Nexus 6 and Galaxy Note Edge
Nexus 6 just with its 6-inch screen is huge even compared to modern fabletov and boasts a clean Android 5.0 Lollipop. Meanwhile, Galaxy Note Edge is an example of innovative fableta with a curved display. An additional advantage is the S Pen. To consider whether the benefits of additional features TouchWiz, each user decides for himself.
Is it too big for the Nexus 6 hands the average user? Whether sufficient attraction has a new operating system Android 5.0 Lollipop to users prefer this particular?
Read another very interesting article about alternative energy of the Sun, water and air.