Those who are constantly watching for new electronics, seem strange review of great headphone that are available from the beginning of the 80s. But for more than 30 years of existence on the market, the model has had time to settle down in recording studios. It is about great headphone Beyerdynamic DT 770 PRO with resistance of 250 ohms. Let's look at what these headphones have managed to win the attention of professionals, and can not also come to taste the simple music lovers.
Equipment
Full-size great headphone come in a box with a transparent end where flaunt themselves Beyerdynamic DT 770 PRO. The last stand on a cardboard stand tucked away inside the twisted cable with Jack 6,3 mm, which is spun down and underneath it is the classic 3,5 mini Jack. At the bottom lies documentation and cover for transportation.
Appearance, quality of materials
Have you seen a broadcaster or a sound engineer? They are constantly sitting in big great headphone, and often this is the Beyerdynamic DT 770/880/990 PRO. The model looks exactly as a working tool and not an accessory for everyday use. Construction form a Y-shaped mount, compact arc and bowls that rotate, has long been copied by other manufacturers since it is one of the most reliable solutions. Materials are selected so that they do not remain fingerprints or scuffed. Plastic cups in texture reminiscent of leather, velor ear pads and headband made of soft leatherette.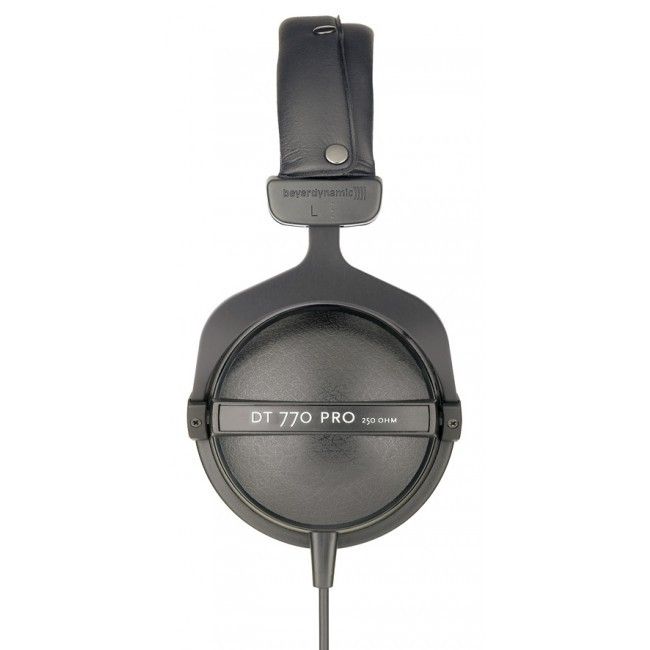 The important point is the possibility of replacing almost all the details that will extend the life. Cable sturdy, such as a phone – in a twisted condition length is about 1.5 m, while stretching increases to 3 m. In versions with an impedance of 32 ohms and 80 used a straight line with a length of 1.6 m and 3 m respectively.
Ease of use
What should be the man who sits all day in the earphone? Remove them? No, he needs maximum comfort. Here it is primarily and bribe DT 770 PRO – despite its large size and weight of the model to get comfortable. Velor ear pads are soft and completely cover the ears, elastic arc allows you to press one "ear" to shoulder that will come in handy during recording. It should immediately understand that this is a version exclusively for listening to the audio in the room for the street is no good solution.
Sounding
Beyerdynamic DT 770 PRO is available in three versions, which differ in resistance – 32, 80 and 250 ohms. Naturally, each of them designed to work with different types of devices. In our case, 250 ohm-WIDE great headphone are ideal for Hi-Fi equipment and professional audio interfaces.
I guarantee that the people who first hear viewed great headphone say that they are very dry, expressionless, no bass, and generally "not a fountain." All of the modern perception of sound. Here the situation is that the sound is incredibly faithfully reproduced, with such thoroughness and concentration, which was conceived by the sound engineer. Of course, Beyerdynamic DT 770 PRO 250 Ohm – pure studio headphones, but this does not negate the fact that the smooth and truthful sound is not suitable for listening to music.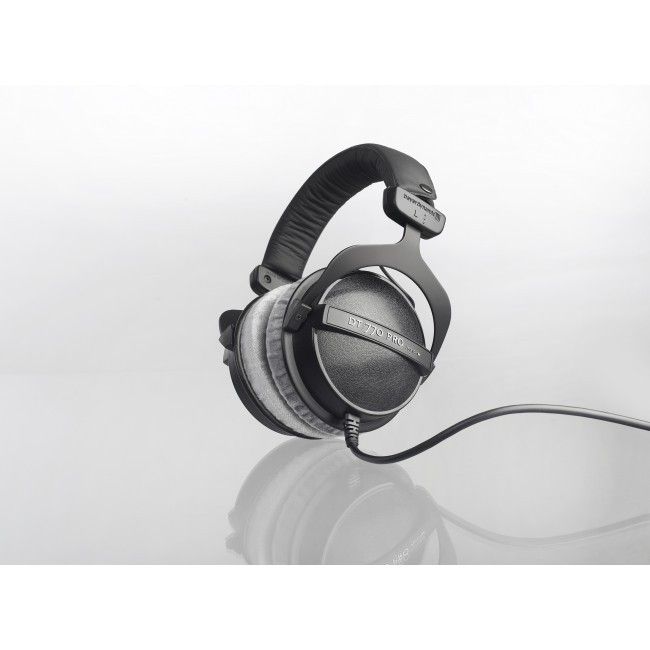 With great pleasure, I listened to some old albums of Michael Jackson, Metallica and Pink Floyd. The Select genre predisposition model I can not exactly playing absolutely everywhere that when listening to the electronics that with alternative rock. Closed form and tight ear cups do their work, and sound at the highest level: the latter is useful when working or listening to music in noisy places. Among the competitors can only note the Audio-Technica ATH-M50, but there is a little different, deep voice sounding.
Basic testing is carried out using a digital-to-analog converter ASUS EONE MKII MUSES, as the main source of sound using a PC. To evaluate the sound played a special set of test tracks that are able to unleash the potential of acoustics or great headphone. As the last speaker Prime Test CD # 1 and the separate compositions such as the Given Up – Linkin Park, Oh Pretty Woman – John Mayall's Bluesbreakers, Funky Monks – Red Hot Chili Peppers, Scream Aim Fire – Bullet For My Valentine format Audio CD. Evaluated following sound parameters: the width of the stage (as far as volume is recreated sound stage), high frequency (violin, drum plates), low frequency (bass), mids (vocals), detailed sound (how well heard details of the composition). The author's opinion is a subjective grade is with an eye on the price of the headphones.
Eventually
Beyerdynamic DT 770 PRO 250 Ohm already had worked well in the professional field audio recorder, and then it really is hard to gain a foothold, particularly in the long term. The great headphone have a balanced sound, robust design, and proven ergonomics strongly recommended to those who want to get the best sound quality for $ 200-250. An important feature of the model with a resistance of 250 ohms is the mandatory presence of a power amplifier, otherwise all the charm of the sound disappear.
Source: beyerdynamic
Read another very interesting article about alternative energy of the Sun, water and air.