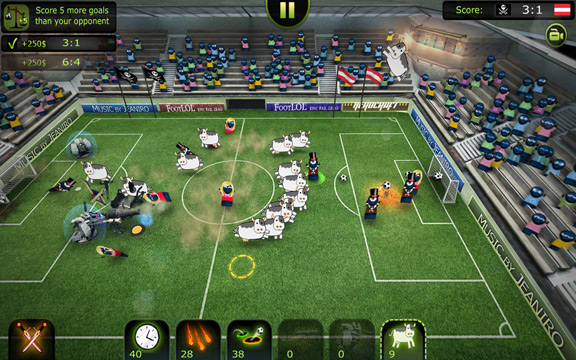 HeroCraft Russian company announced the release of the arcade FootLOL: Epic Fail League on the platform Mac. Game, offering a unique take on the classic football, created indie developer Andrey Babak.
The project FootLOL: Epic Fail League features unique gameplay. To win a match, you can use the most unusual items: mines, shields, guns, meteorites, cows and even aliens. Instead of long matches – rapid tense battle. When there are no worthy opponents on Earth, the gamer to conquer other planets. New fields – new rules.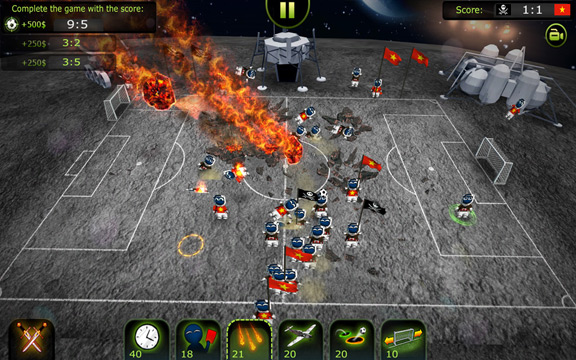 "A game for those who love football … and even for those who do not like! Tired of chasing a ball? The team will cope with it myself! Well, after only one rule – no rules! Put a mine under his feet goalkeeper? It's Easy! Bring down on the heads of the enemy meteor rain or mad cow issue and to take down the entire opposing team? No problem! The main thing is not to win, the main thing – taking part! And what could be better than to take part in a match with a friend – the game implemented excellent multiplayer mode. Play together – you get twice as much fun. Compete against the computer or over a network to outperform other – football has never been so otvyaznym! "
To finish the match with the right account the player has only a few minutes. The game is available dozens of skills, a lot of competitors, team customization – the whole world of football features.
Well, defeating all the enemies in the world, will have to go to other planets. More victories – more modern implements of destruction, useful gadgets and opportunities. Gamers can even pick up a form at your leisure.
Read another very interesting article about alternative energy of the Sun, water and air.