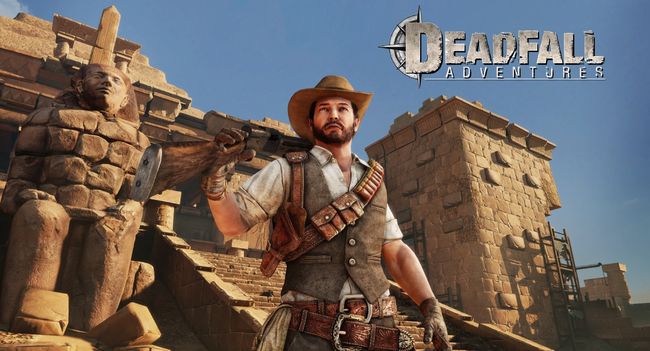 In 1885, Henry Rider Haggard wrote "King Solomon's Mines", the first novel about the adventures of Allan Quatermain, gave rise to a series of excellent books. Nearly a hundred years later, in 1981, Spliberg took one of his best films – "Indiana Jones and the Raiders of the Lost Ark". Indy adventures, full of borrowings from the works of Haggard, so liked by the audience, which was filmed three more films. This year, the Polish studio The Farm 51, inspired by the above setting, adventure shooter released Deadfall Adventures, which is unlikely to acquire a sequel.
It would seem that the Poles had everything we needed to make a great game – great-grandson of the Allan Kvotremeyna as the main character, classic décor, a properly selected time period, the canonicity of enemies, traps and puzzles … but something much went wrong and as a result instead of the new Indiana Jones, we got some another mummy, pardon the comparison.
It all starts quite promising, in Egypt, where James Lee Quatermain helps American archaeologist Jennifer Goodwin to find an ancient artifact – Heart of Atlantis. Heart, of course, buried in one of the ancient tombs, and hinder our couple, of course, evil Nazis, because the yard in 1938, it's time to find all sorts of mystical pieces endowed with incredible force.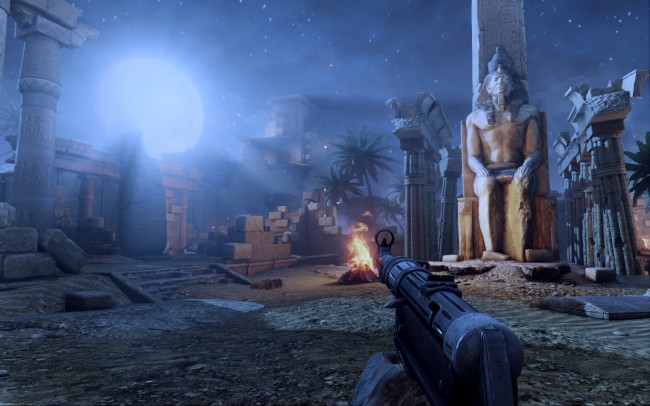 You can imagine an ancient Egyptian temple complex or seedy pyramid, from head to toe is not stuffed with deadly traps? Of course not, because these colossal structures erected solely to scatter them untold treasures packed stuff funny animated mummies and surround all that stuff holes with crocodiles, jumping out of the most unexpected places staves, pivoting levers and mirrors of all shapes and sizes. At least that's what it looks like in Hollywood adventure films, for which we loved them. Deadfall Adventures is not far behind, and with all of the above, you will meet literally for the first twenty minutes of the game, that's just the overall experience significantly spoil the intellect Nazis and clumsy mechanics of shooting.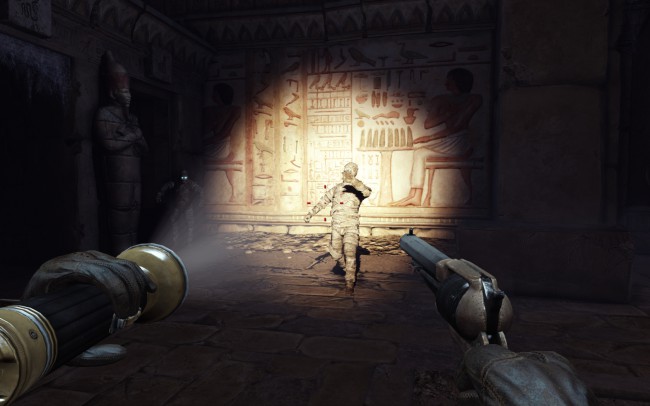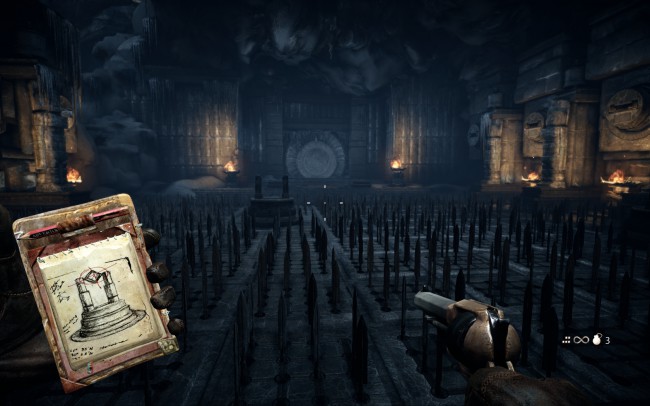 Germans lacking a maximum of something to hide behind the nearest box and periodically postrelivat thence the player. Particular risk enemy fire is not, if you are not rushing forward at breakneck speed. But this coin has a flip side – to get at the enemy too, not just because the spread of weapons in just huge, so you have to either rely on single aimed shots to the head, or fit almost blank. Another thing mummies, these guys first need to bring to the well-lit place or highlight flashlight (Alan Wake hello) and then finish the shot. The funny thing is that the walking dead look most vibrant of all the enemies encountered. While the Nazis, and after them Russian soldiers and Arab fighters, move through the levels with the grace of Pinocchio, for the undead was a pleasure to watch.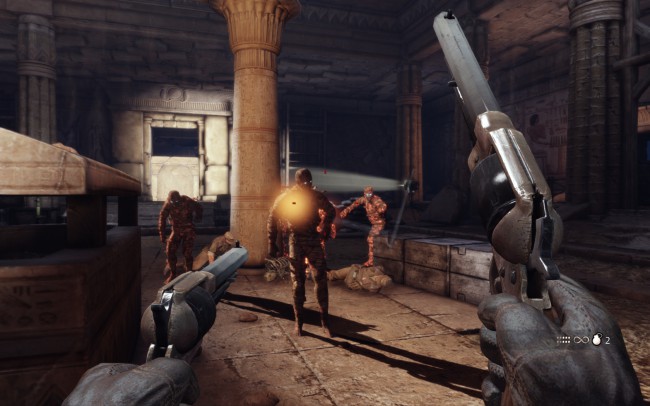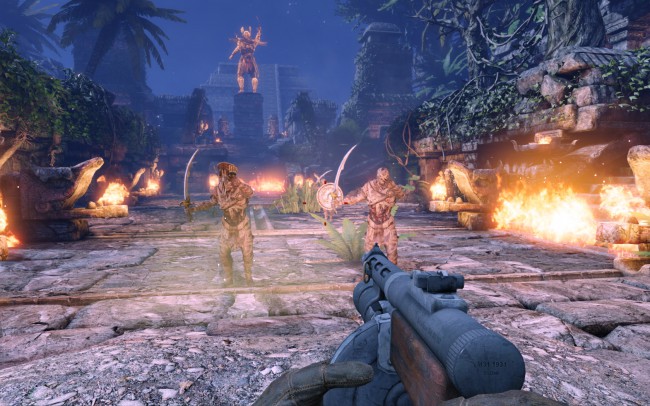 Despite the almost complete lack of physics, the presence of a certain ambiance pleases interactivity, which diversifies rather boring firefight with the enemy. Somewhere shot of a switch allows a group of enemy soldiers to crush huge stone press, pressing a button somewhere you fry attacking conquistadors resurrected until crisp. Above hung hiding Nazi giant icicle? No point in trying to lure him out of hiding, shoot at the ceiling.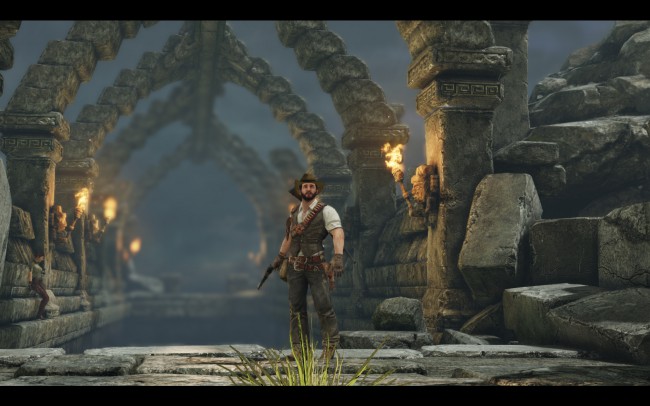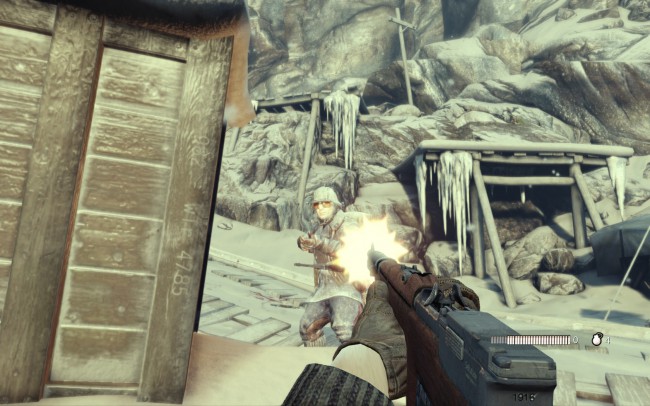 And Anubis be with her shooting, AI and animation, locations would be interesting, exciting and amusing story more puzzles, but even then the game does not always work. Suppose, with locations all good, from Egypt, our adventurers go to the Arctic, and from there into the jungles of Guatemala, visiting parallel German submarine, underground bunkers and other mislaid mine with trolleys (of course, we will go). And to pay tribute to the Poles, with a total inexpressive images they were able to create a number of elegant and memorable places. But the plot and puzzles are all very ambiguous. First – set collected together cliches and stamps, allowing without problems to anticipate future developments. While the latter were not always logical, so that the solution sometimes chosen method scientific. And notebook containing tips for most puzzles in the game, often useless because explanations are not quite distinctly.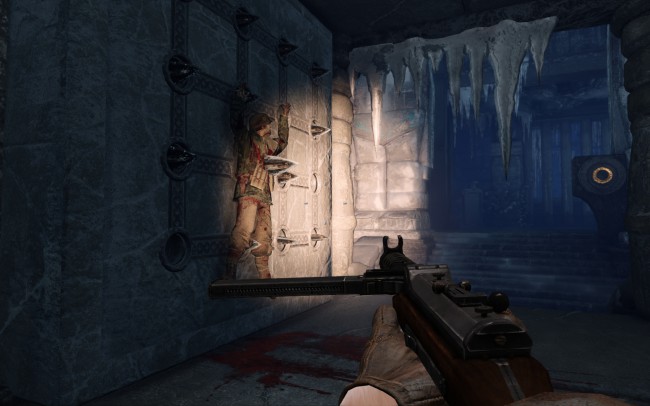 But really a lot of puzzles in each level, but big story, there are several additional, deciding that James gets access to the treasures with which cultivators – increases the amount of health, learns faster reloading or better cope with the creatures of the underworld. Role system here is not in its infancy, not in atavistic state, so that in itself is not particularly collecting treasures stimulating, but as you progress through somehow still look in every corner. It seems to be nothing special in all of these deadly traps, pressure plates and rotary columns, like and do not necessarily solve these puzzles, but do not leave behind the same here this golden statue, right?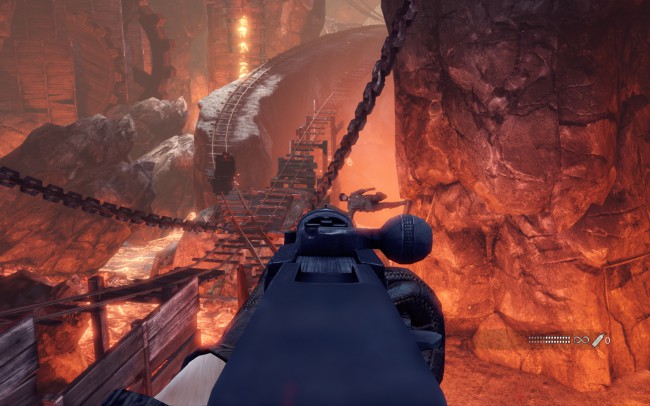 I would like to force that The Farm 51 spent on the development of multiplayer modes, if not gone to improve artificial intelligence opponents, and to create a more interesting puzzles and elaboration of the characters. This clearly would bring the game more good than Deathmatch, memorable only fun traps or Survival mode, which does not differ from the analogous regime in any other game – hang in a certain amount of waves of attacking vrazhin periodically replenishing ammo and finding new weapons.
Unfortunately, we have to admit that the Poles greatly hastened the release and released a very average game. Although if you already have passed along and across the Tomb Raider and Far Cry 3, and the soul requires more forlorn temples and ancient artifacts – take Deadfall Adventures for Christmas sales, still before the next Uncharted is still far.
Read another very interesting article about alternative energy of the Sun, water and air.