Today, many renowned manufacturers of electronic gadgets, for example, Dell, or HP, in addition to gaming or business machines, does growing segment of convertible tablets and Acer is no exception. It has positioned new transformer from Acer Aspire Switch 10 E as a laptop 2-to-1, but a more detailed study it becomes clear that this is still more a tablet than a laptop, as the main functional load it carries half of the body with the display. There is almost the entire set of connectors and charging port and built-in battery. However, great importance is unlikely to be, because we will evaluate the device for its functionality and ergonomic qualities, as well as in terms of price and quality.
Design
The first thing that catches the eye when getting acquainted with the device – a chic choice of body color variations. The manufacturer offered as the traditional white or gray color and more rare: blue, pink, purple and orange. Indeed, everyone will find his own perfectionist ideal tablet!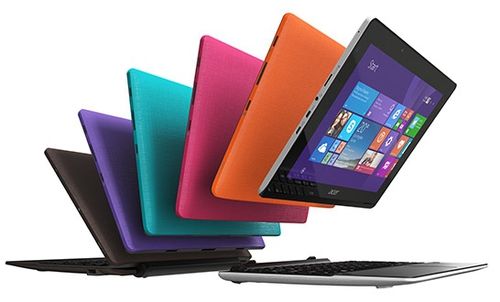 A secure hold the two halves of the housing provides a special mechanism – Acer Snap Hinge 2, through which the keyboard is attached / detached and moved within four available positions quickly and easily.
In total, the tablet design is quite low-key, there are no expensive items, but fully realized the practicality and immediacy. Mainly in the design of the device used matte plastic, only the back cover plate is represented by a solid piece of aluminum to improve performance. The faces of the body of the gadget straight, rather sharp, which forms an image of the working machine is not tuned to the frivolous use.
What is assembled, disassembled it, but new transformer from Acer Aspire Switch 10 E is a compact solution, comfortable when wearing and maintenance. The separately own tablet weighs 585 grams, with a keyboard – a little more than a kilogram, the dimensions are 262x180x23 mm.
Bottom panel keyboard unit, that is the bottom, if the gadget used in laptop mode, does not bear virtually no functional load – only here the support legs, and that two of them, as well as the fixing bolts.
Display, sound, webcam
Despite the relatively low cost of convertible cars, 10.1-inch IPS-display with a resolution of 1280×800 pixels unexpectedly happy with its quality. Very good level of brightness 327 cd / m2 ensures a comfortable eye-view image. Also, worth noting is an excellent black levels, the maximum contrast of 963:1, good viewing angles. Although the color gamut and color accuracy are not ideal, it does not spoil the overall impression of the tablet – it's really easy to work and relax. Only the high-gloss finish of the display brings some discomfort in bright natural or artificial light. Sensor screen is fast, supports 10-finger multitouch.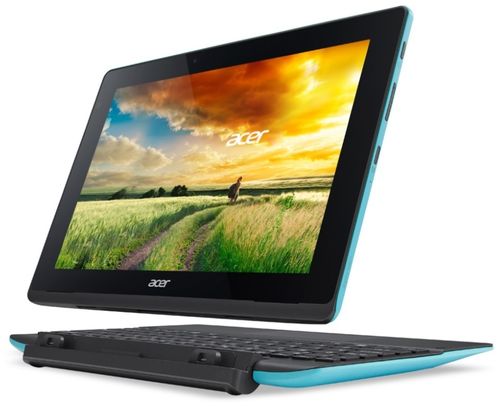 A pair of stereo speakers is very conveniently located on the front surface of the plate, just below the display frame. They sound good, a small amount of bass present even that's not what for tablets for laptops uncharacteristically. Therefore, headphones or not, enjoy high-quality audio with new transformer from Acer Aspire Switch E 10 is quite real.
Two web cameras – that's another sign that indicates that we face all the same tablet with a keyboard dock. Otherwise, where you saw a laptop with a rear webcam?
Both webcam tablet has a 2-megapixel resolution, and they are not suitable for photographs because the picture is too grainy. Although Skype video can be used, be adjusted to some settings.
Keyboard and Touchpad
Docking Chiclet keyboard is made of high-quality plastic and therefore with a great operating base. Keys when you have quite a significant response to this style of printing, of course, will have to get used to. Despite the small size of the substrate, a full-size keyboard, a set of conventional keys and a reduced block pointer. The highlights here, but contrasting white markings on black button character copes with the task of increasing the comfort of use.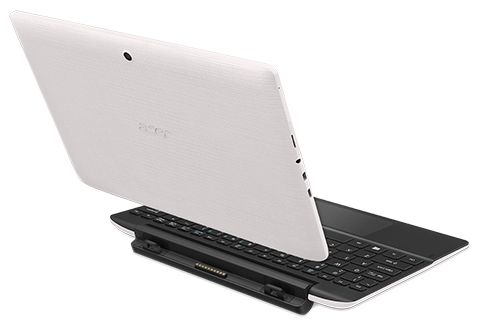 Secure the keyboard to the tablet by means of magnetic fields and a pair of grooves. It is convenient and practical, besides reliable. Thus, the keyboard unit with the usual tablet instantly turns into a notebook into a tablet on a stand or in the "parliament", for movies, for example.
The touchpad of new transformer from Acer in the medium-sized keyboard unit, which is logical, given the relatively small size of the gadget as a whole. He has excellent sensitivity, supports multi-touch gestures and functions of Windows 8. It is pleasant to the touch and comfortable input device with a matte surface roughness and lack of physical mouse buttons.
Performance
New transformer from Acer Aspire Switch 10 E (NT.MX1ER.002) running the operating system Windows 8.1, the default search engine offered services, Bing. Energy-efficient quad-core Intel Atom Z3735F with a frequency of 1330-1830 MHz promises sufficient working Resources Tablet activity. It has 2 MB of cache and a variety of optimizations inherent Silvermont architecture platform Bay Trail-T. TDP CPU does not exceed 4 Watt, therefore, passive cooling tablets should be no problem to prevent overheating of the system and the housing.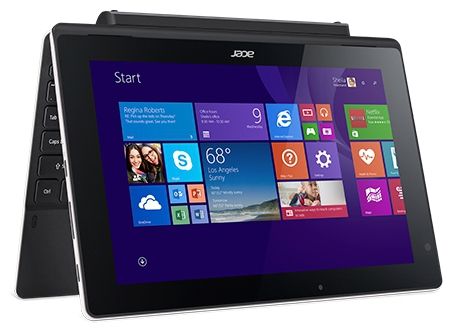 Built-in video card Intel HD Graphics (Bay Trail) with support for DirectX 11 has four actuators and a maximum frequency of 792 MHz. It easily copes with a simple multimedia content, but the game just pulls the old exclusively on low settings. For example, on Windows-based tablet Aspire Switch 10 E can be quite comfortable to drive the ball into Fifa 14 (2013) at 20 fps at 1024×768 with low setting, as well as in various pogey MIT tablet toys.
2 GB of RAM standard DDR3-1066 – very good for a tablet to the same positive effect on system performance as a whole.
The internal memory is 64 GB, and the same can be added using cards microSD.
Ports and Communications
On the right side of the tablet is a button unit – the power button, volume control, and Windows. On the same side of the body, but the keyboard is a full USB 2.0 port for connecting various peripherals.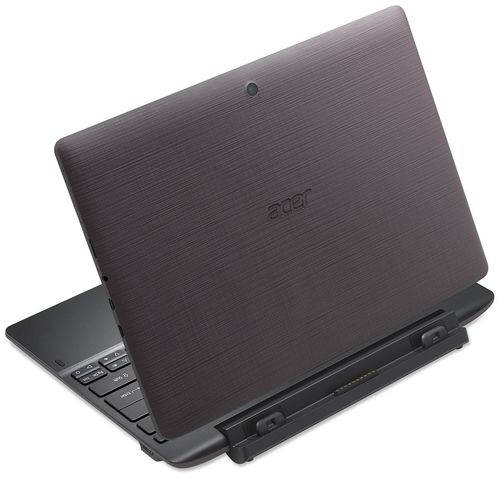 On the left end handed slot for microSD, combo audio jack, Micro-HDMI, and Micro-USB.
On top, there is nothing, but the bottom is provided a magnetic field, as well as the holes for a docking keyboard. From wireless communications present Wi-Fi 802.11 b / g / n and Bluetooth 4.0.
Battery
Capacity 2-cell Lithium-polymer battery is 8060 mAh – very bad some for such a compact device. Especially considering that the filling in the new transformer from Acer Aspire Switch 10 E is characterized by minimal power consumption, and the display has low resolution. On average, you can expect about a 10-hour session activity unit offline with mixed patterns of use – Web surfing, video viewing – display brightness of 150 cd / m2.
Verdict – New transformer from Acer
New transformer from Acer Aspire Switch 10 E is a highly competitive device with a price tag of $ 350. He won popular and in demand trend of transformation, a good screen quality, keyboard dock, a good autonomy. Many will find the benefits of available operating system Windows 8. The performance of the tablet is designed for most of the tasks of the non-professional level, therefore, to him and to spend leisure time is possible, and high-quality work. Of course, models from other manufacturers can easily compete with such a device, but the Aspire Switch E 10 take its rightful position in the segment of the convertible notebook, giving buyers a chance to buy a good car at a good price.
Source: Acer
Read another very interesting article about alternative energy of the Sun, water and air.