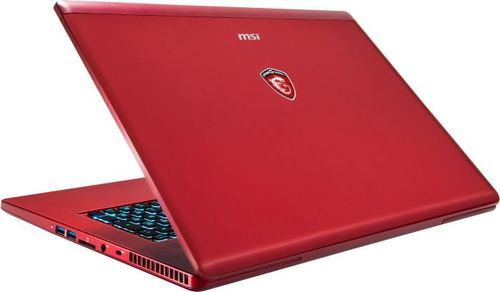 Judging by the title laptop, we have the latest generation of MSI GS70 with its own name – Stealth, also from consoles Pro makes it clear that this laptop is equipped with the top-end graphics card, which is used in the family GS, in this case NVIDIA GeForce GTX 970M. By the way the presence of the phrase in the title of Red Edition talks about the bright colors of the shell of the hero of our today's review. This notebook is very different from the classic game monsters that weigh about 4 pounds and look like a Christmas tree or as an alien ship. MSI GS70 2QE Stealth Pro looks more like a thin premium multimedia model, but it can provide its owner with uncompromising performance and high level of comfort in the games. Everything else, due to the large 17.3-inch display, you can use the MSI GS70 2QE Stealth Pro as a replacement for the desktop. Let's see what kind of "fruit".
Design – MSI GS70 2QE Stealth Pro
Looking at the MSI GS70 2QE Stealth Pro, you'll be in full confidence that this is a real multimedia model, but not a gaming laptop. Smooth and simple lines of the hull, the lack of intricate twists and stampings on the surfaces, the widespread use of metal – these are just a few of the factors that tips the scales in multimedia design. The only clue that can bring this device to "clean water" is the logo in the form of a dragon on his shield, he is on the display cover, and do not notice it will be hard. People who know the detail of the exterior will tell a lot.
If you open the MSI GS70 2QE Stealth Pro, here we see the island keyboard, which is located at a considerable distance from the edges of the laptop, the benefit of the dimensions of the internal space of 17.3-inch laptop permit. We should also mention a lot of free space above the keyboard. Internal workspace, as well as the lid is made of aluminum.
MSI GS70 2QE Stealth Pro with a rich choice of body colors. In addition to our causes red colors are also more discreet options: black and silver. If MSI GS70 Black looks more classic, the silver coloring makes gaming laptop in the media. It is perceived MSI GS70 2QE Stealth Pro in light silver coloring, not peculiar gaming laptop.
Bottom of the notebook, surprisingly, also made of aluminum. It has slots for ventilation, six rubber feet on the perimeter, and the grille protects the woofer. To get to the internal components necessary to unscrew a fairly large number of screws, but after that you can remove all the bottom of the whole, and not just parts of it. After this operation, you can access the two slots for SSD, hard drive bay, two fans, and the wireless module. Unfortunately, to get to the RAM must be dismantled almost the entire notebook, as the two available slots are located under the keyboard.
The trump card of MSI GS70 2QE Stealth Pro are its compact dimensions and low weight. This 17.3-inch model has dimensions of 418x287x22 mm and weighs only 2.66 kg. For comparison, even the 15.6-inch version of the GT series is almost twice as thick and weigh under four pounds. What can we say about the most advanced multimedia models with the same diagonal, for example, ASUS N750 or HP Envy 17 weighs about 3 pounds.
Display, sound and webcam
This notebook has a fairly large display with a diagonal of 17.3 inches. In turn, the resolution is 1920×1080 pixels, which in combination with the diagonal gives, though not excellent, but quite acceptable densities pixels. The matrix is made by technology TN, which is somewhat disappointing, since recent game models finally started to equip IPS-panels.
Due to the use of TN-technology viewing angles are not very big, but the image quality is quite good, especially is to provide high contrast, which is achieved by deep black rather than gray. In general, the games this display is perfect, although the reference and it can not be called. By the way matt coated display, not glossy, which is quite rare to see on a gaming device. Because of this you will be deprived inconvenience when working in the sun or a bright-lit room.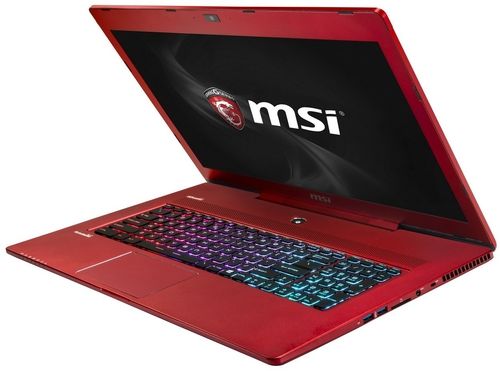 Acoustics MSI GS70 2QE Stealth Pro developed by Dynaudio and consists of four speakers and a subwoofer, which is located on the bottom. But even this number of components can not ensure perfect sound, or at least that which is, for example, the series GT. However, if you do not take into account the reference Soup, the MSI GS70 2QE Stealth Pro sounds better than most modern laptops. Of the features of acoustics is to provide highly expressed mids.
Webcam installed in MSI GS70 2QE Stealth Pro, can shoot video in Full HD. But for video conferencing with the head missing, even where a lower resolution.
Keyboard and Touchpad
Despite the fact that the internal working space is quite large in size, it is not all used effectively. The top and sides of the keyboard there is a lot of space, and the keyboard itself no more than the 15.6-inch models, except that here there is a separate numeric keypad. Location of the keys and their shape is familiar to us from other models of MSI, since the keyboard is made in close cooperation with the Danish company SteelSeries. Buttons have a flat top surface and a slightly rounded perimeter, their dimensions are 15×15 mm. Pressed it gently and do not publish klatsat sounds. Of the features worth noting the Windows key moved from left to right, this solution can be seen in some gaming notebooks.
Backlit keypad here is the same as that of the series GT – it is also divided into three separate zones whose emission can be set to their individual colors, for example, to make a combination of the "green", "yellow", "red". Furthermore, it is possible to use some of the visual effects in the form of blood transfusion or attenuation.
Several frustrating lack of certain multimedia keys, but they do not spoil the unique design of the internal working surface, and their function succeeds top row of buttons, which is activated by the [Fn]. The power button located above the keyboard is not on the side and in the middle. In addition to switching on and off the laptop, it also serves as an indicator of what kind of video card is used. So, for example, if the activity of the integrated graphics card, it glows white, if discrete, then orange. This solution can also be found on other gaming models MSI.
The touchpad of the laptop has a medium size, which make up 10.5h7 see. More precisely, it is not the touchpad and klikpad because it does not have separate dedicated mouse buttons. Positioning is fairly accurate, this also applies to multi-touch gestures, but no matter how good characteristics was not touch-sensitive surface, still in the game it is much inferior to the ease of operation of external plug-myshe.
Performance
MSI GS70 2QE Stealth Pro (2QE-007RU) comes with the operating system Windows 8.1 (64-bit). As with many new game models, it uses quad-core Intel Core i7-4710HQ, which can provide high performance required for today's games and applications. Four cores of the CPU processes up to eight data streams simultaneously, thanks to technology Hyper-Threading, another technology – Turbo Boost can increase the base frequency from 2.5 GHz to 3.5 GHz. Among the other technical characteristics can be noted cache in the third level of 6 MB and heat at 47 watts.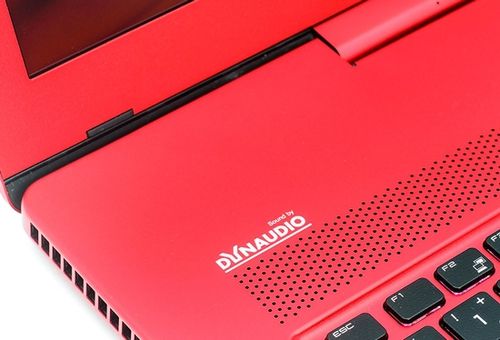 As already described above, if the power button glows white, then running integrated graphics Intel HD Graphics 4600. It has 20 shaders and able to "digest" the light and some medium-complexity of the problem. But if the power button glows orange, then we are dealing with a powerful discrete graphics card NVIDIA GeForce GTX 970M, which is much more powerful than his team-mate in the face of an integrated HD Graphics 4600. Diskretka has 1280 shaders that operate at a frequency of 924-1038 MHz. Memory bus width is 192 bits, and the number of standard GDDR5 video memory is 3 GB.
In our complete set of 8 GB of RAM standard DDR3, which operates at a frequency of 1600 MHz. The maximum value of RAM for this model are 16 GB, since the laptop is equipped with only two slots for memory strip.
For storing large amounts of data, such as movies in high quality and modern games, MSI GS70 2QE Stealth Pro hard disk installed capacity of 1 TB, which has a rotation speed of 7200 rev / min. By itself, of course HDD has a relatively good performance, but for even better performance to him in a couple has been installed 128-GB solid-state drive, which you can install your favorite applications and games.
Game
Due to the discrete graphics card NVIDIA GeForce GTX 970M this notebook "pulls" all the latest games at high and ultra-high settings, with a native resolution of 1920×1080 pixels. Mash MSI GS70 2QE Stealth Pro for racing and football simulator – GRID: Autosport and Fifa 15 with a score of 77 fps and 207, respectively, and both games were running at the highest possible settings. Next were tested Call of Duty: Advanced Warfare and Far Cry 4, these two games on "ultra" issued an average of 50 fps. But with Assassin's Creed Unity had some difficulties – at maximum settings, this game showed 22 fps, but when they are reduced to high, the frame rate increased to 39. In general, MSI GS70 2QE Stealth Pro cope with any modern games, and will be able to give its owner the actual performance even the next few years.
Ports and Communications
In MSI GS70 2QE Stealth Pro present a sufficiently large number of different ports, but due to the nature of housing design and ventilation systems are not as many as in the series GT. No there is also an optical drive, though less and less people see this as a disadvantage of the same opinion and we.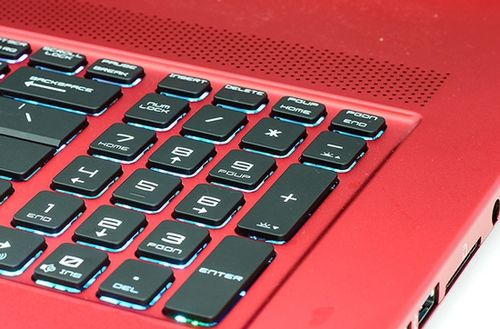 So, a little less than a third of the usable area on the side faces occupy lattice ventilation system, they are closer to the back of the notebook. On the left side of the MSI GS70 2QE Stealth Pro apart from such an array can also find the network RJ-45 connector, HDMI, just two Mini-DisplayPort and two port USB 3.0. In addition, there is also housed three audio jacks: headphone output, microphone input and line output.
On the right side there are two ports USB 3.0, card reader, power supply connector and a slot for a Kensington lock. Also on this side you can find another grid ventilation and hardly noticeable hole through which produced Reset.
The back of the MSI GS70 2QE Stealth Pro overlaps the top cover, so there can be no ports. But the front edge of the notebook, though not got any connection, but there can be found a number of indicators which reflect the work of the laptop.
With wireless technologies are all very well, then there is support for Bluetooth 4.0, as well as Wi-Fi-the-art standard 802.11ac.
Battery
With autonomous operating time at MSI GS70 2QE Stealth Pro is not so good as we would like. Built-in 6-cell lithium-polymer battery capacity of 5400 mAh can not provide high autonomy notebook with a large display and powerful gaming graphics card, so the results are more than modest. When surfing the web MSI GS70 2QE Stealth Pro discharged after three and a half hours, and at maximum load the figure will be about one hour. Even the most energy-efficient mode of downtime can not boast of a good result – just over five hours.
Conclusion – MSI GS70 2QE Stealth Pro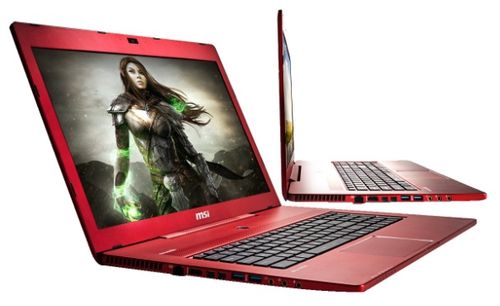 MSI GS70 2QE Stealth Pro is an example of how different from their counterparts can be a gaming laptop. Outwardly, it looks more like a multimedia model, thanks to the use of aluminum in the body trim and discreet design. Also significant advantage of this model is a compact size and light weight, which seems to be just fantastic for 17.3-inch gaming notebook with a full aluminum body. By the way, in spite of such dimensions, inside a MSI GS70 2QE Stealth Pro is a very productive filling and excellent cooling system.
This laptop also has good acoustics and a large 17.3-inch display with a resolution of 1920×1080 pixels and a matte finish. With ergonomics in this model, too, everything is in order, comfortable keyboard, and a set of ports allows you to connect a large number of various devices.
Now the bad – deficiencies in this model a bit, but some pretty significant. Perhaps chief among them is the quality of the display, made by technology TN. In addition, MSI GS70 2QE Stealth Pro is rather limited in terms of autonomy, but for the game model is not so important. In general, MSI GS70 2QE Stealth Pro – a decent gaming machine with restrained appearance and powerful filling. Approximate price of this configuration is in the neighborhood of $ 1,400.
Source: MSI
Read another very interesting article about alternative energy of the Sun, water and air.