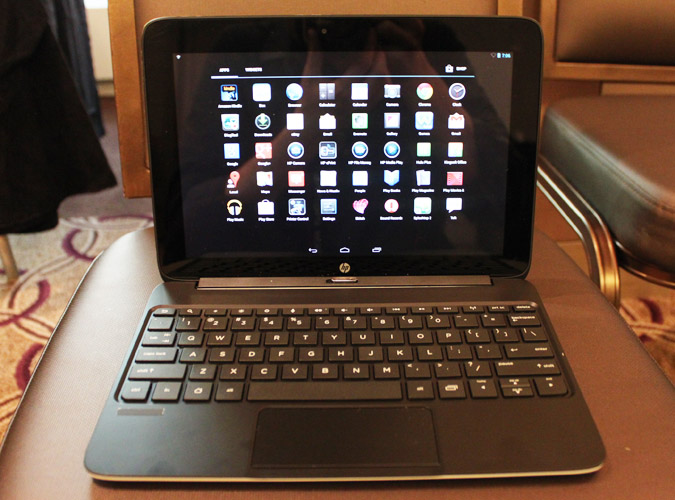 HP Slatebook x2 – a low-cost tablet from a reputable manufacturer. Contrary to the idea that Windows is the best tablet PC , HP released the HP Slatebook x2 on the system Android. Let's take a closer look at this device.
Design
The manufacturer claims that HP Slatebook x2 is a budget business unit. Included with the tablet itself is removable and docking keyboard, which is quite reliable fit in with the monitor. In a notebook HP Slatebook x2 looks exactly like a small laptop . This visual effect is achieved thanks to a well thought-out docking mechanism – the keyboard sits like a glove .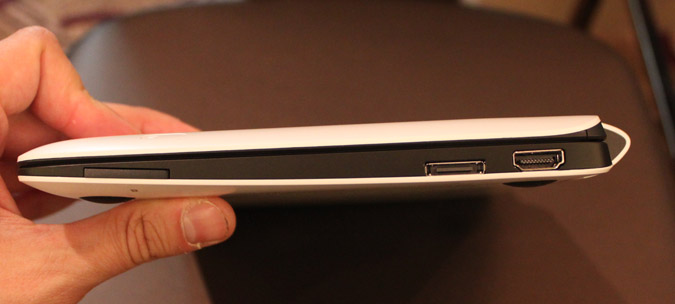 The tablet is completely made of dark gray plastic , so it is pretty light weight . Its rounded edges allow you to work with both hands without any difficulty. Because of this coloring tablet seems pretty strict , and only a small HP logo dilutes its design.

The front of the tablet does not differ too much from the rest of modern tablet PCs. The screen here is almost the entire front panel and has a black frame on the bottom of which is the command key "Menu".
Keyboard and Touchpad
The keyboard increases the weight of the device is almost doubled. Thus , HP Slatebook x2 with a connected keyboard weighs a bit much for a 10- inch device . However, the large weight of the keyboard input is compensated good qualities . The keyboard has a good move and fidbek fairly large keys , and the HP Slatebook x2 happy having command keys that regulate the volume , brightness , etc. Also, the keyboard unit has a bit of space for hands, which makes the work even more comfortable with the text.
Touchpad for HP Slatebook x2 quite small . It can be used for scrolling and input, but to fully cursor navigation is better to use either a USB mouse or touchscreen.
Screen
HP Slatebook x2 screen has a diagonal of 10.1 inches and a resolution of 1920 x 1200 , which is a good result for such a tablet. The display has all the advantages of IPS panels , such as the good performance of contrast and color reproduction , and wide viewing angles .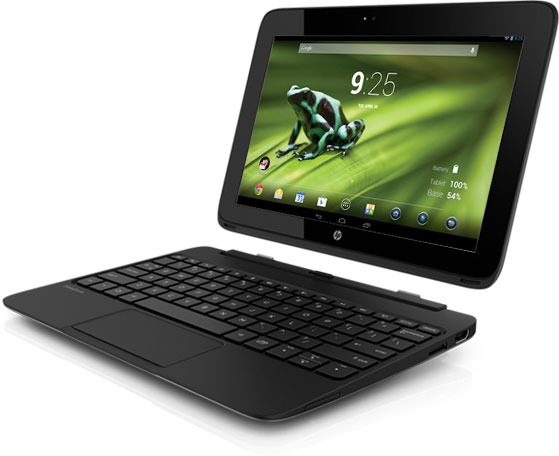 The brightness value at the screen HP Slatebook x2 is not too high, but , nevertheless , it is enough to work in a bright sunny day. Display HP Slatebook x2 is well suited for watching movies on the road , and to perform a variety of everyday tasks.
 
Performance
HP Slatebook x2 is based on the Nvidia Tegra 4 processor that has a clock speed of 1.8 GHz, which is very good for this device. Combined with 2 GB RAM HP Slatebook x2 gives good performance for the 10.1- inch Android tablet. Various applications such as camera, run very fast, and the games do not slow down even with multiple open applications and browser windows.
Interfaces
Docking on the keyboard itself has interfaces such as SD- card reader, port USB, 3.5 mm combined audiodzhek and port HDMI. In addition to the tablet interfaces such as the lock key and sound control is a slot for microSD cards, thanks to which you can add up to 16 GB of internal memory is still a bit of space , 3.5 mm headphone jack and the connector for the charger.
Output
HP Slatebook x2 is a good and powerful tool for their money. You can take it with you on trips , and to walk with him all day in the city. It is perfect for both students and employees of small and medium-sized businesses.
Read another very interesting article about alternative energy of the Sun, water and air.