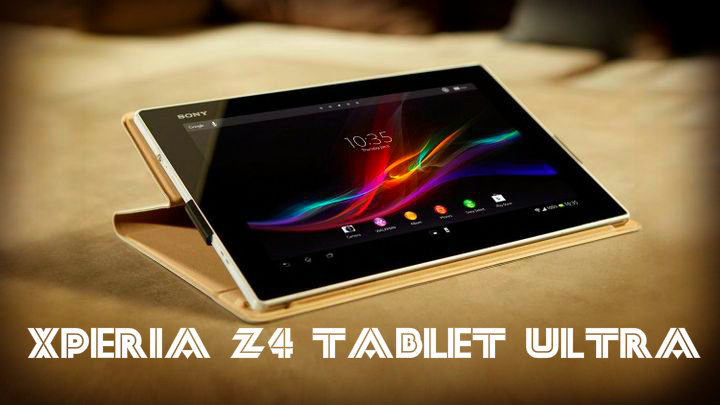 As we know, Sony is preparing to introduce a new line of devices Xperia Z4 Tablet Ultra early next year. But, as it turned out, we know not all about the upcoming updates from the Japanese company.
As the resource digital trends, referring to Chinese sources, Sony may announce a tablet Xperia Z4 Tablet Ultra, which will receive a large 12.9-inch screen with a super fine resolution of 3840 2400 pixels. The heart of the tablet will be an eight 64-bit processor Qualcomm Snapdragon 810.
All that has been written above, it may well be true. However, sources say even some of the characteristics that can cause some surprise. It is reported that the Xperia Z4 Tablet Ultra can be equipped with as many as 6 gigabytes of RAM (two strips of 3 gigabytes).
On the one hand, this amount of RAM will be extremely useful for a huge screen resolution of the tablet, but on the other hand, 6 GB in a portable device looks a bit weird.
In addition, the website states that Xperia Z4 Tablet Ultra will have a very capacious battery at 12100mAh, but the thickness of the device is only 8.6 millimeters.
Sony Xperia Z4 Tablet Ultra: a possible design and features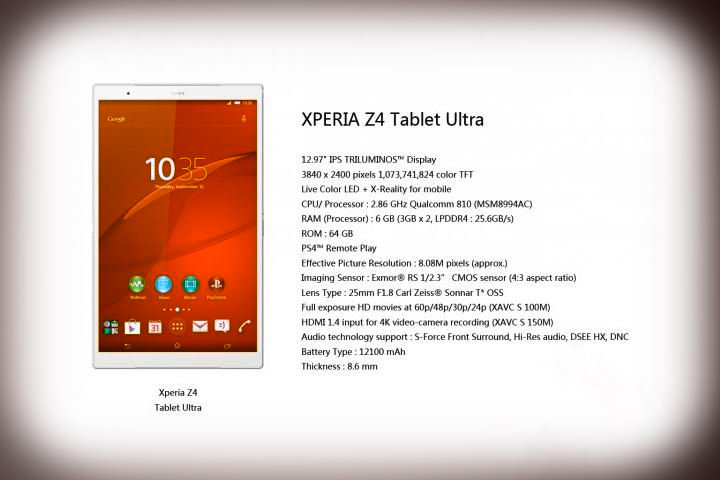 According to data released by China's resources, Sony is working on a really big tablet – Xperia Z4 Tablet Ultra, a configuration which will include IPS display diagonal of 12.97 inches. In this case, the screen resolution will be 3840 x 2400 pixels. Yes, the product if it will be released, will not be able to compete with the 20-inch tablet Panasonic Toughpad 4K UT-MA6, but it is currently able to compete with the tablet Apple iPad Pro, if the latter is yet to be released.
Other characteristics of Sony Xperia Z4 Tablet Ultra, listed in detail in the above image, command respect and awe, but at the same time cast doubt on their credibility. Especially because the source does not say anything about the possible timing of Sony Xperia Z4 Tablet Ultra. We can assume that if the company really works on a similar device, the premiere of his could take place early next year – at CES or MWC.
In the near future we will know whether Sony is preparing a big powerful tablet, or just fancy some Chinese websites. What do you think is it worth to produce a tablet?
Read another very interesting article about alternative energy of the Sun, water and air.