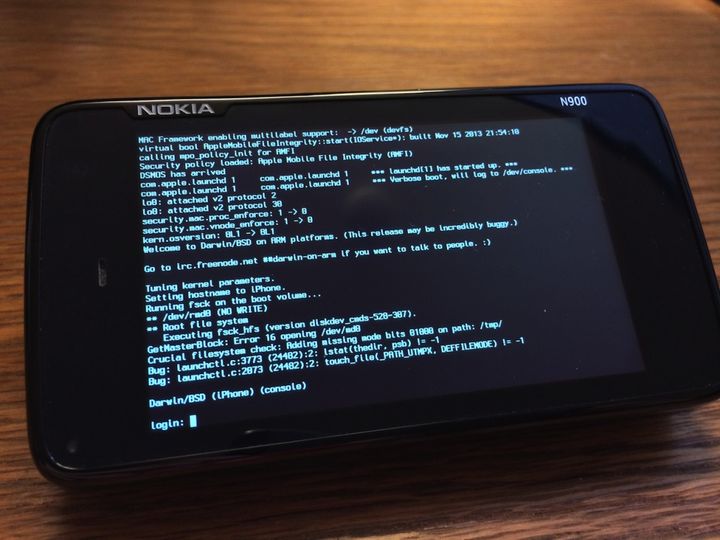 Recently, Apple sends a large part of its resources to fight the jailbreak. Company promptly closes most of the vulnerabilities that hackers use to break into its mobile operating system. Nevertheless, the creators of the jailbreak, as a rule, find other loopholes, and history repeats itself again and again.
It seems that Cupertino found a way to "pull the plug" hackers iOS. Who better understands the jailbreak than one of its developers? So Apple decided to lure one of the "enemies" on their side. According to Cult Of Mac, it became a 17-year-old hacker, known by the nickname winocm.
Despite his age, he managed to become quite well-known figure in the world jailbreak community. In November last year winocm ported core iOS device side – Nokia N900. It posted a net photographs that captured the smartphone from the Finnish company running the operating system Darwin. The latter is a set of components OS X and iOS.
In addition, the hacker has helped with the development of the jailbreak for iOS 6.1.3 – 6.1.5 and was even accused of aiding Apple, opening her valuable vulnerability that other developers are going to use for a future jailbreak.
Winocm first became known in late 2011, shortly after the presentation of iPhone 4s. According to him, even then he did "incredible things" with iOS.
Although the hacker did not work on jailbroken iOS 7, his experience will certainly be useful for Apple to prevent further cracking of its mobile operating system. He did not specify which position will be on the new workplace.
This is not the first jailbreak developer who went to work at Apple. JailbreakMe famed creator Nicholas Allegra, also known under the name Comex, joined the company in 2011, but then decided to exchange it on Google .
Read another very interesting article about alternative energy of the Sun, water and air.