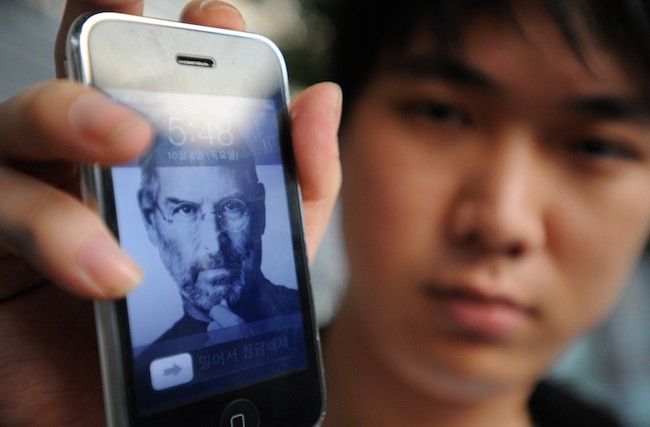 Stably in large numbers on Raqwe.com published rumors about future products Apple. Personally, I'm not very interested in the details and specifications of such articles. This was better that tell Tim Cook during the presentation. But I am interested to learn the rumors that suggests its own expectations and preferences with regards to the future of the product. By the way, rumors about Apple watch not only I, but also competing companies. Once in the head pop up two names: Samsung and Google. It's about first.
I suggest a little dip in the past both companies and go all the way again to the recent events.
2007
Samsung produces various sliders, rotators, cots and push-piece modules that are popular on par with Nokia and Sony Ericsson, though inferior to them in features and specifications. In the same year Apple comes out the first iPhone. No one company there is nothing like, including at Samsung.
2008
IPhone 3G appears in a modified plastic case. The essence of the device is almost unchanged, the main new feature is support for third-generation networks. Among a set of clamshells and candy bars Korean company Samsung touchscreen phones come in a metal case, including the model SGH-F480 with original shell TouchWiz.
2009
Apple updates the phone last year, adding to his title character «s». Appearance of the device does not change, but its ability to leave a completely new experience. Samsung in the same year produces more than 20 sensor devices of different price categories. Among them are popular and inexpensive models Star Corby.
2010
A triumph of the Korean company. Produced Samsung Galaxy S, as well as other models of Galaxy line and ruler Wave (smartphones OS Bada). Similarity Galaxy devices with iPhone is still the subject of litigation. Finally, the company has a high-quality, bright smartphone on Android, capable of competing with Apple.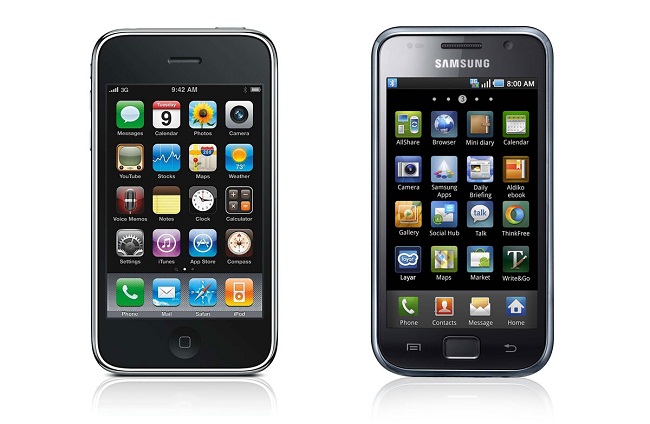 But what happens? Steve Jobs flipping websites New York Times on the big screen iPad, returning the rest to the top of the history in 2007 when they had absolutely nothing to answer. Samsung hurry and after 7 months of releasing the first Galaxy Tab – a compact 7-inch tablet on the second version of Android, designed exclusively for smartphones.
2011
Apple has once again successfully update their portable devices, there are iPhone 4s and iPad 2. Meanwhile Park Galaxy devices added more than 15 models. Went successful Galaxy S II and Galaxy Note, as well as tablets with screens 7.7, 8.9 and 10.1 inches.
2012
About 15 smartphones Galaxy, including the incredibly popular third flagship model, and updated tablets. iPad and more perfect, and the iPhone gets a new design and a larger screen. Samsung finally caught up with Apple, and even for all this time and its nothing new in the Korean company was not invented, it became the world leader in sales of mobile devices.
Everything that happened after I would like to paint more detail. At this point, a world leader in electronics, Samsung, already has and smartphones, and tablets. In other words, for 5 years, the company managed to catch kupertinovtsy, and the next step should be a leap forward, because a little catch up, you need to overtake. But how? Recent years, and did just that copied Apple, and there was nothing to copy, and all own ideas disappeared in pursuit of the leader.
It's time to get back to where I started, to the rumors. In the spring of 2013 begin to appear the first rumors about the product under the name unconfirmed iWatch . Tim Cook in his interviews carefully says that sees wearable electronics perspective, especially if it is worn on the wrist, then the Internet is choking wave leaks and speculation of future concepts hours from Apple. What you need to do a Korean company, not to become a catch-up again? Need to first release the product, the more they already know what to let.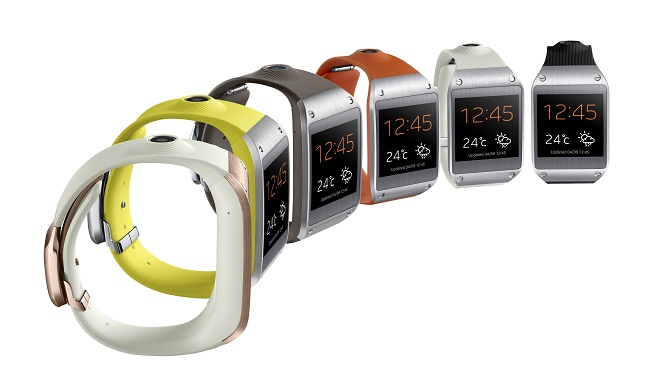 September 4, 2013 we saw the "smart" watches Galaxy Gear , which in fact were not smarter watches with built-in calculator. But it's not even how the new product proved unsuccessful Samsung. A week later, on September 10, the presentation of the company Apple, which has not been shown clock. It was shown iPhone 5s c 64-bit processor and sensor Touch ID, technologies that Koreans have to catch up again in the following have their products.
Samsung produces so many electronics that low demand for Galaxy Gear could not greatly affect the morale of the company. There's no time to be distracted by the little things, the task outpaced its main competitor is still not completed. And here's what happens next. Somehow all winter to begin to understand that Tim Cook said on the wrist, but he was not talking about hours. And we are covering another wave of rumors about hiring health workers, patents for various sensors and concepts of health enhancement. What should a Samsung?
February 24, 2014, most recently hosted a major presentation of products Korean giant, which presented a new and catching flagship Galaxy S5 with a biometric sensor, and continuation of the line hours Galaxy Gear 2 (and suddenly still Apple will release time), and the highlight of the program – Bracelet Fit Gear . Curved display, tracking heart rate and applications for sports – all in the new Gear Fit. To be sure, Samsung and smartphone embedded sensor heartbeat. In other words, collected all the latest rumors about the future of Apple, hoping to this time to be the first.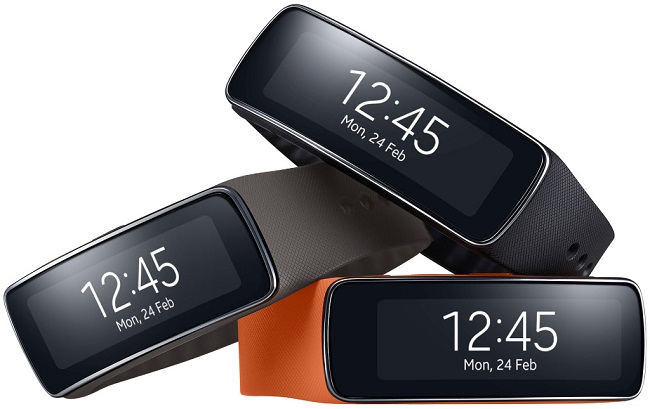 And what will happen? At one point, all of a sudden realize that Tim Cook and fitness bracelet did not say anything? Somehow Apple makes giant Korean company copied products that do not exist, and sell them under the guise of his own ideas, even though everyone knows that from Samsung in these devices only iron. At the same time it distracts from the really important developments, products and even releasing a week earlier, Samsung can not get rid of catching power. Do not be surprised if there is not a bracelet or hours, and all the rumors only to a certain copy machine had something to do with their own ideas because they have long observed the crisis.
Read another very interesting article about alternative energy of the Sun, water and air.