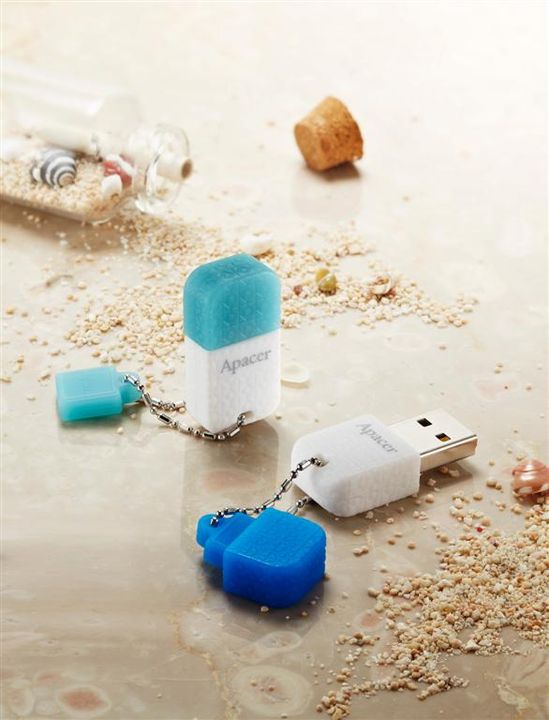 As digital technology becomes the guardian of memories, whether it is able to revive sincere dreams and sweet memories, once romantically stored in a bottle filled with sand? The new USB 3.0 flash drive Apacer AH154 "Star Wish Drive" will give you a romantic experience thanks to a design inspired by the idea found in the seas of bottles with messages. Model AH154 "Star Wish Drive" is available in four variants memory – 8GB, 16GB, 32GB and 64GB, and protected from water, dust and shock to securely store your precious memories.
In many countries, there is a tradition to keep your dreams in a sealed glass bottle cork with white shell sand. Therefore, for many people, each bead of the shell sand is associated with the warm romantic memories. In the digital age, we can always keep an analog of such a bottle with them to remember their dreams are not yet implemented.
In an era figures such bottles have become a flash drive Apacer AH154 "Star Wish Drive": its white and blue colors, conjures up thoughts of the sea, together with shelly relief pattern will make their owners a little more romantic.

Lightweight compact body drive Apacer AH154  "Star Sand Drive" meets modern requirements in terms of protection against water (IPX7), dust and shock, preventing the effects of unpleasant accidents in life. Comes bundled chain in a marine style will allow you to attach the drive to the bag, keychain or strap on your mobile device.
With the model Apacer AH154 "Star Wish Drive" company represents another drive – AH139 USB 2.0. In the design of its body is also based on the idea of the azure sea and white sand. The drive is available in three volumes – 8GB, 16GB, and 32GB.
Model Apacer AH154  "Star Wish Drive" is compatible with Windows 8, 7, and Mac OS, and does not need to install the driver. And thanks to an exclusive program data compression ACE AH154 owners will be able to increase the capacity of up to 500%!
Source: Apacer
Read another very interesting article about alternative energy of the Sun, water and air.