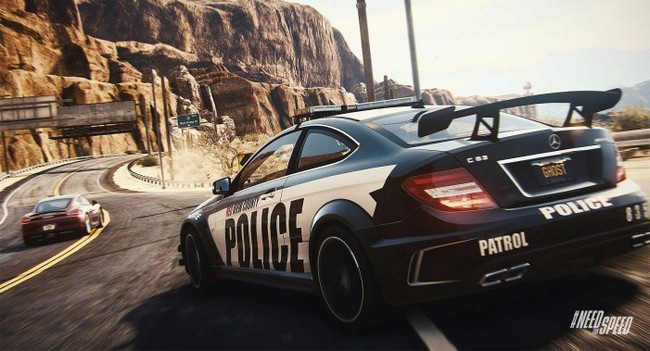 Last year, EA released just two Need for Speed. Greater Need for Speed: Most Wanted from Criterion Games and small Need for Speed: Most Wanted for iOS / Android from Firemonkeys, who suddenly appeared better than the older games. This year EA made ​​a knight's move, deciding that on mobile platforms theme closes shareware Real Racing 3 publisher limited only project for the current consoles, and next-generation PC – Need for Speed ​​Rivals. True, in addition to his left iOS companion app Need for Speed ​​Network.
Large publishers have become these factories games. Electronic Arts, Ubisoft and Activision have put many game series on stream each year and delight (or not happy) have new parts gaming franchises, whose roots lie in the mid-90s or early 2000s. Particularly excelled in this field of EA, has long been annually produces five sports simulations and binding Need for Speed. With the release of the 2009 Need for Speed: Shift , many hope that the series will recover from samopovtorov, but … it was followed by a failed Need for Speed: World , controversial Need for Speed: Hot Pursuit , underrated Need for Speed: The Run, and last year's even weirder Need for Speed: Most Wanted . It is interesting that every new game did another studio on a new engine. Impression that EA and do not know where to stick the game suffering.
Need for Speed ​​Rivals already account for twentieth game of the series. A year later, in December 2014, we will celebrate the 20th anniversary of the publication of the first Need for Speed ​​console 3DO. However, the executable file is signed by both Rivals NFS14, it seems just right for the monotony of the same marking sports sims are numbered year following the year of issue.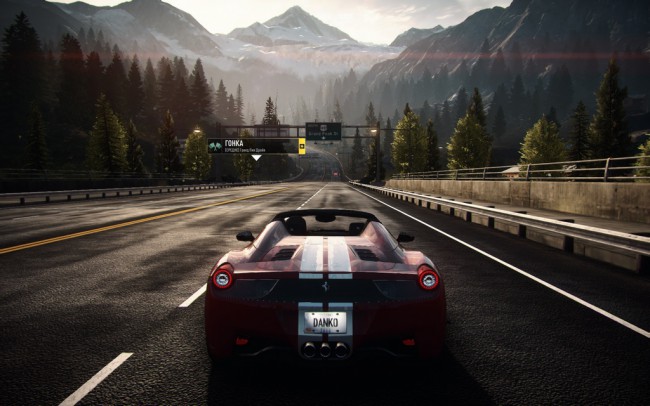 Even in time of the announcement Need for Speed ​​Rivals , it was clear that the future will look great game, because it was built on the engine, Frostbite 3 from DICE, which EA has decided to do all of their games in the near future. Again, it was clear that significant changes in the gameplay is not worth waiting, we were promised the same old game of cops and robbers between street racers and the police, as in Hot Pursuit and Most Wanted . Predictable, expected and even somewhat boring.
Visually, Need for Speed ​​Rivals close Need for Speed: The Run. Although The Run using a previous version Frostbite common approaches to the construction stage, lighting, excessive dramatization pictures are common. Some sections of the route cause persistent déjà vu – lost in the desert town, a forest road with flashing behind the trunks of the sun, covered with snow the way through the pass – all we have seen in The Run. District Redvers woven from different climatic zones, so that after three minutes with a hot chase you coast can journey into the world of eternal winter. Silly, but very beautiful.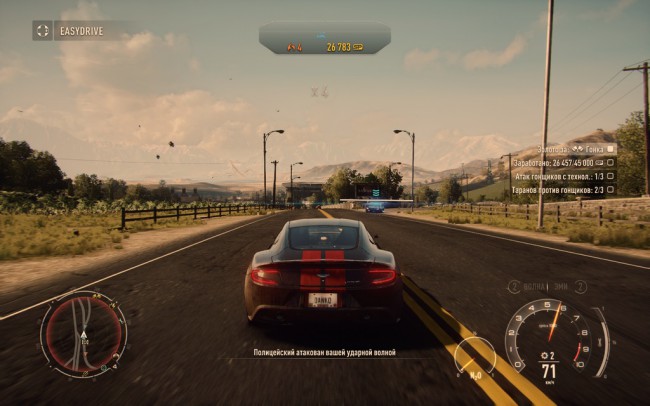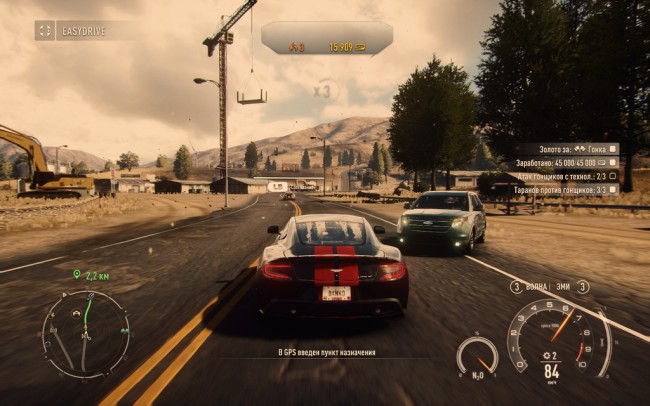 To make the image more dramatic developers of Ghost added some filters borrowed seem straight out of Instagram. The sky was a little darker, richer shade, the light is brighter – in a word, HDR and decided to spare no vignetting. Plus generously splashed particle effects – drop of crashing waves on the coast, swirling leaves in the woods, beating the windshield snow on the mountain pass. However, the "windshield" is nothing more than to be witty – view from the cockpit in Need for Speed ​​Rivals not delivered. Not very much and wanted. Throw chic effects of day / night changes and hiking conditions and you will understand, Rivals – the most beautiful racing game today. Point. Or, at least, the most visually dramatic.
Trails in the game as a whole interesting, abounding cutoffs and interesting twists (and species), but not as many as we would like. District Redvers not really all that great, just a couple of hours you will know most of the roads by heart.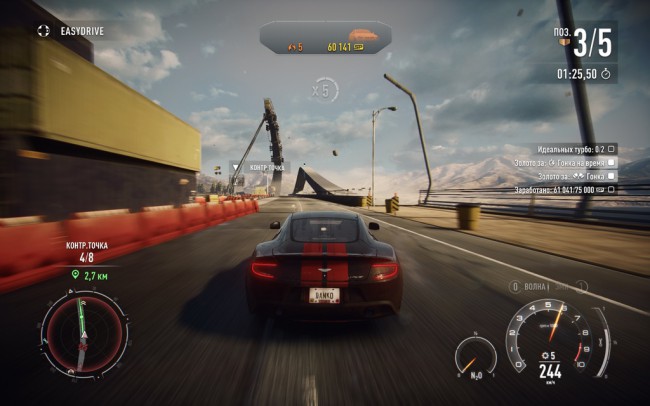 Set of machines does not disappoint. In Ghost decided to give up all the little things like the Volkswagen Golf, Ford Fiesta and the Alfa Romeo Mito, who are interesting (actually many), concentrating only on expensive and very expensive machines. To warm up, at the first level, you are given a Porsche Cayman S. Well, after the cops and racers and waiting Ferrari (yes, they're finally back!) Including such iconic models as the 458 Italia, FF, 599 GTO, F12berlinetta and classic Enzo Ferrari. Plus traditional Series – BMW M3 and M6, Marussia B2, Mercedes-Benz SLS AMG, Mercedes-Benz C 63 AMG, Ford Shelby GT500, Ford GT, Audi R8, Aston Martin Vanquish, Chevrolet Camaro, Nissan GT-R, Bugatti Veyron , Pagani Huayra, Bentley Continental, Koenigsegg Agera R, and others. Among the new products come to mind only Lexus LFA, Lamborghini Veneno, McLaren P1 and mad Hennessey Venom GT, speed record holder for production cars – 427.6 km / h What to do, supercars come much rarer than the arcade racing.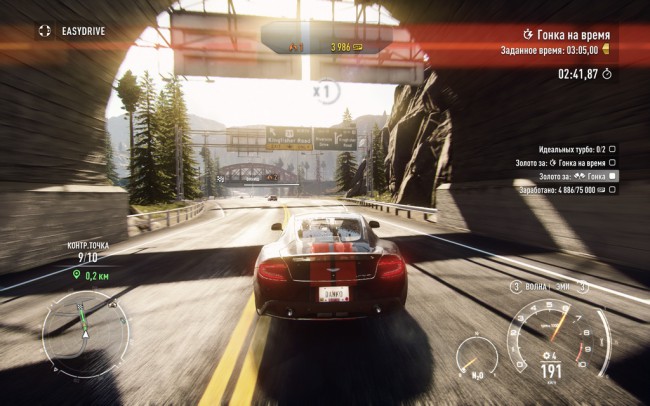 However, the differences between the cars at the most visual. They controlled almost the same and live by their own laws that have nothing to do with the real laws of physics. Bounce off the walls and lathered wheel has not been canceled, it's Need for Speed, baby. However, if we forget about the hand brake, the control can be considered acceptable. But the handbrake – it's clearly the invention of the devil. Literally Press X for 180 turn. Easy to press and you can already go in the opposite direction. When cornering skidding should literally microseconds measure while pressing the button. In short, the handbrake is more a hindrance than a help.
Traditional for the series and AI racers. More precisely replacing its system of cheating. No matter how you drove the enemy in the lungs races you always wait, and always will overtake complex, starting with acceleration to murdering and fighter pilot. Police also still able to appear out of thin air just under your wheels. In short, as usual.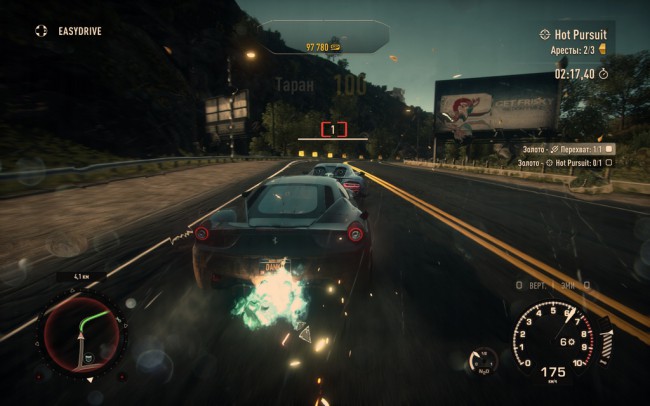 At this time, right in a single game, we are waiting for two careers – racer and police. However, in the Need for Speed ​​Rivals is not the usual division between us and a single multiplayer game as usual and no multiplayer. AllDrive vaunted system allows you to move at any time to fulfill personal mission to race with real people. Other players, whether racers or police, and ride in the same world that you do, and you can at any time to join the pursuit of flying past or challenge another player. That just is not Test Drive Unlimited 2 , as we have said, the county Redvers small and are not here simultaneously tens and hundreds of riders in the game Eden Games, a total of five or six people, one of them a computer and a server for this session . And then there are two problems.
First – the territory, though small, but six players can easily get lost in it. Everyone has their own job, their race and if you meet and within one-in, then only by accident. No, you can certainly agree with your friends, gathered in one spot and drive together, but it will in any case much longer than join a multiplayer session in the usual classic multiplayer.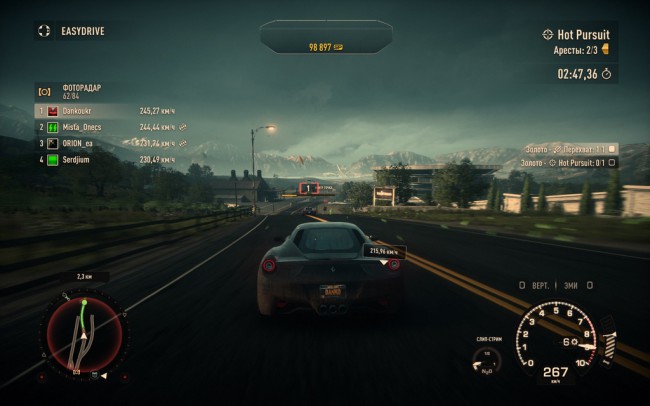 The second problem AllDrive system is typical for all multiplayer games based on technology Peer-to-Peer. If the host for one reason or another disconnected from the session, you need some time to find a new host and the transfer of the game. That's only if you are dropping off right in the middle of the race, the speed of 350 km / h for a second before catching a criminal, I want to say a few nice words to the developers. If this happens three or four or five times a night, I want to have to talk to the authors of this remarkable system longer and poosnovatelnee. Internet in our country is quite good, but it's not ideal, especially in small towns, and the system is clearly conceived for an ideal world in which for two years no break, and the players loyally spend dozens of hours in the game and turn off the computer without thinking. But in the end, All Drive system can be disabled by turning Need for Speed ​​Rivals in a single player game, although the absence of the normal classic multiplayer and frustrating.
So, career, or rather two careers – racer and police. Some flee, others are caught, that's just pretentious and pompous rollers between conditional heads of games tell us that there is no difference between the parties is not present. And stritreysiry and police – maniacs sociopaths with bloated ego and serious psychological problems. Why needed all this pathos psevdosyuzhetny not entirely clear. In The Run at least he explained happening on the screen, here stands apart from the general gameplay.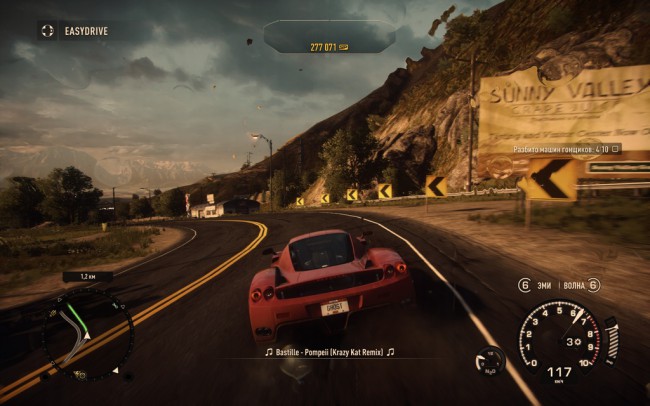 So riders escape, the police catches up, we played this many times before. In the arsenal of the first and second there are a variety of electronic gadgets and mechanical appliances delivering trouble pursuers / persecuted – EMP spikes, rams Suppressors, plus exclusively the police – a traditional helicopter and the ability to block the road checkpoint. Instead of the system levels in the Need for Speed ​​Rivals have jobs. Performing a list of two to five tasks-lighted on five chambers rammed ten riders won two races – you get a new level and access to new vehicles. Riders must buy car plus electronic gadgets to them for Speed ​​Point, police car comes for free, and in some chapters, they can not change, but also have to buy electronics.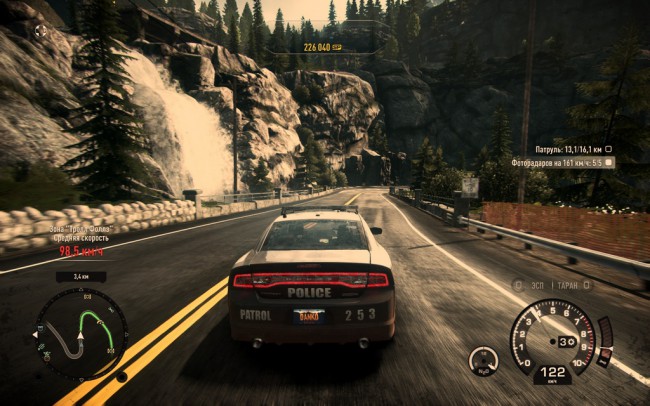 Intrigue system that the driver in case of accident (serious, fifth-sixth Arrivals) or arrest loses all earned points during the session and must begin again. The policeman in the same situation still receives compensation. Therefore, to play for the police as a whole easier. Racing traditional – interception, duel racer cop classic race, which at any moment can intervene cops chase, a race against time and a police version of fines for careless driving. World scattered shelters for riders and team points for the cops in that in any moment you can "hide", saving money and choose a new car, to improve it, etc. By and large, here are a few innovations.
AllDrive system carefully tracks your progress, and compares them with the successes of your friends in Origin. What speed who showed at each site, as far jump, how much was the race. All this information is displayed directly in the game world, and you are constantly being pushed to compete with your friends, that's right. 
Instead of separate games for mobile systems, within the concept of the two screens, EA this time released a free application for iOS assistant – Need for Speed ​​Network , there are Web-version of the service , Android-client will later. An application two main modes. First – County map view Redvers and his achievements in the game, comparing stats with your friends. The second – a mini-game Overwatch, essentially analogous to "farm", in which you have to give a specific timer job their virtual racers, but there's an interesting feature. Earning bonuses you can apply them on the world map, helping or hindering your friends whose cars appear on it – put a roadblock, use EMP add nitro. In addition to the Need for Speed ​​Network, you can unlock the job for a great game and coloring options machines. Funny, but in general stupidly. By and large, the same epithet can be applied to the twentieth series Need for Speed.
Need for Speed ​​Rivals funny, very beautiful and dynamic game, which can entertain you a couple of evenings. But in general it is quite stupid game, different parts of which are not joined to each other and not really up and running. It seems to wait for a breakthrough of the annual soap called Need for Speed ​​is not worth it. More hope for The Crew from Ubisoft, which do come from Eden Games (Test Drive Unlimited). Although the game and moved on in 2014 , a version in which I was able to play looked very promising.
PS Frame rate in the PC version of Need for Speed ​​Rivals, both on consoles is locked at 30 fps. If it gives you problems do not rush to look for patch unlocking the figure, with the removal of the block physics game comes from the coils.
Read another very interesting article about alternative energy of the Sun, water and air.