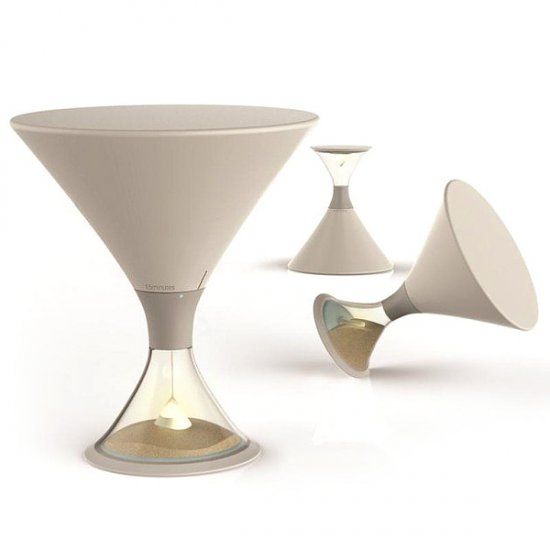 The potential success of any design solution lies in combining the technologies of the past and innovative solutions. When the creators of the gadget manage to combine an interesting design and functionality of the application, the success is guaranteed. That's what happened in the case of a lamp.
The essence of an unusual lamp is that it is not only the lighting device, but it also works as a kind of sand timer that measures the 15 minutes. According to the designers of South Korea, who provided the lamp in the contest "2013 IDEA Awards", which, incidentally, was the winner of the concept, their light is the perfect solution for those who do not like to sleep in total darkness. In addition, the lamp will save electricity – no longer have to worry about what fell asleep and never turned off the lights in the room.
The essence of unusual lamps, known as "15-minute" is that in addition to its primary function associated with light, it allows to measure 15 minutes of time, as do the hourglass. When a person turns on the lamp, it emits bright light. But suffice it to turn, as the space is filled with a sand lamp and the light from it is becoming increasingly dim. When the sand fills the tank completely, the lamp turns off automatically.
Unusual lamp will release in mass production. Therefore, it is possible that the "15-minute" will soon appear in stores that sell electrician in Moscow. Managers of the capital's shops say that creative lamps are in high demand among buyers and sell quickly. Buyers pay attention to an interesting design and functionality of the lighting. Thus, the lamp "15 minutes" there is every chance coming on the market, to become a bestseller.
Read another very interesting article about alternative energy of the Sun, water and air.