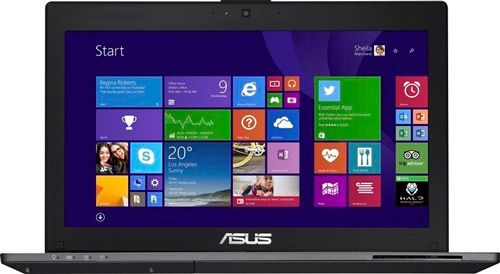 ASUS brand is quite diverse. Among them manufactured products can be found as laptops and tablets, all of which are designed to perform different kinds of tasks. And, as befits any self-respecting brand, there is a segment of the ASUS laptops for business. In particular, we are talking about the line ASUSPRO P ESSENTIAL and ASUSPRO B ADVANCED, and one of the representatives of the second – ASUSPRO BU201LA we discuss in this review.
Appearance gadget for a second does not doubt that we face – the unit premium. Strict and sleek design to match the excellent technical specifications and good functionality, for example, Full HD-resolution 12.5-inch screen, processor generation Haswell, the ability to connect the docking station and much more. What is it? Learn more!
Design – ASUSPRO BU201LA
The appearance of any business notebook – his business card, and it depends on, is the popular gadget or remain in the shadow of their more successful counterparts. Looking at BU201LA, it is safe to say that the recognition of the fans who love all stylish and contemporary, he assured. The laptop is available only in black, which under different lighting may seem even graphite. From materials found not only ordinary plastic: The tops and bottoms – carbon, the working surface is also covered with a layer of the substance. It is not hard to guess that the laptop turned both durable and lightweight. In addition, the entire surface ASUSPRO BU201LA also matt, whereby fingerprints though commonplace, but not critically large quantities.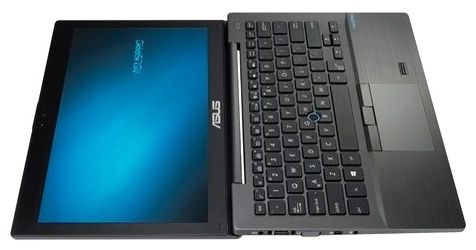 Cover gadget has the potential to appeal to followers of brevity and minimalism. In addition to the manufacturer's brand label on it nothing more. Open the laptop and see the 12.5-inch screen is surrounded by a wide enough frame, the top of which is a front webcam, at the bottom – another company logo. Island keyboard, touchpad miniature. Inside there is nothing superfluous, it is felt that this unit is focused on a certain number of users.
Let's look at the reverse side of the laptop: his every angle "marked" rubber feet to resist sliding on the surface. To modernize the laptop will have to completely remove the lid, but it does take work. Following the manipulation of the user will be available memory and removable battery.
In general, we can say that ASUSPRO BU201LA very tailored okay. Deflection is noted only when subjected to display more in any part of the body, this problem does not arise. Special praise deserves a high level of security devices, in particular, we are talking about under US military standard MIL-STD-810G. Well, of course, it does not mention the compact dimensions of the notebook (310h215h13-21 mm) and lightweight (1.3 kg), all of which makes it very mobile and transportable.
Display, sound, and webcam
Screen business notebook – it's one of his trump, which is why the display should not be less than quality, than the other elements of the laptop. Fortunately, the panel ASUSPRO BU201LA is not let its owner: its diagonal of 12.5 inches, resolution – Full HD and the density of pixels per inch – 176 ppi.
If we consider a sufficiently high resolution and small diagonal, it is easy to guess that the picture quality is good. In addition, due to the matrix IPS, wide viewing angles, and the matte surface with anti-reflection coating allows you to work on a laptop on the street without fear of glare, even in sunny weather. Very pleased with the brightness, which is about 400 cd / m2 and contrast ratio – 921: 1. By the way, the brightness is adjusted automatically. Summing up, we can say that our laptop screen – this is definitely his strong point because it shows excellent color reproduction, good viewing angles, bright and juicy picture.
On the side faces of the laptop are two stereo speakers that support the technology SonicMaster Lite. Their sound is quite loud, but very much quality can not say. Acoustics lacks bass, but in everyday life, when listening to, say, a movie, it's not really noticeable. In addition, corporate gadget and should not have excellent sound effects.
Of course, not without a webcam, which is routinely placed on the top frame of the screen. Its resolution is 1 megapixel, and for video, according to the manufacturer, this indicator should be enough. With this statement, we also agree to interlocutors relatively clear, but what do you need for a comfortable communicating?
Keyboard and Touchpad
The keyboard, like the screen, also did not disappoint, in fact, turned out to be perfect! It is an island and incredibly comfortable: the keys are on a bit recessed into the substrate, and they got a square shape and smooth surface with a well-plotted with white characters. By the way, marking performed by the laser method, which means that they increased durability to frequent pressing.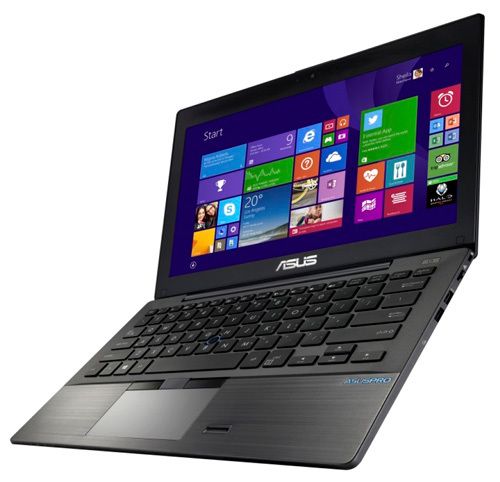 In the most commonly used keys, for example, [Enter], [Shift], etc. slightly elongated shape that provides comfort when pressed. By the way, about the last: move buttons short, precise operation. Despite the crippled keyboard, any inconvenience the user does not experience. Is that the unit is too small turnout, however, this flaw of many manufacturers. Nampada, as one would expect, no. But for those who like to work at night there is a four-level lighting, which is regulated by the function keys [F3] – [F6]. Rectangular button on your notebook settled in the upper right corner of the keyboard, it also highlighted a pleasant light. Pleases spill-resistant keyboard, so that she is not afraid of unintentional liquid spills on it.
As befits a business gadget, it is equipped with a trackpoint, which in this case ASUS calls SensePoint. Traditionally, the joystick is located between the keys [G], [B], [H], it is surrounded by a blue border to be seen for sure. Trackpoint safely be used as a substitute for a mouse or touchpad. He is notable for its quality work and dedication lightning. To enable / disable it, you must use the [Fn] + [F9]. Similarly, you can switch between the touchpad on SensePoint.
Speaking of the touchpad. It is located under the keyboard in the middle of the site for the wrists. Touchpad is large enough and has a smooth surface and three physical buttons on the top. The touchpad supports various multi-touch gestures such as zooming, dragging, scrolling.
And finally, the last element, which is present on the bottom of the gadget – a fingerprint scanner. Its main task – to protect user data from undue interference by unauthorized persons.
Performance – ASUSPRO BU201LA
ASUSPRO ADVANCED BU201LA (BU201LA-DT037G) operates on 64-bit operating system Windows 8 Pro. As the processor Intel Core i5-4210U involved Haswell architecture with a clock speed of 1.7 GHz, which can be increased up to 2.7 GHz (with support Turbo Boost). It has two cores that can handle four threads simultaneously using Hyper-Threading. The processor is configured to 22-nm process technology, has 3MB cache level 3, and the maximum level TDP of 15 watts.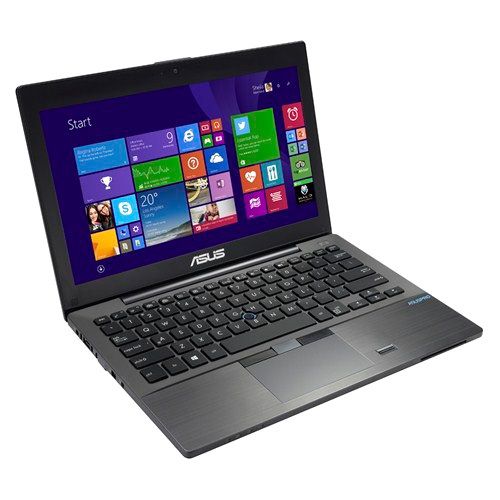 As for the graphic part, it is represented by integrated graphics Intel HD Graphics 4400. It is equipped with a decoder and encoder 4K Quick Sync, also includes support for DirectX 11.1 and Shader 5.0. By the way, this video card performance can be compared with a discrete AMD Radeon HD 7610M.
Despite the fact that for a business notebook games are not the main objective of having a graphical editor will pull many toys. For example, a simple high and even the highest setting, and more demanding, if they are, of course, run on low and medium. For example, Dota 2 on medium with a resolution of 1366×768 pixels will show about 30 frames per second. But in FIFA 14 you can play with the same exponents fps, but at a high settings and native resolution of 1920×1080 pixels.
Amount of RAM in the ultrabook is 6 GB standard DDR3L-1600 MHz of the possible 12 GB, with 4 GB soldered to the motherboard. By storing information highlighted hard disk of 500 GB (5400 rpm) and 8 GB SSD. By the way, the military standard, which we mentioned earlier, provides for the accelerometer, which literally protects the hard drive against data loss. In addition, the hard drive bay has metal plates which protect it according to current standards. It should be noted and shock-absorbing cushion, which also serve to protect against drops and bumps while when the notebook is turned off.
Ports and Communications
Location interfaces can confidently be called successful. So, on the right side there are two ports USB 3.0, RJ-45 connector, card reader 4-in-1 (SD / SDHC / SDXC / MMC) and a slot for a Kensington lock.
The left side was another USB 3.0 standard Mini DisplayPort video output and VGA, composite audio jack socket for recharging. By the way, in this case, port USB (supporting Charger +) serves also as an adapter for the dock that you can purchase separately.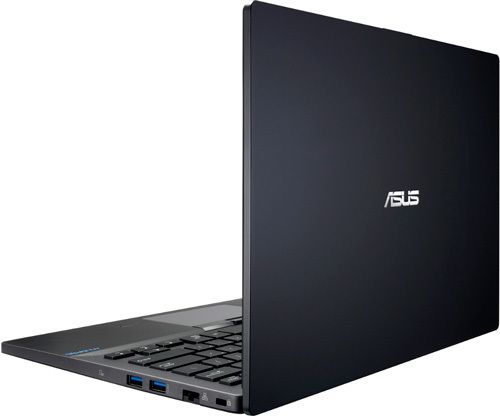 It is noteworthy that when you connect the docking station of the ports and connectors overlaps, the second part will not work. However, it does not matter, because on board there is a different set of interfaces that are useful for work. In particular, we are talking about the four ports USB 3.0, RJ-45 video outputs HDMI, VGA, and DisplayPort, as well as the headphone jack and power jack.
Behind any interfaces available.
On the front face seen a slot for a smart card with a chip that can unlock the laptop.
In addition, there is also the four indicators: work laptop, battery, hard drive activity and Wi-Fi.
Wireless modules are presented Wi-Fi 802.11a / b / g / n and Bluetooth 4.0.
Battery
In ASUSPRO, ADVANCED BU201LA provided lithium-ion battery removable type capacity 4200 mAh (32 Wh). By and large, it's not very much, but the user is slim. Like it or not, we have to sacrifice something. When viewing high-quality video, enough capacity laptop no more than 3 hours. In the off-peak with the lowest brightness, it will work 8-10 hours, but the most loaded laptop sits less than 2 hours.
Conclusion – ASUSPRO BU201LA
When we talk about corporate laptops or devices for business, in fact, mean workhorses, dressed in an expensive. We got quite ASUSPRO BU201LA match this performance. So, we are dealing with a compact 12.5-inch ultrabook, stylish appearance and concise. It is made of durable material, has an incredibly high-quality display. The keyboard is also to be commended because it is ergonomic and is perfectly suited for everyday work. Not reproach and to iron, which is represented by the processor 4th-generation graphics and Intel HD Graphics 4400.
In addition, the notebook has a very high level of protection from the spill-resistant keyboard and ending with protection against vibration, falls, fingerprint sensor, resistance to shock hard drive, etc. In short, the developers really tried to make a BU201LA nothing happened. Well, of course, deserves special attention docking station, which, unfortunately, is not attached to the device.
Of the minuses can be noted not too large supply of batteries, because under load the battery will last only a few hours. The cost of the laptop is around $ 1,350, but for a good business laptop, this figure is certainly not a disadvantage, rather the norm.
Source: Asus
Read another very interesting article about alternative energy of the Sun, water and air.