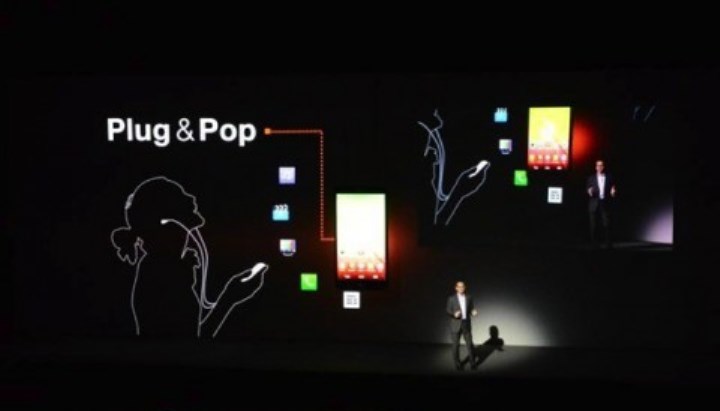 LG has tried to fame in the development of its flagship in terms of filling the hardware to the LG G2 is almost impossible to find fault. But, as it turned out, a lot of the communicator and software features that I would like to mention separately. By the way, you probably should not be upset that the smartphone is "out of the box" works on Android 4.2.2 Jelly Bean, though, is likely to soon get an upgrade to Android 4.3.
So, buyers LG G2 together with the smartphone will receive the following:
KnockON – allows you to enable or disable a device (of course, we are talking about sleep mode), double-tap on the display instead of pressing buttons on the back panel. We hope that LG has managed to eliminate false alarms from external vibration, which suffer some other smart phones.

Answer Me – smart phone will automatically answer the phone when held close to the ear device and lower the ring volume when you pick up the device in hand.

Plug & Pop – when connected to the LG G2 headset or USB-cable, a pop-up window asking you to run one of the applications that can come in handy at the moment (for example, audio or video player when the headset), or to perform certain actions.

Text Link – enables when you select text in any application to send the selection by SMS, save as a note, create a calendar event and perform other actions.

Guest Mode – in your smartphone LG has realized that was not made by Google in its operating system, namely the support profiles. However, the additional profile can only be one, and the one with limited privileges, so more like a "baby" mode or profile "guest" (in fact, since the function is called). It does not say exactly what will be the possibility of the user in this mode, but it seems to be limited to standard change system settings, and make purchases.

Slide Aside – again, LG is the first smartphone from the manufacturer (if we are not mistaken) guessed trehpaltsevy use gestures to control your smartphone (though the modern touchscreen can recognize up to 10 simultaneous touches). Namely, the owner of the device will be able to switch between applications swipe three fingers to the left or to the right, similar to the tablet iPad.

Quick Remote – with a smartphone can control home devices "entertainment" (apparently, it's all kinds of TVs and consoles), as well as teach gadget commands from the "native" consoles.
Obviously, none of these functions can not be decisive in choosing a smartphone, but together they are designed to make device management more comfortable and certainly will appeal to many users, just as much like the "smart" capabilities of smartphones Samsung, like floating gestures or turning pages eyes.
Read another very interesting article about alternative energy of the Sun, water and air.