There are still a few weeks for the presentation Samsung Galaxy S7 and S7 Edge, but we know almost all details about them, at least specifications. And now, thanks to blogger Evan Blass, we know about its design.
As expected and as was speculated earlier, Samsung Galaxy S7 will keep the same line design as the last generation smartphone, but there are many new features in terms of specifications and features.
Samsung Galaxy S7 and S7 Edge specifications
If the rumors are right, Samsung Galaxy S7 will be a smartphone with 5.1-inch screen, while Samsung Galaxy S7 Edge will go to 5.5 inches, and obviously will use edges, one idea that has evolved since its birth in 2014 with Samsung Galaxy Note Edge.
Technology will be Super AMOLED panel and resolution Quad HD 2560 x 1440 pixels. It also seems that smartphones will have always-on system, which would consume only 1% battery an hour, and would serve for information on screen without having to activate it.
Galaxy S7: MicroSD, water resistance, 12 megapixels and more autonomy
Moreover, one of the innovations that are sure glad to many users is slot for microSD cards. Thus, Asian giant demonstrates that it knows how to listen to its users. There will be both 32GB and 64GB. Given that 128GB models are not sold very well in 2015, perhaps company removes them from the market.
As for cameras, almost certainly we see a drop in number of megapixels. New Samsung Galaxy S7 will be equipped with 12 megapixel sensors and an improved f/1.7 aperture. Therefore, we should not expect loss of photo quality.
Another important news would be the resistance to water and dust, as Samsung Galaxy S7 and Galaxy S7 Edge seems to enjoy IP67 certificate, and larger batteries. Specifically, Galaxy S7 would have 3000 mAh battery, and Galaxy S7 Edge – 3600 mAh.
Exynos Octa 8890 will be the chipset of both smartphones, but also there will be versions with Qualcomm Snapdragon 820. RAM is 4GB LPDDR4.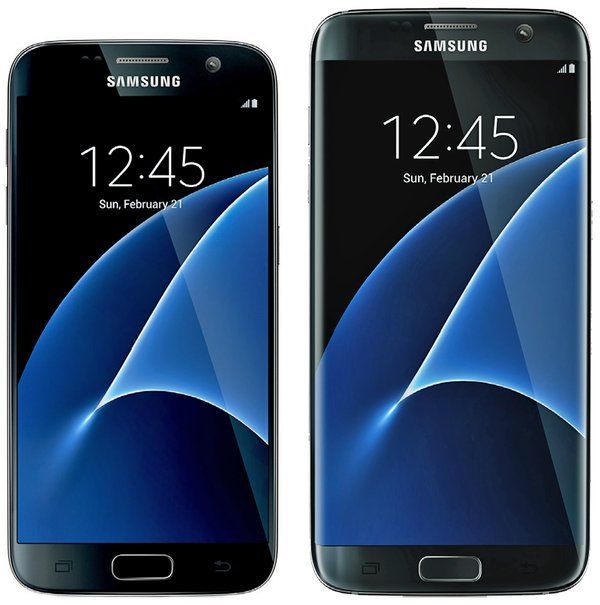 We have few remarks on the first image:
The fingerprint scanner on the main home button has a slightly different shape than the previous generation Galaxy S6 and Galaxy S6 Edge.
Smartphones look purely black. As you remember, last year's models have been released in the small shade of blue.
Time on the locked screen is set to 12:45 on 21 February. This may mean that Samsung introduced Galaxy S7 just before MWC, which will be held from February 22 to February 25. Thus, the exact date of the presentation of Galaxy S7 – on 21 February.
Galaxy S7 Edge (right) is clearly more than Galaxy S7, which in earlier rumors will have 5.5-inch screen. Thus, we can assume that the standard model of Galaxy S7 will be equipped with 5.1-inch display, similar to last year's smartphone.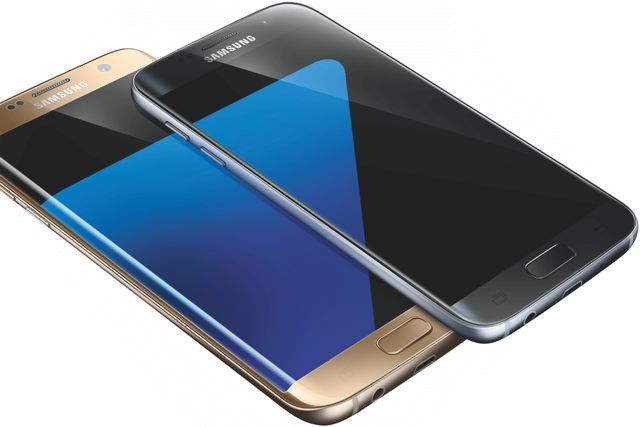 We also say a few words about the second image:
The background image on the screens of smartphones looks in form of "7".
Galaxy S7 (right) is available in black version, but this time it looks like in silver-gray color. It seems that the frame is silver instead of black, which can be bad news if the body itself is made of deep black color.
On the lower panel we do not see USB Type-C port, which contradicts an earlier report. However, SamMobile argued that manufacturer can replace the ports or the source was wrong.
As you understand, there is nothing officially confirmed, howevera lot of information come from trusted sources.
Read another very interesting article about alternative energy of the Sun, water and air.