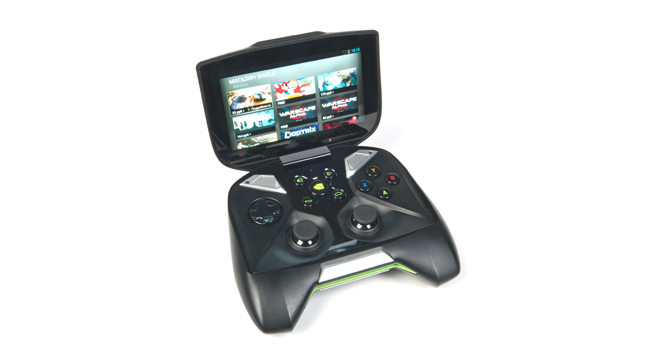 Game console Android – fixed idea by many companies. At first glance, the task quite simple – there is a platform, games under it enough, left to create their own dedicated device, which will be adapted for the games better than the existing universal now smartphones and tablets. And here begins unexpected complications – at least we still have not seen the device, about which one could say "here on this really comfortable to play!". Try your hand in this direction and the company decided to NVIDIA, which released a portable gaming console Shield.
Options
NVIDIA Shield comes in a rather large box, painted in signature black and green colors. Within itself feels quite free to console itself is also evident here charger, USB-microUSB cable and brief instructions on use. Grade, as we see, is minimal, but sufficient to get started.
Design
Console is unexpectedly large and weighty – at weight 587 g it is considerably heavier typical gamepad, which is very similar in appearance, especially in the "closed" state. On the other hand, it is 65 grams lighter than iPad 4, which plays a majority of users, and if they complain about its weight, it is not very strong.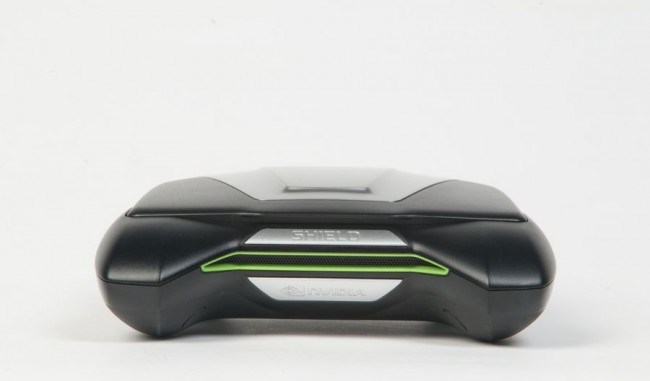 In form it, by the way, reminiscent of the legendary gamepad console Sega Dreamcast, but, of course, much larger – in the end, NVIDIA Shield fits full game system rather than a memory card with rudimentary capabilities of handheld console, as was the case with the VMU .
Body is painted in black and silver colors, corporate green presented very modest. Mostly plastic mat, rough, very practical – from fingerprints on the body almost does not remain. There are also small glossy inserts – perhaps to be combined with folding screen gloss, plus the lower portion of the console is covered by a rubberized material, causing, in particular, hardly any slip on a smooth or a rough surface (so reset it to the floor, accidentally hooked hand, is unlikely to succeed.) Unfortunately, the coating can not be called wear-console – silver plastic scratches easily and quickly erased the corners. Rugged plastic in this respect is much more practical and more durable than even the glossy inserts (which quickly appear marks of plug connector cables around the connectors).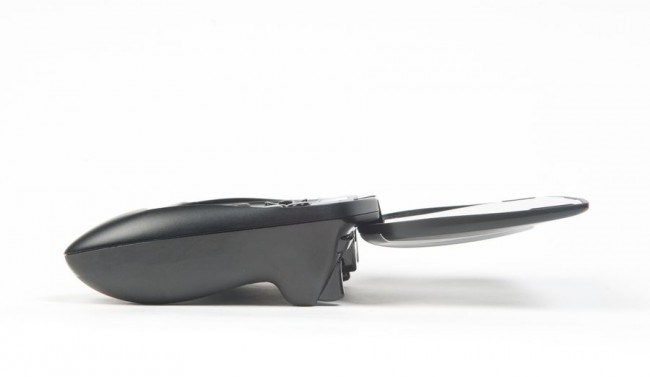 Almost all of the top panel – this flip cover, which is touch-screen LCD. By area, it is, however, much less than the cover, so that the edges he observed rather broad scope. Underneath all the main controls, which strongly resembles the layout of the button layout in the Xbox 360 gamepad (even the color and symbol buttons under the right thumb are the same), with one difference – an analog stick and D-Pad is arranged differently, in a style gamepads DualShock (symmetrical arrangement of sticks, D-Pad slightly to the left and above). Located in the center own power buttons (system "back" and "home", Sound Control, Start button and proprietary NVIDIA). Immediately above the buttons, there are two dynamics – wheel stereo is very important for the games, so this location is very successful speakers (note that the sound quality is frankly pleased us – in this respect is much better than the console not only smartphones, but the vast majority of tablets ).
Triggers under forefingers also very similar to those used in the Xbox 360 gamepad, not only in form, but also on the principle of action (analog "triggers" and numeric buttons on them). Between triggers placed ventilation grille and a set of connectors (slot for memory cards microSD, video micro-HDMI, microUSB port and audio output to headphones).
Ergonomics
As already mentioned, the console turned weighty so long to keep her weight is unlikely to succeed. If the play sitting in a chair, then stop elbows back or handrails already be comfortable enough for long gaming session.
"Horn" uhvatistye keep them handy for the console, rubberized surface prevents slippage. However, there is one caveat – the sidewall at the console almost parallel, making palm also arranged in parallel – the player must press the elbows close to the body, otherwise one has to bend unnaturally hands (gamepad in this issue is usually solved wide apart "horns" of the controller, whereby the hands are placed at an angle to each other). However, the only downside we noticed ergonomics NVIDIA Shield, otherwise the console is easy to operate.
Dimensions of the console makes it easy for people with a palm size of the average and above – child she may be too big. All buttons are in the comfort zone of reach, capture the console to reach the desired button, only needed a central "system" block. Here, however, we can do the same as when you operate the touch screen – keep the console with one hand and click them forefinger another benefit of ergonomic console allows you to easily hold it in one hand, and without having to change grip. Note that here we are conveniently located under the triggers even forefingers – is uncommon.
All the buttons are easy to press and clearly, but D-Pad, unfortunately, not so responsive as desired (though much better than the Xbox 360). Hats rubberized analog stick, the return springs work very well, allowing precise control of their deviation. They work by pressing a tight, with a visible effort, plus the need to hide them under folding screen made the producer to "drown" in the body of the cap – it does not create any special problems, but thumbs can touch the cabinet with a maximum deviation of the stick, and the fact such a "deep" location is unusual sticks after conventional gamepads.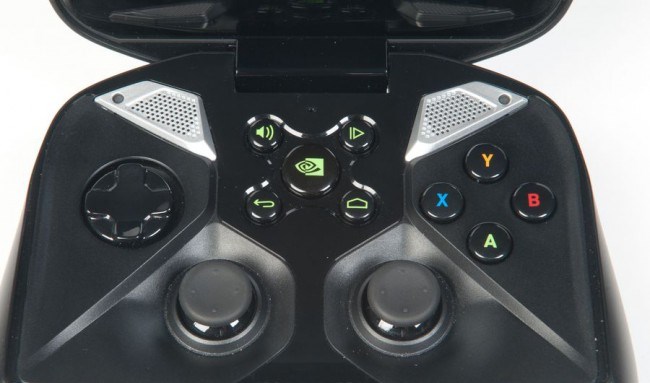 During the game console is almost not heated – the central unit in the lower part becomes lukewarm and slightly warm at the same time the lower part of the screen, which comes out warm air from the ventilation grill (yes, there is an active cooling, but you can hear it, just put your ear to the body) .
Hardware Platform
NVIDIA Shield based on SoC NVIDIA Tegra 4, which includes a quad-core ARM Cortex-A15, clocked at up to 1.9 GHz (plus the fifth companion core with a maximum frequency of 500 MHz, consumes very little power and is used to perform background operations), and 72 -nuclear accelerator NVIDIA GeForce ULP. According to NVIDIA, Tegra graphics accelerator 4 to 6 times faster its predecessor Tegra 3. In NVIDIA Shield integrated IPS-folding screen with a diagonal of 5 "and a resolution of 1280×720 pixels (pixel density – 294 PPI). Internal memory is 16 GB (expandable with cards microSD), RAM – 2 GB. It works all of the battery capacity of 7350 mAh – charge it for 4 hours full charge lasts approximately 4-5 hours of play.
In this paper,
NVIDIA Shield is running Android 4.3, here are the standard launcher, without any add-ins, but the OS is optimized for the particular console. Thus, in the system settings there is a section for configuring the hardware buttons and their operation modes, no usual volume rocker button is compensated by the "Volume", calling a special menu the sound level (in addition, you can adjust the volume and using triggers – after pressing the "Volume ") screen system keys not used instead hardware in the central block, etc. Button not only NVIDIA launches corporate services TegraZone, but returns the user back to the home screen and long press to its usual menu off, which "ordinary» Android-devices caused by long pressing the power button. In addition, the right analog stick controls the virtual mouse cursor left – moves the focus between application icons (you can run an active button «A», right trigger or pressing the hat stick), and the button «B» in applications and OS works the same way as system and "Back" button (which will be familiar to owners of Xbox 360 gamepad).
Overall management of the system is very convenient, it was noticed a couple of not very successful moments – the management application using the touch screen to drag the button "Back" is somewhat unusual (proved much easier to press «B»), plus sometimes suffered from a lack of landscape orientation of the screen – While the virtual keyboard window usable area is much too small.
The manufacturer added a few applications to a standard set – in particular, Hulu Plus (service "video on demand»), Twitch (customer service for popular streaming video games) and two games – Expendable Rearmed and Sonic 4 Episode II.
In unoptimized under management NVIDIA Shield games hardware buttons can behave differently. Thus, in the benchmark Epic Citadel «geympadnaya" section of the console has been detected is correct, and in the mode of free movement around the city the user does not require any settings – walking and camera control with analog sticks did not differ from conventional console shooters. Downloaded from Google Play Shooter Dead Trigger appeared already optimized for NVIDIA Shield – before loading level shows the standard layout management game Feels again no different from the console shooter – moving, aiming and shooting intuitive anyone to play shooters with a conventional gamepad .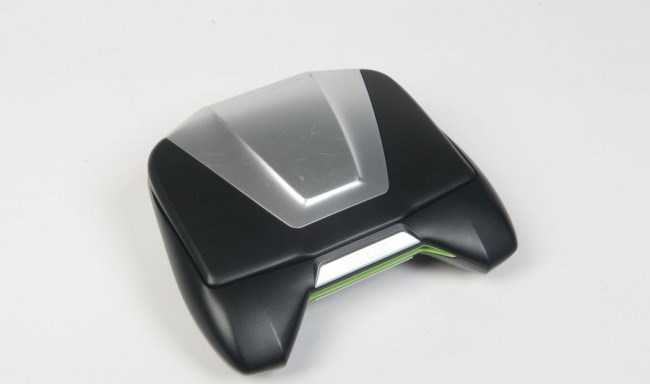 ShadowGun: DeadZone though did not show that he was "familiar" with NVIDIA Shield, yet managed with the help of sticks and buttons as well as Dead Trigger, and nothing is set again was not necessary.
In Real Racing 3, however, was not recognized by the management, so it had to use the default normal settings – Touch Screen and gyroscopes. If this option is not happy gamer, long pressing the system button Start (icon looks like Play / Pause) called overlay utility company Gamepad Mapper, which can be assigned to hardware controls hot zones on the screen. By the way, the utility supports cloud storage profiles and download ready-made options from other users over the Internet – so manually configure in the case of Real Racing 3 did not have to, downloaded profile has been quite successful.
Besides the usual Android-Games, NVIDIA Shield also offers a very interesting service NVIDIA GRID, which is part of TegraZone – it is available to owners of the console gaming to streaming servers. At this point, apparently, the service is still in beta status, it is accessible dozen hits of past years – Alan Wake American Nightmare, Darksiders 1 and 2, Red Faction: Armageddon, and even "The Witcher 2." Gameplay on subjective sensations almost no different from the usual local games, not counting a few slow control – it may have been caused by network lag. In addition, NVIDIA Shield can play and personal computer games are located on the local PC (for that he should be a module Wi-Fi), but hard for us to imagine who would want to play computer games on a 5-inch screen.
Performance
As expected, NVIDIA Shield shows a very high performance than favorably with specialized game we've seen Android-devices in China. Judging by the results in popular benchmarks, it equal to compete with modern top-end smartphones, and even ahead of them – like, Tegra 4 is really failed.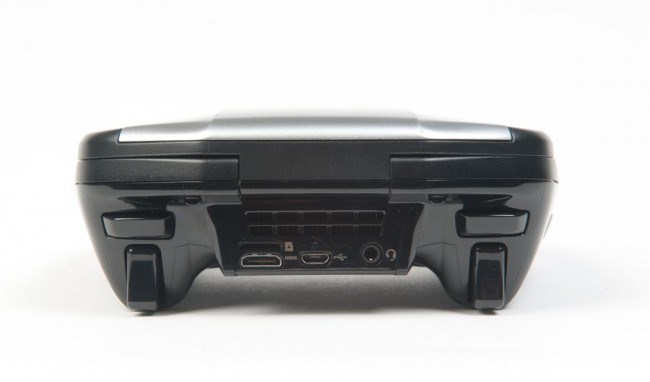 Results
The conclusions of the simplest thing would be to restrict the classic phrase "dubious practical value," but in the case of NVIDIA Shield not so straightforward. True, unique candidate to buy this console called, unfortunately, does not work – it has both advantages and disadvantages, and not in terms of implementing the idea of ​​"pocket game console Android» (here all just done very worthy) and at the level of the concept.
On the one hand – not low price, $ 300 (suggested retail price in the U.S., in our conditions, unfortunately, this amount is gradually turning into $ 400). On the other hand, for the money the user gets a powerful gaming system (really powerful, and not as in the case of anonymous Chinese handicrafts on budget chips) with easy operation and high-quality screen, comparable with screens flagship smartphones (standing, as a rule, more expensive ). Ie theoretically, the user can stay on option "cheap Android-smartphone for everyday tasks and games for NVIDIA Shield", and at the price it will be slightly more expensive than the top-end smartphone. On the other hand – the console is clearly not a pocket, and weighs more than a pound of significant dimensions and wear it except that you can bag, and there she was "lost" will not succeed. So every day on the road it is clearly not taking it does not, which means that for episodic gaming sessions in the queue, transport, etc. (The main way of using the smartphone game) it does not fit – the user for these purposes will still need gaming smartphone. NVIDIA Shield also acts as a "Divan" device, where its main competitor becomes a tablet – and here she plays a diagonal screen. Advantage over tablets in this case may be additional services – streaming PC games on the console and sending video to the big screen – but how this will be popular among the bulk of the players, hard to say.
Liked
+ Excellent performance
+ Very good ergonomics
+ High-quality assembly
+ Convenient control in most games
+ High-quality sound
Dislike
– The screen might be more
– Significant size and weight
– High cost
Read another very interesting article about alternative energy of the Sun, water and air.