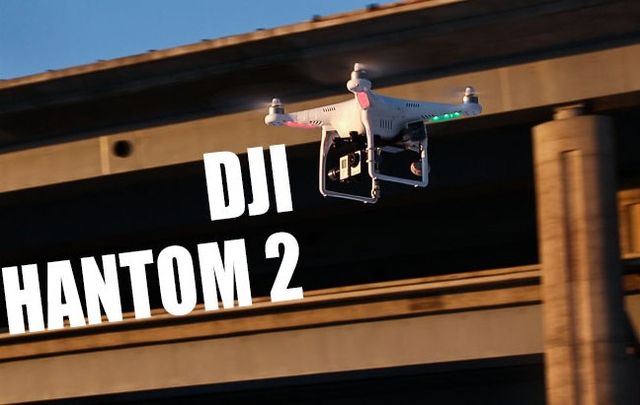 On the last day I was born I was very upset that I have not presented a radio-controlled helicopter. But now I realized that he was not really need me, because it is obviously self-indulgence, but I want something obezbashennoy and, moreover, useful. The only good that can be kind of aircraft – video capability from the air. We have repeatedly tried to "prisobachit" Action camera to Ar.Drone first and second generations, but they are only suitable for transporting themselves, need something powerful. The breakthrough came in the Maidan, where the concert "Okean Elzy" over people flew several drones and filmed everything that happens to the height. All purpose is. It remains to find out what it was?
Those drones were quite recognizable: white body with bright LED illuminators on all levers, two green and two black. I was impressed by how confident, fast and high can fly these machines. After talking exclusively with household entertainment drones and I could not imagine that in life it looks that way. I threw a cry in twitter, people began to throw up links, what it could be. I am glad that body awareness is a 100% guarantee that it is not matchlock, which means you can find and buy the same. A few hours later quadrocopter was identified – it DJI PHANTOM 2. The purpose – to buy and shoot at him for cars veddro.com . Is not it a perfect combination of business with pleasure? Although, like all my work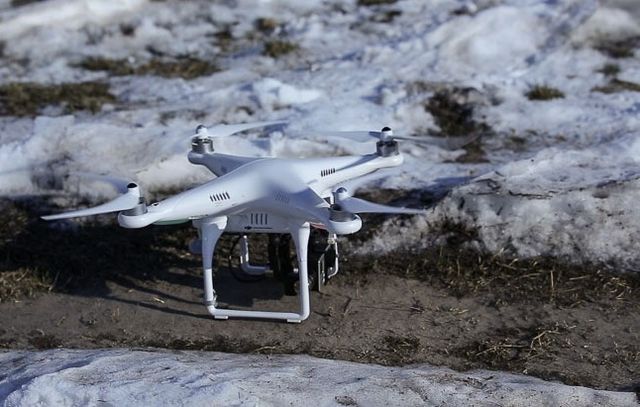 The cost of the drone is 820 bucks already here. Included is the copter itself, the remote to him, 8 samozakruchivayuschihsya blades, cable to connect to the computer and charge the battery. But we need not only to ride, but also have cheap. Therefore, our kit cost a bit more expensive. We bought another one battery system FPV, suspension for GoPro – Zenmuse H3-2D, another set of blades (just in case) and rivers for all this (the box where it all stacks correctly).
So, what can DJI PHANTOM 2? The main thing – to fly. This is not a toy, but rather a serious flying unmanned device. Manage up to 18 prohibited by the producer, although, of course, the legal framework in this case seems to be no. To fly must be treated very seriously, I realized after the first dating. It's not a plane, of course, and advanced amateurs who collect such devices, laugh at me, but a normal user should convey that just take and take off from an area near the people – it is bad and can result in not only the loss of control, but injuries in themselves and others. However, if you know everything, nothing complicated. Just remember – about such a copter is much more serious than to the home of radio controlled airplanes.
This quadrocopter can be raised to a height of 500 meters, with more advanced remote – and kilometer. And he can fly beyond your view – at a 2 or even 3 kilometers! That is serious. You can be in one area, and the drone will fly 2-3 others.
The drone has a clever navigation system for positioning, stabilization and emergency situations. For example, if all goes wrong, you can simply turn off the console and return to the drone takeoff. Also, when fixing satellites copter held in place even in the wind, and if control with GPS disable the drone will be demolished.
The first question that arises after reading characteristics – as far as the single battery charge. Battery capacity – 5200 mAh, enough for a 25 minute flight light, and up to 15 GoPro system and FPV. What is FPV?
FPV
It is the whole system, consisting of many elements, whose task is to transfer images from GoPro directly to the console. This is needed in order to fly away (because not blindly fly), and for the shooting to see that in the frame. With no delay, unlike a connection with your smartphone. And the picture is transmitted over a distance of 3 km. Also, with additional installations, the screen displays information about the altitude, speed, charge the drone, the number of satellites, etc.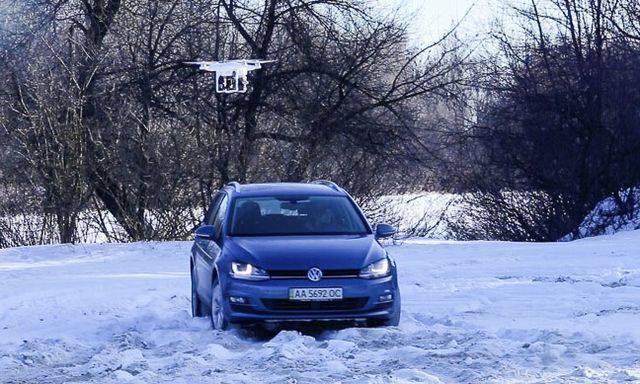 Zenmuse H3-2D
To conduct a video copter is the most essential option. Suspension not only compensates for vibration and shake, if it appears (for example, wind), but also preserves the horizontal position of the camera, no matter what. You can do anything with the drone, but the picture will be smooth as if the recording is carried out with a tap. Just an amazing thing! However, meant exclusively for GoPro second and third (including Plus), nothing else here can not be placed.
Console
DJI PHANTOM control in 2 fairly simple, but not noob. Main controls – two stick. Left is responsible for the height and turn the drone, right – for movement in all axes: forward, backward, left and right side. Top left toggle switch is designed to switch between predictive control IOC: Rate lok lok and home. The first mode allows you to fly on the course and no steam about whichever way you fly, the second mode is needed to return the copter back if he flew away and you do not know how to get it back. Right toggle lets you switch between GPS-mode, manual mode and return home. For the latter, you need to switch up and down. Or, alternatively, you can turn off the console and returns to the copter itself takeoff + / – a couple of meters. On the back of the remote control is a lever tilt the camera angle from 0 to 90 degrees. Operation is carried out at any point in the flight. The remote is powered by 4 batteries AAA, lives long.
Preflight Checklist
Even though it's not a plane, but a little preflight checklist need to pass the time, and it will save copter, and nerves. So, you must:
Put drone not straight ahead.
Please enable control (however, if you're shooting with a camera is best to include it.)
Left on the remote switch is set to Mode Off, and the right – in GPS.
Turn on the remote antenna toward the sky.
Next, turn the drone (you need to press the power button briefly once and immediately thereafter hold until all the indicators and horn).
Wait until the two rear lamp will turn green, which would mean Connect GPS.
Start the engine (to bring the two stick inside).
Thereafter drone operates in an idle mode, and a suspension chamber is now in the active state.
Now you can take off – it gently lift up the left stick.
After the flight, you must turn off the engines mixing sticks inside, first turn off the drone and then – control.
Calibration
Sometimes even need to configure your smartphone compass. Drone – much more serious construction and need to know how to calibrate. If the rear diode lights remain on yellow copter compass needs calibration. To do this 10 times in a row right toggle switch up and down, grab a drone in a horizontal position and rotate around its axis, then rotate it 90 degrees and again scroll. Everything! That I do not have to, but the suspension camera worked for me only two extreme positions, which means that its cost to calibrate. To do this you need to install proprietary software with of.stranichki (Phantom 2 Assistant Software), enable remote, drone and connect it to your computer using the included MicroUSB-cable. Then you need to calibrate the X1 (parameter responsible for the tilt control the camera). Everything!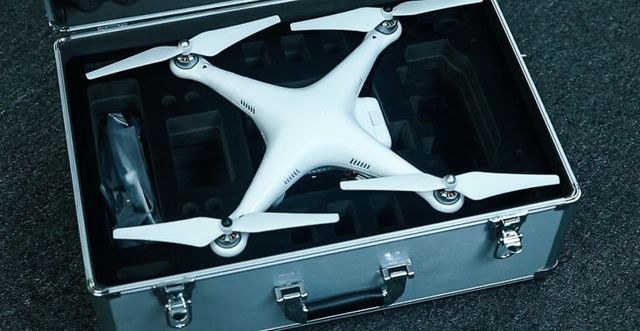 Output
We have already seen how useful it is for us to buy. This is not a toy, or even a hobby in our company, this is a serious tool for frames with which we are incredibly valuable. Speaking of image quality, it is worth noting that it is comparable in smoothness to that taken with the camera, mounted on the crane. In general, DJI PHANTOM 2 – what we have long needed!
Read another very interesting article about alternative energy of the Sun, water and air.