The company BlackBerry, is rapidly losing share in the smartphone market, is preparing to make a very unexpected turn. Recently, it was reported that Canadians are going to release a gadget running Android, and later there were new data on the device. We can now look at the first picture of the future BlackBerry on Android phone.
What for to do BlackBerry on Android phone?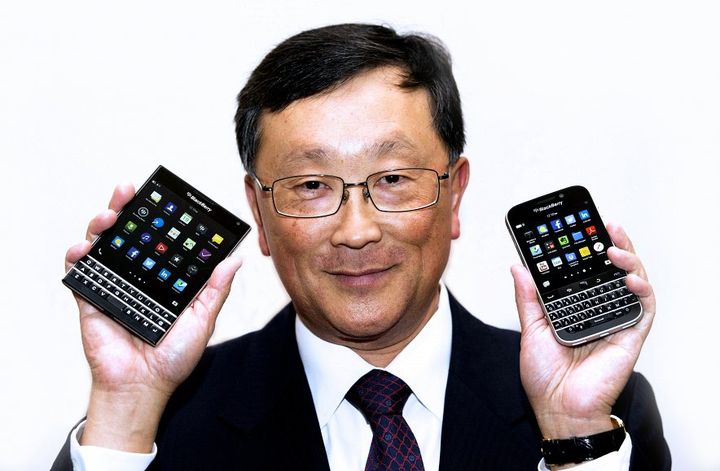 Evan Blass, better known as the translated @evleaks, earned a reputation as an extremely reliable leaks, posted in his Twitter account picture where you can see actual flagship Blackberry Passport (or a very similar smartphone). However, an important difference from the original model is the visible area of ​​the screen where the keyboard is open from Android-AOSP-version. Judging from the navigation bar on your device running Android Lollipop.
Earlier, the head of the BlackBerry John Chen said he will release a smartphone BlackBerry on Android phone, but only how he could make "green robot" safe enough to meet the high requirements of the operating system of the Canadian company. The manufacturer already has a "security from the BlackBerry" for corporate users as Android, iOS and updated as part of BES 12, which was announced late last year. New leaked gives us a hint that the company could bring the security of your Android smartphone to an acceptable level.
You will see whether the smartphone market is still unknown, but information from Evan Blass says that the probability of exit is higher than ever. However, the release of year-old gadget with a new OS looks very strange, even for such reactionaries as BlackBerry. And the smartphone will only cause issues if Passport will be available with different operating systems. Either this is an allusion to the fact that Canadians will give the opportunity to update the Passport to Android in the future that looks very strange. Hopefully, more details will be announced soon.
Note, according to financial statements BlackBerry, in the last quarter the company has sold only 1.1 million smartphones, which is very little for such a giant. However, financial results can not be called disastrous, as its services and software licensing are popular and compensate for weak sales of the devices themselves. Spur growth in sales of gadgets, it seems, is planned at the expense of the ecosystem Android.
Source: evleaks
Read another very interesting article about alternative energy of the Sun, water and air.