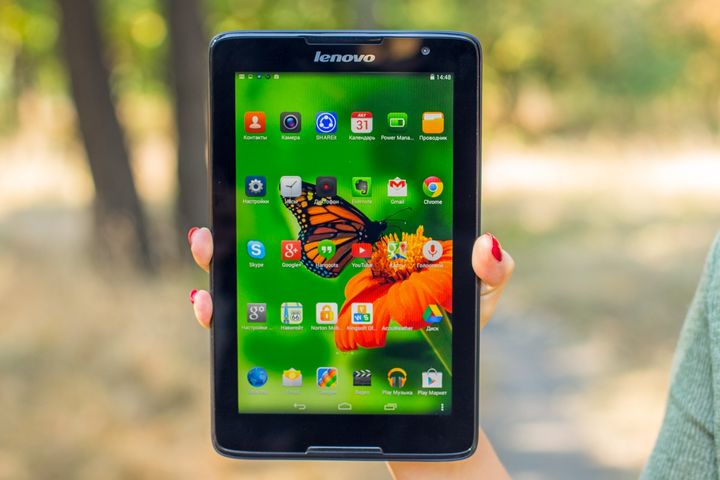 The model Lenovo Tab A8 in the middle segment with a fairly typical for its level of equipment, "advanced" features in terms of sound and upgrade to the latest version of OS Android ! Will the device to draw the user's attention, and he is better than the nearest competitor. All this talk on.
Options – Lenovo Tab A8
Comes in tablet Lenovo Tab A8 white cardboard box, with the front side of which depicts the gadget, and the reverse is a sticker with its brief specifications.
Inside the package, the user will find in addition to Lenovo Tab A8 charger, cable microUSB- USB , quick start guide and warranty card.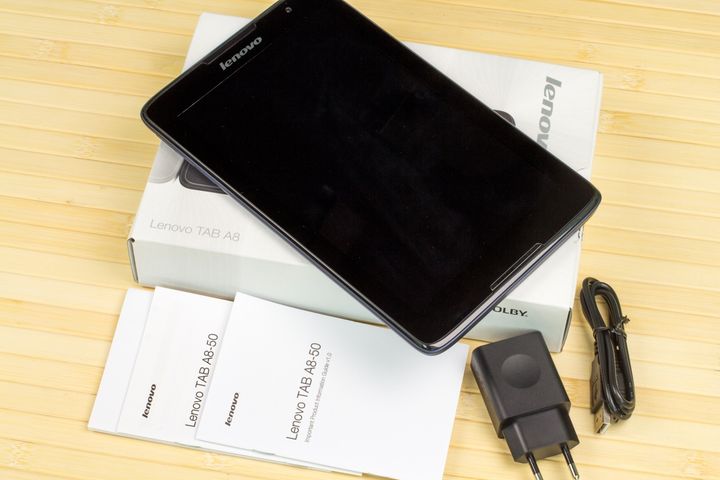 Design and build quality – Lenovo Tab A8
Machine design classic – regular rectangular shape of the case ends barely rounded corners.
Dark blue back side of the tablet, which is in contrast with black front panel. By the way, in the tone of the last executed and glossy frame around the screen.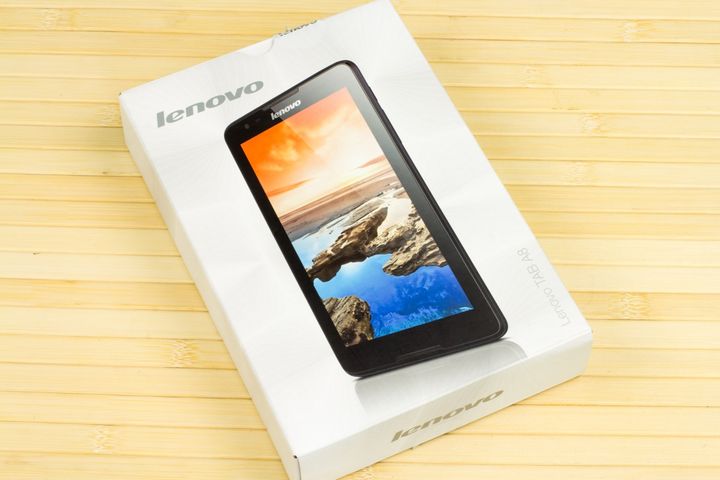 Dimensions – 136 mm x 8.95 mm x 217 mm and weighs 360 grams. However, it does not look bulky and easy to fit even in a small purse.
Thanks to the soft-touch coating on the rear panel gadget firmly "locked" in his hands, but keep it in portrait mode with one hand still not as convenient as it would like.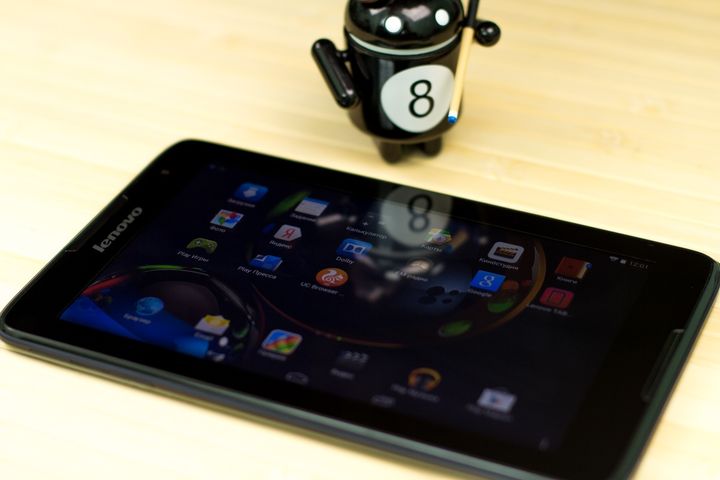 Tablet built well – play elements and gaps are absent. Even the strong compression body in the hands of the last scratch "does not respond."
Machine on the market is available in white, blue, and yellow, and red color options.
Functional elements – Lenovo Tab A8
In the upper right corner of the front panel Lenovo Tab A8 «hiding" peephole in the front 2-megapixel camera, and at the bottom – not a very prominent grille.
At first glance, the latter seems to be the best location – the sound is sent directly towards the user. On the other hand, it is at this place when you hold the tablet in landscape orientation often goes hand covering the speaker with his hand.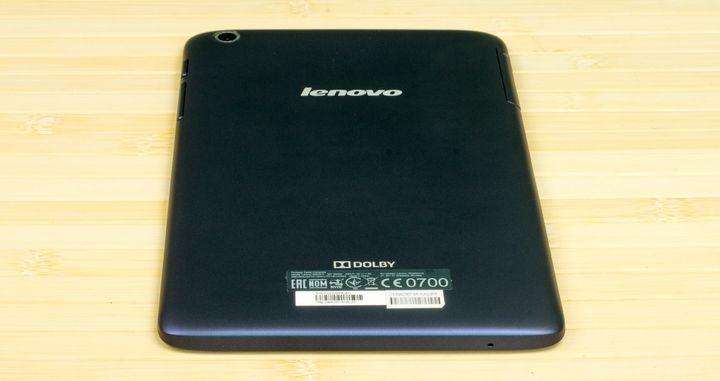 On the rear panel is the main 5MP camera eye logo of the manufacturer and logo «Dolby», hinting at the presence of this audio technology "on board" gadget to improve its acoustic features.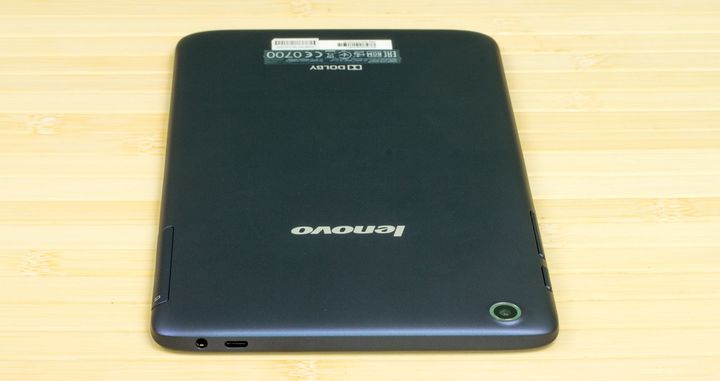 The top end was 3.5 mm audio jack and micro-USB. Lower notable only conclusion microphone.
Right "marginalia" hold the power button and volume rocker.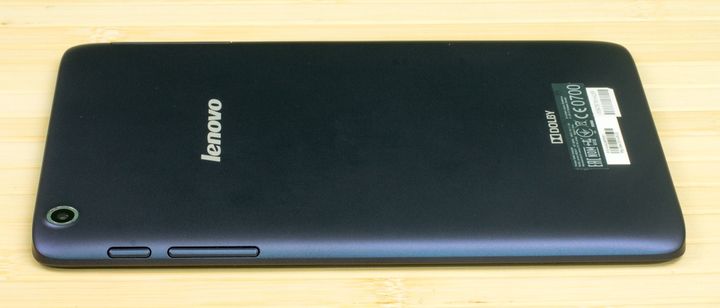 Located on the left covered with a flap card slot MicroSD . By the way, in the 3G -Version Tab A8 (A5500) is hiding here and a slot for "Sims". In a modification of Wi-Fi Only (A5500-F) for the last place simply "soldered". Last lost as proximity sensors / light and the second speaker.
Display – Lenovo Tab A8
8-inch display is based on IPS – matrix. Claimed resolution – 1280 x 800 pixels.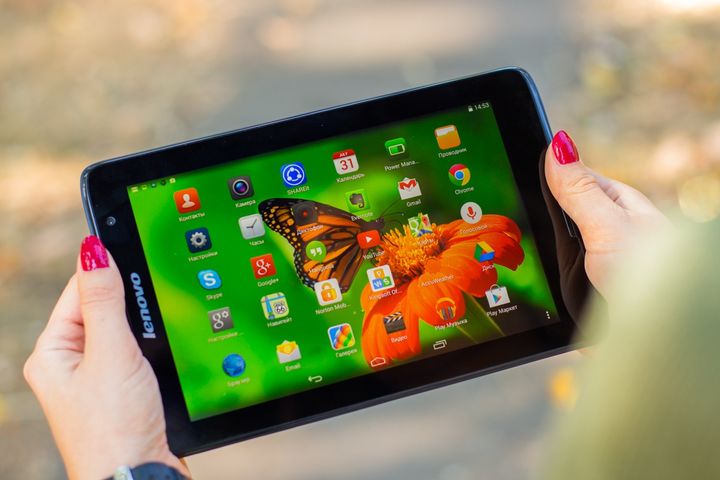 Pixelation is noticeable, but it does not interfere with work. The screen is bright and contrasty. Viewing angles both horizontally and vertically extensive.
"In the sun" displayed picture fades and the screen itself is often "catches" the sunbeams – have to crank the brightness to maximum. The latter, by the way, is governed exclusively by hand – Auto adjust the backlight is not provided.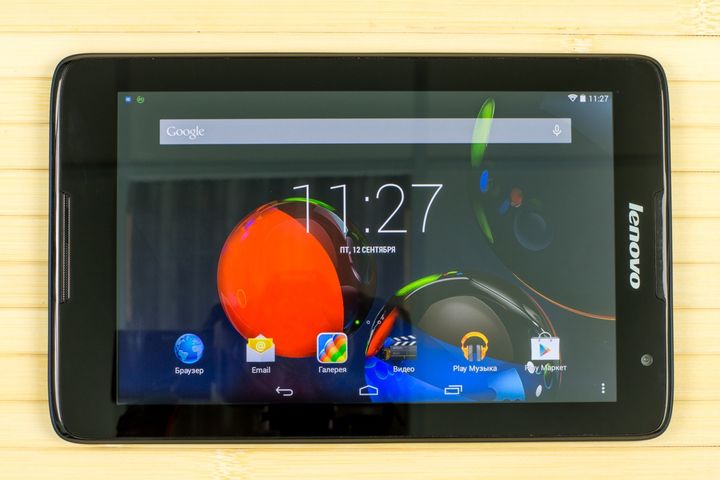 The model is equipped with a sensor that supports up to 10 simultaneous keystrokes. He quickly responds to even light touch. Incidentally, the latter is removed from the surface somewhat reluctantly, suggesting that there is no oleophobic coating. The presence of protective glass manufacturer also does not mention, however, in practice, with protective coatings sold here no problem.
Memory – Lenovo Tab A8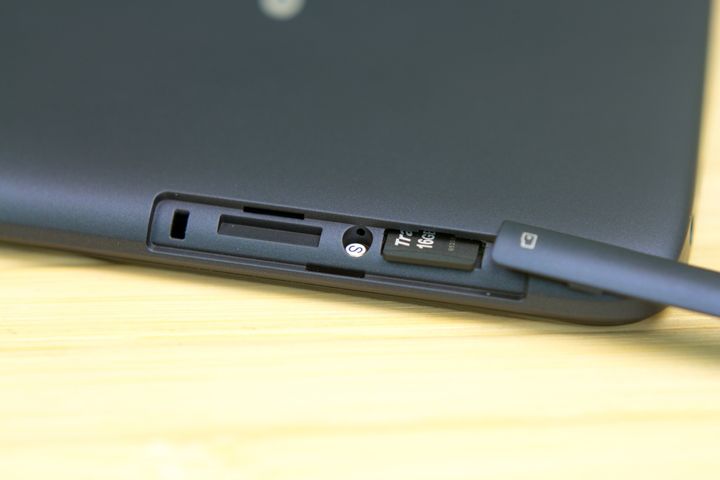 "On board" Lenovo TAB A8 16 GB of internal memory, of which to the user about 14.5 GB. There is a possibility of expansion with microSD memory card maximum capacity of up to 32GB, as well as through the USB-drive. Last checked using the USB-stick.
Features and performance – Lenovo Tab A8
"Heart of stone" devaysa stands 32-bit 4-core processor MediaTek MTK 8121 with a maximum clock frequency of 1.3 GHz and graphics Mali-400MP.
Along with 1 GB of RAM provides high system performance – playing Full HD -video, there is no lag and locked up, even in the most demanding applications and games, and for normal everyday tasks its speed even more sufficient.
Wireless Modules – Lenovo Tab A8
Communication features Lenovo TAB A8 presents a standard set of wireless modules: Wi-Fi-enabled protocols, 802.11 b / g / n, technology, Wi-Fi Direct, and the possibility of using as an access point, Bluetooth 4.0 and GPS with A-GPS .
However, as mentioned earlier, there is also a version of the tablet with an unlocked card slot micro-SIM, which expands the range of possible scenarios for its use.
Autonomy – Lenovo Tab A8
Lenovo TAB A8 is equipped with a battery capacity of 4200 mAh.
The manufacturer declares autonomy tablet TT – 11:00 (though without specifying under what load) or 400 hours of standby time. In practice, one full battery charge me enough for 6-7 hours of viewing HD-video with headphones, or 8-9 hours of viewing web-pages.
Has not been here and proprietary add-Energy Power Managment, which allows you to significantly increase the battery life – at least two or even three hours.
Speaker – Lenovo Tab A8
Speaker of the tablet, as mentioned earlier, is brought to the front panel of the device. He's here, though one, but very loud. What is not less pleasant – sound even at high volume without distortion.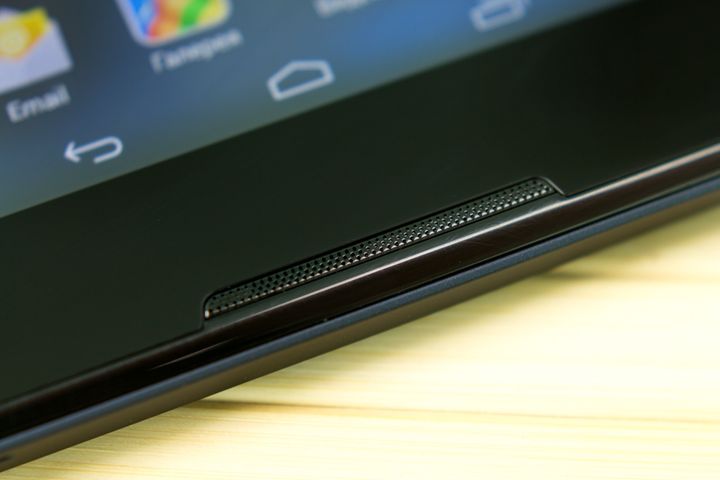 Not the last violin is played and audio technology Dolby, software capabilities that allow you to customize the sound of their own way, or, depending on the operating mode. In my opinion, the sound TAB A8 – one of its main advantages over most of its competitors in the segment. He is quite suitable as a replacement player at home.
Camera – Lenovo Tab A8
The tablet Lenovo Tab A8 has two cameras – a 5 megapixel primary and a 2 megapixel front.
End with video recording capability at 640×480 well proven during video calls.
Main photo module without flash and autofocus, but with the ability to record Full HD-capable video images of acceptable quality on the street in good light, but in low or artificial image noise increases significantly.
In the interface of photo / video camera has several modes: "HDR", "Wide-angle", "Panorama", "Portrait", "Standard" and "Tracking the movement."
In addition, you can adjust ISO , choose the level of brightness, contrast, saturation, hue and sharpness activate face detection and continuous shooting, and much more.
Software – Lenovo Tab A8
Tablet Lenovo Tab A8 running Android 4.2 "out of the box", but today is already available to upgrade to Android 4.4.2 KitKat, supplemented by Lenovo only widget Smart Side Bar. The latter allows you to quickly switch between different modes of operation and provides the user with access to recently used their applications.
Manufacturer took care of a good set of pre-installed applications: antivirus Norton Mobile Security, a utility for reading e-books "Books", a popular office suite Kingsoft Office, a program for navigation Navigeyt and SHAREit for quick and easy transfer of files to and from other Android-based device.
Conclusions -Lenovo Tab A8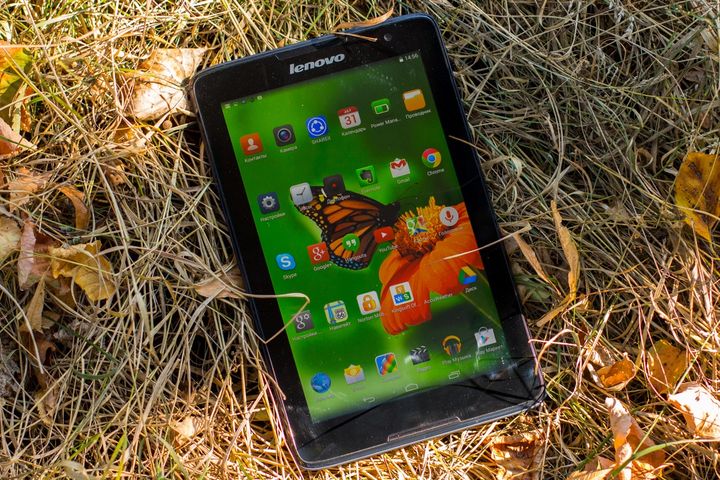 "Hero" review was simple and robust tablet with a laconic appearance and good performance. One of the most popular screen diagonals, long battery life, plus great audiosostavlyayuschaya and "fresh" version of Android – it all strengths of this unit, which no doubt will make draw attention to themselves.
Pros
– The level of the assembly;
– IPS-display with wide viewing angles;
– High performance;
– Good battery life;
– High-quality sound / audio technology Dolby Digital.
Cons
– No automatic display brightness control;
– The screen is noticeably glare in bright sunlight.
Read another very interesting article about alternative energy of the Sun, water and air.