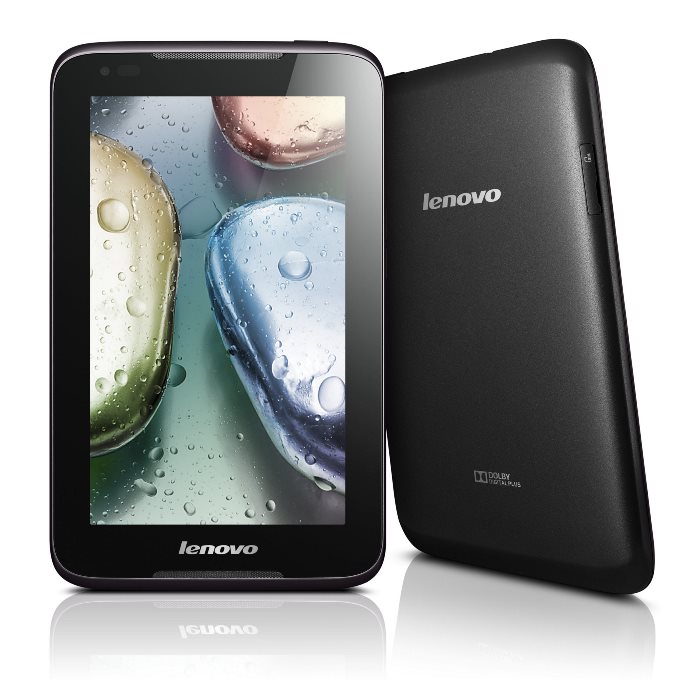 Most people use the tablet just to browse web pages, reading books and watching movies, but it does not need an expensive tablet with 8-core processor and 128 GB of internal memory. It is for these people Lenovo has released a series of budget tablets, in particular A1000. The model was announced earlier in the year at the MWC 2013, but went on sale just now. Lenovo A1000 is marketed primarily as a music tablet, because the front panel stereo speakers, and an inscription on the back cover tells us about the technology built Dolby Digital Plus.
Specifications:
Materials used: matte plastic (black or white)

Operating System: Android 4.1.2

Processor: Dual MediaTek MT8317, 1,2 GHz, Cortex A9

Memory: 1 GB

Data Memory: 16GB + microSD

Screen: capacitive, TN, 7 ", 1024×600 pixels

Camera: 0.3 megapixel (Front)

Extras: Wi-Fi 802.11b/g/n, GPS, Bluetooth 4.0

Battery: 3500 mAh

Dimensions 192 x 120 x 10 mm

Weight: 349 g

Unit price: 5000 rubles. / 1200 USD.
Options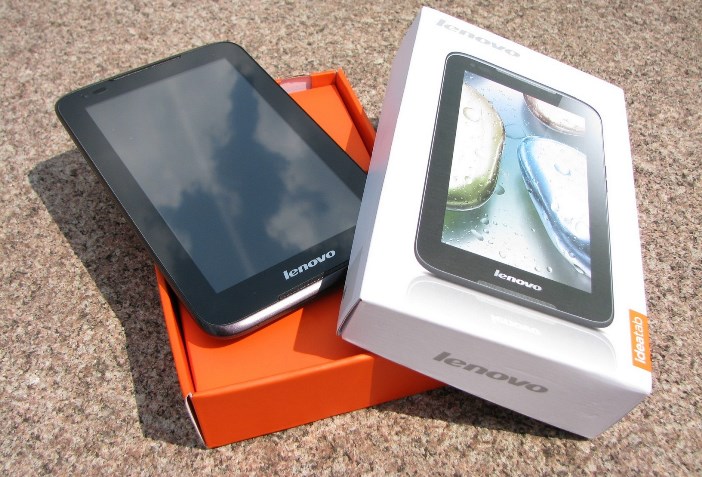 The tablet is packed in a white and orange box, which design would fit even for the device hi-end class. The lower corner of the box is very fashionable cropped and gives not only charm, but also performs quite functional role, helping to open the box. Under the tablet can find two orange boxes in which there are: modular charger, micro-USB cable, user manual and warranty card. Headphones, as well as in a box with any other budget model, there was not. A similar trend is good news, because the manufacturers have finally stopped wasting wire and plastic on useless ten-cent headphones.
Appearance and ease of use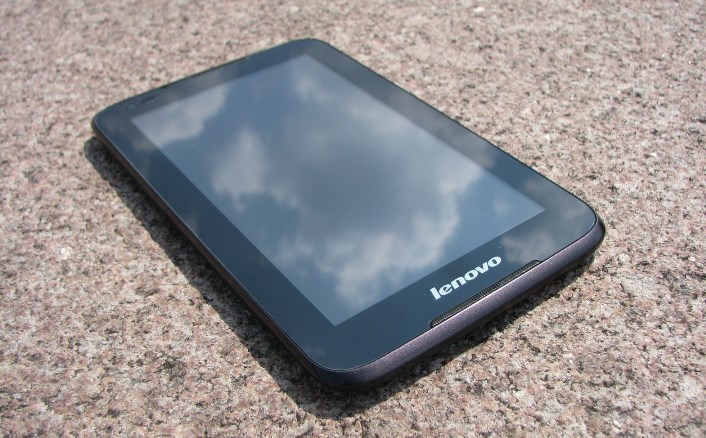 Design of the device is quite normal for the tablet – a simple black rectangle with rounded edges, nothing revolutionary. Adds some elegance except that shiny dark brown border around the screen. Housing made entirely of plastic without the use of metal and glass.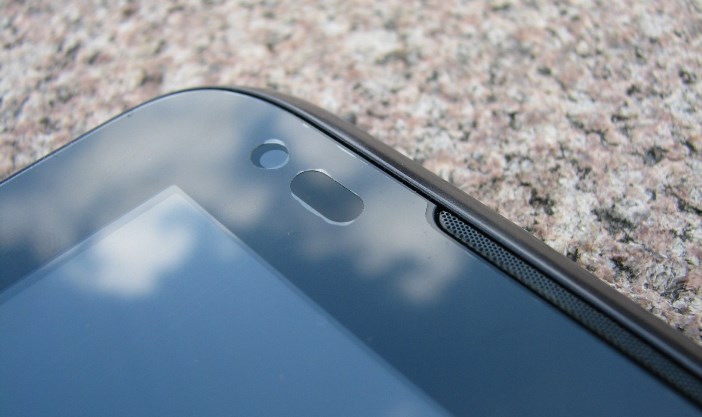 On the front, below the screen, the Lenovo logo adorns the mirror and one of the two stereo speakers. At the top of the second column is located and the front camera. Next to the camera you can see 2 more technological holes for the light sensor and proximity, but Lenovo A1000 they are not installed.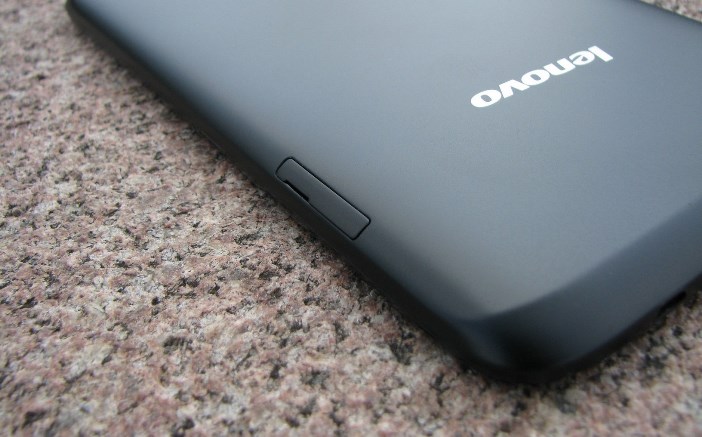 Like that is not used by the legacy of the older brothers can be found on the left side of the device, there is a sealed slot, probably for a SIM card.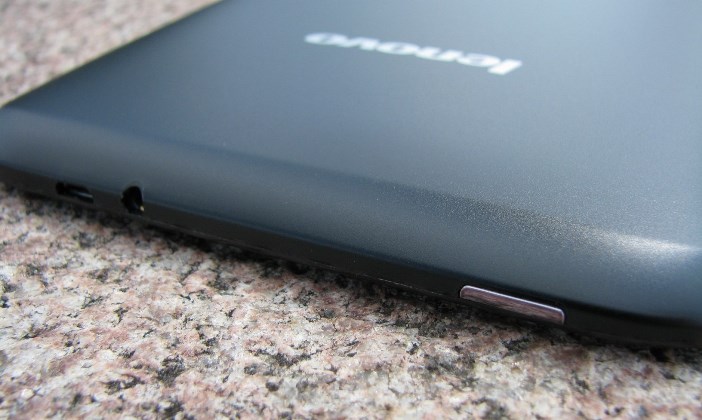 The top side is silver lock button, headphone jack and microUSB cable.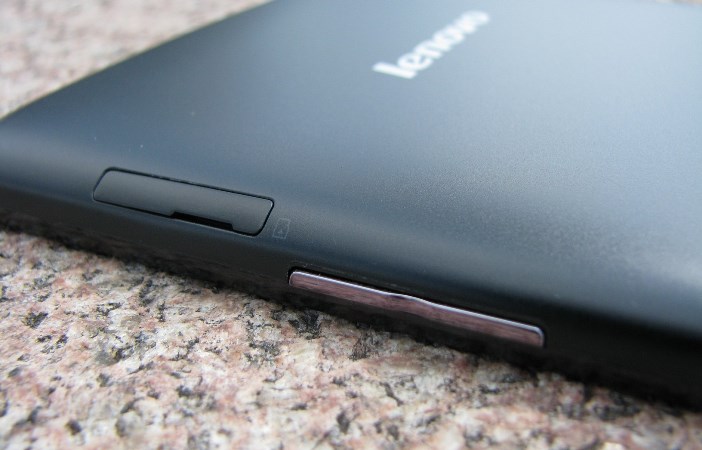 Right volume rocker and a slot for memory cards microSD. On the bottom is the microphone. The back cover is not removable device, but for a tablet as a smartphone, it is not a problem.
Screen
List the characteristics of the device on the box tells you that the device is equipped with a 7 inch LED Glare screen. Originally inscription LED Glare introduced me to a screeching halt, and at first had the idea that this is a brand ala Retina or Super AMOLED. Alexander Bobylev, knowledgeable in almost all matters authoritatively stated that it is the most common TN-matrix LED-backlit display is used everywhere.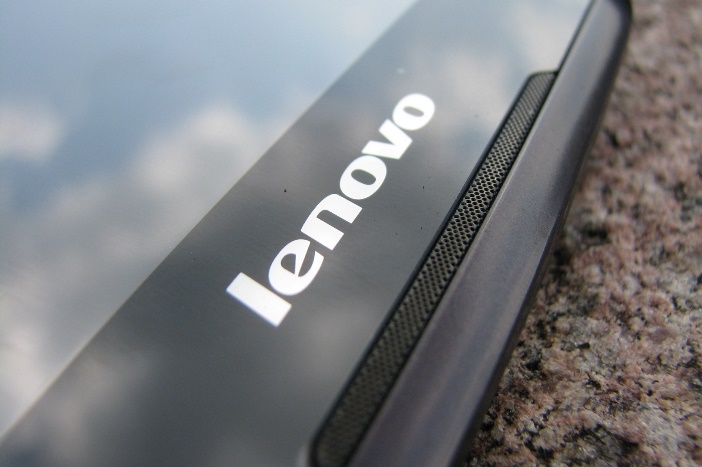 Resolution of 1024×600 pixels for a 7 inch display is still relevant even today. For comparison, the 8 "iPad Mini resolution of 1024×768. Although at 170 ppi (pixels per inch) pixel is good enough to distinguish. Let me remind you that today's flagship smartphones with a 5-inch diagonal display resolution of 1920×1080 pixels, which is equal to 441 ppi.
TN-matrix has a pretty good contrast and maximum brightness level does not cause any complaints. At large viewing angles the screen noticeably fade and change color.
The capacitive sensor supports up to five simultaneous touches and works very quickly. Stitch material – plastic, protective film, which is coated screen "out of the box" clean up is clearly not worth it.
System
The current version of the system for Lenovo A1000 – Android 4.1.2. The shell of the system was different from the one that is installed on smartphones, Lenovo.
In fact, the standard shell for the system used in Android, but extended with additional widgets with questionable functionality. Lenovo proprietary shell on smartphones is very good and it is not clear why not use it on the plates.
Performance
Lenovo A1000 is equipped with MediaTek MT8317 dual core processor with a frequency of 1.2 GHz, GPU PowerVR SGX 531, 1 GB RAM, 16 GB of memory for file storage and a slot for memory cards microSD. 1 GB of RAM is standard for mid-end devices, and a rarity for budget models.
Dubbed by the above characteristics enough for comfortable playing casual games. In games with heavy graphics course will be visible podlagivaniya, but with the chosen test GTA III and Real Racing 3 specific problems have arisen. Shadowgun worked with notable sticking that just does not allow the fine to play in multiplayer mode.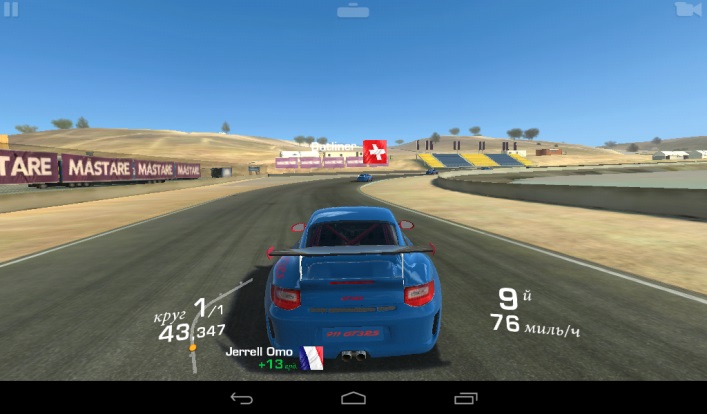 Real Racing 3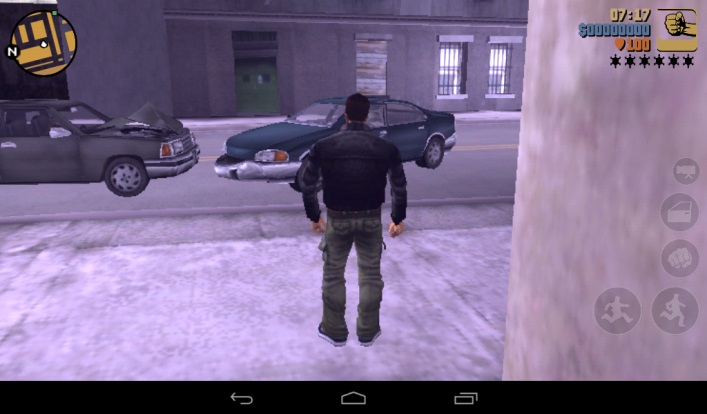 GTA III
Test results for various benchmarks:
AnTuTu Benchmark: 7233

AnTuTu 3DRating: 1409/778

Quadrant Benchmark: 3249

SQL Benchmark: 37.775 sec

BenchmarkPi: 584 ms

Linpack: 74.172 MFlops

Vellamo: 1291/390

SunSpider JavaScript Benchmark (Chrome): 1599,4 ms

NenaMark 2.4: 22,9 fps

Epic Citadel, High Performance: 34,4 fps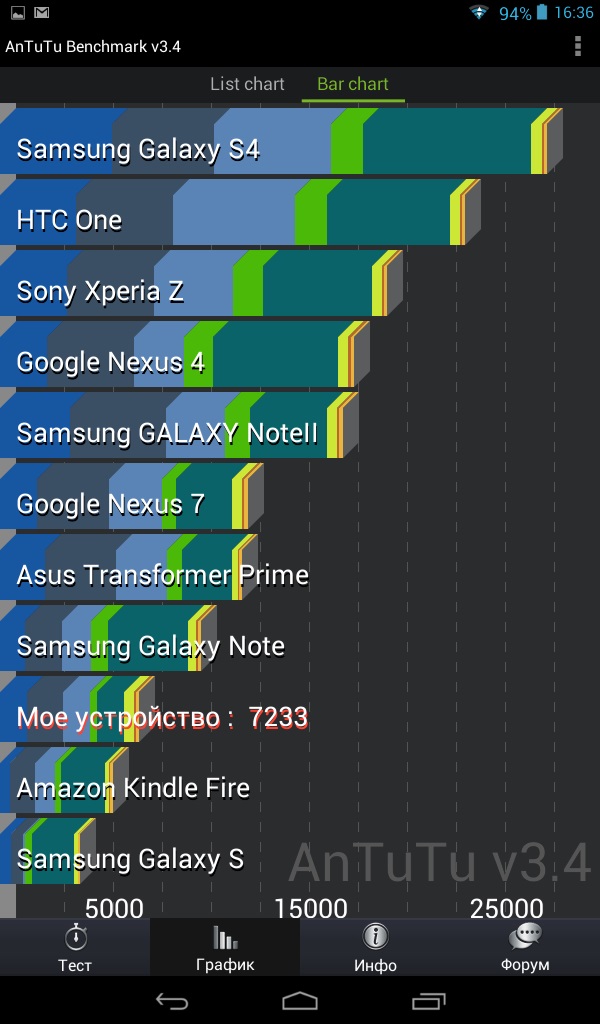 Antutu Benchmark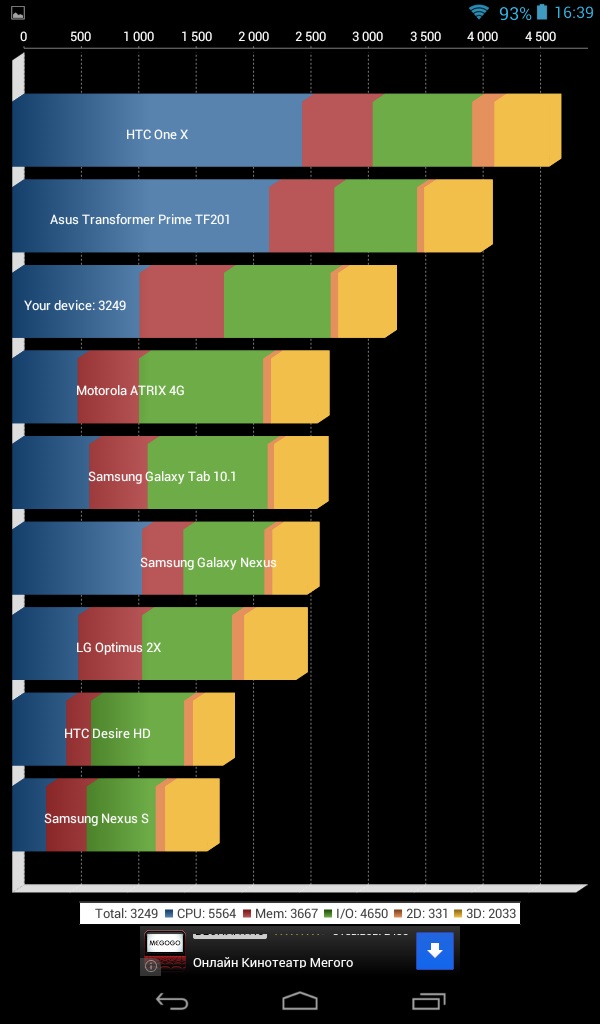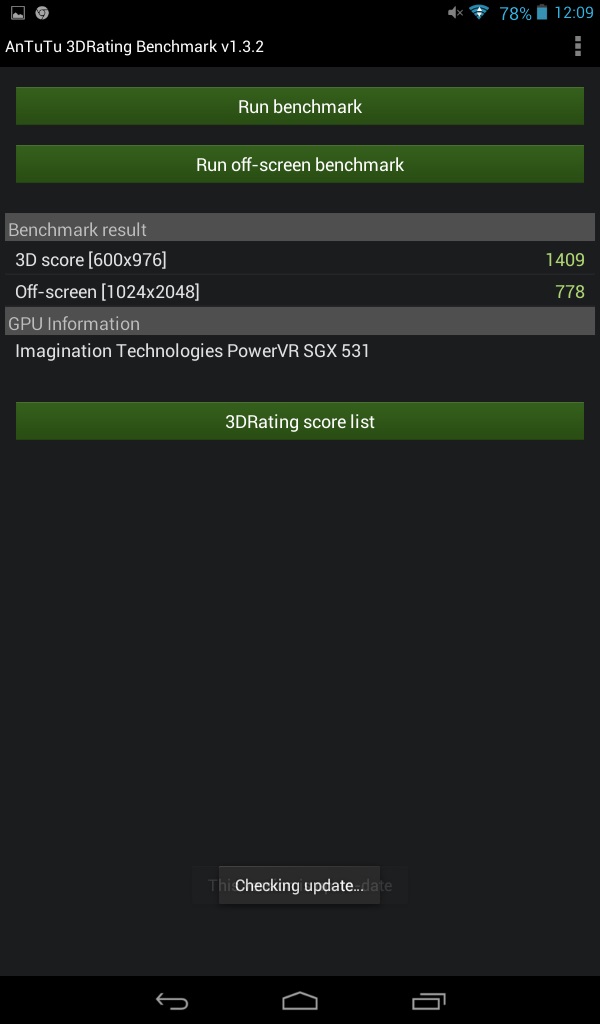 Quadrant Benchmark and Antutu 3D Rating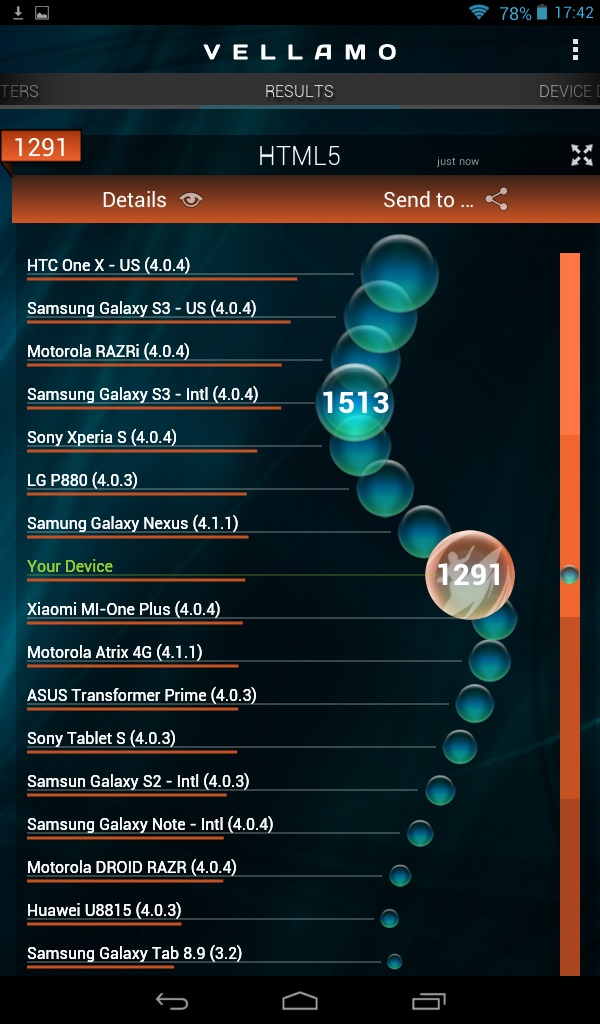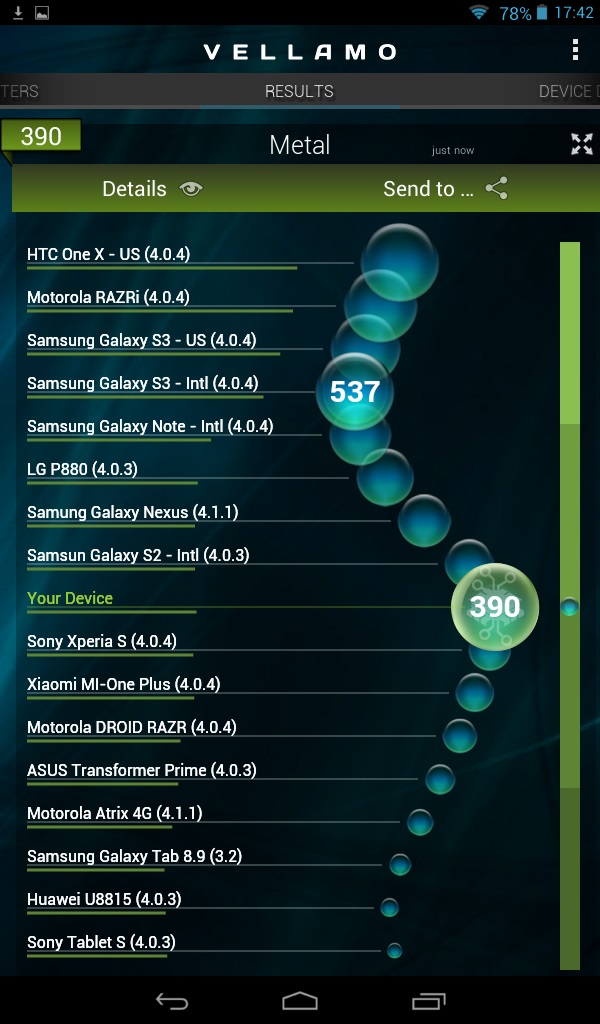 Vellamo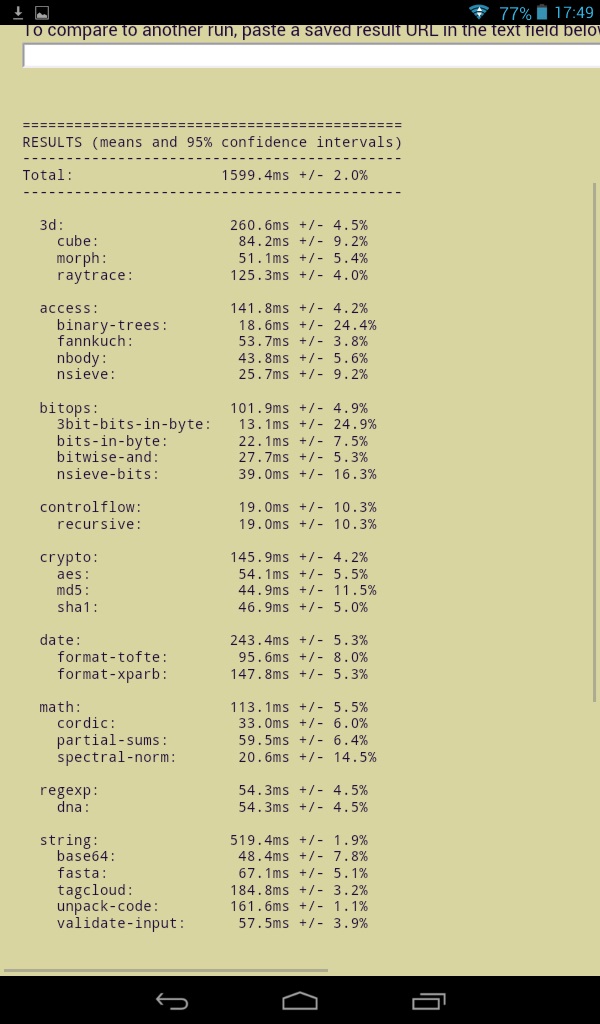 SQL Benchmark and SunSpider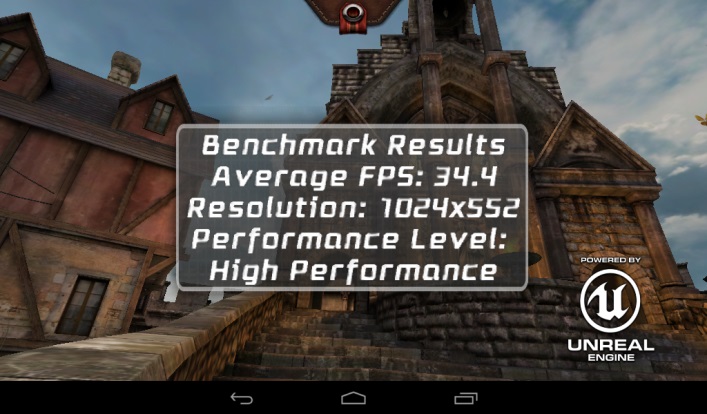 Epic Citadel, High Performance
Battery
Battery capacity plate – 3500 mAh. The men in white coats had laboratory testing and found that in the Web-surfing Lenovo A1000 discharged in 7 hours 32 minutes, and video playback up to 7 hours and 18 minutes. Battery life will be enough to occupy himself in any 10-hour crossing.
Camera
Let's just say, the camera is simply there, front and it has a resolution of 0.3 megapixels. For Skype is enough. 
Communication and Sensors
Of all conceivable variety of sensors that are installed in modern tablets and smartphones, this option is only accelerometer. Neither do you light sensor to automatically adjust the backlight, either you magnetometer, to speed up the GPS is not here.
Wi-Fi module works with all frequencies b / g / n and indicates the maximum data rate to 63 Mbit / s. Bluetooth 4.0 has worked fine for file transfers to other devices and seamlessly works with various headsets. It is worth noting the presence of the special features Dolby Digital Plus improves the sound.
Total
Lenovo IdeaPad A1000 is not the cheapest tablet in a variety of low-end models. Of course, the market has a huge amount of $ 100 models from unknown Chinese manufacturers, which tend to be discharged within 2 hours of active use or not at all equipped with resistive screens. With a little effort, it is easy to understand that it is better to buy the tablet which is $ 50 more expensive, more functional, has a good service and in use does not cause mental and physical illnesses.
The device is fully justifies its price of  1200 USD.
Read another very interesting article about alternative energy of the Sun, water and air.