New smart watches Mifone W15 – the same case. What can surprise the product for $ 39? At a cost hardly tell, but the news a lot of pluses. For example a thin strap hypoallergenic.
Let's see what they can do watch actually. And what you may need.
The main features – Mifone W15
Mifone W15 has a processor based on the ARM9 processor with a clock frequency of 900 MHz. In the presence of 64 MB of RAM and 128 MB of memory (expandable via U disk).
Ensures reliable synchronization module Bluetooth 3.0. Supports all popular platforms: iOS, Android, Windows Phone, BlackBerry OS and even Symbian.
The Energy of the above provides a lithium-ion battery capacity of 405 mAh. Resource battery lasts 6 hours of continuous talk time and 208 hours of standby time.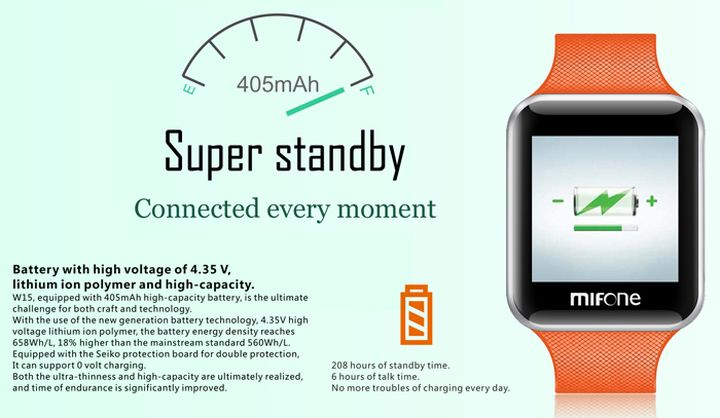 You can choose from five colors: purple, orange, chocolate, black and dark blue. Everyone will find a shade for everyone.
Notification of receiving calls
If you tie watch to your phone via Bluetooth, then the incoming call immediately watch vibrates (much stronger GT08). And display on his screen name and number of the caller. You can answer the call directly from the watch – they have both a speaker and a microphone.
The disadvantage here is the same as in other watches if not immediately after synchronization to disable "voice" in tinctures Bluetooth-connection on your smartphone. So even if you lift the handset on the phone's voice goes into the watch. It's hard to describe how it's annoying. You just need to remember to turn off this feature. At the same time, of course, hours will not talk, but seriously – who needs it in everyday life?
Calculation of steps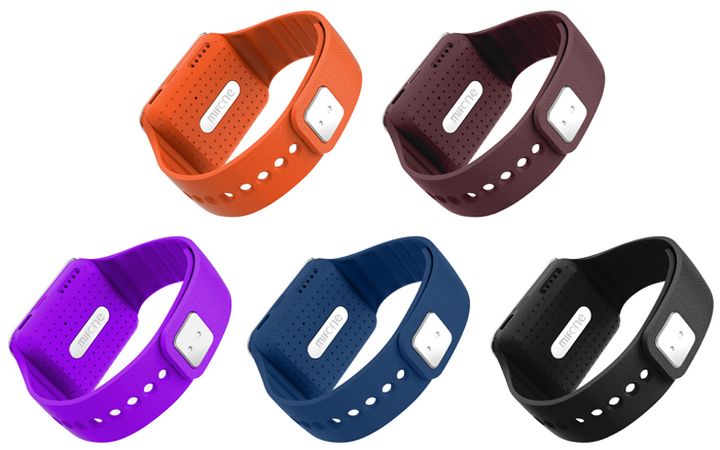 The total number of passed steps, distance and "calories." No configuration is not (even height and weight are not set) and no synchronization with services such as Google Fit. The values are not very different from MiBand.
Manage your music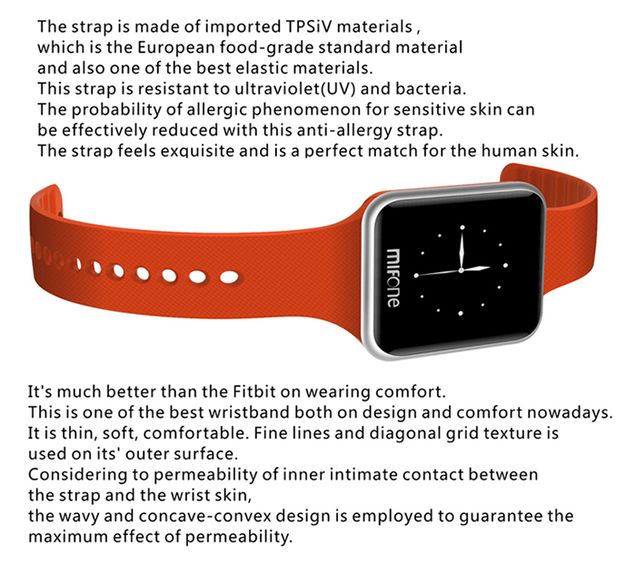 On the screen, you can watch the music to start, pause or switch to the next track. The volume is adjusted using the buttons on the screen (it is difficult to get to). You can switch between the earpiece or speaker of hours (listening to music through the quiet built-in speaker). The ticker displays the song title.
The phonebook and Calls
You can not only take, but also to make a call. Cons described above. From inconvenience phone book – just two and a half lines of which are difficult to scroll on a small screen, and the lack of filters (for example, not to show contacts without a phone number).
Alarm clock
Perhaps this is one of the most useful features. Very strong vibrations awaken at the right time without any problems, without waking at the same time all around. Definitely suitable for people who are forced to quietly get up before the rest of the household. Well, or as a reminder during the day will do. There are 5 alarms with minimal settings.
Voice Recorder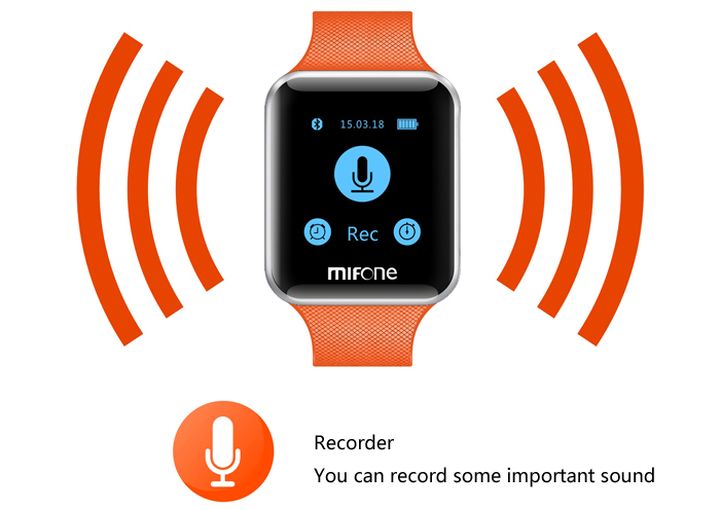 Watches can be used as the invisible recorder. However, to assess the quality of the recording I could not – drivers for access to the internal memory clock did not want to be installed.
Stopwatch
Needless to say, just stopwatch.
Other experiences – Mifone W15
Autonomy: hours without problems kept two to three days of normal use. Charges about an hour from the USB.
Display: the sun can be seen with difficulty, it is necessary to cover the hand. Yes, the display is monochrome and monochrome functions as almost always. However, the example above the volume control can be sure that he is physically color. It is difficult to understand what guided manufacturers – saving resources, design or something else.
The application for the phone: it is not, and it pleases because they do not have to clutter up your smartphone Chinese crafts.
Notifications of applications and SMS: there is no notification. In any form. Read posts from the clock is impossible.
Verdict – Mifone W15
Not a bad toy. Watches are not trying to pretend to be a telephone, possess adequate design (both outside and inside), minimal functionality, which is not a disadvantage – nothing more. I would like to be protected from water and a bit more responsive touchscreen. Although that for $ 40 more you expect?
Mifone W15 is quite a decent option to purchase. The more that the sum of $ 39.99 nobody ruin. Difficulties with any purchase. When ordering online, you can get the GearBest bonus – free shipping.
Source: GearBest
Read another very interesting article about alternative energy of the Sun, water and air.