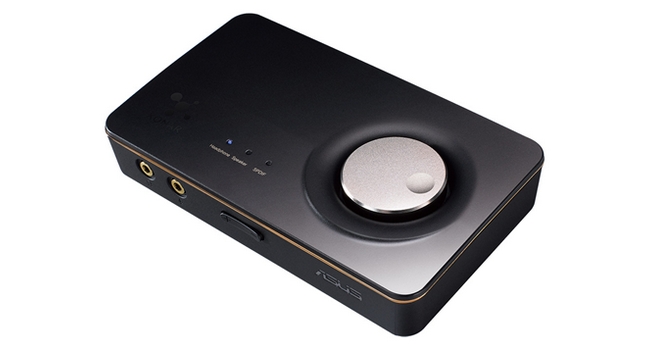 Need for external sound card appears in at least two cases – if interference from the computer's power circuits make use of the internal card uncomfortable or if necessary to obtain high-quality sound comes from the owner of the laptop. Criteria for selection of a particular model depends on the main purpose of the system – listening to music or playing games and watching movies. The former requires a stereo DAC with preamp, in the second – a multichannel system.
Conversion of PC home entertainment center can be implemented in two ways: either use "appliances", or select "computer" components.
The first option is simple: take an HDMI cable and connect the PC to the receiver, then, on another cable HDMI, direct image on the big screen (TV, projector) and enjoy. In fact, simplicity is deceptive. First, this solution requires a lot of space and most likely will not demand to organize one "working" space. Secondly, it is a set of expensive.
The second option assumes the maximum use of the components of the computer world. And consider it. Least because it smaller and cheaper, and more (using a laptop) can easily become mobile.
System will build around an external sound card Asus Xonar U7. It is inexpensive, easy to use, compact and powered by USB.
Design
Little black box with a thin gold rim and handle an impressive washer switch on the top panel. Looks stylish and pleasant to the touch, is of little use for fingerprinting (clean hands do not leave fingerprints).
Most connectors are located on the rear panel. Here the keyword "majority". The front panel only got headphone (3.5 mm jack) and a mic / line input with volume control rocker. And it creates a certain disadvantage: when you connect the device to a PC and peripherals begins to resemble a spider – cords sticking out from both sides of the housing. Situation could save wall-mount (like modems and routers), but the holes on the bottom of the case is not. There are only four rubber feet and switch between antique and mainstream USB 1 USB 2.
Back on the rear panel. The digital part is represented USB, as well as coaxial and optical outputs (composite connector, fiber optic cable is connected via the supplied adapter).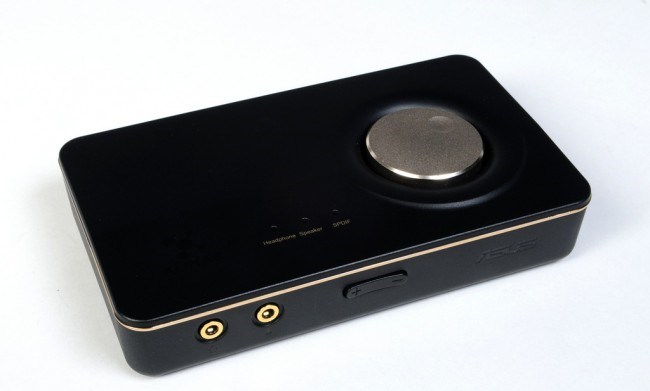 Followed by three mini-jack, are responsible for the sound output in multichannel mode.
Finally, the front channels (they are the left and right stereo). Then set RCA-connectors, hinting at the possibility of using the card in a simple Hi-Fi-system.
The top panel also has three LEDs that inform the user about the connected audio output (headphone or linear), as well as the inclusion of a digital output.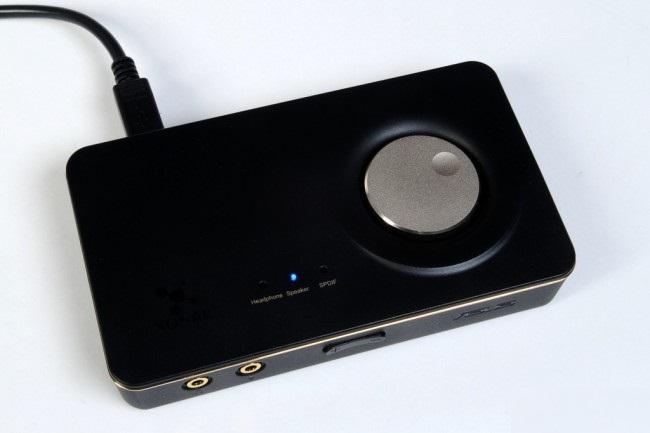 Functionality
Do Asus Xonar U7 three main functions: analog-to-analog conversion and and zvukousilienie.
Consider a digital to analog part. When connected to a PC card will convert the digital data into an audio signal. The only source for it is a USB to computer optical and coaxial digital inputs do not. To connect, for example, to the media player as an external DAC Xonar U7 is not suitable.
Device is almost omnivorous. It is able to work with the data of 44.1 / 48/88, 2/96/172, 4/192 KHz with the bit 16/24 bit. It supports the ASIO. Basis DAC – chip Cirrus Logic CS4398.
Sound works with Dolby Home Theater V4, through an additional control panel, you can select one of the preset sound processing presets or create your own using a graphic equalizer, as well as the simulation of multi-channel systems and speech enhancement.
To choose from two options available output – headphone and line, which can be used as a pre-amplifier, and for active speakers. They are switched either programmatically (via Xonar Audio Center), or hardware, pressing the volume knob. Fact clearly recognized clicking, but the principle is not very good. Imagine what would happen if the night, at the forgotten turned on active speakers, headphones will sound instead of the line out … Prerequisites for such a scenario is, in fact smooth volume knob for ease of rotation is provided only spherical "dent", click on that a little stronger than we had – a piece of cake.
Headphone amplifier is capable to shake the models with up to 150 ohms resistance in the Xonar Audio Center has a menu for switching power amplification, a choice of three values. With 32 ohm Sennheiser HD 490 amplifier managed without problems, providing a comfortable volume without distortion.
Asus Xonar U7 also able to broadcast digital data on optical or coaxial outputs. It is useful to connect the computer to an external decoder / amplifier, for example, a home theater system.
To an input on the front panel can be connected to the source of the analog signal to be (for example, in the case of the microphone) pre-amplified and digitized in accordance with the parameters set in the driver. By the way, they have the same characteristics playback.
Probably as a serious solution for recording Asus Xonar U7 considered not worth at least because of the implementation of 3.5-millimeter input, but sound input for oral communication is not satisfactory in the Xonar Audio Center has even four voice modifier.
Manufacturer has not provided a full-time opportunity to modernize without losing the warranty. All components are soldered to the board.
Fidelity
There are two poles in PC audio.
One – built-in motherboard audio. They Shareware (since become a standard component and is not sold separately) and outputs a sound.
Second pole – highly specialized devices. Cost of "cheap" to "very expensive" and give the "reference" quality.
Where in such a coordinate system is Asus Xonar U7? On the quality of playback it leaves far behind embedded audio.
Listen Patricia Barber, taken from disk files Café Blue. The sound becomes more open, the scene taking shape, tools acquire flesh, ceasing to be electronic rattles of budget synthesizer.
Rammstein difficult to improve on the audio, but it is very easy to spoil. Heavy music demands dynamics and attack. Mein Teil played much pickier than it is capable of making sound card built-in.
Vocals Tom Waits and his piano generally transmitted reliably. And Soldier's Things felt even mood.
Indeed, uncompressed music alive, motorists would have compared it with the transfer of "Tavria" in Korean middle class car.
But miracles do not happen, and the amount of less than $ 100 you can not buy a multifunction device with Hi-Fi-sound. Compared with the more expensive DAC in Asus Xonar U7 felt skinny, articulation is not so clear, there is sharpness and detail below.
Empirically supported abstraction, however, has a completely practical side, which is called money. We can safely say that the Asus Xonar U7 fulfills every penny spent on it, not only in the market it has not so many competitors.
This sound card can be recommended as a first step to get a good sound from your computer, but you should understand that it works in conjunction with an output device – set of headphones or amplifier / speakers, and these components must meet the level of quality that provides Asus Xonar U7. In other words, the selection of components should be a balance, and even better – to try to compensate for the shortcomings of one other device features.
U7 sound quite sharp. When connected to a set of Cyrus 7 amplifier and a pair of speakers Chario Constellation Delphinus this disadvantage was offset by the softness of the speaker output. Yes, the cost of components and features of the implementation of sound left their mark. In the path, where each component is worth roughly an order of magnitude more expensive (and even interconnects once bought for a price greater than it is now asking for U7), and clearly felt the lack of dynamics, and the average drawing stage, and a general lack of musicality. But the "quantity" of these drawbacks is clearly not in the "three and a half times larger" than the product for $ 350.
Pick up for Asus Xonar U7 worthy partners and you really love your records, and games will be more engagement and drive.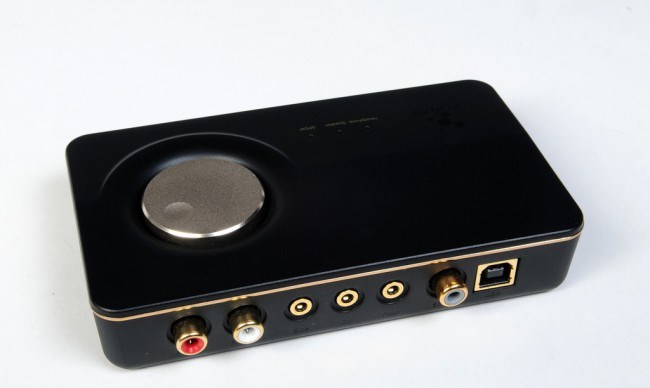 Liked
+ Sound quality (considering the price)
+ Loyal price
+ Easy to use
+ Standards support Dolby Digital
Dislike
– No DTS decoder family formats
– Important connectors on the front panel
– Outs for all channels, except the front, a mini-jack
Read another very interesting article about alternative energy of the Sun, water and air.