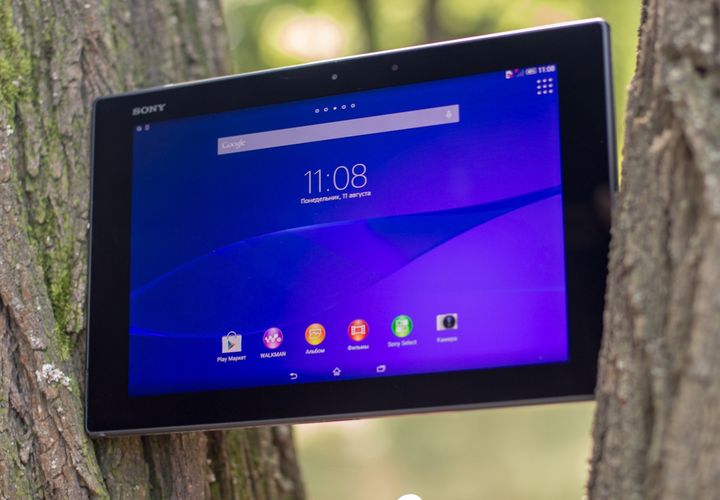 Powerful tablet Sony Xperia Z2 with good battery, "juicy" display and secure housing. Worthy of "a bunch of steel" and, as a result, interesting performance. Even here the last Android , 8.1 megapixel main camera with support for Full HD – video and many other interesting "things"! All this and will be discussed further.
Packaging and delivery – Sony Xperia Z2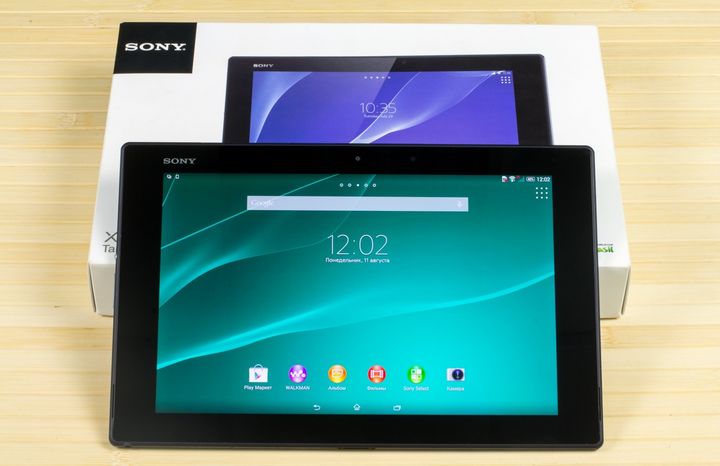 The user will receive Sony Xperia Z2 Tablet in a box large enough, made ​​of durable cardboard. Design it is not re-created, and "migrated" here from other packages of products of the Japanese manufacturer: white cardboard on top of which a few illustrations apparatus, including in different body colors, as well as the footnotes, "prompting" of some of the capabilities of the device.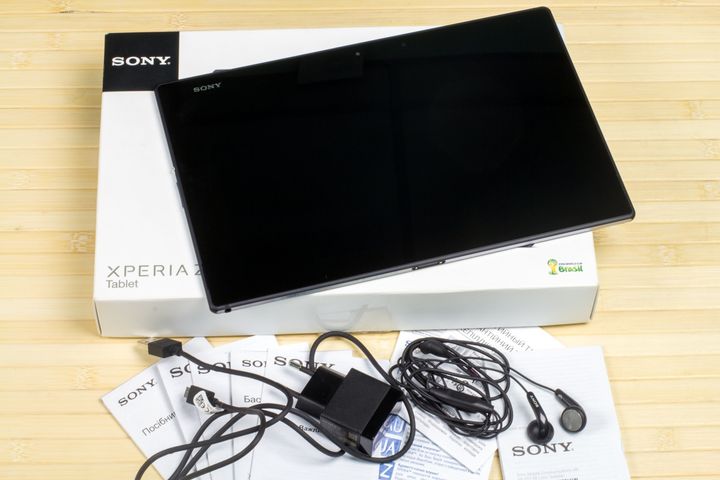 After opening the box, except, of course, of the tablet, the user will see here charger adapter cable micro- USB / USB, wired headset with answer button and built-in microphone on the body, plus the necessary documentation.
Materials and build quality housing – Sony Xperia Z2
Appearance Sony Xperia Z2 Tablet formed from several types of materials: the rear panel and partially "marginalia" used matte plastic black or white, the opposite of the glass, and on the perimeter realized metal inserts. This "arrangement", although it does not look new, however, and it can not be called hackneyed.
To build quality carp will not work – no backlash, albeit slight, at the junction of there, and the material used does not flex or creaks. It looks particularly interesting against the background of a very small thickness of the shell.
Pleasing to the hand appeared and weight. I do not know how anyone, but personally I would add him to the manufacturer plus in karma – running time "suspended" – the problem is quite feasible.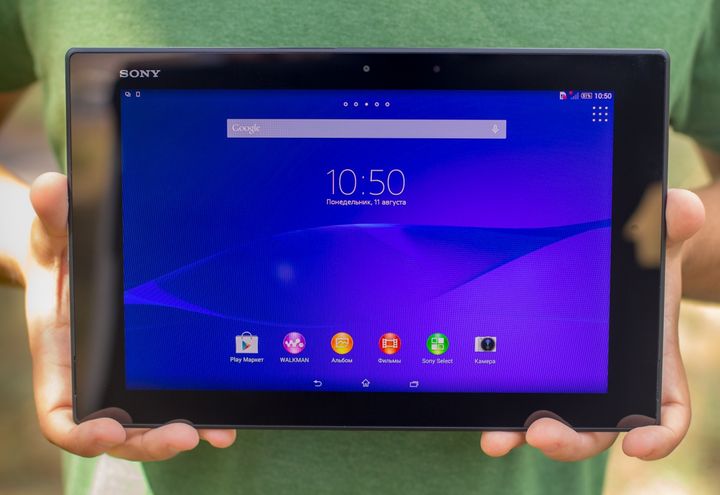 It should also be noted and security enclosure according to IP55 / 58, that is, from water and dust.
Ergonomics functional elements – Sony Xperia Z2
Front panel "split" between the large display, three classic buttons, eyelet front 2.2 megapixel camera, two miniature pin speaker, light sensor, plus an indicator alerts. The latter can involve either disable the submenu "Display" all in one touch.
The opposite of remarkable conclusion basic 8.1 megapixel camera, get slim trim "under the metal", plus a few logos.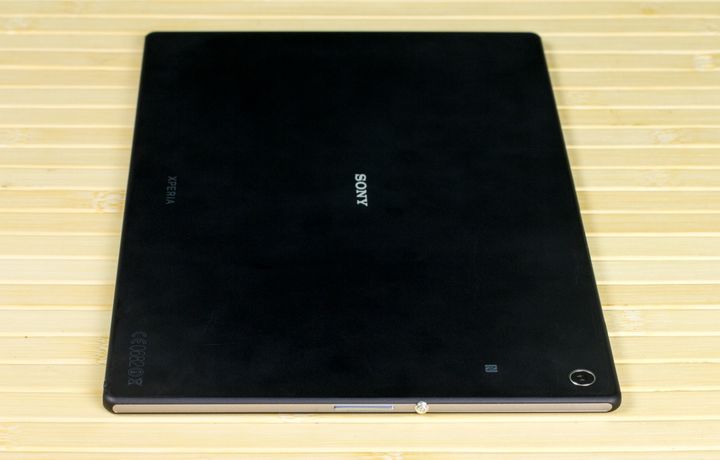 Further, if the user will examine ergonomics functional elements of the device, expanding it so that the eye of the front camera was placed on top, on the left edge, he "faced" metal rocker volume control, as well as the on / off the power of the tablet.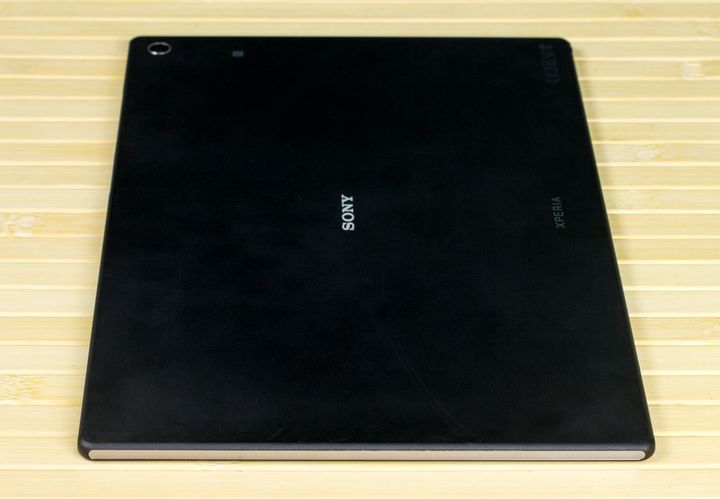 At the opposite end of any functional element is not provided.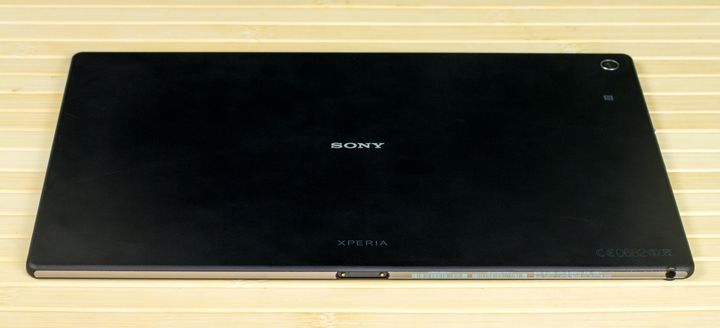 Lower bound is obtained by a classical audio output, plus a special slot for the device in the docking station.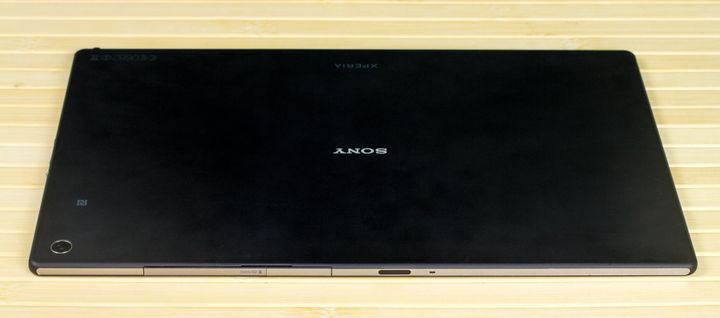 However, the most "rich" in terms of functional elements proved the upper end Sony Xperia Z2 Tablet. Here for two thick rubberized caps "hidden" Port Micro-USB, as well as slots for SIM-card and card MicroSD , plus output built-in microphone and an infrared window. Why the latter, see below.
Display – Sony Xperia Z2
Tablet was a 10.1-inch display with a resolution of 1920×1200 pixels. At the heart of IPS matrix capable of providing luxury angles to either side with a maximum deviation of colors.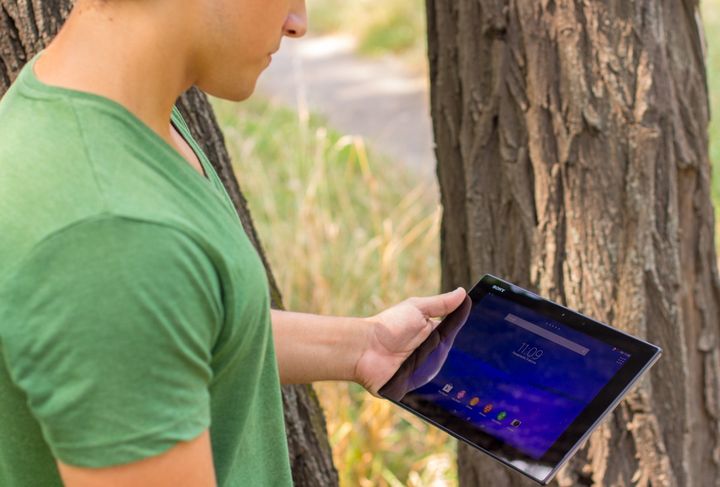 During the work in contact with the sun panel defined 'extinction' of the displayed data is taking place. But to call it as an essential, I can not – the information is still quite good viewing.
The sensitivity of the claims does not cause – support touch control with 10 fingers simultaneously.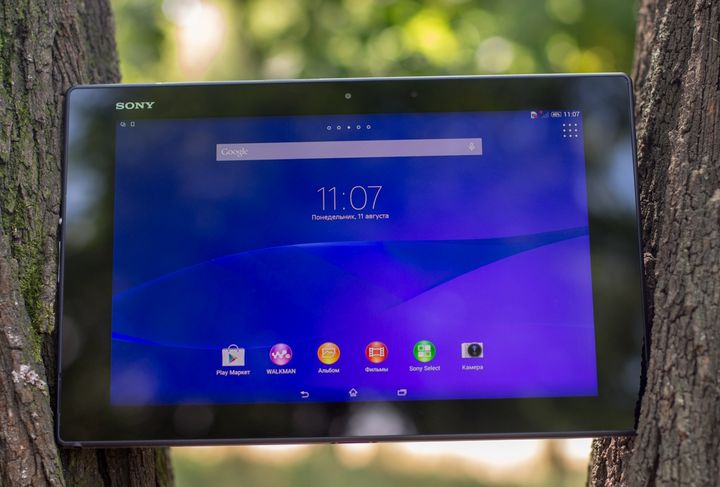 The display is covered with a protective glass. Manufacturer does not specify that for the material used. Nevertheless, my traditional test – friction on the panel with a coin, was not enough to even formed on the surface of a small mark.
In the settings of the user expects some "tasty things." In addition to the classic for this manufacturer of technology X-Reality, which improves the quality of photos and video, there is provided the item is "responsible" for the white balance adjustment, as well as "intelligent lighting control." About the features of the latest colorfully tells illustration below.
Memory – Sony Xperia Z2
16 GB of internal memory, of which the user can use a little more than 11 GB.
Expansion is provided by microSD cards up to 64 GB or less. In addition, this tablet can connect USB-stick or even an external hard drive.
Speakers – Sony Xperia Z2
Despite the fact that the reporting unit supports classic phone calls, the earpiece is not here. However, nothing like this is a terrible person, I do not see this, and hardly any of users will make calls, putting the device to the ear with dimensions 172h266 mm. For the latter is provided by the already mentioned headset features which is enough for comfortable intercourse.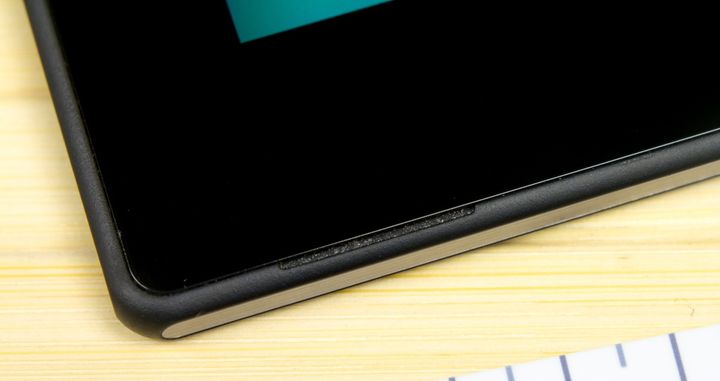 Integrated handsfree speaker placed on the front panel of the case, which in itself is very good, because the sound is directed to the user, and does not dissipate, as if they were located at the rear.
The power and purity I liked – in the indoor environment comfortable to watch videos, play, talk on Skype and more. Distortion was observed.
The settings also a lot of fun. For example, the sub-item "Sound Effects" combined "improvers» ClearAudio + – automatic optimization of parameters of the sound; EQ, as well as "Dynamic Normalizer". Last automatically "smooths" the volume of songs or videos.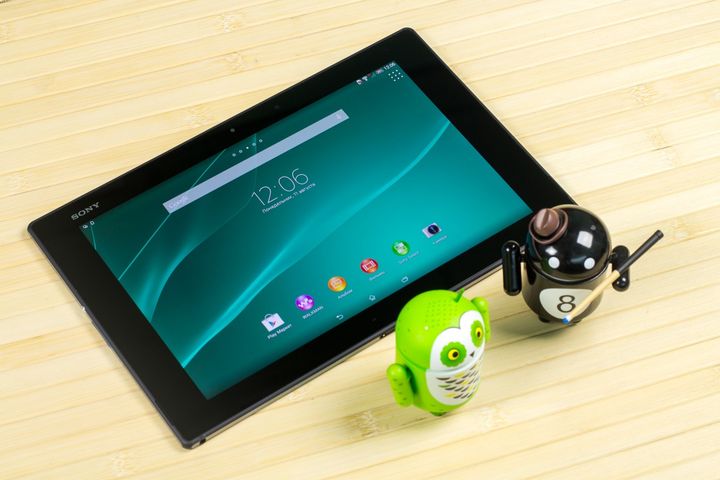 Another item "audio enhancements" allows you to select the input / output connections and the submenu "Audio Hi-Res via USB» – play high-quality audio using a USB DAC / amplifier DAC.
The remaining possible classic.
Battery – Sony Xperia Z2
Built-in battery capacity of 6000 mAh.
According to official data, a full charge should last for over 13 hours of moderate loads.
In practice, I was able to "squeeze" out of it a little more than 10 hours in total – text, WEB-surfing, a few games and videos with automatic level control, plus the backlight disabled wireless modules. But the maximum load – play Full HD – video included Wi-Fi, Bluetooth and other "reduced" duration "life" on a single charge almost doubled.
In the menu include a proprietary add-on power save mode.
Features and performance – Sony Xperia Z2
Powered tablet operating system Android 4.4.2 "out of the box."
At the core Qualcomm Snapdragon chip 801 with 4-core Krait 400, the clock frequency of 2.3 GHz. Also "on board" 3 GB of RAM and Adreno 330 graphics.
I should add also that the choice of the user device is available in several versions: white or black housing, with 16 or 32 GB of internal memory, as well as versions Wi-Fi only or also supporting 4G / LTE and voice calls.
Wireless modules and interfaces – Sony Xperia Z2
In addition to other potential realized in the Sony Xperia Z2 Tablet 16GB LTE / 4G (Black) SGP521, the user is also available to work with Wi-Fi module and integrated into a technology Wi-Fi Direct, Bluetooth 4.0 with support profile EDR , NFC , VPN, 4G and so forth.
Further, the menu provides a remote control. Actually, for the above-mentioned and infrared.
Camera – Sony Xperia Z2 – Sony Xperia Z2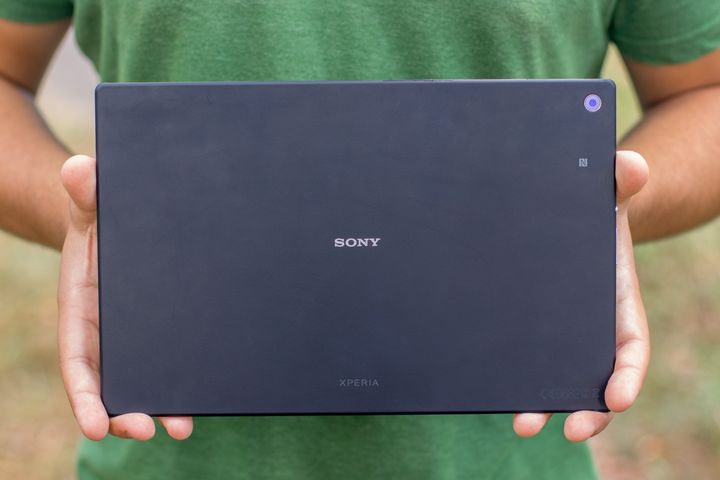 In the tablet dual cameras – 8.1 MP primary and 2.2 megapixel front.
Both are able to capture video at a maximum resolution of Full HD, have a considerable number of settings and shooting modes, and is complemented by another basic and autofocus for photos.
Some of the findings – Sony Xperia Z2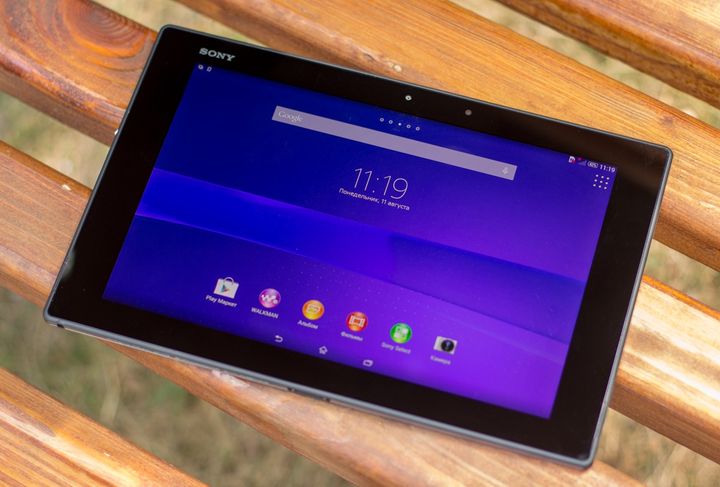 Ultimately, the user receives a first-class device with very good potential "on board", which, no doubt, it is enough to perform any task in the work or leisure. In short, if you do not mind the price tag devices you love Sony products and is currently looking for a tablet, as they say, "for all occasions", considered in this review unit – it is an interesting candidate for dating.
Pros Sony Xperia Z2
– The shell thickness and the level of assembly / security standard IP55 / 58;
– High-quality display / white balance, intelligent backlight control;
– Interesting sound settings;
– Well equipped and performance;
– Infrared and Remote Control
Cons Sony Xperia Z2
– Not identified
Estimated price Sony Xperia Z2: $ 800
Read another very interesting article about alternative energy of the Sun, water and air.