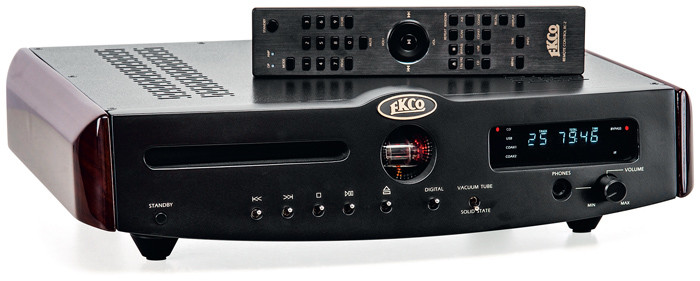 IAG Corporation has decided to resurrect some half-forgotten brand EKCO (see sidebar). EKCO EV55DP producer named digital player that characterizes it rather than just a CD-player, as a class, which is rapidly moving into the category of niche products. Today the forefront nominated DAC.
Note the toggle switches instead of the usual buttons – they do not switch, as usual, from one position to another, and by sending a command pulse, bounce into position
Such an apparatus is EKCO EV55DP, brings together the past with the future. In addition to the CD-transport he has two coaxial inputs and USB-port with support for up to 24 bit/192 kHz, allowing the use of its built-in DAC to work with third-party sources, including a PC.
There are a few nice options: two RCA-outputs on the rear panel – one for the analog signal with a fixed level, the other controlled (remote control only), there are also a digital optical and coaxial outputs, allowing to use and EKCO EV55DP as USB-SPDIF -converter, front we see a 6.3-millimeter headphone output, as well as the lamp ECC82 (12AU7) in the box – it is decorated not only components, but also a sound that can be sent and passed her on the path of transistor. Not so conspicuous Available sampling rate converter kGts/192 176 kHz (adjustable by remote control as well as his passing.)
All of these advanced features are packed into a stylish and solid retrokorpus, the design of which must have been inspired by the views of tube radio EKCO 40s. Thick side plates are made of solid wood and lacquered.
Residually
Listening EKCO EV55DP we started with a favorite CD from our collection. Because just playing discs are nothing new, but really high quality is more and more expensive, then rank the sound of this unit is quite difficult – very great his equipment. Let's just say, play CD – not the strongest side of it, if you take into account the full price of the machine, and no estimate of its contribution from this feature. Character of the sound it is not too collected and refined, for example, in the compositions of CD After Fajr Ahmad Jamal piano very much highlighted and not entirely consistent with the other instruments, although the overall sound rich and assertive. With a symphony orchestra fared worse – the detail is clearly not up to par.
In the starring
But how DAC EV55DP acts much better: it converts the digital stream with excellent transport SACD-player Esoteric X-03 in excellent sound – smooth, detailed, balanced, intense, rhythmic and natural. The same jazz A. Jamal gets its usual form. Vocal A. Netrebko (CD Opera Arias) – articulate, rich nuances, strong. The orchestral accompaniment – designed, as well as lush and big. Turning the lamp attached to the voice of the singer even more colors, in this case already seems redundant.
In non-oversampling – sounding more straightforward and lean, we really liked the version with a frequency of 192 kHz – so performance is richer, fuller and more expressive. Although such a complex music, such as ballet suite Prokofiev's "Romeo and Juliet", where accuracy is important, the transformation to the initial frequency of 44.1 kHz was preferable.
Connecting digital player directly to the power amplifier through an adjustable output also gives a little lean, but a detailed and coherent sound, which, if desired, can be given a flowery with a lamp or resampling. In a system with active speakers this function is difficult to overestimate.
The reader has probably already tired of the descriptions of the use of this device, but we just picked up, perhaps the most relevant – from the PC via USB-port. So, happy to report that in this case it is high. Compared with the playback SPDIF-flow from one of the best in the world of transports (which are unlikely to have each hand) the signal from the PC sounds only slightly less detail and work; balance and agility remain at a high level, the sound is smooth and natural, pleasing to the hearing. Above it can also be more work available to a EV55DP means. But a much better result you will get with HD-audio files – they pick up the sound of a step up.
Endowed retrovneshnostyu EKCO EV55DP showed himself a modern station wagon with a mass of useful functions. He offered a couple of tube integrated amplifier EKCO EV55SE, with which we are acquainted, but taken in isolation, the unit will find its rightful place in the existing system, or even become its center (PC or active speakers, for example). So reincarnation EKCO brand can be considered valid.
Nostalgia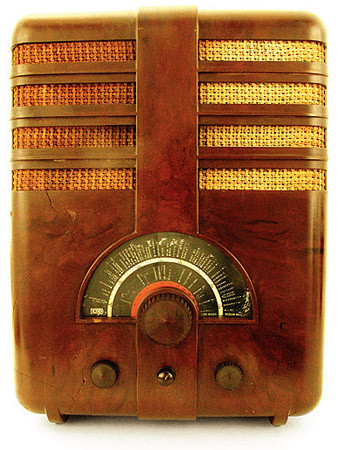 EKCO – this is the famous British brand with a long history. E.K.Cole Company Limited in 1926 created a talented engineer Erik Cole and registered trademark EKCO. It produced many kinds of products, including radio and television, as well as a long list of radio and electrical devices.
Price: $ 2,500
Pros: Facilities and functional flexibility, good sound from a CD and a non-party sources – smooth, detailed, natural and emotional; retrovneshnost
Cons: Plays CD, if it is priority
Verdict: The unusual design and modern equipment, but also a very high-quality sound
In terms of figures
Type: CD-proigryvatel/TsAP

Digital Inputs: 2 Coaxial, USB 2.0 (Type B)

Digital outputs: Coaxial, Optical

Analog outputs: RCA fixed, RCA adjustable, 6.3-millimeter headphone

Dimensions (W × H × D): 11 × 42 × 31 cm

Weight: 6.8 kg
Read another very interesting article about alternative energy of the Sun, water and air.