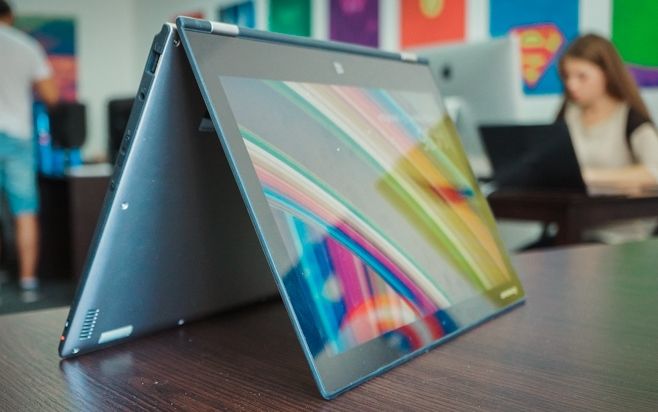 The theme of transformation – definitely "frequenter" on our website. In this area, has always dominated and dominated by ASUS. Many manufacturers are also trying to achieve the status of the experimenter. Someone comes out better, someone – is worse. In this review I will tell you about the Lenovo Yoga Pro 2, or, as told to the Taiwanese-someone, "4 in 1"
Looking ahead, we can say that the very idea of ​​this kind of transformation has both pluses and minuses. Specifically in this ultrabook I liked more moments than not liked. Let us all in turn.
First impressions – Lenovo Yoga Pro 2
In this review, partly reflect the views of the entire editorial staff, not just mine. As soon as the device came to our office, we immediately organized a questionnaire. Gave people the hands dzenbuk and yoga and asked what would take myself and why, so do not be surprised constant compared it with ASUS.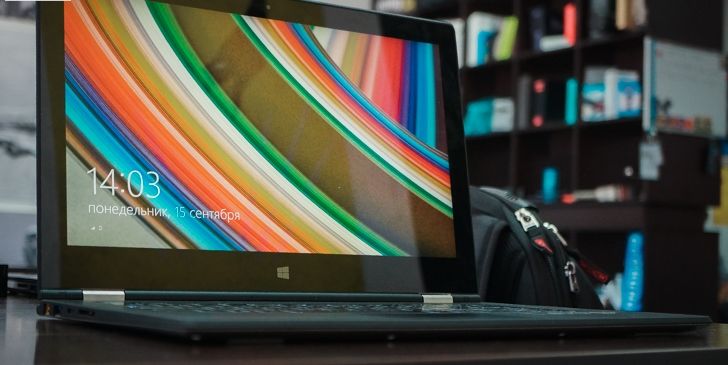 It is very easy. It weighs 1.39 kg. Almost everyone who takes a laptop into the hands for the first time, the face appears mimic "not bed." In the manufacture of the body does not hurt either one wild aluminum, and metal in general bypassed the production line of yoga. It is intended to be easy in the first place, everything is OK with this. In our test sample already has scratches on the bottom of the plastic cover. Perhaps before we used it a man with spiky Blaschke, and maybe it's just a casual attitude towards the sophisticated technology, but the fact is that – on the case is easy to scratch.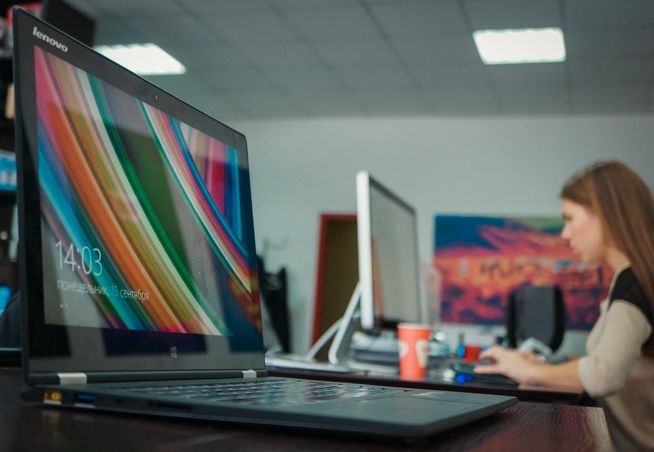 The working surface is made of plastic softtach "under the skin". Feels really nice, non-slip, does not collect fingerprints, wrists, do not sweat. When typing on the keyboard, a feeling that at a touch pad mouse – well, cool.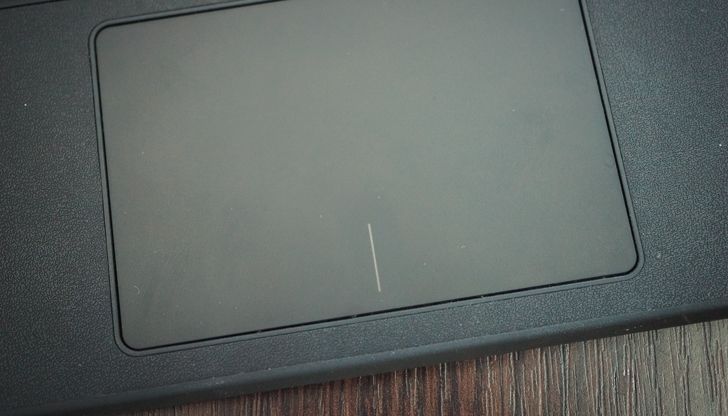 Touchpad is small, tight, very markedly shifted to the right. The right and left click buttons are clear and not separated from each other. By default gestures work as macbooks ie upside down, well, I mean, to scroll the reverse. To this we must get used to.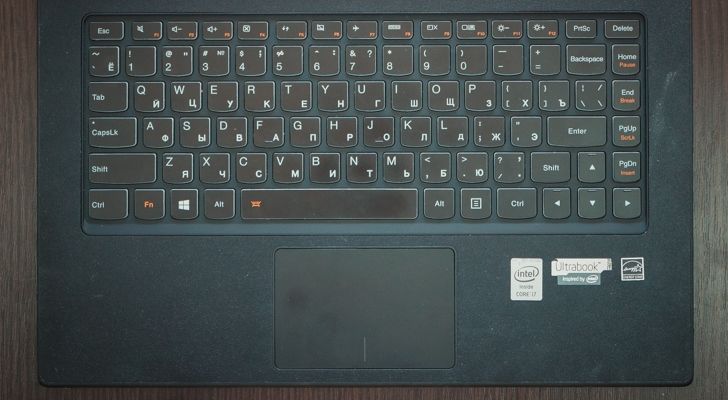 If you think that overturning the screen – this is an ambiguous solution, then listen to the story of the keyboard. Firstly, she is very beautiful to look at. The outer edges of each key has a light color that is very attractive looks. The most zhetky test "And, well, let not whether keyboard after Alexander lyapota Lenovo Yoga Pro 2 was successful. Keys do not hang out and nicely pressed. It would seem that everything is fine, but then on to you – in the keyboard can not adjust the brightness of the keys. The backlight can be or include, on or off with the key combination Fn + Spacebar. The second strange moment – a "deflection under apples."

Most in our office clapping and circle dances with joy that adjust the volume, brightness, etc.. Possible in a single click (meaning without clamping button Fn), but if you need to call the help (F1) or refresh the page (F5 ), you have to use the combination Fn + F1, F2, F3, etc. In short, someone is more convenient, easier to someone different. Continuing to wonder, I found a huge DEL button in the upper right corner. The rest of the keyboard is good, I have ceased to be afraid when a finger-flagged new keyboard, whether it's for notebooks and peripherals. Each manufacturer vision of where what keys should be and how much they all should be.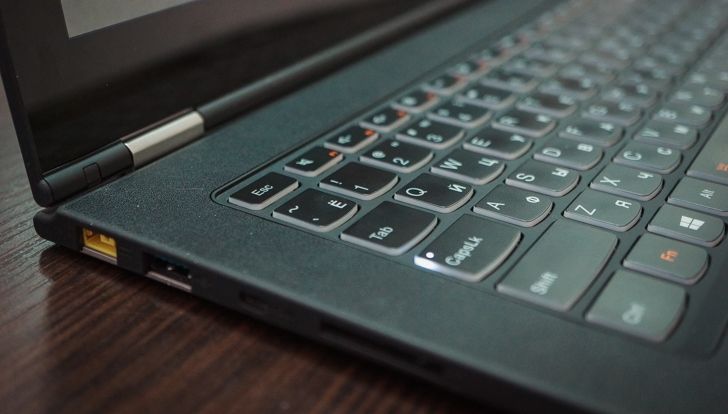 On the sides of the device, as you might guess, not a lot of things fit. Left – Huge usb-like port for charging, the first usb 3.0, mini-HDMI and a card reader. Right – the second port USB, but already 2.0, paired headset port, volume button, lock button, turn the interface, just below the – button on the laptop and the smallest button OneKey Recovery. The latter allows a few clicks to make a full backup of the contents of the laptop, and also in a couple of clicks to deploy a system from backup. Why this feature was given a separate, albeit small, at hardware button, I do not understand. On the back side there is a system of hot air extraction. Air comes out at 45 degrees and can blow on your feet, if you keep the laptop on your lap. On the other hand, a cooling system is equally effective in any embodiment of transformation.

The screen is quite big frame and even a hefty Lenovo logo in the left corner. Although in general, everything looks good. There are webcams and an additional microphone for video calls. Display resolution – 3200 by 1800 pixels. Again in each review that Windows 8.1 is very well adapted to the higher resolution, so you should not because of this experience. Since the construction of ultrabook implies looking at different angles more often than usual, it is not surprising that there are very good viewing angles both horizontally and vertically. Minimum brightness is comfortable to work with a computer in the dark. The maximum brightness will allow to work even in bright sunlight. Touchscreen, quite quickly responds to your touch, and in general functionality raises no objections !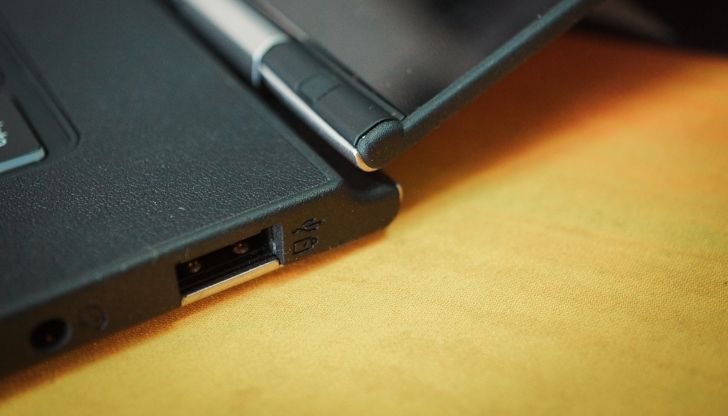 The cooling system is constructed so that hot air is blown back and down. Lying in bed with yoga, be prepared for the fact that the feet are sweating. God, who wrote this text?!? O_o the way, the SB is pretty quiet and spins up to maximum in very rare cases … ki … ki … dota2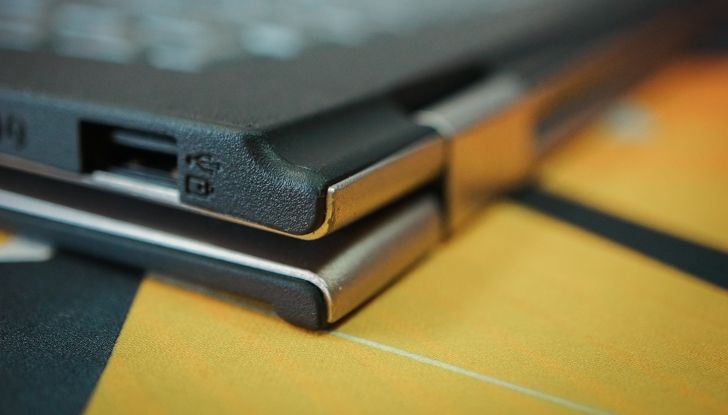 Transformation in a variety of poses possible by the unique system-off hinges. They are quite stiff, the screen does not even hang out during the test, "And, well, pomotylyay it, holding with one hand". How it will be after a year of active service, – an interesting question, although I would not much worried normal person a maximum of two to three times a day would be to fold and unfold ultrabook at 360 degrees. In this mode, I think, even two years – no time to hinges dead.

On the left side is dumb like usb-charging with a yellow fill, close – one port usb 3.0, keyhole and a card reader. On the right side – one usb 3.0, paired headset port, volume button and lock button at hardware auto rotate screen. It's just a button, instead of the toggle switch. Tumbler somehow familiar. Closest to the user, on the right side, there are still a couple of LEDs and a button to turn on the computer.

Separately say that the charger spoils the whole picture. It is big, ugly and with two wires, somehow we're all used to and miniature PSU that stuck straight into the socket.

Lenovo Yoga Pro 2 – is another good example of what we are included in that era, when the laptop out of the box can be used immediately, without removing a bunch of unnecessary pre-factory software. In yoga, there are a couple of complete tools to quickly launch applications, depending on the position of the lid, whether tablet, laptop or presentation, but its usefulness, I will not judge.
Filling – Lenovo Yoga Pro 2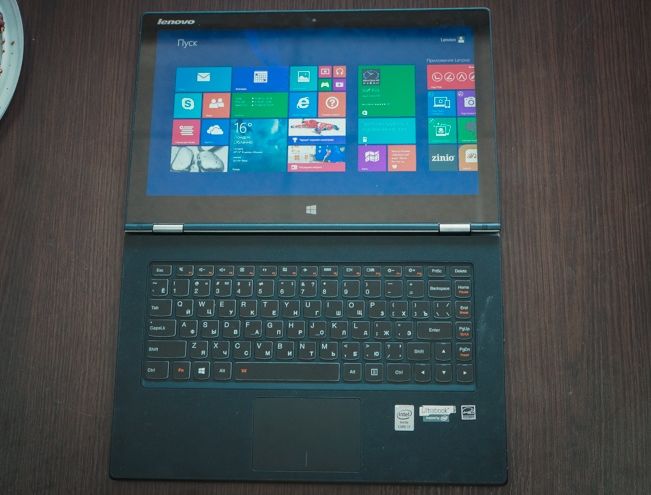 In our sample has a processor Intel Core i7 4500U clocked at 1.8 GHz, 8 GB of RAM and a 240 GB solid state drive. As the accelerator is used integrated graphics core Intel Graphichs 4400, it is enough for the needs of ultrabook. By the way, according to the review, we officially stop doing classical benchmarks in reviews of computers on Windows, because they do not give any idea about the performance of ordinary people. The more so, expelling test, we got some results, and then restarting the PC a couple of times and installing a couple of programs, drove the test again and got completely different results. As a conclusion, the benchmark – a mysterious thing. Laptop wakes up quickly, quickly falling asleep, smartly works even with 30 tabs open in Chrome, you can play dota2, Diablo3 and other popular games.
Conclusion – Lenovo Yoga Pro 2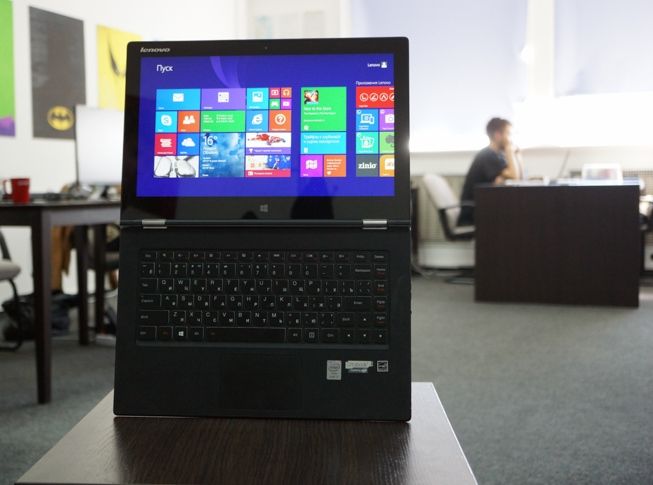 If you are in that stratum of society that is willing to pay $ 2000 + for a quality item, it is a very good option. Lenovo Yoga Pro 2 – is a rather unusual device. The computer can be transformed so that it can not no other body materials I liked build a decent, though not without nuance, and the performance is sufficient for all ultrabuchnyh tasks. I would recommend yoga to those who just need a tablet on Windows, but also on the ultrabook you can not refuse.
Read another very interesting article about alternative energy of the Sun, water and air.