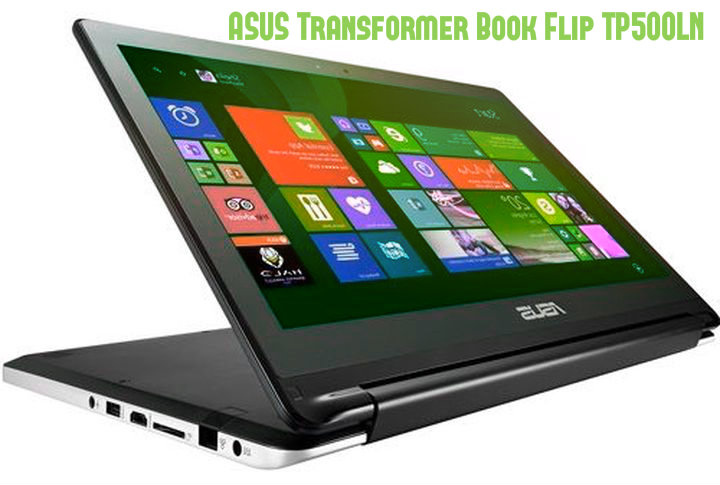 Of course, the transformer now nobody will be surprised, however, if the company good at doing it, why not continue to delight their fans? Perhaps this argument held in ASUS, firing on the notebook market is another creation – a hybrid ASUS Transformer Book Flip TP500LN.
This 15.6-inch device that can "shape" of 360 degrees. Many competitors it distinguishes the availability of sufficiently powerful discrete graphics and good filling as a whole. But apart from this gadget has something to offer to its owner.
Design – ASUS Transformer Book Flip TP500LN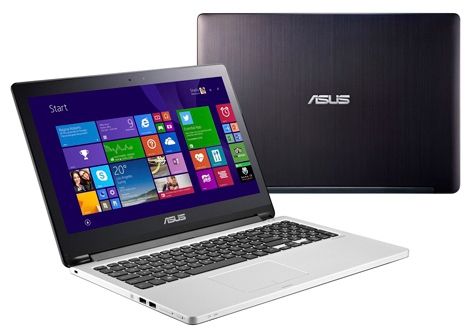 Appearance ASUS Transformer Book Flip TP500LN particularly unremarkable. The materials engineers were elected mainly aluminum, that's just the bottom of the plastic. The design does not provide anything extra, dominated by minimalism. Overall, it looks boring. Although there is a plus: the device can be called universal and relevant in any place under any circumstances. On the metal cover is nothing but a logo in the middle of the manufacturer. It is painted in a dark gray-brown color, which often can be seen from ASUS average price category. Several upsets soiled surface, to which must be pre-prepared and stock up on napkins.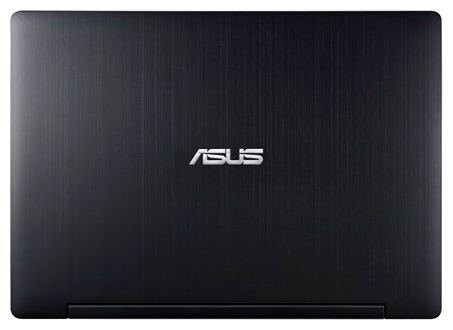 The entire surface of the display – glossy, fully covered with glass, including the frame. In the lower part you can see a small sign «ASUS», and at the top – hole webcam. The keyboard is ergonomically designed to look at, the whole working surface is silver, and the keys look on it contritely – they are black. Located under the keyboard medium-sized touchpad.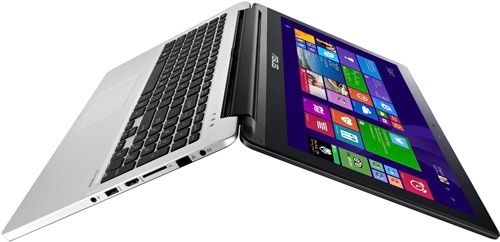 On the ability of these devices to transform much has been written, so we will not repeat it, but only mention the most basic points. Thus, as a connecting element of the upper and lower part of the laptop acts elongated hinge. Thanks to the peculiarities of its design, it allows the upper part of the laptop scroll towards the bottom of 360 degrees, thereby making it possible to use a gadget in four modes.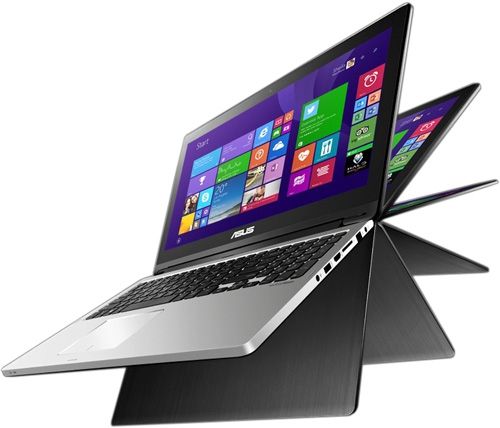 Thus, for the usual daily operation ASUS Transformer Book Flip TP500LN can be used as a laptop for games – in the role of the tablet.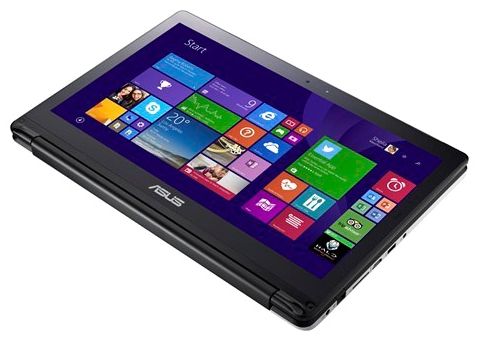 In addition, to find a suitable viewing angle, you can enjoy watching a slide show, films, because there are modes for this presentation and tents. Of course, when the device is in any mode other than a laptop, the keyboard and the touchpad is automatically disabled.
The bottom of the laptop-piece, and though here and you can see the 10 screws, remove the cover will only service center, so that replacing the battery or upgrade here it is not even going. The build quality is quite good, and the hinge mechanism has not caused any problems, only when pressing on the cover may be deformed image on the screen.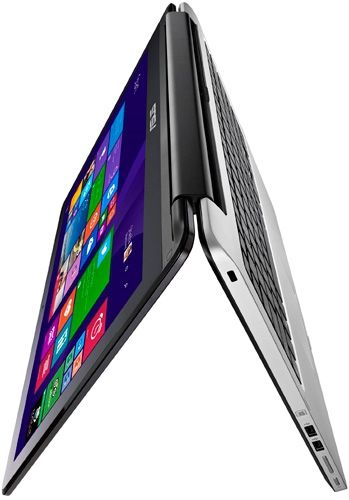 Given the fact that the 15-inch laptop, it begs the question in terms of practicality: Will there be convenient to use such a great gadget as a tablet? In addition, the size he is not the most modest: 380h258h22 mm and weighs 2.1 kg, and, therefore, keep on the weight of the device for a long time will not work. Anyway, thinner and lighter competitors in a given transformer rife, the only thing that saves him – the presence of a discrete video controller. But we'll come back to it later.
Display, sound and webcam – ASUS Transformer Book Flip TP500LN
The glossy 15.6-inch display hybrid ASUS Transformer Book Flip TP500LN has a resolution of Full HD; however, there is a complete set and a lower resolution – HD (1366×768). Anyone who is hoping to get a high quality image on the screen waits for disappointment. Blame matrix TN and lowest brightness (145 cd / m2), but the contrast is at an acceptable level. Of course, the use of the gadget on the street cannot even think, except in very cloudy weather. Viewing angles are also poor, and if horizontal still all right, then vertically all very sad.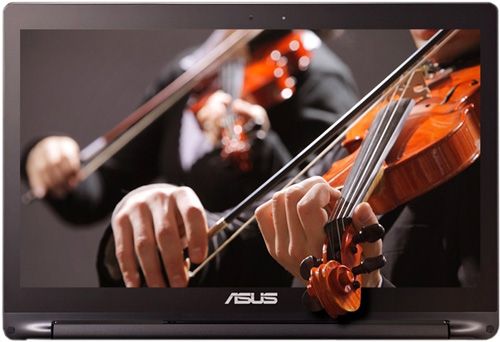 In modes transformer touch screen will be used most actively. With their tasks display copes well enough overall response fast, but sometimes there may be delays. The sensor is very helps when you need to quickly do something, for example, find the page on the Internet.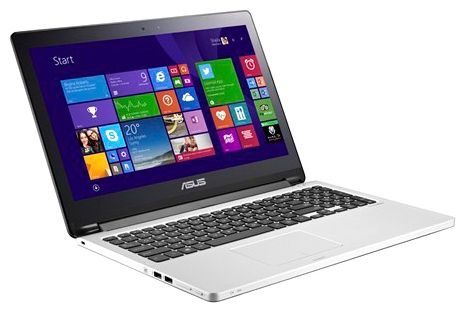 Two speakers Sonic Master located on the front edge of the bevel, and therefore there is a risk that the sound will be somewhat muffled. By the way in tablet mode this deficiency has no dynamics are rotated by the user. However, even at maximum volume distortion is observed, and this fact pleases. Well, those who are deemed acoustics laptop absolutely quiet; we recommend connecting a headset as headphones. Several built-in help rectify the situation Software Audio Wizard, which, of course, is not omnipotent, but allows you to break through the high midrange.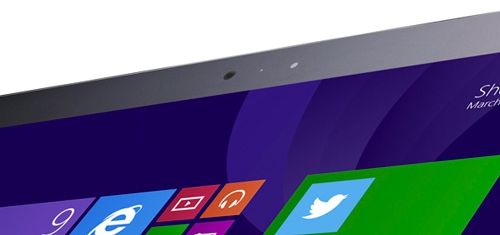 Resolution web camera is only 0.3 megapixels. That's enough for video on the World Wide Web, but very little to create pictures of good quality.
Keyboard and Touchpad – ASUS Transformer Book Flip TP500LN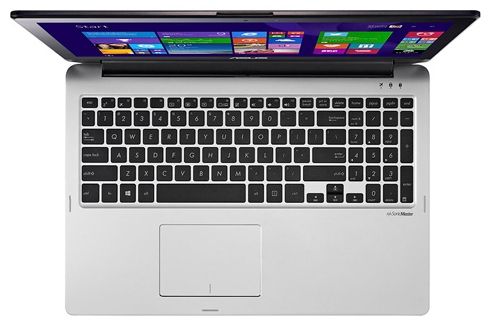 The keyboard is made on island type. The keys are square-shaped, Latin marked with white paint, and Cyrillic – green. There is a digital unit that, in principle, be expected for a 15-inch gadget. Frequently used keys are given due attention: they are oblong and quite large, respectively, it is easy to get.

Separately want to mention both [Shift], single-row [Enter], high [Caps Lock]. A switch unit is compact, but it has long been no bother, and large arrows today are hardly seen. The key travel is reasonably clear, convenient to use the keyboard; it does not cause discomfort, even after prolonged printing. The only gripe may cause the sound of the keys while typing; they're pretty loud click that during intensive printing can be a bit annoying.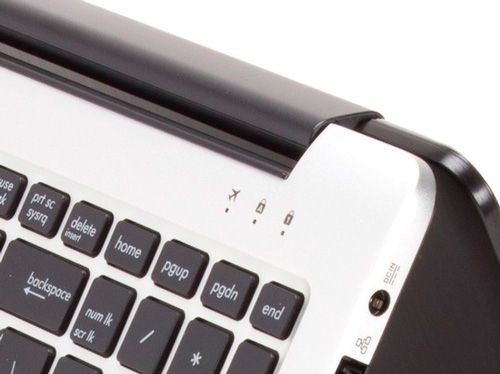 Above the keyboard on the right corner you can see the three indicators, namely: Wi-Fi, Num Lock and Caps Lock. Backlight of the keyboard is absent.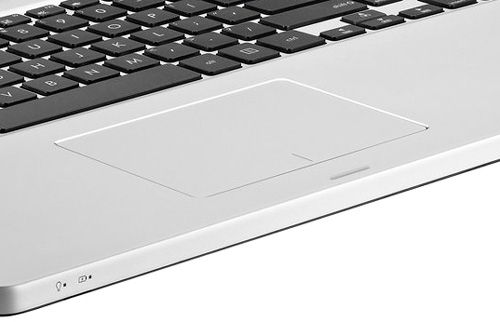 Working area is quite large, and the touchpad itself is quite decent in size. He is not satisfactory and pleasing their quality work. Touchpad slightly recessed into the surface, and because it is simple enough to grope, besides his rough surface, which is also very helpful in identification. The touchpad supports various multi-touch gestures, such as pinch, drag and drop, and many others. In fact it is a typical pad, because isolated mouse key here, but use it because even more convenient.
Performance – ASUS Transformer Book Flip TP500LN
The notebook ASUS Transformer Book Flip TP500LN (90NB05X1-M00900) in the role of the operating system manufacturer chose Windows 8 64-bit, and for good reason, because it is the most adapted for touch devices.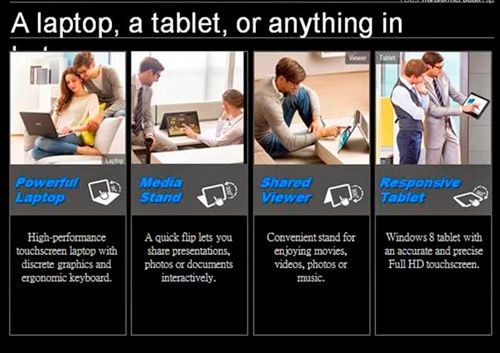 Then go directly to the stuffing. Dual-core processor Intel Core i5-4210U architecture Haswell has a clock frequency of 1.7 GHz, while it may be increased up to 2.7 GHz thanks to Turbo Boost. There are multi-threading technology Hyper-Threading, which allows you to simultaneously handle four streams of two cores. CPU is made on 22nm process technology, has 3MB cache level 3, and consumes less than 15 watts of power, that is, is very economical. By the way, you can choose more simple complete with Intel Core i3-4030U, as well as a more powerful Intel Core i7-4510U.
Graphics hardware component is represented by a discrete graphics card and built-in Intel HD Graphics 4400 and NVIDIA GeForce 840M, respectively. The first is great for simple daily work: web surfing, working on documents and surf videos, etc. But discrete graphics processor with 2 GB of video memory standard DDR3. Clocked at 1029 MHz, moreover, it supports DirectX 11 and Shader 5.0. We cannot say that with such a graphics card games just fly, however, many show a very good result. For example, the game F1 2014 with a resolution of 1366×768 pixels at medium settings show 70-75 frames per second, Sims 4 at native resolution on high settings go with 36-39 fps, Batman: Arkham Origins with a resolution of 1366×768 and on high settings start with 27- 30 fps.
RAM is 6 GB DDR3-1600 MHz standards; it can be a maximum of 8 GB. To store the information provided hard drive whose capacity is 750 GB, and the spindle speed – 5400 rpm. Unfortunately, this does not provide a complete set of SSD.
Ports and Communications – ASUS Transformer Book Flip TP500LN
The number of interfaces is not bad, at least, for the usual daily work it enough. On the left side there are two ports USB 2.0, a button of Windows, which is useful in tablet mode, the volume rocker and power button gadget, and Kensington lock.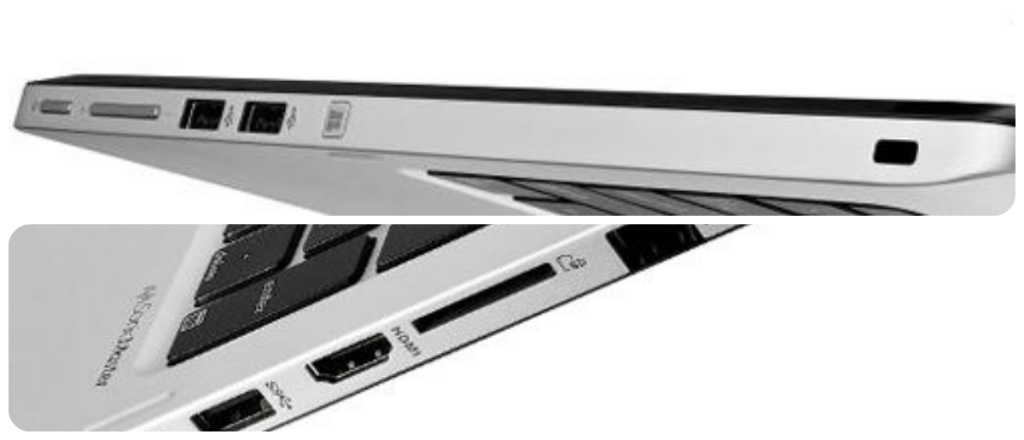 On the right side is port USB 3.0, video output HDMI, Network RJ-45 port, card reader 2-in-1 (SD / SDHC), combo audio jack and a slot for charging a laptop.
The rear part is empty, and the front has two LEDs: an indicator of the device and the battery status. Of course, it was not without wireless communications, in particular, Wi-Fi 802 b / g / n and Bluetooth 4.0.
Battery – ASUS Transformer Book Flip TP500LN
ASUS Transformer Book Flip TP500LN equipped with a 3-cell lithium-polymer battery capacity of 48 Wh. Not to say that this battery is able to demonstrate high levels of survivability, however, in the Web-surfing laptop discharged in about 5 hours of video playback – a little less than 4 hours, and the game will put the device even in less than hour and a half. As for the laptop, which will always be near a power outlet, the results are not the worst, but from the perspective of the tablet – leave much to be desired. In principle, this only confirms the unreasonableness of the transformation of 15-inch device.
Conclusion – ASUS Transformer Book Flip TP500LN
So, what do we have? Laptop ASUS Transformer Book Flip TP500LN positioned as a hybrid device that can operate in four modes: a laptop, a tablet, a presentation and a tent. Subjectively, of these modes is convenient to use only first. For a tablet this gadget too heavy, and the presentation and Tent, considering TN-matrix and weak viewing angles, will distort the image and color reproduction.
In the laptop ASUS Transformer Book Flip TP500LN has a discrete graphics card, which allows you to play many toys, however, very fresh if will run, only on low settings. It is not encouraging indicators of autonomy, and the whole device is not particularly impressive for its characteristics. In addition, the cost of which is on average $ 700 for a complete set described, raises questions about the rationality of such a purchase.
Read another very interesting article about alternative energy of the Sun, water and air.